Written by Suzy Pope
In this extract from her contribution to our Roam Alone anthology Suzy Pope finds herself travelling solo in the freezing Mongolian winter after a friend bails on their trip.
---
The table was covered with sheep's anklebones, polished smooth over hundreds of games of Shagai. With a delicate flick of my fingers, one white bone the size of my knuckle careered across the table and clattered to the floor. Lucas tutted. We'd been playing for two hours and I still didn't have the hang of it. I was frustrated and bored. I wasn't supposed to be in Mongolia anyway.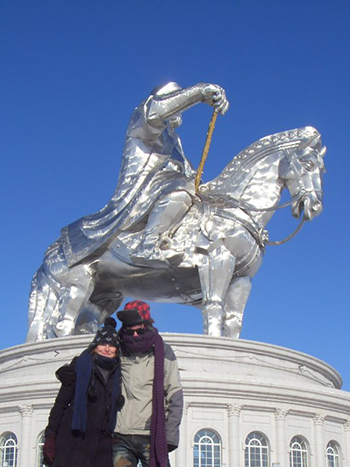 Making friends © Suzy Pope
It had been Rachel's idea. She's the kind of friend who comes up with madcap adventures, throws country names around on a weekly basis and starts every plan with 'Why don't we just…'
'Let's do it,' she'd said, sloshing her pint. 'Two weeks, Beijing to Moscow via Mongolia. Mongolia, Suzy. I mean, why not?'
'OK, yeah. Let's do it.' I'd become caught up. 'I guess it's not too late to book for summer.'
'Screw summer. Everyone goes in summer. I want proper, Russian winter. That's how you're supposed to do Russia. Three weeks from now. I'm booking it tonight whether you're coming or not.'
I pictured us being the life of the group tour. Two laid-back young women with dazzling wit and a superior sense of spontaneity. I thought of the admiring looks on people's faces when we said, 'Oh, we just booked this a few weeks ago because we felt like it.' Everyone goes in summer. I want proper, Russian winter. That's how you're supposed to do Russia. Three weeks from now. I'm booking it tonight whether you're coming or not.'
I booked my flight to Beijing and called her.
'We're really doing this, aren't we?' I breathed into the phone.
Silence.
'Rachel?'
'Um, well, you see, the thing is, Mike's parents have this house in the Algarve, and he kind of wants me to go meet them. I mean, it's pretty much a free holiday, Suz. You should totally still go though.'
As I wandered the overcast streets of Beijing, brown slush soaked through my shoes. Cold seeped through my socks and deep into my bones. I could see why everybody went in summer.
Huddled into my jacket I trudged past towering skyscrapers. Every face was Chinese and it felt as though they were all staring at the Scottish girl walking in unsuitable footwear, alone in Beijing. Dinner was the worst. I took a notebook and pen with me and told myself: For all they know, you are an important journalist. Nobody is looking at you and nobody is wondering why you are alone.
I pointed at black-inked Mandarin words that looked more like hieroglyphics than a list of specials. When a dish of slimy animal insides appeared I would have given anything to have Rachel there to laugh with me. I ate in silence.
During the day I took pictures of myself smiling against the background of the Temple of Heaven or the Forbidden City.
'Beijing is the best,' I messaged Rachel, attaching a photo.
I couldn't wait to join the tour to Moscow. My mouth felt hot and stale from three days of not talking.
Small group tours are supposed to be a great way to meet likeminded travellers. They are also supposed to involve a group. Two people is not a group. Lucas barely said two words to me on the overnight train from Beijing to Ulan Bator. Stepping on to the platform we were hit with the raw cold of Mongolian winter.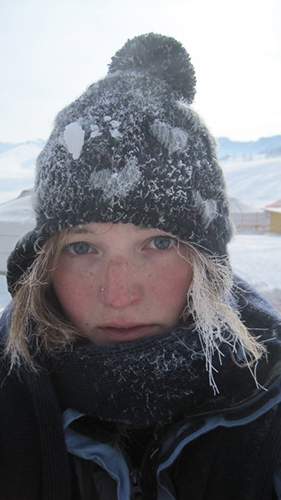 Frozen hair © Suzy Pope
'Chraast, man,' Lucas said in his thick South African accent. His long limbs were more suited to stretching out on a sweeping beach, not hunched and shivering in sixteen layers of wool. His frown looked as if it had been chiselled in ice – I'd never seen anyone look less like they wanted to be somewhere.
Click. One sheep's anklebone chinked against another. I lost another round of Shagai. Lucas leaned back, smug. The woodburning stove hissed as a drip of melted snow fell from my woolly socks. It was our first day away from the cracked pavements, smoggy chimneys and block buildings of Ulan Bator. Outside the ger the sun shone over the ragged mountains and snow-swept plains of Gorkhi-Terelj National Park, but at minus-forty degrees my hair froze within minutes. My breath caught in my chest and my fingers became red and swollen. We were confined to our canvas room with nothing but a bag of sheep bones to keep us busy.
'Another round?' Lucas asked
---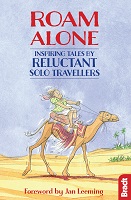 Want to read the rest of Suzy's story? Get 10% off Roam Alone: Inspiring Tales By Reluctant Solo Travellers here.