Written by Bradt Travel Guides
Norrqvarn, Sweden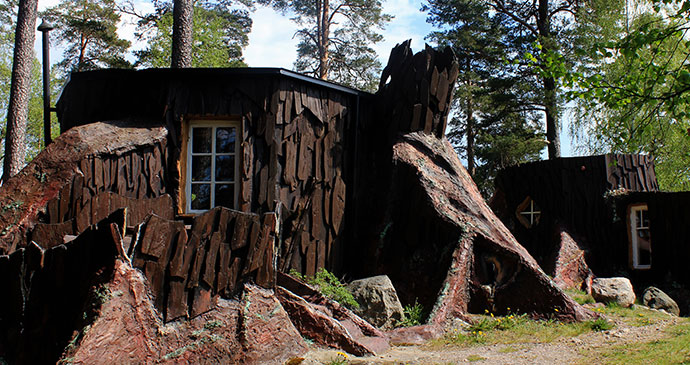 At Norrqvarn, you can spend the night sleeping in a tree trunk © Lotta Samuelsson, West Sweden Tourist Board
How do you fancy an overnight stay in a toadstool, deep in the heart of Swedish forest? Overlooking the canal just 9km east of Sjötorp, Norrqvarn is a delightful hotel and renowned restaurant serving locally sourced, organic produce, housed in a converted mill just east of Lyrestad (which is easily accessible via the E20 motorway). For a quirky night's stay, choose a room inside either a giant tree stump or a red-and-white spotted toadstool – these unusual purpose-built wooden structures are great for children and make a fun overnight stop. The hotel has bikes for hire and it's also possible to go fishing for crayfish in season. It makes a good base to explore the canal as it's halfway between Sjötorp and Töreboda.
The Welsh Matterhorn Cave, Wales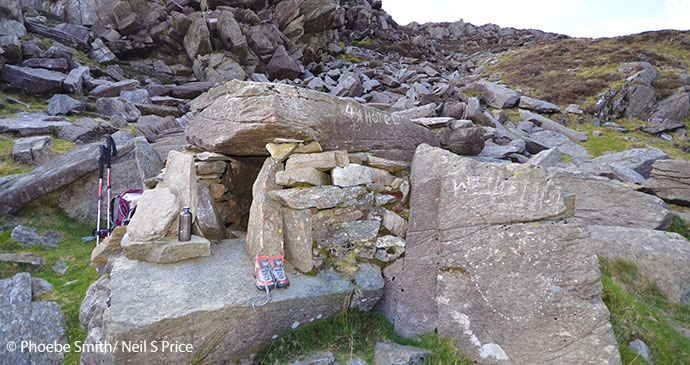 Have you ever stayed in a four-star cave? © Phoebe Smith/Neil S Price
It's rare you'll find a hotel slap bang in the middle of the mountains – and even rarer that it will boast four stars. But that's exactly what you'll discover near the foot of a peak called Cnicht in North Wales. OK, so maybe the star rating isn't exactly official, and perhaps the beds are a little harder than you might hope and the bathroom more… al fresco. But still, if stars were awarded for location alone, the night's accommodation that awaits you on this escapade would easily merit a confident five.
Pelican Point Lodge, Namibia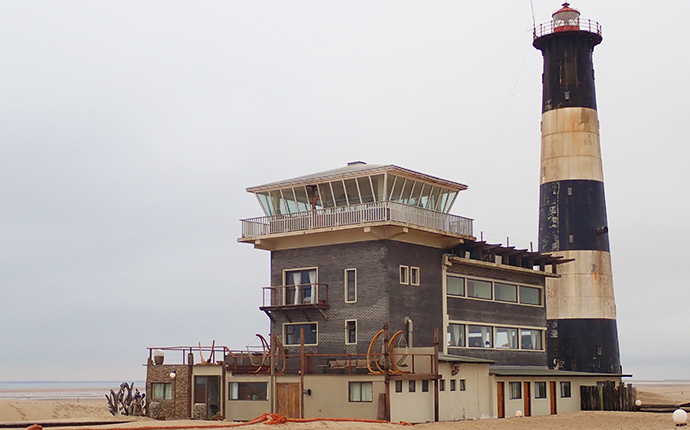 Stay in a converted harbour-control building on the Namibian coast © Tricia Hayne
Marooned across the lagoon, this unique and fascinating lodge within Dorob National Park is converted from the harbour- control building that for years served the peninsula's lighthouse. Guests are collected by 4×4 from either Walvis Bay Airport or near the Waterfront, usually at either 14.00 or 17.00, for the leisurely 45min drive to the lodge; self-drivers & day visitors are not allowed. It's a spectacular spot, fringed by the Atlantic with just the lights of Walvis Bay twinkling across the water. Even on a sunny day, the black-and-white lighthouse looks forbidding, but when the wind is howling or the mist rolls in, it accentuates the sheer remoteness of the place. Inside the old harbour-control building, though, all is calm and shipshape. The contemporary beach-chic décor combines teak wood, white polished concrete floors and cool blue-and-green walls, off set by simple but stunning photographs.
Helga's Folly, Sri Lanka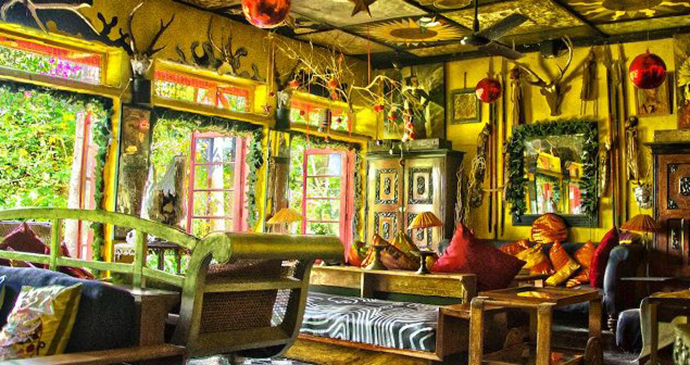 This psychedelic anti-hotel is outrageously kitsch © JohnC, Wikimedia Commons
The inspiration behind the Stereophonics' 2003 hit single 'Madame Helga', this self-proclaimed anti-hotel comes across as a psychedelic Addams Family mansion rubbing outrageous colour schemes against a whimsical mismatch of artefacts antique, poppy and kitsch. Even the swimming pool, surrounded by jungle and guarded over by some sort of pixie-gargoyle hybrid, has an air of magic and enchantment. It isn't for everyone – the eclecticism of its antique-shop clutter could quickly become exhausting and service is patchy – but it's fun for a night or two and makes a welcome break from package hotel conformity.
House in the Clouds, Suffolk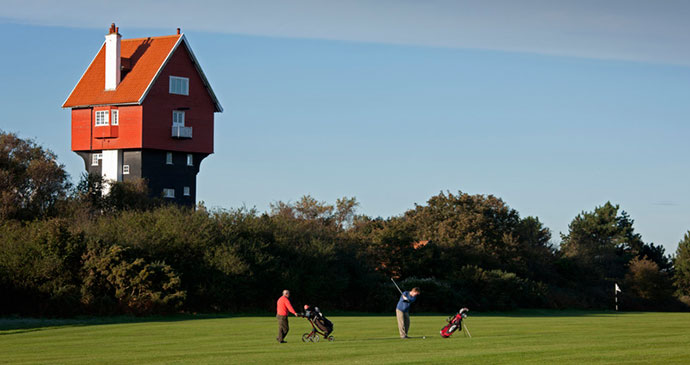 An old water tower makes the perfect house in the clouds © Roe Edwards, VisitBritain
Thorpeness' iconic landmark – it appears on Suffolk guidebooks as readily as Cley-next-the Sea's windmill does to represent Norfolk – is the House in the Clouds, a wooden house on a high, five-storey plinth. The plinth was originally a disguised water tower but once mains water had been installed in the village, it was converted into further living accommodation and a games room. You can rent it – very expensively.
Tented camps at Lompoul, Senegal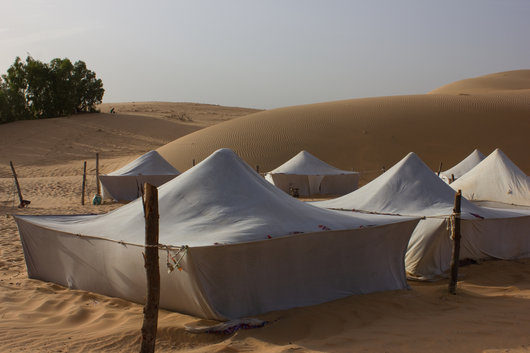 These tented camps are the ultimate Senegalese desert experience © elisabethandi, Dreamstime
Just north of Lompoul village in the far west of the country, you'll find a trio of rather confusingly named tented camps located in the dunes – Le Camp du Desert, Ecolodge de Lompoul and Lompoul Desert Lodge. The desert camps typically operate on a half-/full-board basis, as there aren't exactly many places to pop out for a quick bite over the next sand dune. The wide Mauritanian khaïma tents are pitched on the sand in true nomadic style and meals are taken at long, low tables surrounded by cushy Moroccan leather ottomans and lanterns.
Houseboats of Srinagar, Kashmir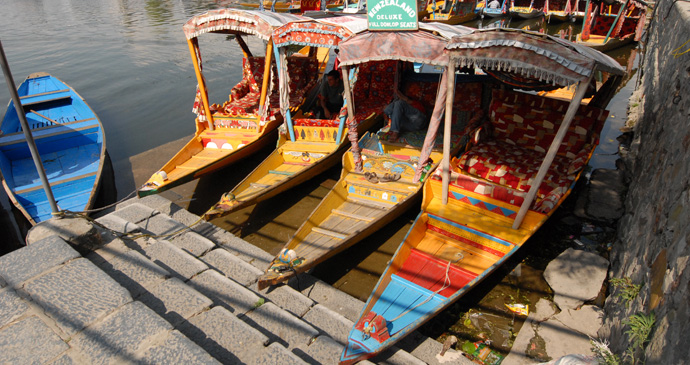 Houseboats are an icon of Srinagar © J&K Tourism
If you take home one image of Srinagar, it'll be of India's floating palaces, the houseboats of Dal and Nagin lakes. Stay just one night afloat and you'll see why the colonial British hired boats for months on end; take a shikara ride among the lotus gardens and you'll probably never want to leave.
Mandina Lodges, The Gambia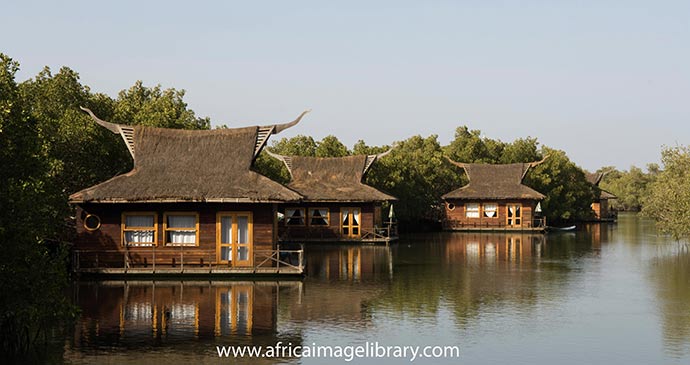 Wake up to the sound of monkeys in one of these floating lodges © Ariadne Van Zandbergen
One of the most inspired and exclusive lodges in the country, Mandina Lodges is spaciously laid out on the south bank of the creek for which it is named. The common area features a large jungle-shaded swimming pool, the imaginative architecture and décor of the tall thatch-roofed dining area and bar, and the wide wooden deck overlooking a mangrove-lined stretch of creek teeming with birdlife. The solar-powered accommodation is all fantastic, and you have the choice of a pagoda-like floating river lodge, a thatch-topped stilted river lodge, or a double-storey jungle lodge set a little inland. All guests have personal guides, who can take them on canoe trips through the mangroves (where there's a good chance of encountering rarities such as white-backed night heron & African finfoot), relaxed walks through the forest, or a range of other activities.
Seaventures Dive Rig, Sabah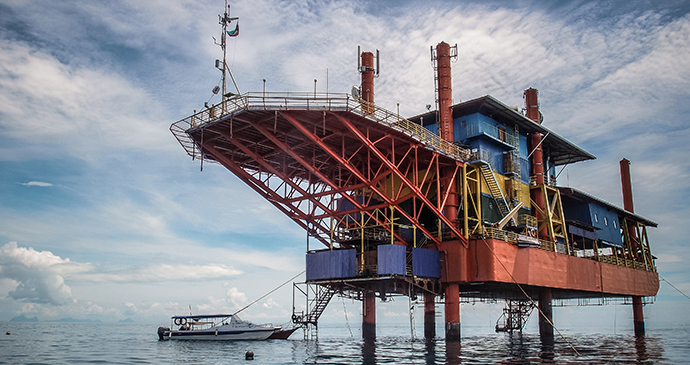 Stay on a former oil-rig platform in Sabah © Abd. Halim Hadi, Shutterstock
A bit like a live-aboard but without the inconvenience of getting seasick, this former oil-rig platform, 0.7km from Mabul, 9km north of Sipadan, offers diving and nothing but deep-blue diving. 'Live, dive, jump' is the resort's motto. A lift lowers divers directly on to the house reef below the rig. The allure of a working rig is still there, even in the basic room and bathroom facilities. This is the only major complaint – the diving instruction, the dives, the food & staff get top notes. Novelty comes at a top price, however – 4-day/3-night packages cost from RM2,910 per non-diver/RM3,600 per diver.
---
Learn more about these unique hotels in our guides: