Written by Mike Bagshaw
Starting in Bridlington and ending three days later in Sheffield, the Tour de Yorkshire takes the scenic route through the North York Moors and Yorkshire Dales. Mike Bagshaw, author of our guides to the area, takes us on a tour of some of the towns and villages the riders will see along the way.
Stage 1
Pocklington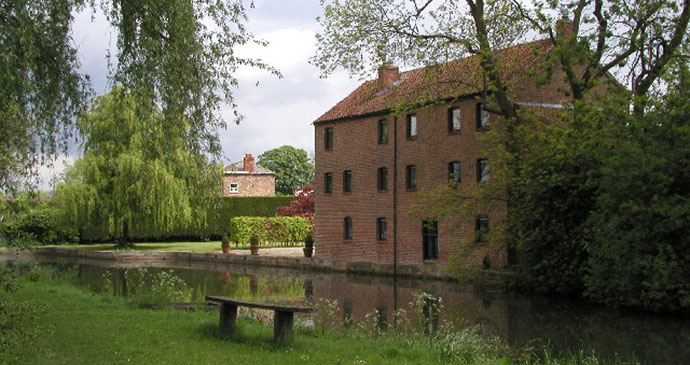 Pocklington Canal is a great place to walk and cycle © Andy Beecroft/Wikimedia Commons
Pocklington may be one of the largest of the Wold-foot towns but in terms of regional importance it is a shadow of its former self. When the Romans arrived here 2,000 years ago they found the capital of the kingdom of the Parsii tribe, and by Norman times it was still the second largest town in Yorkshire after York. Now it's just a pleasant market town that benefits from not being particularly on the way from anywhere to anywhere else. Pocklington Beck flows right through the middle of town, but you wouldn't know it as for most of its route as it's hidden in culverts beneath the buildings. It reappears to the south and becomes a feeder for the Pocklington Canal, once an industrial boon to the town – now a great place to walk and cycle, and a linear nature reserve.
Garrowby Hill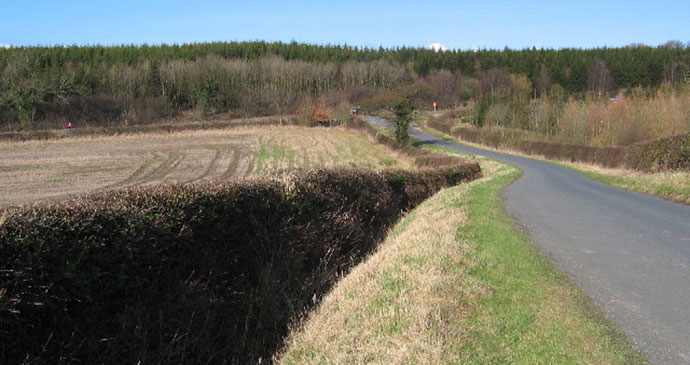 The cyclists will face a climb up Garrowby Hill © Stephen Horncastle/Wikimedia Commons
There is very little up here except a stupendous view westwards over the Vale of York and a couple of memorials. The vista has always been well-known but in recent years it has been gazed on by many more pairs of eyes, albeit in an unusual colour scheme. David Hockney's 1998 landscape Garrowby Hill, featuring his trademark lurid purples, reds and greens, was painted from here.
Whitby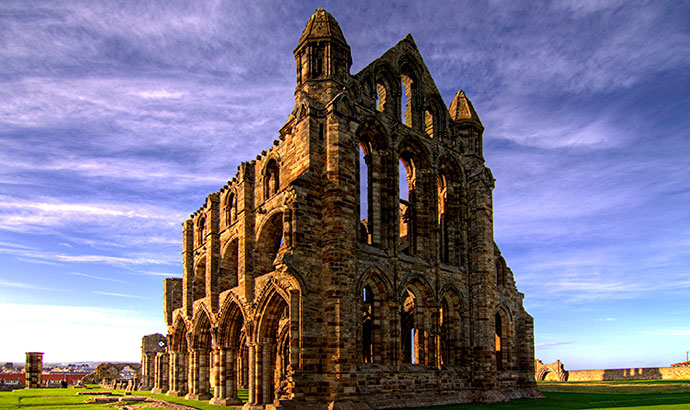 Whitby Abbey is one of the town's main attractions © Chris Kirk/Wikimedia Commons
Whitby is dripping in history, it oozes from the pores of every building like a little York-bythe-sea with Tudor halls, gothic ruins, Saxon churches, smugglers' pubs and fishermen's cottages – they all have their stories to tell. And then, cheek by jowl, you will find the other, more modern Whitby of buckets and spades, amusement arcades and fish and chip shops, but even this has a dated and quaintly retro feel to it.
Robin Hood's Bay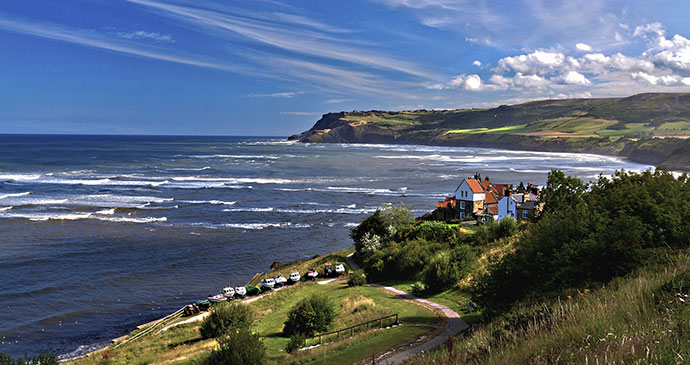 Despite its name, Robin Hood isn't connected to the bay © Jamesphotos/Dreamstime
Although Robin Hood, if he ever existed, never had anything to do with this place, it is certain that there have been outlaws here. In fact in the 17th century it appears that most of the population were actively involved in smuggling. There were tunnels linking cellars, secret passages and hidey holes for both people and contraband. It is said that a bale of silk could pass from the dock at the bottom of the village to the top, without seeing the light of day. If you are feeling adventurous it is still possible to scramble up part of this route by following the beck from the beach up into the tunnel a few hundred yards. All you need is a pair of wellies, a torch and a sense of adventure.
Scarborough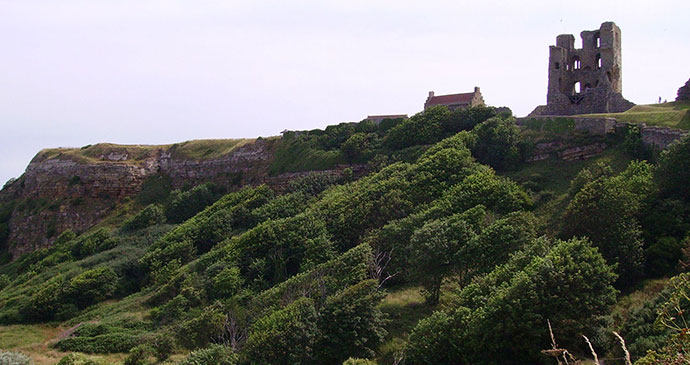 Scarborough's Norman castle © Immanuel Giel/Wikimedia Commons
Scarborough has an old provenance: a Roman signal station, a Viking name, a Norman castle and the tourist industry that started in the 17th century. It is also a modern seaside resort, and a 'fast' one at that, with many visitors coming for the nightclubs, amusement arcades, lager and speedboat trips. The words 'go slow' and South Bay seafront fit together as comfortably as, well, a square peg and a round hole. It is all relative though, in the loud-brash-tacky stakes it is not in the same league as Blackpool or Margate and you can still savour its genteel Georgian class in some hidden, serene corners.
Stage 2
Knaresborough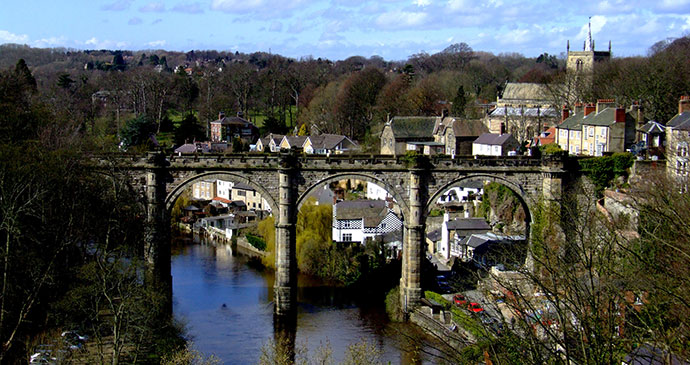 The bridge over the River Nidd © R/DV/RS/Flickr
It's hard to tell what is the dominant feature of Knaresborough, a town that perches on a steep bank above the River Nidd. Is it the river itself, the huge viaduct (potentially the best-known feature as its vista is regularly used to promote the town), the ruined castle that just about stands above the river, or is it actually the town's most famous and oldest tourist attraction, Mother Shipton's Cave, tucked away out of sight?
Ripon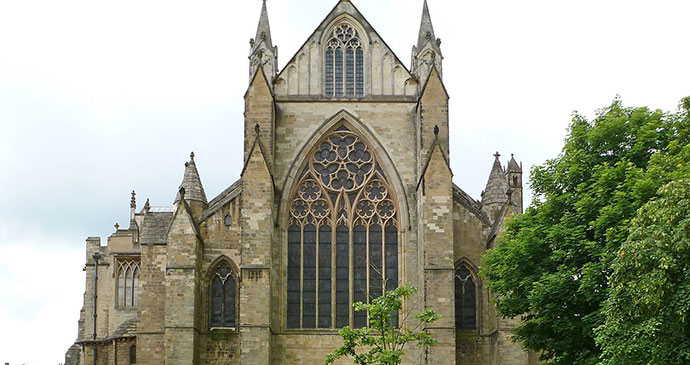 The sight of the Ripon Cathedral dominates its surroundings © Tim Green/Wikimedia Commons
Now that York has gone it alone, North Yorkshire boasts just the one city and believe it or not this is it. Ripon is smaller than most towns, with a great history and that characterful atmosphere that provincial market towns seem to acquire. It owes its status to its huge cathedral, one that dominates its surroundings and is vastly out of proportion to the city's size, a sign of the cathedral's importance. You can see Ripon Cathedral as you approach from the surrounding roads – and the chances are you will approach the city this way, for the railway no longer reaches Ripon.
Fountains Abbey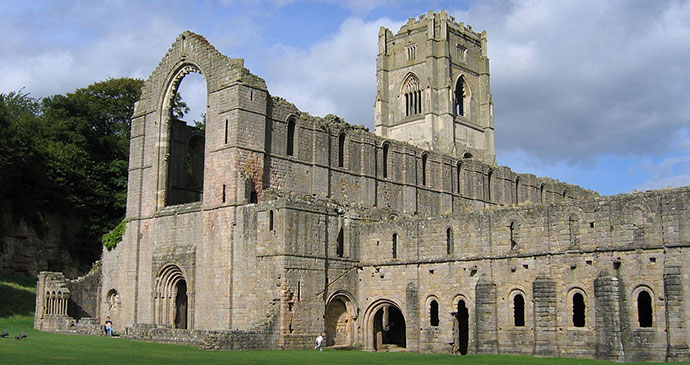 The romantic ruin of Fountains Abbey © Klaus with k/Wikimedia Commons
The remains of the Cistercian foundation of Fountains Abbey, four miles southwest of Ripon and just a few fields away from Markenfield Hall, constitute the ultimate romantic ruin.
Harrogate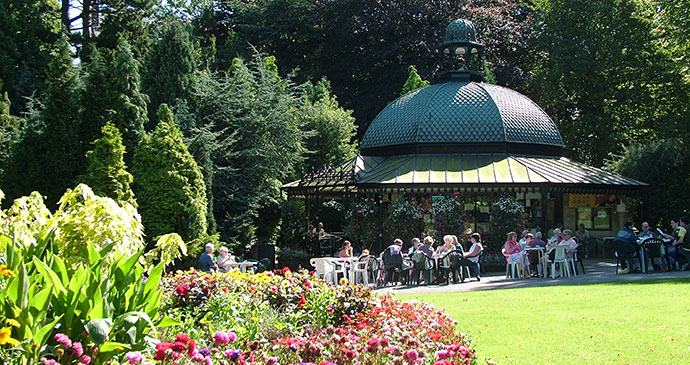 Harrogate Valley Gardens © Welcome to Yorkshire
Where York has history and Knaresborough has small-world charm, Harrogate has elegance. Harrogate's appearance owes much to the kind of visitors it has been able to attract over the centuries – wealthy and noble society from across Europe in search of cures for ailments from the town's spa water. They brought money into the area and with it an air of decadence. Today the town regularly features on top ten lists of the best places to live.
Stage 3
Skipton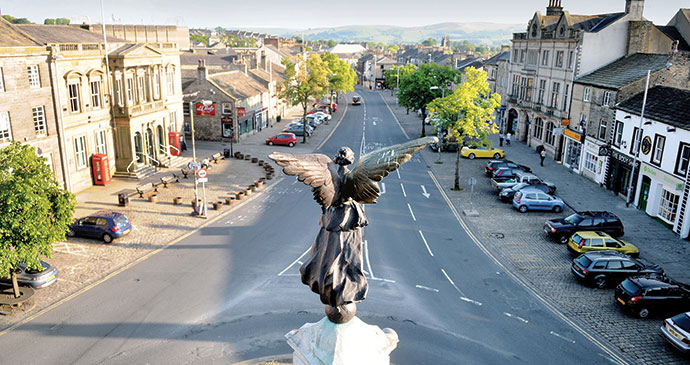 Skipton High Street © Welcome to Yorkshire
In Yorkshire Dales terms this is a large town. It owes its origins to those white, woolly, grass-eaters in the surrounding fields – hence the 'sheeptown' label. Its commercial and industrial prominence owes more to its rail and canal links with the bigger towns of West Yorkshire.
---
Find out more about the Yorkshire Dales and the North York Moors: