Written by Mike Bagshaw
What draws most people to Flamborough Head is its birds © Tom Marshall, Yorkshire Wildlife Trust
One of the most spectacular wildlife experiences that Britain, never mind Yorkshire, has to offer.
This is almost a sensory overload experience I am going through. There is deafening cackling all around and the constant pattering of feet on water, so many individuals are coming and going carrying fish that I cannot keep up, and an overpowering fishy smell pervades everything. Where am I? A busy Scarborough chip shop on a Friday night perhaps? No, I am bobbing on the swell in a small boat at the foot of Flamborough Head cliffs, taking in one of the most spectacular wildlife experiences that Britain, never mind Yorkshire, has to offer.
Most of the pattering fish-carriers are members of the auk family; puffins mainly, but also guillemots and razorbills that have surfaced with a beak full of sand eels to feed their young. They manage to get themselves airborne with a whirring of their small wings and a frantic leg-sprint over the sea surface before banking over to their cliff-top nest. As they leave, the next shift arrives and plops beneath the surface. I lean over the side and watch enthralled as one puffin flaps its way under our boat (they swim by flying underwater), its progress through the clear water visible because of a silver layer of air clinging to its waterproof feathers.
What sound like two sharp gun-shots pull my attention to the other side of the boat, just in time to see the cause of the noise as a gannet folds its wings back at the end of its 30-foot dive and 'thunks' into the water at breakneck speed. Two others surface, both with a wriggling mackerel that they wolf down headfirst – what gannets! There is so much going on it is tiring; a seal's head in the water to port, was that a porpoise fin on the starboard side?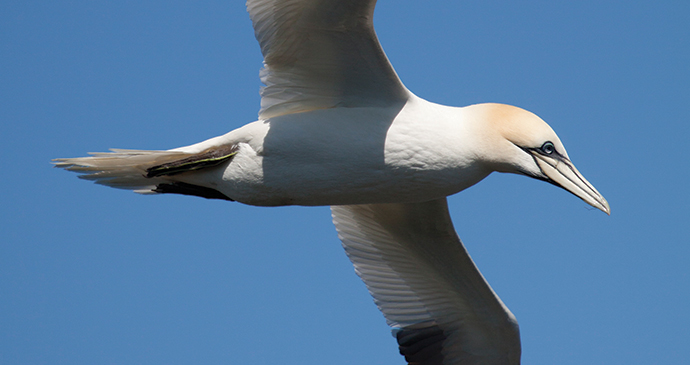 See the only mainland gannet colony in Britain at Flamborough © Tom Marshall, Yorkshire Wildlife Trust
Yes, there it is again – two of them! After a while though, childish excitement slackens enough to observe and see order in the apparent chaos. Seven or eight species of bird breed on the chalk cliffs of Flamborough and Bempton, 200,000 in total, most feeding on small fish, sand eels and sprats. Kittiwakes and guillemots are the most numerous and nest on ledges high on the most vertical sections of cliff with gannets and razorbills preferring the lower sloping sections. The puffins here are unusual – elsewhere in the country, such as the Farne Islands in Northumberland, they raise their young in soil burrows at the cliff-top. At Flamborough, natural cavities in the rock face do the job and puffins have the unusual experience of tenement living with fulmars as neighbours.
In the past, the vast numbers of birds here were seen as a harvestable resource by locals. Gangs of 'climmers' would make a hair-raising descent by rope from the top of the cliffs to collect both eggs and young birds for food. This sustainable harvesting worked fine until Victorian times when things got out of hand.
Shooting birds from boats as holiday sport caught on and many more eggs were collected to supply private collections, but the activity that caused a change in the law was kittiwake collecting. Thousands were massacred to provide feathers for fashion hat accessories and to stuff mattresses. So to prevent their complete wipe-out, the first Bird Protection Act of 1869 was introduced to the statute book and today the birds are very well protected.
As my boat chugs back to North Landing at Flamborough I marvel at what a special place of superlatives this is. It is the most northerly outcrop of chalk in the country, England's biggest seabird colony, and the only mainland gannet colony in Britain. Most of all, it provides one of the most exhilarating wildlife experiences to be found anywhere.
If you fancy a boat trip to see, hear and smell the birds of Flamborough Head, there are a few options, but being afloat is not the only way to experience the birds of course. You can see them with a good pair of binoculars from the beaches at North Landing and South Landing or from the cliff-top path looking down. The RSPB have some excellent viewing points at the top of Bempton cliff.
---
Learn more about the wildlife of the North York Moors with our new guide: