So, you've flown for hours across the Atlantic Ocean without sight of land, and been deposited on to this sprinkling of nine islands that collectively call themselves the Azores. A wander through the narrow, cobbled streets of Ponta Delgada on São Miguel island has left you relaxed. After all, a town of only 35,000 people hardly has a rush-hour, does it?
And now, you are telling me that you want to get further off the beaten track? Don't worry: the Azores archipelago will grant your wishes!
West Coast Walk, Flores Island
There's plenty to admire, however, as you walk along the very western tip of Europe. Spectacular rock formations, carved from basalt by brutal weather at Rocha dos Bardões; photogenic waterfalls providing a scenic backdrop to the stretch between the tiny outpost of Fajãzinha and the comparatively developed village of Fajã Grande.
It's Fajã Grande which provides accommodation and restaurants, offering a welcome and recommended overnight break for those intrepid hikers who take on the entire 24 kilometres of the walk, which also passes the Farol de Albarnaz lighthouse before reaching its conclusion at the settlement of Ponta Delgada.
Along the way, you will also see the weather-beaten islets of Monchique and Maria Vaz and catch a view of Flores's baby sister, Corvo, the smallest island of the Azorean archipelago. If Flores has not proved remote enough for you, maybe a boat trip to Corvo will tempt you?
Corvo
Your arrival on Corvo – one of Europe's remotest islands – may in itself feel like a minor achievement… assuming that you avoided sea-sickness or a succession of cancelled flights.
Corvo's perfectly shaped volcanic crater is the venue for one of the island walks, a circular trail in a tranquil natural amphitheatre where birdlife is the attraction. As you circle the crater's interior, remember that on the outside cliffs drop spectacularly hundreds of metres down to the churning ocean.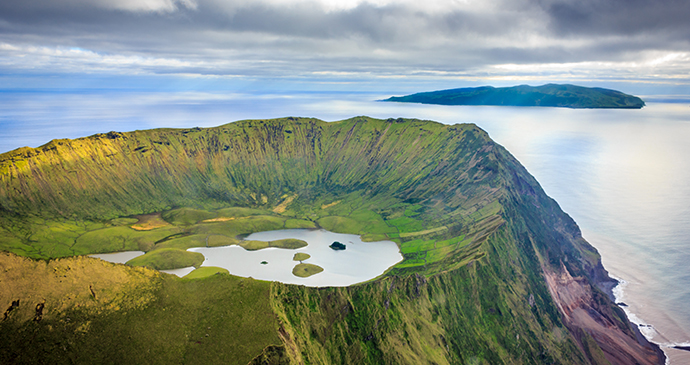 Occasionally, the island is invaded by foreign birdwatchers alerted to the arrival of a rare species or two but Corvo quickly sinks back into its natural state of torpor. As I wait for my departing flight at the end of a runway that does not look long enough, I think that Corvo would be a great place to write a book. But essentially, it is a place to be, rather than to do.
São Miguel: the Rota de Água walk
Surely there's a tendency on visiting an island to want to stick to the coast? All the mesmerising lure of those waves, as the Atlantic rollers vent their fury on the black volcanic rock, certainly makes this true in the Azores. Add in the distinct possibility of seeing a passing whale, or the strange but undeniable attraction of a black-sand beach and it can be hard to drag yourself away to explore the island's interior.
But a diversion is worth it. On São Miguel, a signposted walk not only takes you away from the ocean to a lush, hidden world in the island's interior but as the name suggests (Rota de Água means 'Route of Water') you will have other aqueous points of interest to ponder while you wander.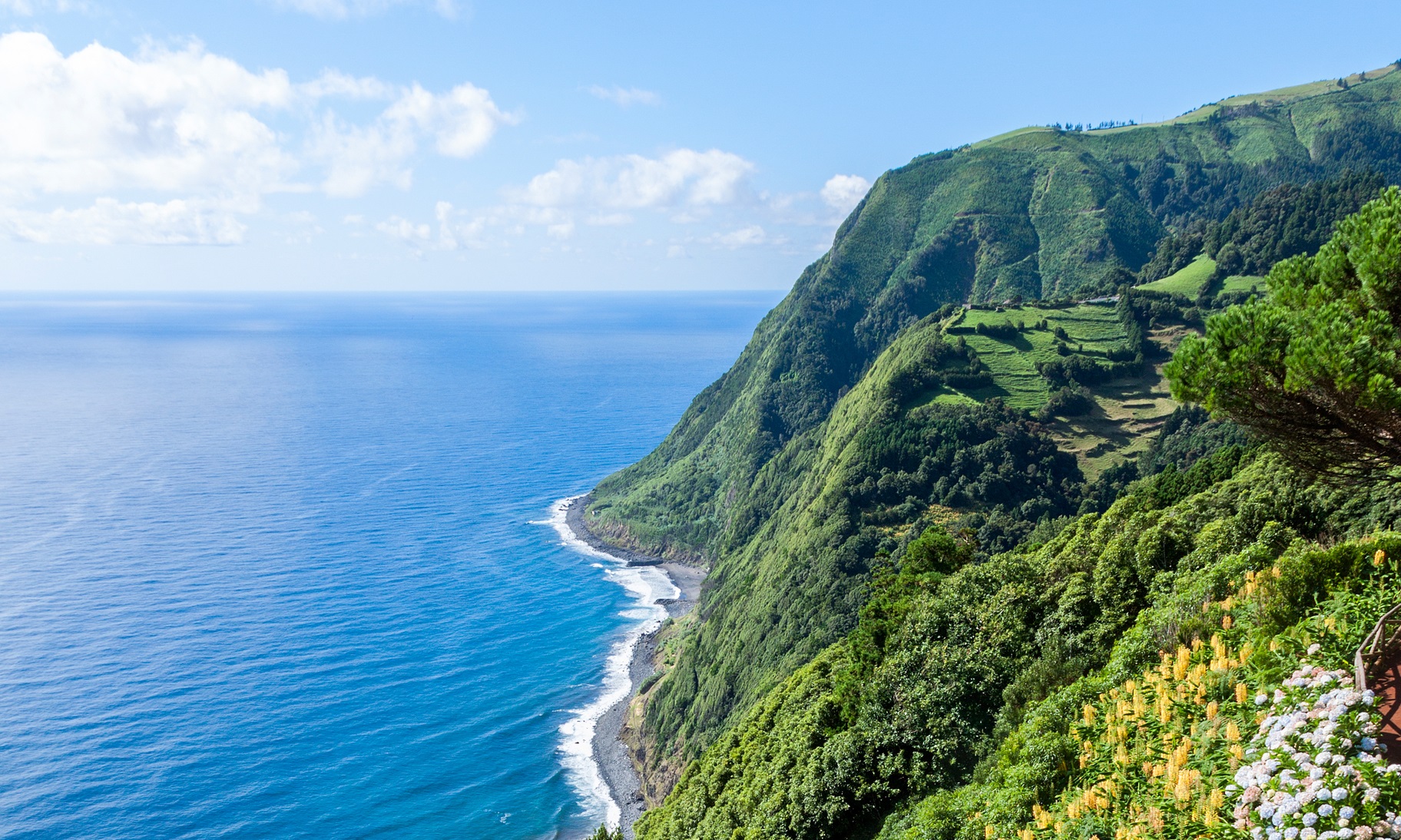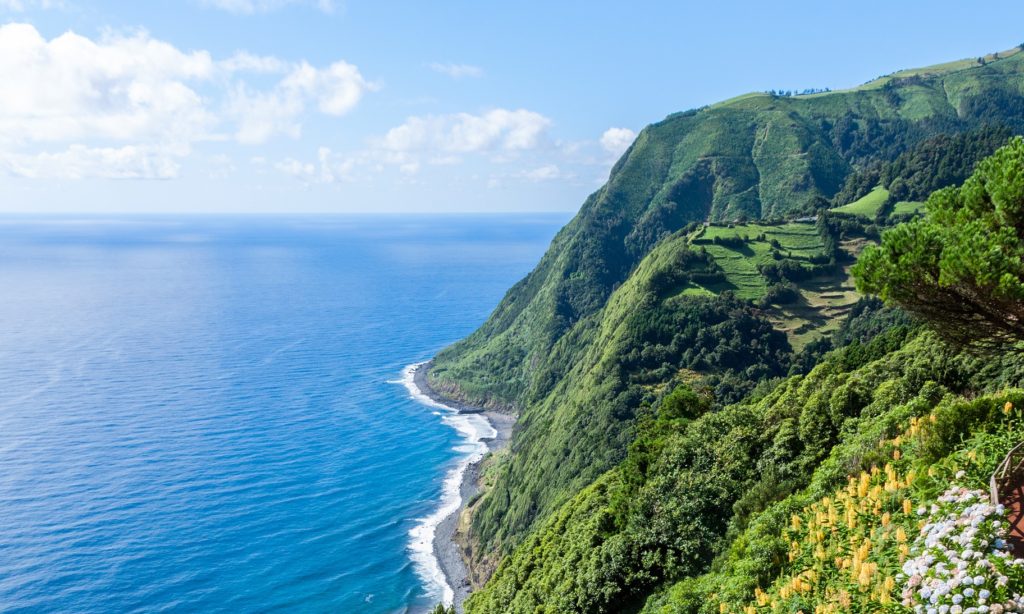 At the start of this 3-hour trail, you will have the opportunity to admire the series of perfect volcanic cones that decorate the west of the island. Then, you set off through pastureland, encountering first an aqueduct then a stream with some water pipes that once fed an alcohol factory but which now give the island's coastal towns their essential supply. Apart from that, and a few tunnels (bring a torch) there's no sign of habitation here. You may even have the walk to yourself.
Deep ravines and an array of flourishing, mid-Atlantic plants will distract you, before you follow the signs for 'Janela do Inferno.' Despite its intimidating name, which translates as 'Window of Hell,' this is a beautiful oasis with a cave spouting out a waterfall down a virtually vertical rockface. It's definitely more heaven than hell for the resident newts who can sometimes be seen in the Janela's pond.
The best thing about this walk is that it's hidden and little-walked out of high season; those who hug the coast are the ones missing out!
Taberna Roberto, Terceira
Terceira's jewel is undoubtedly the UNESCO World Heritage Site of Angra do Heroísmo, a prim and perfect little port town which pulls in its fair share of visitors. It's a delightful place to explore on foot, with museums and gardens to visit. And it also has some good restaurants, both traditional and modern, right in its centre, perfect to restore you once your feet get sore and your stomach feels empty.
But there's another, more remote option to dining in the town centre, and a short drive or taxi ride north to Taberna Roberto will reward your efforts very well. Many visitors won't make the effort, as Taberna Roberto definitely counts as 'off the beaten track' when it comes to lunching.
Roberto styles his rustic place as a 'Casa de Vinhos' or 'House of Wine' and one look at the dining-room walls and their sparkling display of bottles will have you convinced. But though excellent in its choice and quality, wine is not the star here. First, there's Roberto himself, a larger-than-life character with a welcoming smile and a willingness to engage with his guests. Oh yes, and then there is food and lots of it.
Roberto will be proud to show you the wood-fired oven, the centrepiece of his kitchen responsible for delighting guests with lots of hearty meat-based feasts. Suckling pig is a special, but if your vision of meat is something nondescript, wrapped in cellophane and presented on a polystyrene tray, then stay out of the kitchen. Roberto's is not for the squeamish.
The good news is that excellent grilled fish is another of Robertos' prides, but vegetarians will struggle here. If you have room for dessert, the choice is excellent, with a good number of island specials to savour.
---