Born in Taipei, raised all over the Midwestern US and with Brooklyn as a longtime home, Nancy Chuang is a designer and documentary photographer with particular interest in migration and diaspora. She spent several years creating handicrafts on the Thai–Myanmar border for social enterprises, with additional work in graphic design and photography for NGOs.
Her long-term photography project at home has explored the backstories of New York City's street-food vendors, but her overarching interest abroad is daily life and homes in different cultures. She's been treated with invites into homes, weddings and feasts nearly everywhere she goes, for which she's endlessly grateful. Here, she discusses some of the highlights from her travels.
Buon Pays, Phongsali Province, Laos
We spent a frigid winter night in this Akha village near the Chinese border. Our trekking guide – who fully admitted he did not enjoy guiding – cut out once he realised the village chief and I could communicate a little in Chinese.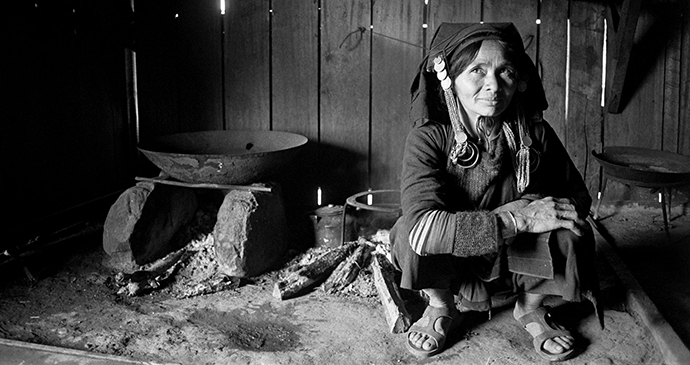 This meant my friend and I didn't get in-depth conversations with the family as we'd expected, and the chief's wife didn't seem too pleased to host us. In the morning, after a filling, simple breakfast, I asked to see her kitchen and suddenly she lit up. She proudly posed for a photo, and despite our lack of communication the previous day, sweetly encouraged us to visit again soon.
Karimenga, Upper East, Ghana
Ghana has quite a few villages that welcome overnight guests, and unlike many other places on the continent, this can be done on a backpacker's budget.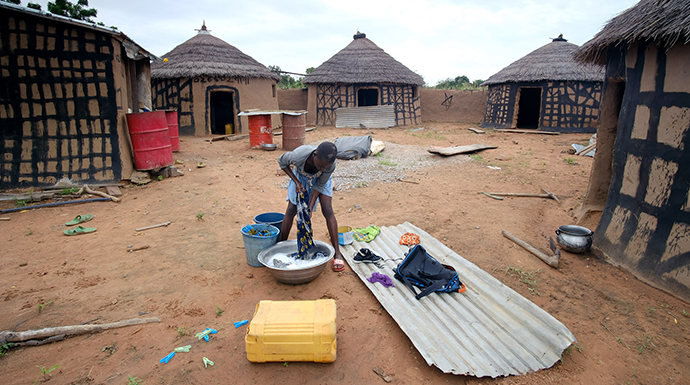 It's an educational experience to sleep in a mud house, help make local foods and, in the north, be woken up by guinea hens. This girl was part of a family of five wives who migrated down from Burkina Faso.
Kutch, Gujarat, India
In India's far west, Kutch is home to ethnic groups producing some of the most intricate block prints, leatherwork, embroideries and mirror murals in the country. I happened to meet an Indian-American woman in Bhuj working with handicrafts groups, which also happened to be my field as a designer. She made a call, and soon my auto-rickshaw arrived in a compound in Hodka, where a master leatherworker and his extended family welcomed me to spend the night. Although there were a few issues with the leatherworker getting overly amorous, his family couldn't have been kinder, the food they made couldn't have been more delicious and the stars dancing over the round bhunga huts at night couldn't have been more spectacular.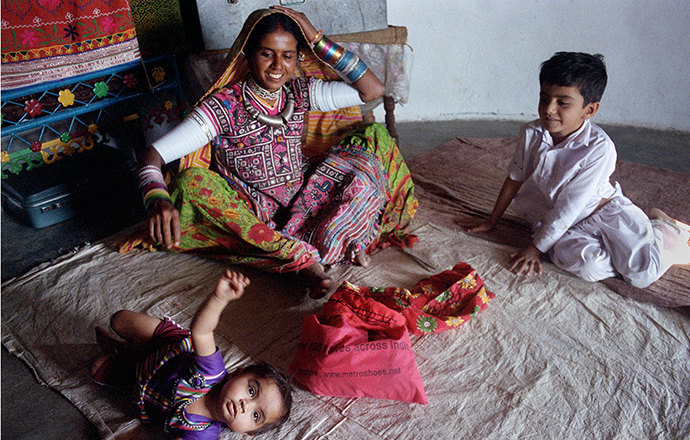 Northern Shan State, Myanmar
On my fifth trip to Myanmar, my longtime guide and friend had tapered off his old method of dropping in on villagers with a bag of groceries for them to cook or cheekily asking if they had any leftovers to share.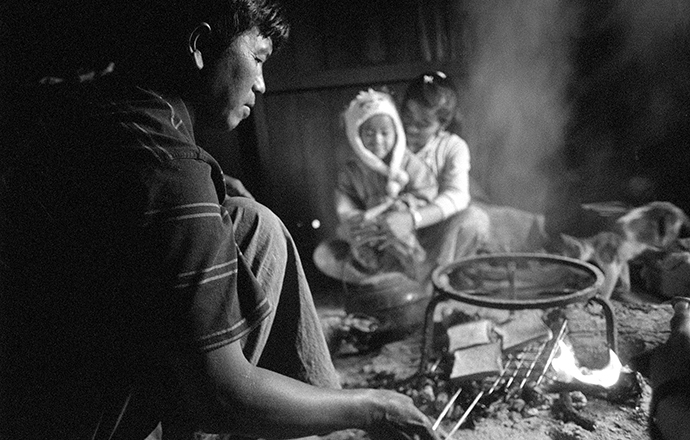 In many villages of Northern Shan State, electricity is rare and indoor cooking fires are common. This time, we'd brought our own camp-style foods of sliced breads and instant noodles, but when slow-cooked over a fire, they felt almost gourmet.
Machame, Kilimanjaro, Tanzania
My safari guide in Tanzania casually mentioned that his family originally came from a village on Kilimanjaro, and that I should visit his grandmother. As he would be on safari, he sent his young sister to guide and translate. Grandma was delighted, admonished her granddaughter laughingly for not warning her in advance, coaxed me to accompany her in the outdoor woodfire kitchen, and, at 80-something years old, eagerly cracked open a couple of beers with me as well.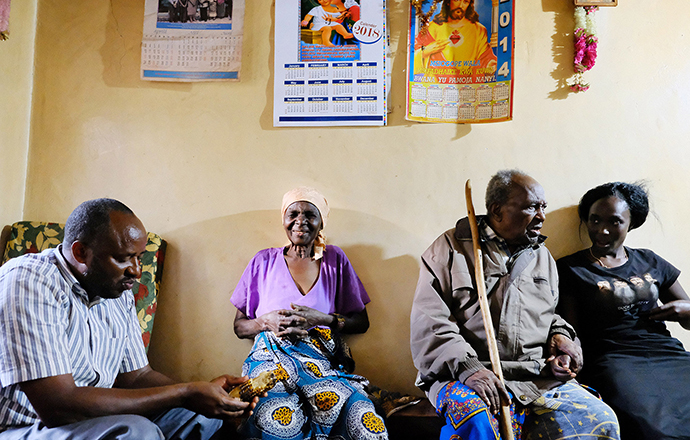 In this photo, another family showed up by surprise to say hello – it was New Year's Day – and were also warmly welcomed by grandma and grandpa. I'd come to Tanzania with very little planning, which meant plenty of room in my schedule for three unexpected nights in the foothills of Africa's roof.
Kompong Luong, Tonle Sap, Cambodia
Cambodia's huge freshwater lake Tonle Sap is home to many landless ethnic Vietnamese, who build villages on stilts or, further out, live on floating barges. Although daytrips to fairly jaded, hassle-filled villages in the north near Angkor Wat are available, I chose to visit Kompong Luong in the south.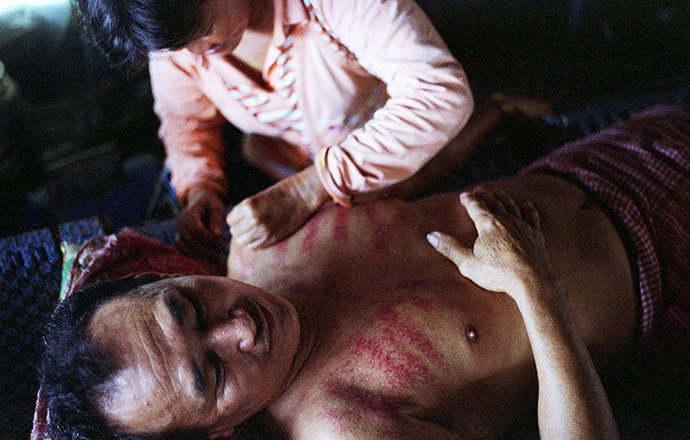 The daughter of the family running the guesthouse knew a few words of English, but despite the near-complete lack of communication with everyone else, it was a wonderful way to wile away a few days. The floating village included temples, vegetable farms, pig pens; traders go around in wooden canoes selling bread, butchered meat and clothing. The family lived on three barges tied together: one rented out for special events, and one serving as a guesthouse-cum-poolhall. The son did mobile phone repairs, the mother ran a shop, and the father, pictured here receiving a traditional Chinese medical treatment, was a barber whose clients arrived literally by the boatful.
Tana Toraja, Sulawesi, Indonesia
I was in Tana Toraja to see the famed funerals, and at a relatively accessible one I met a local videographer who invited me to attend his own relative's funeral the next day. Unseasonable rain made the motorbike ride on steep muddy paths to Parinding treacherous.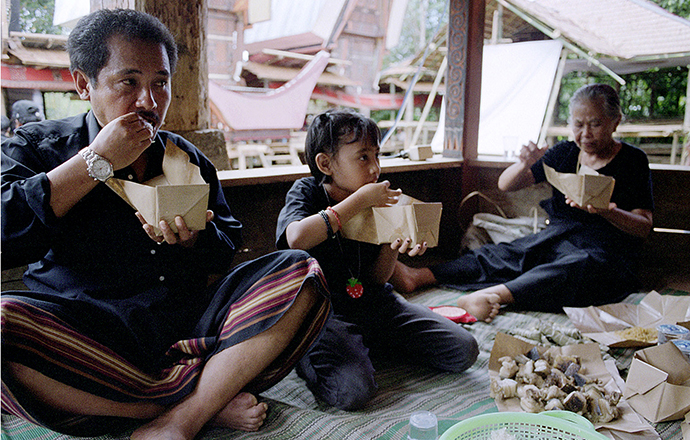 Once there, I learned he'd told most of his family members that I'd agreed to marry him and that as his fiancée, I should sit in the special hut with the family of the deceased in my dirty jeans, while being plied with the choicest cuts of the freshly butchered pig.
Nong Khiaw, Laos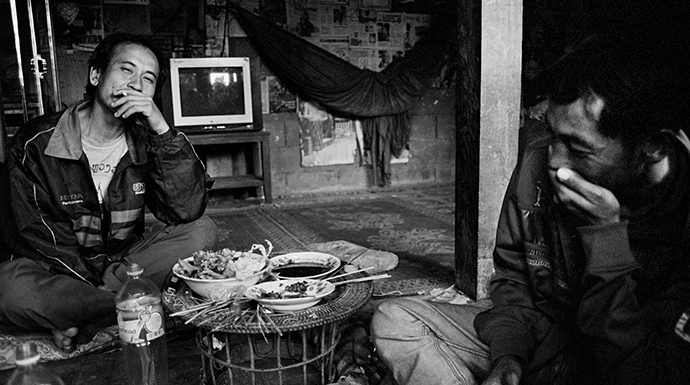 My friend and I happily agreed to shots of rice whiskey to ward off the chill. We didn't communicate well with these men, but drinks and grilled meat on sticks kept going around and around, then pictures of babies, then actual babies, while the non-drinking female family members laughed on.
Kyaukme, Northern Shan State, Myanmar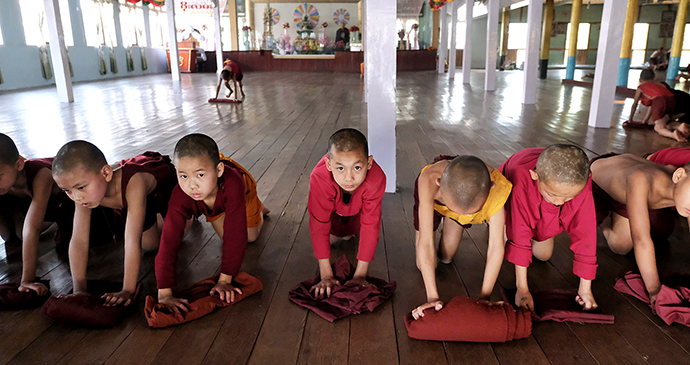 For devout young boys in Myanmar, one of the most deeply Buddhist countries in the world, a monastery is home for several years. In this monastery – the largest within Kyaukme city borders – novice monks also work on non-religious discipline, patiently dusting the floor with robes under the watchful eye of a senior monk.
Bhalil, Morocco
There's only one guesthouse in the trogolodyte village of Bhalil, an exquisite boutique a bit out of my usual price range. After leaving the guesthouse to stroll around the vibrantly painted stone homes, a woman standing at her door cajoled me inside. I met her daughters, both obsessed with my phone, and this one pictured repeatedly asked for money while her mother scolded her.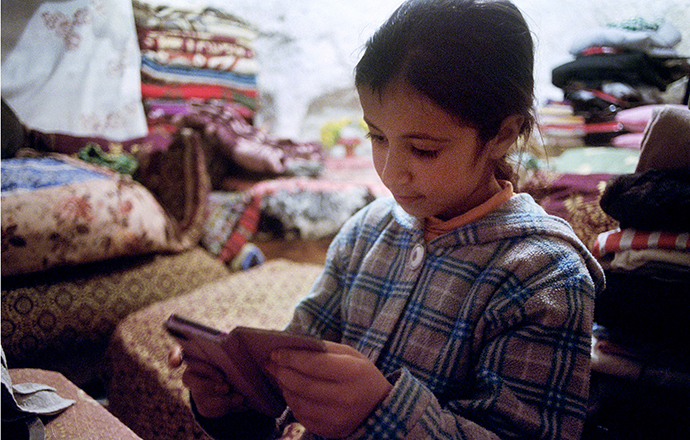 In the carved-out, whitewashed room stuffed with pillows and blankets, the woman insisted I stay for couscous, prepared over a small flame for several hours. Meanwhile back at the boutique guesthouse, the owner panicked; my phone didn't get a signal in the cave and he wasn't sure who I'd met. Everything worked out in the end, with extraordinary hospitality radiating from both sides.
Cabo de la Vela, La Guajira, Colombia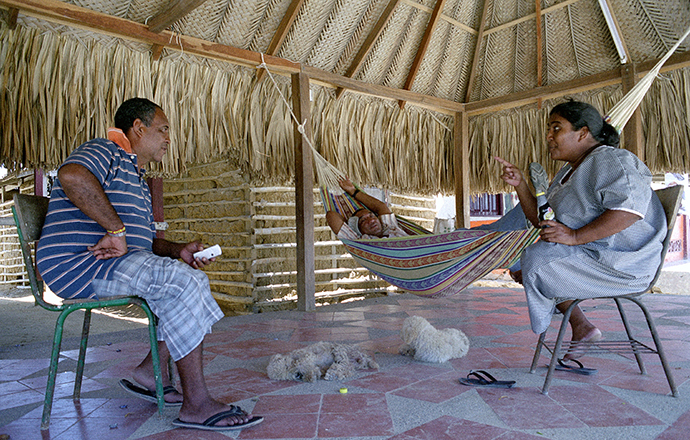 Multiple stages of transport are required to reach this remote corner of Colombia, a harsh landscape of dry beach and desert and salt flats, inhabited by the indigenous Wayuu people. It isn't a very indoors kind of place; hammocks seem more common than beds.
Muara Muntai, Kalimantan, Indonesia
An independent exploration of the Dayak villages of the Mahakam River can be an epic journey. Years ago, the only way around was by shared motorised canoe rather than large ferries or expensive private tours.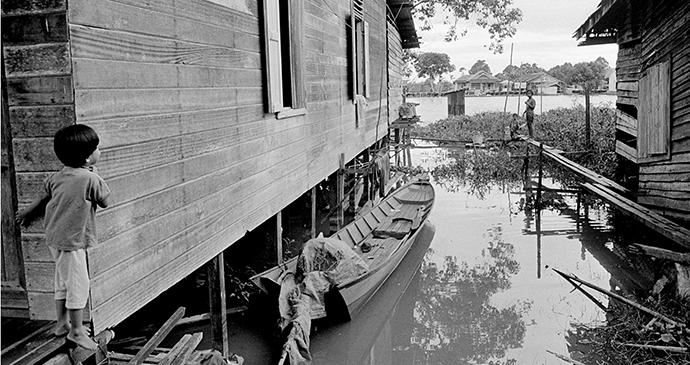 On my way to Tanjung Isuy, I spent a night in Muara Muntai, a village built on stilts. Residents travelled by boat, ran confidently down single beams as if they were full-size walkways, and dove into the water whenever the heat became overbearing.
Wechiau, Upper West, Ghana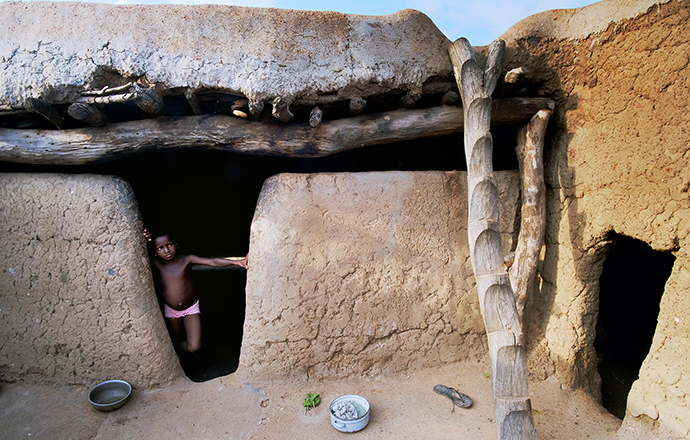 I visited an art gallery in Accra where these fairly typical hand-hewn log ladders of the far north – used for climbing up these flat-roofed mud houses – were displayed on sculpture stands. I would love to see this tiny serious queen's reaction to that.
Kyaukme, Northern Shan State, Myanmar
On my first visit to Myanmar, I met a funny and friendly trekking guide in Kyaukme who led me on a fantastic four-day walk through lush landscapes, sleeping in Palaung and Shan villages, seeing festivals and learning about cottage industries. His wife, who speaks minimal English, was a smiling presence around the edges when we returned to town.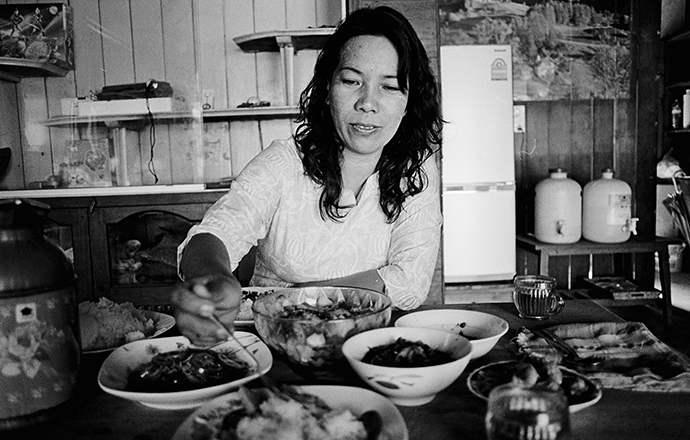 The following year, the military government imprisoned her without explanation, and I offered some very small support. Through the ensuing years, she and her daughters have become dear friends as well, going above and beyond to welcome me back to Kyaukme again and again, always happy to show the beauty of their unfortunately conflict-torn region and to share delicious traditional foods.
---
Want to see more from Nancy's travels? Follow her on Instagram or check out her website.