Written by Andrew Bostock
Greece is one of the few countries where religion is still a major part of the national identity. The vast majority of the population, whatever their church-going habits, would describe themselves as Orthodox. There is also a still tight link between Church and State, one example of which is that only foreigners can be cremated, a practice forbidden under Orthodox laws. In most Greek minds you cannot be Greek unless you are Orthodox. This is true of everyone from the most pious to those who hardly ever set foot in a church and find the practice somewhat old-fashioned.
The Orthodox Church was one of the anchor stones of Greek identity during Turkish occupation. In modern times this has led to a unique attitude to religion in all spheres of life. In political life the mentioning of 'God' is almost a taboo in Britain, carrying an embarrassing taint with it. In the USA, however, it is practically obligatory and a president can happily mention that God talks to him and helps him make geopolitical decisions. To the Greek mind both these attitudes would seem strange. The Orthodox faith here is simply a given, informing and providing an undercurrent to everything else. To reject it is unfathomable and would involve turning your back on an essential part of what being Greek is; akin to an Englishman not supporting the national football team, or an American decrying the constitution.
The Orthodox year is littered with observance and celebration. Each saint, down to the most parochial and minor, has their own festival; commemorated at churches dedicated to them, in villages they are patron of, and by people who share their name. Even a fairly short journey through Greece is not unlikely to throw the traveller into the midst of one of these. One of these paneyiri, or 'celebrations', will always involve a church service, but they are more noticeable for their partying, with eating and drinking continuing in the village square until the early hours.
This combination of religious festival with secular bacchanalia – wine, food, good company and dancing – also applies to the more universal celebrations of the Christian year. The most important of these, from the Orthodox perspective, is Easter; still far overshadowing the observance of Christmas, despite a recent influx of Western traditions. This makes a lot of sense, when looked at objectively.
The earliest sign that Easter is on the way is a slowly increasing chorus of loud explosions in the weeks before. These come from firecrackers of a sort long banned in most countries, and walking past teenagers, and even younger children, at this time of year becomes a hazardous occupation. It is a harbinger of the celebrations to come.
To prepare for these the Greeks tend to fast in the weeks preceding. This can vary from 'giving chocolate up for Lent' to not eating any meat, fish or oil. On Good Friday processions of icons of Christ, rested on funeral biers, are solemnly paraded around villages and towns.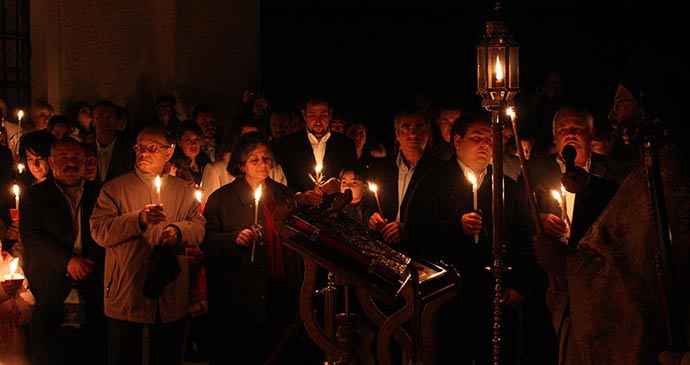 Easter Sunday celebrations in the Greek Orthodox Church © Yarl, Wikimedia Commons
The main event is the next night, when an evening service culminates in the extinguishing of all lights in the church. At the stroke of midnight a single candle is lit in the inner sanctuary, symbolising Christ's rebirth. This is passed from candle to candle until every family has a light. To ensure good luck for the year they must return home with it still lit, and draw a sooty cross above their front doors.
The fast is broken that night with a soup of lamb's guts and lemon, but the main feast is the next day when the whole lamb is roasted on a spit. Greek Easter eggs are hard-boiled and dyed red, and a game, similar to conkers without the strings, is played with them. The eating and drinking will generally continue for much of the day.
---
If you want to find out more about Greek traditions, try our guide to the Peloponnese: