Written by Andrew Bostock
The village of Pyrgos Dirou announces itself with a line of tourist shops. There's little of interest in the settlement itself, and no real reason to stay here, but unless the very idea of caves gives you the complete heebie-jeebies, the turn-off towards the coast should not be ignored. The Diros cave system is one of the finest in the world, with its magical combination of stone and water.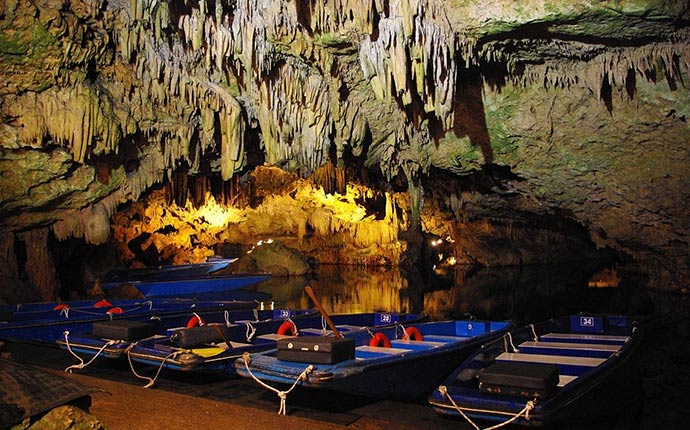 The main sea caves at Diros were known to locals from at least 1895 © Koppi2, Wikimedia Commons
Vlychada Caves
These caves are the most spectacular of all the ones in and around Diros, and this is where most of the tourists that get this far are heading. Their name comes from the Maniat word for a 'fresh water spring'. Whilst they can be crowded, it is worth persevering, as the caves are truly stunning, with countless stalactites reflected in crystal clear pools of water.
The ticket office is at the top of the cliffs at the end of the road from the village, which then sweeps down past a small museum to the cave entrance. The tours take place on small punts, which each take about ten adults and are guided through the warren of tunnels and chambers by skilled, but usually unresponsive, ferrymen. After buying your ticket you wait until the next available punt is free, which can be an hour or two on a high-season weekend. There is a small pebble beach and a café to help while away the time. Whilst the cave itself is spectacular, no traces of human habitation have been found. Animal remains abound, however, with fossils of panthers, hyenas, lions and hippopotami all turning up. It must have been a very different Mani once…
Whatever the temperature outside, inside the cave remains about 16–19°C, so an extra layer might be worth it. The tour is 1,300m long and takes about 25 minutes; at the end there is a 200m walk to the exit.
---
Want to find out more about the fascinating sites in the area? Check out our comprehensive guide: