Written by Andrew Bostock
The periptero is as much a part of Greek life as tavernas, ouzo and dancing.
These roadside kiosks, looking like overgrown wooden boxes, were originally founded to give employment to war veterans after World War II. Nowadays they are usually family-owned businesses and a periptero in a reasonable location can provide a good income. For a long while they were the only places licensed to sell cigarettes, which guaranteed them good trade. This is no longer the case, and most stock a pretty diverse range of things: soft drinks, beer, condoms, newspapers, phone cards, worry beads, postcards, ice creams and sweets, to name but a few. They also used to act as the local phone booth, but mobiles have made this function obsolete. Yet the periptero, with its long opening hours and wide range of goods, remains a hub of any street. Unfortunately, as part of the imposed austerity regime, it was decided in October 2015 that periptero licences would no longer be renewed. They should be around for a while longer, and who knows what the future may bring, but many will mourn their passing.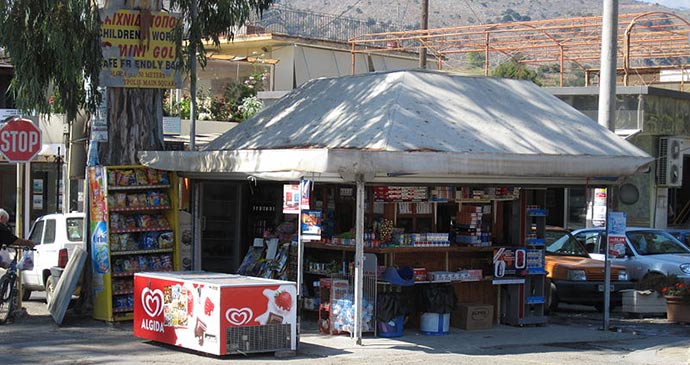 An example of a traditional Greek periptero © Albtalkourtaki, Wikimedia Commons
Whilst some may try, a mere periptero cannot rival the stock of a good pantopoleion. Rarer than they once were, these shops still form the heart of many a small Greek village.
The name means 'sells everything' and pantopoleions try to keep true to this. Whether you are after basic food stuffs, DIY tools, pots and pans, electric heaters, books and newspapers, children's toys or alcohol, you merely have to ask; the pantopoleion owner will have what you desire hidden away somewhere on his cluttered shelves. To top all this, the pantopoleion often also serves as the village kafenion and post office (both taking and receiving mail for the village). The only thing that most pantopoleions lack is fresh groceries, but wait around long enough and these will be provided from the back of the loudspeaker-bedecked vans that travel from village to village in rural areas. It is sometimes difficult to see how people survive in these small Greek villages, but dig beneath the surface and you soon find that there is little reason ever to leave one.
---
Want to find out more about the traditions of the villages in the Peloponnese? Check out our comprehensive guide: