No author was actually called Lewis Carroll: this is the pseudonym of Charles Lutwidge Dodgson. The Latin for Charles is Carolus, thereby Carroll, while Lutwidge translates as Ludovic, or Lewis when anglicised, hence Lewis Carroll.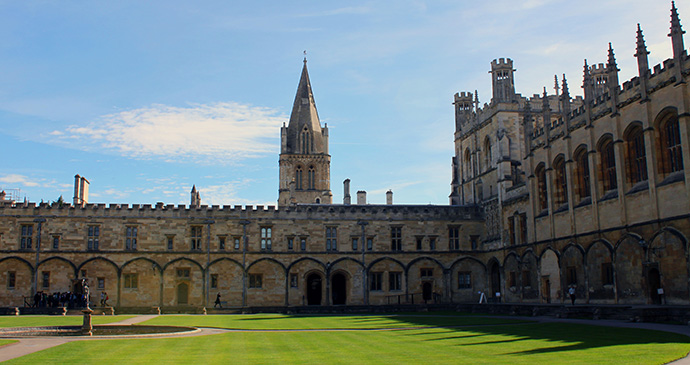 Christ Church College, where Charles Dodgson taught © Tejvan_Pettinger
Charles Dogdson both attended and taught mathematics at Christ Church College. The college was significant in the lives of he and Alice Liddell, upon whom his book is based; Alice's father was Dean of Christ Church and a very good friend of Charles Dodgson. The mathematician would take Alice and her siblings for frequent rowing trips and picnics on the Isis, telling bizarre stories as they travelled. Alice's Adventures Under Ground was born from this, and was later published as Alice's Adventures in Wonderland.
The Oxford Dodo © Oxford Museum of Natural History
There are many places and features around Oxford that crop up in Lewis Carroll's books, one of which is the Oxford dodo. The Great Hall in Christ Church College houses portraits of Henry Liddell, Alice's father, and Charles Dodgson plus an 'Alice' window depicting Alice Liddell, the dodo and other Wonderland characters.
Alice's Shop, opposite the entrance to Christ Church Meadow on St Aldates, stuffed with Alice memorabilia today, was the sweet shop where the little girl would buy her favourite barley sugars.
---
Want to explore more of Oxford and the Cotswolds? Here's 10% off the guide: