Written by Hilary Bradt
As cities go, Exeter is in fact surprisingly gentle, with plenty of open spaces and visible history encouraging a moment's pause and enjoyment – perfect for Slow travel. It's compact and cupped in green surroundings, without the unappealing urban spread that commonly occurs. There are so many unexpected discoveries: the 10th-century Exeter Book of Anglo-Saxon poetry; the breathtaking beauty of the great cathedral's Gothic arches; the rough texture of the old Roman wall, still as it was when strolled along by sandalled Roman feet; tiny ancient churches; twisting medieval lanes; sudden bursts of art; markets and cafés proudly selling local produce; parks and gardens bright with flowers; a poem inscribed on the pavement – the list goes on. Rated in surveys as one of Britain's happiest cities in which to live, Exeter is well worth exploring.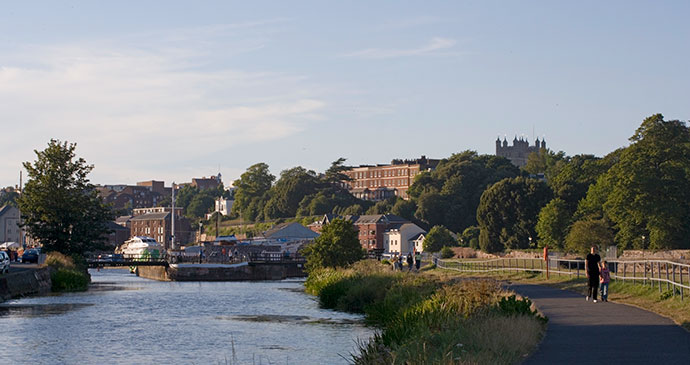 A peaceful ramble along Exeter Quayside © Tony Cobley, Heart of Devon Images
What to see and do
Start your day beneath the city at the Underground Passages. Exeter is the only place in the UK to have underground passages of this type; built in the 14th century, they're one of the most complete medieval water systems in Europe. The 25-minute tour provides interesting snippets about the history of the tunnels, and there's a small, interactive museum.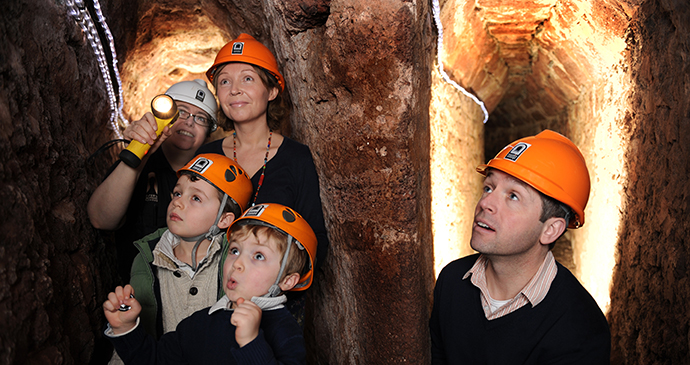 © Exeter Underground Passages
Back at ground level, head south on High Street past the flower-filled Northernhay Gardens, 11th-century Rougemont Castle and the 21ft-high Riddle Statue, inscribed with verses (riddles) from The Exeter Book. Coming up on the right is Gandy Street – described as the Carnaby Street of Exeter – with some attractive small independent shops. Next comes Queen Street, leading to the imposing Royal Albert Memorial Museum, showcasing everything from a World War II air-raid shelter to a Kilimanjaro giraffe named Gerald.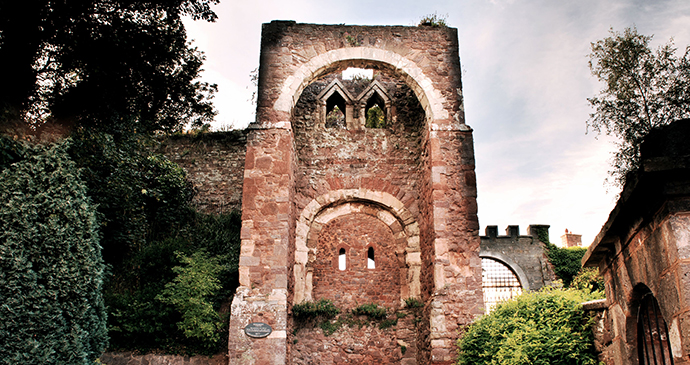 Exeter Castle © Philip Vile Photography, Heart of Devon Images
Continuing along High Street, you'll come next to one of the oldest municipal buildings in England – the impressive Guildhall, where the affairs of Exeter have been run for over 800 years. Not far from here, roughly opposite St Petrock's church, is what's claimed to be the narrowest street in the world: Parliament Street, 25 inches wide at one end increasing to a maximum 45 inches. (It all depends on your definition of 'street'!)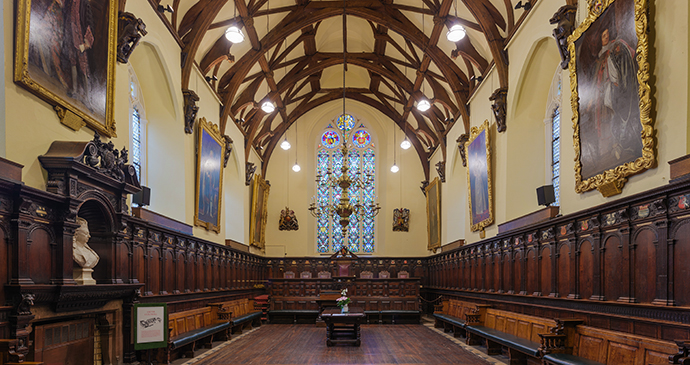 The spectacular interior of Guildhall © Diliff, Wikimedia Commons
High Street becomes Fore Street at its junction with North and South streets – this is the place for shoppers, with lots of independent and quirky little businesses. Continue down it past the churches of St Mary Arches and St Olave and the beautiful little medieval lane called The Mint.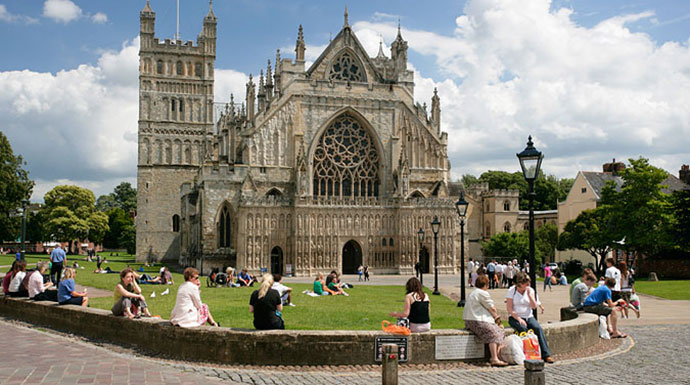 © Tony Howell, Heart of Devon Images
Alternatively, take a left and left again on to South and Bear streets to the Cathedral Church of St Peter in Exeter. This great building with its massive carved frontage is Devon's first cathedral, and as you step inside the door your eye swings immediately up to the space and grace of its amazing roof: the longest unbroken stretch of Gothic vaulting in the world.  You may want simply to gaze and stroll and absorb the atmosphere, reading the explanations by the various objects, but you'll gain far more from your visit if you buy a guidebook from the cathedral shop or take one of the guided tours.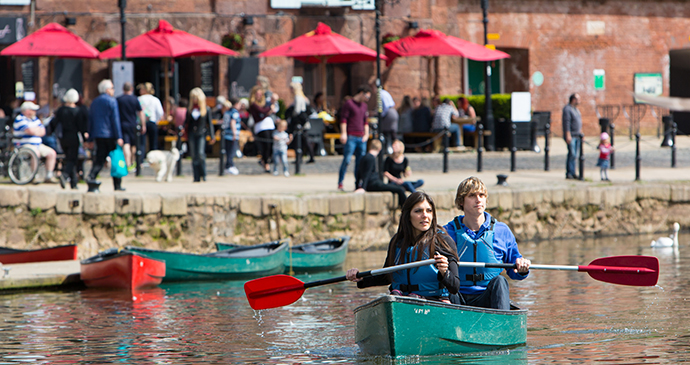 Canoeing at Quayside © Tony Howell, Heart of Devon Images
After a long morning of sightseeing, head to Quayside for a bit of R&R. Dating back to Roman times, the old quayside has been turned into a relaxed, pleasant leisure area, with traditional workshops in the old warehouses and arches. You can take a boat trip along the canal, paddle off in a canoe or kayak, or hire a bike and pedal down the old towpath. Or potter off in a pedalo; the men hiring them out were absorbedly playing chess when I was there, while waiting for customers to arrive. There are bars, cafés and restaurants with fresh local food, and antiques and curios galore; the huge Exeter Antiques Centre is well worth a browse.
Getting around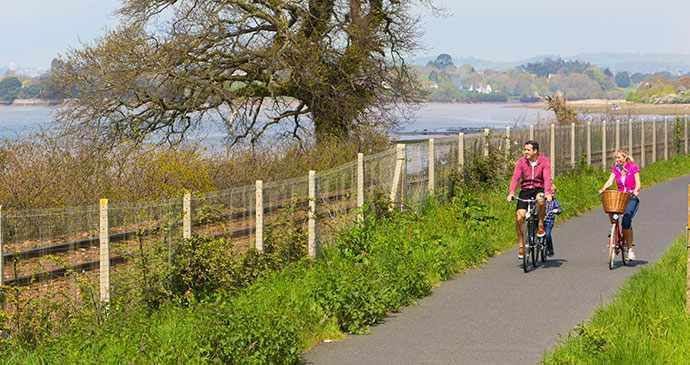 Exeter marks the beginning of the Exe Estuary Trail ©  Tony Cobley, Heart of Devon Images
There's an efficient network of buses within the city, but as all the main places of interest are within walking distance of each other, it's easily navigable on foot. The tourist information centre website has leaflets for a number of self-guided walks. Exeter is also a very cycle-friendly city, and the start of the 26-mile Exe Estuary Trail.
Eating and drinking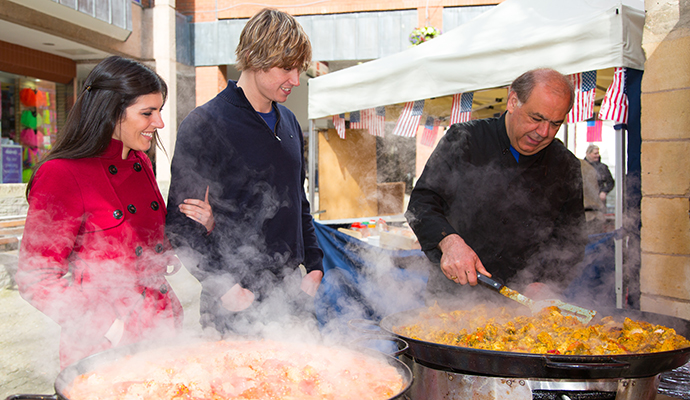 Exeter Street Food © Tony Cobley, Heart of Devon Images  
For something on the go, Exeter Street Food has all-day markets in the Guildhall Shopping Centre (High Street) on Friday, Saturday and Sunday, and 'Night Markets' (to 21.30) down by the quay on the first and third Thursdays
---
For more on Exeter and the surrounding area, check out Hilary's Slow Travel East Devon and the Jurassic Coast: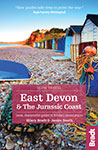 ---