To help us indulge in a little escapism, we've been asking our authors for comic or revealing moments from their life on the road. Here, Murray Stewart – author of our guides to the Basque Country, North Cyprus and Cape Verde, among others – tells us how he got more than he bargained for from the locals on his first trip to this central Asian nation.
The middle-aged man leaned towards me and his head buried itself into the back of my neck. A gentle bite was not what I expected, but that's what I got. Was this a local custom, I enquired? The three young Muslim girls accompanying us giggled.
No, they replied. The man is drunk.
Kyrgyzstan in Central Asia is not on many people's radar, perhaps more of an experience than a tourist destination. Our visit to Aravan, close to the border with Uzbekistan, coincided with Nooruz, the Muslim Spring festival. As the only foreigners, we were whisked around like royalty. We danced to music, shook hands robustly with local politicians and were fed constantly with bowls of local delicacies. It felt like a spectacular send-off to a great adventure that had started two weeks before.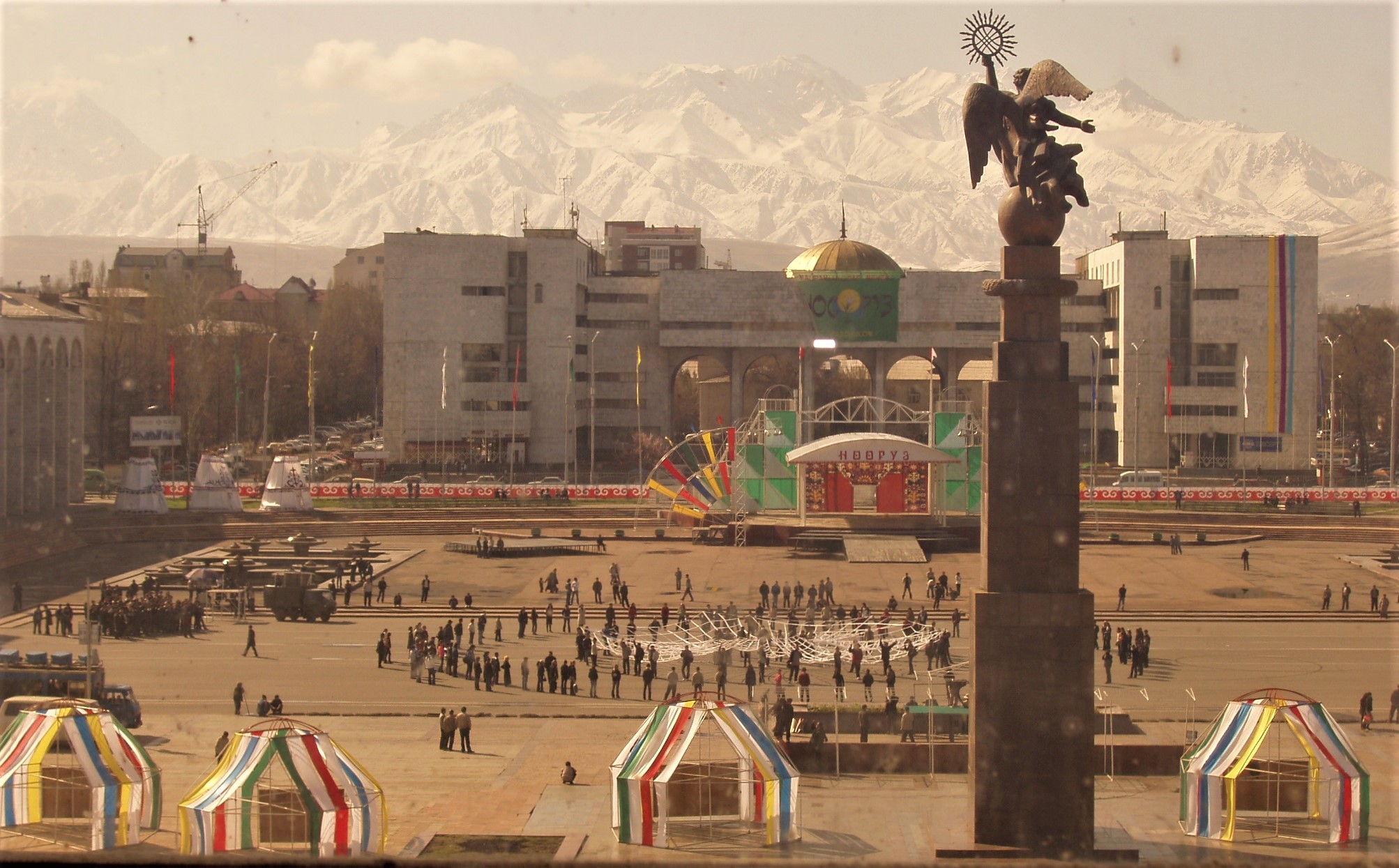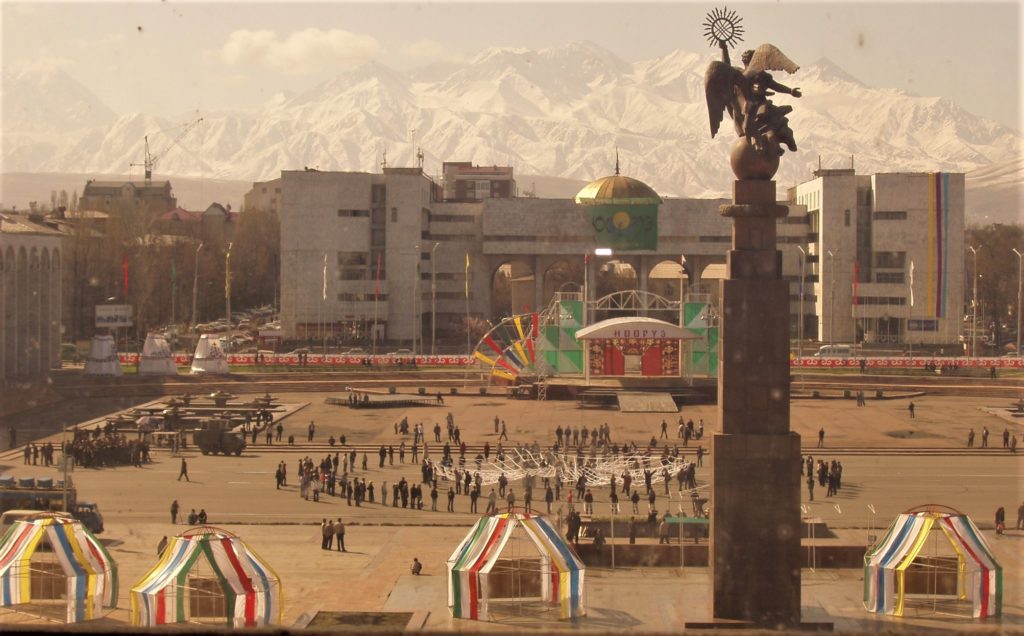 Kyrgyzstan's visitors are likely to be open-minded and curious, not luxury travellers nor pleasure-seekers. A fortnight here will undoubtedly bring you face-to-face with experiences you've never had before. A beautiful, mountainous Central Asian land with people who are both friendly and respectful despite aching poverty, Kyrgyzstan will surely leave a profound impression on you.
Arriving by plane, you'll almost certainly land in the capital, Bishkek. Framed by spectacular mountains, first impressions may nevertheless be of a somewhat forlorn city dotted with Communist-era architecture and myriad statues.
The Kyrgyz State Museum is a must-visit, simply because of its different take on history: where else can you see art depicting the skeletal figure of 'Uncle Sam' astride a Persching missile? And even if museum exhibits are not your bag, the mountain views from the top-floor windows of the building are worth the visit. At the nearby market, marvel at the stalls with their stylised emblems of the lost Soviet empire. All of life's essentials are on show here: military medals, obsolete coins, Lenin alarm clocks…
A scenic day's drive from Bishkek leads you to Karakol, via Lake Issy Kul. Hire a driver, he'll negotiate the bribes with the roadside policemen who spend the day inventing imaginary traffic offences and imposing fines to pay for their lunch. Issy Kul is supposedly where the Soviet Union used to test submarines, though like many things here, the border between fact and fiction is wide and blurred. The lake is beautiful, and by Kyrgyz standards, its north coast – with beaches and austere spa hotels – is comparatively well-developed for tourists.
Karakol is famous for its boisterous Sunday morning animal market. We watch as local men 'test-drive' horses, make an evaluation of cattle and count the ears of one-eared donkeys. Keen to join in, though not ourselves in the mood for buying livestock, we join the buyers and sellers in downing a couple of shots of breakfast vodka at 7am. Well, when in Rome…
We detour to the spectacular red rocks of Jeti -Oguz, but first we call on Tenti, the 'Eagle Man of Jele Debe', only five minutes from Karakol. Tenti's winged companion is a national hunting champion, capable of killing wolves. With a wingspan of 1.5 metres, you'd better believe it. Especially if you're a wolf.
And so finally to Aravan, and our unforgettable Nooruz experience. The people here are ethnic Uzbeks, their Spring Festival a pageant of formal speeches, choreographed dances and endless food. We are exhorted to help stir a huge vat of plov, a greasy local rice dish.
We join the Mayor for a dance, notable for a dearth of rhythm. Has he heard of Scotland? I wait for my words to be translated. His eyes light up: "Sean Connery!" he shouts, at one fell swoop using up his entire English-language vocabulary. We soon find ourselves inside a yurt, listening to a brightly dressed lady playing a banjo-like instrument.
Outside again, we gawp at young boys clambering over a Soviet tank – a relic from earlier days, bizarrely abandoned in the town centre. We end our afternoon in a dingy basement disco, where a group of uniformed policemen are among those 'throwing shapes,' until they get bored and break up the dancing with batons. We emerge, blinking, back onto street level, bewildered by the mosaic of sights, sounds, smells and tastes that this day has bestowed upon us.
We escape the country without being confronted by our biggest fear – being offered Kyrgyzstan's top delicacy, reserved for guests of honour: a sheep's eyeball.
Eat a sheep's eyeball, or deeply insult your hosts with a refusal? Now there's a choice you don't face every day. I avoided that dilemma. But not the drunken bite on the back of the neck.
Welcome to Kyrgyzstan.
More information
This is a narrative of a trip that took place in 2006, so things may have changed. For up-to-date travel information on Kyrgyzstan, check out our guidebook to the country.