We chat to Tom Sykes, author of our new pionnering guide to Ivory Coast, about the little-visited African country and what not to miss.
How did you first become acquainted with Ivory Coast?
More or less by accident. I was invited to teach at one of the English-speaking universities there, arrived to discover that there wasn't enough work for me to do so obtained some commissions from magazines to travel about the country and write about it. As soon as I got on the road I was smitten.
In the book you talk about the ubiquity of arts and crafts in Ivory Coast. What was your most exciting find while you were there?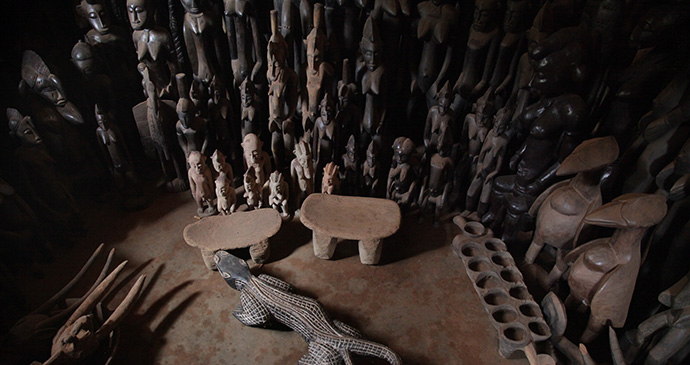 A carpenter's workshop in Korhogo © Alex Sebley
What I find interesting is that, in many cases, rural craftspeople make objects that have a direct practical use to local farmers, builders and other craftspeople. There is often no intention to market these objects to tourists even though they happen to be beautiful enough to make excellent souvenirs. For example, at the Koni metalworkers' commune in the north, blacksmiths use wood- and manure-fired kilns to construct knives, hoes, scythes, machetes and other tools that are essential to the industry and agriculture of nearby villages. The techniques have barely changed since the Iron Age and it's quite mesmeric to watch these men at work.
What advice would you give to a first-time visitor to Ivory Coast?
Please protect yourself against malaria! My photographer stopped taking his prophylactic pills and got horribly sick twice. Ivorians kept telling us not to worry: 'In Europe you have the flu, in Africa we have malaria.' Having seen Alex's suffering first-hand, I don't think the comparison is accurate.
Abidjan is the big pull for many visitors to Ivory Coast. Where would you recommend for those who want to discover the country a little beyond the city?
Ivory Coast's biggest city is quite different to the rest of the country so it's important to get out to areas like the Dix-Huit Montagnes in the west. Amid the mind-blowing alpine vistas are communities that enjoy a close relationship with the land and still practise animist rituals such as ceremonial stilt-dancing.
Which of Ivory Coast's coastal towns and cities was your favourite, and why?
Sassandra in the southwest is wonderful, but its wonders aren't evident immediately. On arrival, you might be underwhelmed by this apparently dull fishing village. But by the time you leave you will have seen hippos in the wild, sailed about with Ghanaian fishermen, fed the monkeys in the sacred forest and lounged on arguably the prettiest beach on the Gulf of Guinea.
Ivory Coast has a number of vast and untrammeled national parks. Which would you recommend in particular?
Taï National Park – rightly a UNESCO World Heritage Site – is the pick. It's your best chance of seeing chimpanzees, hippos, elephants and leopards. The Nature and Culture ecotourism project therein offers guided tours, survival workshops and village homestays.
Where would you most like to return to in Ivory Coast?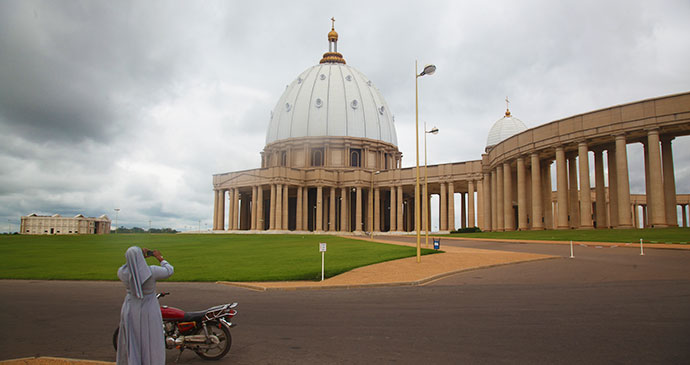 The Basilique de Notre Dame de la Paix can be seen from all over Yamoussoukro © Alex Sebley
Yamoussoukro for its leafy boulevards, close connections to Houphouët-Boigny – the complex and fascinating father of the nation – and for its utterly unique attractions: the tallest Catholic basilica on Earth, a mammoth marble peace foundation and an equally large tomb protected by crocodiles who are ritually fed with live chickens each day.
What are your upcoming travel plans?
I'll be sedentary for a while as I've just got back from the Philippines where I've been researching my next book – an autobiographical travelogue set mostly in Manila – and several stories for the Western press about the newly elected president.