From the bird- and primate-rich rainforest of Nyungwe and the low-lying savannah reserve of Akagera, to Volcanoes National Park, made famous for its mountain gorillas, Rwanda's wildlife-watching opportunities are diverse.
The country's bijou size means distances are relatively short and the cultivated mountain landscapes make for some seriously scenic journeys. These images, taken by local guide Jean-Marie Kagaba Twambaze, offer an insight into what to expect from a visit.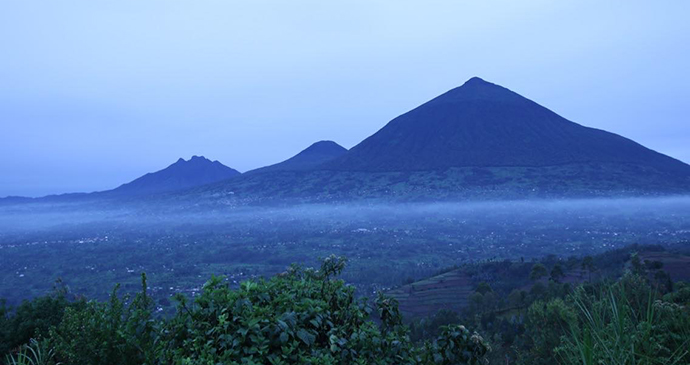 Volcanoes National Park is an immensely scenic and ecologically diverse destination. Indeed, this chain of steep free-standing mountains, spanning altitudes of 2,400m to 4,507m, and linked by fertile saddles formed by solidified lava flows, ranks among the most stirring and memorable of African landscapes.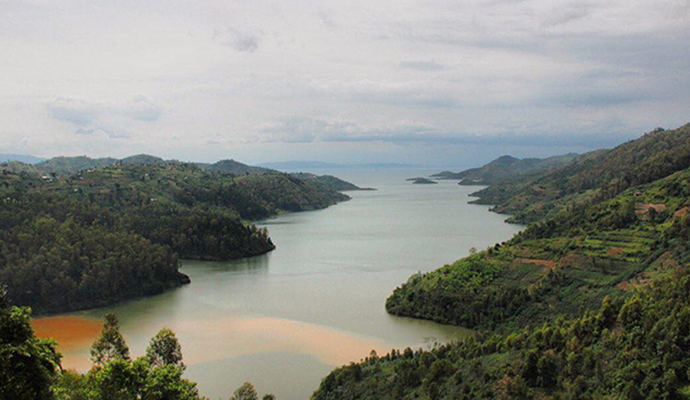 Hemmed in by steeply terraced escarpments containing several peaks of 2,800m or higher, including the smoking outline of volcanic Nyiragongo in the far north, Lake Kivu has long served as a popular weekend getaway for residents of this otherwise landlocked country.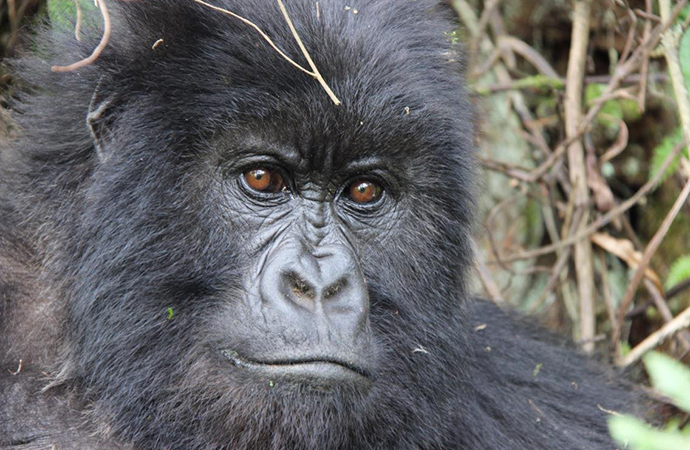 Rwanda remains a rewarding destination for game viewing, and the Volcanoes Park is the best place in the world to track mountain gorillas.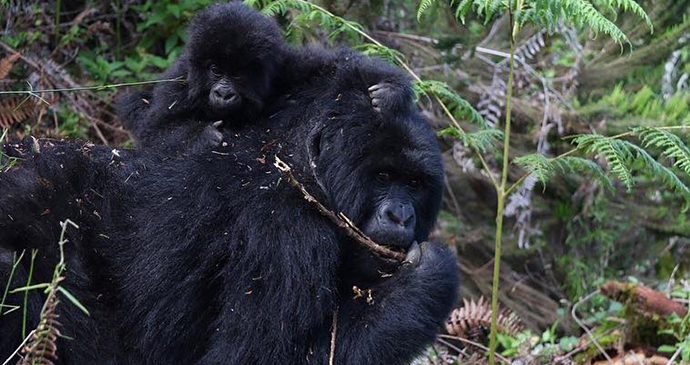 The mountain gorilla is primarily vegetarian, with bamboo shoots being the favoured diet, though they are known to eat 58 different plant species in the Virungas.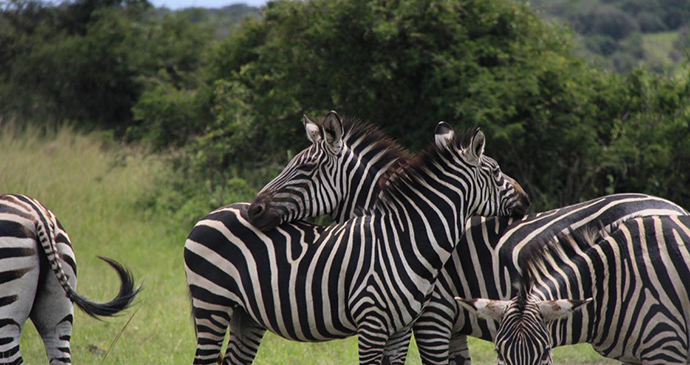 Small herds of Burchell's zebra are regularly encountered in open areas in Akagera National Park, and these are thought to number almost 2,000 in the park.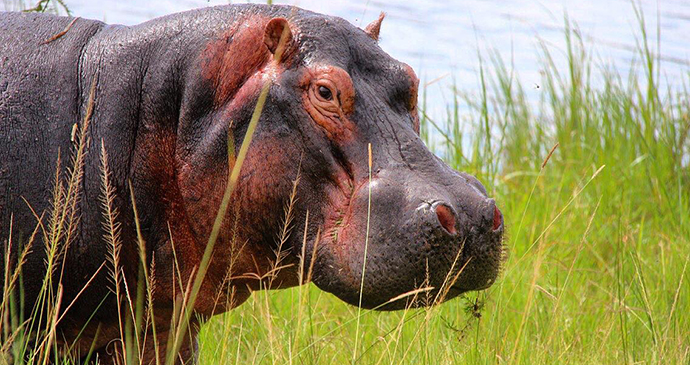 Hippo are present in impressive numbers in Akagera National Park: on some of the lakes there must be at least a dozen pods of up to 50 animals, and the total population exceeds 1,600.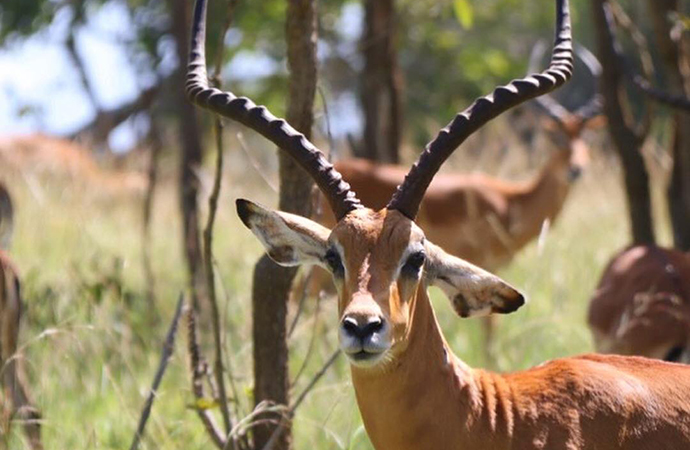 The handsome impala is probably the most common and habitat-tolerant large mammal at Akagera.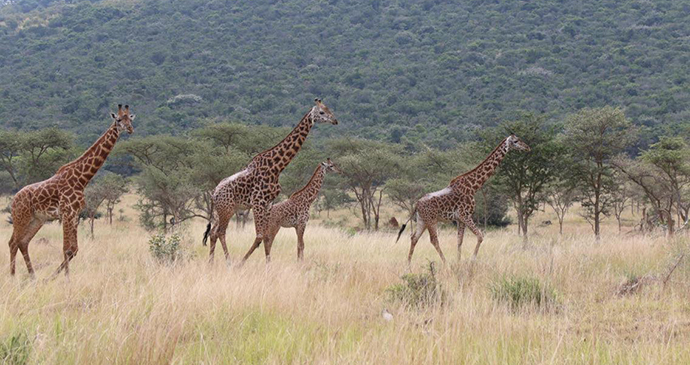 Two large mammal species that don't occur naturally were introduced to Akagera National Park prior to the civil war. The first of these is the Maasai giraffe, which was introduced from the Magadi region of southern Kenya in January 1986. The original herd of two males and four females produced its first offspring in 1988 and has since multiplied to a population of around 90, which tends to stick to patches of acacia woodland close to the park headquarters and game lodge.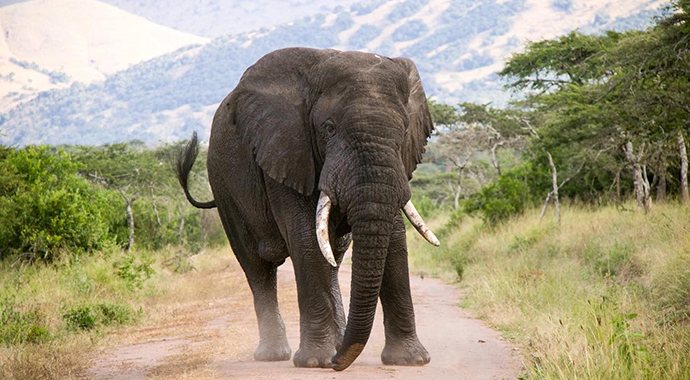 Although the African elephant used to occur naturally in Akagera, the last recorded sighting of the original population was on the shores of Lake Mihindi in 1961. Th e present-day herd is descended from a group of 26 youngsters that was translocated to Akagera in 1975, part of an operation to clear all the elephants from the increasingly densely populated Bugesera Plains to the south of Kigali.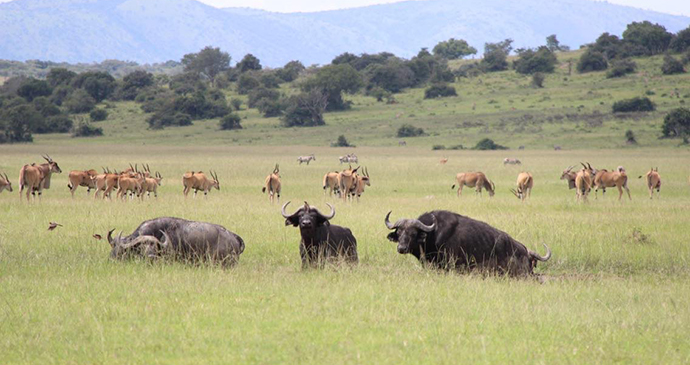 As for the coveted Big Five, buffalo are plentiful and easily seen in Akagera National Park, as pictured here alongside the common eland, of which small herds are most likely to be seen on the open grassland of the Mutumba Hills, where the population is thought to exceed 200.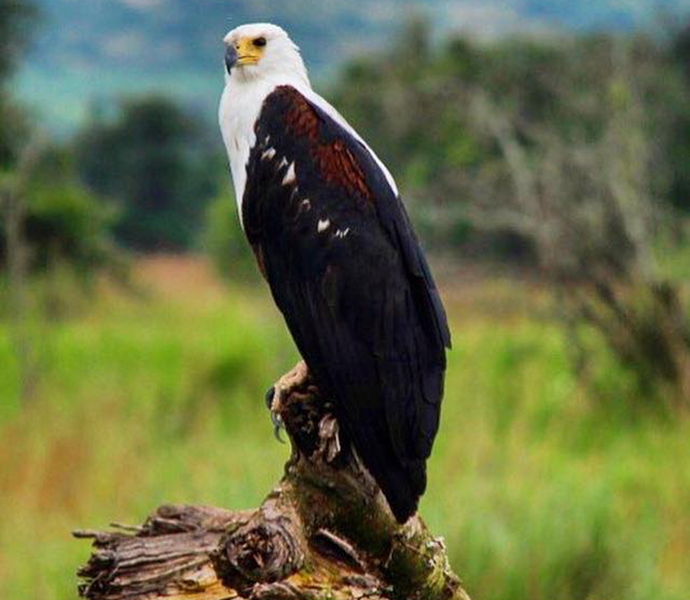 Akagera National Park is home to a prodigious number of fish eagles, whose shrill duet ranks as one of the most evocative sounds of Africa.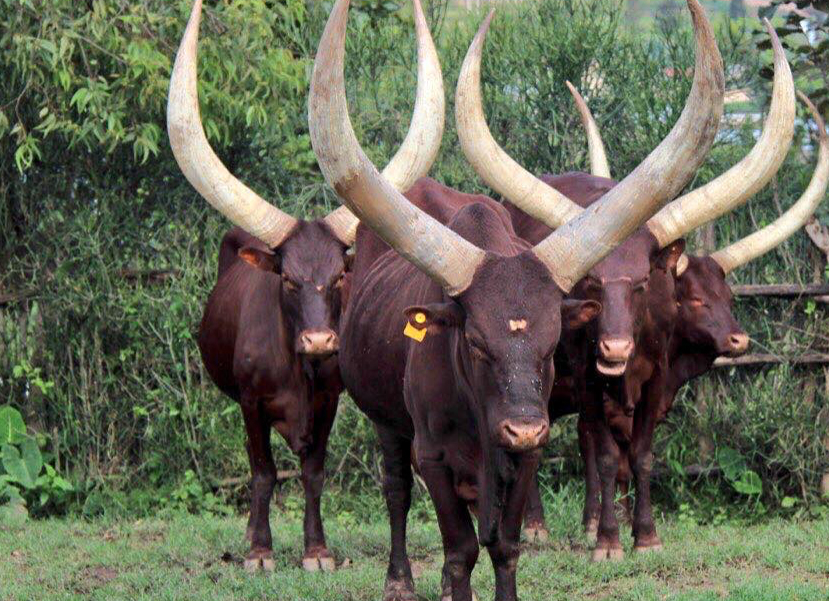 Rwanda is blessed with its fair share of impressive wild beasts. But it is also a major stronghold for what is unquestionably the most imposing of Africa's domestic creatures: the remarkable long-horned Ankole breed of cattle associated with the pastoralist peoples of the Uganda and Rwanda border areas.
---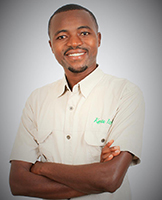 Born in Northern Province, Rwanda, Jean-Marie Kagaba Twambaze has been leading tours in Rwanda and Uganda for over five years. Passionate about showing visitors his beautiful country, Jean-Marie is also a self-taught photographer who loves spending time in the wilderness. To see more of Jean-Marie's photos, visit jeanmarie.photography on his Instagram page.
---
Inspired to visit Rwanda? Check out our guide for more information: