Written by Dom Tulett
Dom Tulett travelled to Uganda as part of his prize for winning the 2016 Bradt New Travel Writer of the Year award. The fantastic holiday, courtesy of TravelLocal, included gorilla tracking, a hot-air balloon flight and plenty of opportunities to get up close and personal with the country's wildlife. This is Dom's account of that unforgettable trip.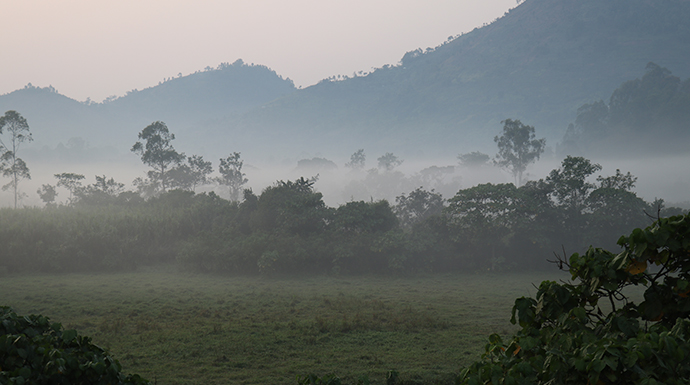 Our gorilla tracking took place across the tangled slopes of the Bwindi Impenetrable National Park © Dom Tulett
I tumbled into a deep gulley, through millennia of unbroken rainforest; primal, elemental, where daylight feared to tread. I brushed myself down and hauled myself up. Shaban held out a hand of gestured silence, his eyes fixed firmly ahead. He motioned his machete to the ground by my feet. I pulled my muddied boot out of the soft, brown earth – a size ten impression in clogged, ancient ground – and saw, all around, that my footprint was not the first. The gorillas were close.
For two hours we had scrambled across the tangled slopes of the Bwindi Impenetrable National Park in Uganda's southwest. The temperature climbed, humidity rose; paths withered and died. Crowned hornbills and red-tailed monkeys played in the branches overhead. Hanging vines and flapping ferns grabbed at our heads. The guides neatly twisted them back out of our way. Sterner obstacles were met with a swift flick of machete blade. The going was tough. Shaban, our Uganda Wildlife Authority (UWA) guide, had joked that if anyone got into difficulty we could take an 'African helicopter' out: 'Four men from the village with a stretcher.'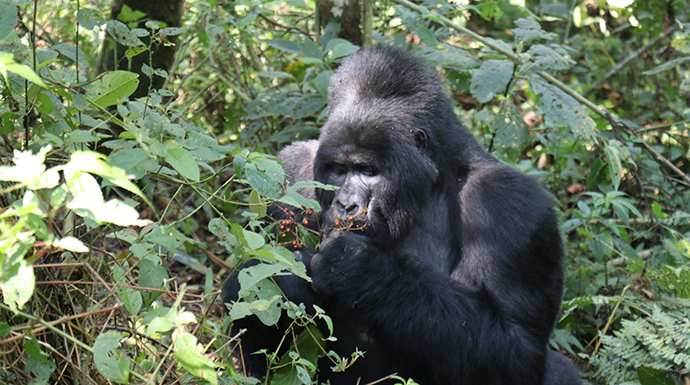 Bwindi's gorillas showed little interest our group – they were more concerned with their food. © Dom Tulett
We clambered out of the gulley and immediately Shaban stopped us again. He pointed through the undergrowth. We followed his arm and had our first sighting: an adolescent male, slighter than I had imagined, sat chomping lazily on a snack of large, heart-shaped leaves. He peered over his shoulder to look back at us, showed little interest and went back to his food, like a bored teenager. We manoeuvred for position, cameras at the ready, but a squeal from one of our group turned heads in their direction. Another gorilla had emerged from the forest. Our cameras turned again for the clearer view and as they did so a hulking form stalked out of the undergrowth behind us, closing the trap. This was Mugisha, bulkier than I had imagined, one of the Bitukura group's powerful silverbacks. He watched us closely through beady brown eyes, determining whether we represented a threat or a challenge. A youngster scampered past Mugisha, right up to our group, testing us out with a playful tag of my wife's knee. We were no threat, no challenge, so the group moved on and for the hour that we were to spend with them they did not stop.
My gorilla tracking experience did not follow the television template: there was no clearing in the rainforest, no lush green carpet of leaves; the gorillas did not sit and play and pose for the camera. But I enjoyed it more because of this. Occasionally a single gorilla would pause briefly, having found leaves or bamboo on which to munch, before setting off again, through the hills and the holes. It was tracking of the purest sense – they moved, we followed. Sometimes they were ahead of us, sometimes all around, more often than not above us, too. A female ambled across our path with a tiny baby clinging to her back, the infant sliding from side to side as her mother's shoulders dipped and rolled. I climbed over a large, fallen tree trunk, then turned to see a gorilla watching me from a space beneath it, before it shuffled away in the opposite direction. Movement in the trees alerted everyone to look up. 'Don't look up!' whispered Shaban, but it was too late and we were pelted from above by mischievous youngsters raining berries, twigs and leaves down upon us. And Mugisha's presence remained a constant, his brown eyes focused sharp, watching us and his group as we played in his jungle, and staying with me long after we had left.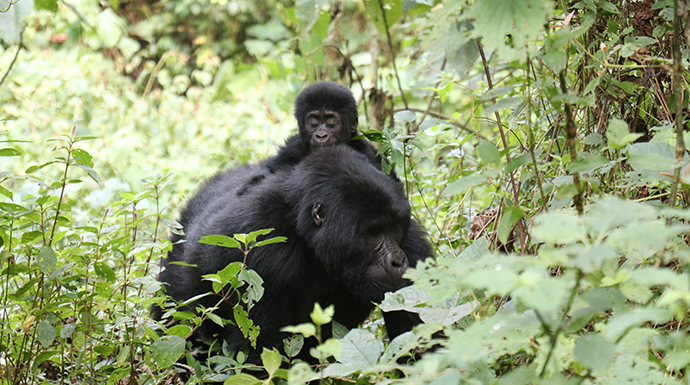 This female ambled across our path with a tiny baby clinging to her back. © Dom Tulett
The Bitukura group is one of Uganda's many wildlife success stories. Recently habituated to human visitation, they contribute to a slowly rising number of mountain gorillas, still severely threatened by extinction, but clawing their way back from the brink. As if centuries of foreign trophy hunters were not bad enough, local soldiers and poachers, emboldened by an absence of wildlife protection in the years surrounding the reign of Idi Amin nearly half a century ago, decimated Uganda's wildlife populations. Some saw money in tusks and horns and hides; others saw food in the rest. I could understand the desperation of hunger leading people to kill the animals, but the trophy hunting made no sense to me, even less so that it still occurs today. But there is a brighter future on the horizon. Animal numbers are recovering from the human assault, aided by the work of the UWA who have brought the country's national parks under single management and work with the locals to ensure the animals' safety.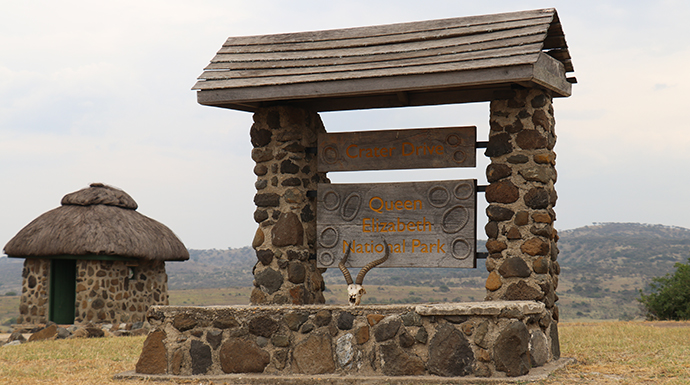 Welcome to Queen Elizabeth National Park © Dom Tulett
With the heavy ache of a hiker's hangover stiffening our legs, we rose early the next morning and settled into our van for the drive to the Queen Elizabeth National Park (QENP). A rust-red road ran north from Bwindi, passing through long groves of banana trees, their fronds serrating the dawn sky, before the trees gave way to stunning valley views. Horizontal shreds of burning colour – reds, oranges, yellows – tore through the sky, with softly striped bands of cloud above and ragged layers of mountain below. We reached the fringes of QENP and at Ishasha, about as far west as Uganda gets, where the lions climb fig trees to escape the midday heat, we stretched our legs at the bend of a narrow chocolate river. Twenty metres away, in the Democratic Republic of the Congo, large tusky elephants helped themselves to a leafy snack, while a pod of hippos sat in the watery border between us, half-submerged in immigration hell.
Moving on, we arrived at the Kazinga Channel, which slices through QENP connecting lakes George and Edward. We transferred to a boat and watched as squadrons of black-and-white kingfishers darted in and out of the water, whirling through dogfights around us as dozens of buffalo and hippopotamus sunbathed together at the water's edge. Ibis, stork and heron pecked at the shore. A grumpy crocodile disappeared into the depths as our boat nudged up for a closer look. A large male elephant, with only one tusk, lumbered down to the water. The buffalo respectfully moved aside whilst a pair of African fish eagles surveyed the scene from opposing trees.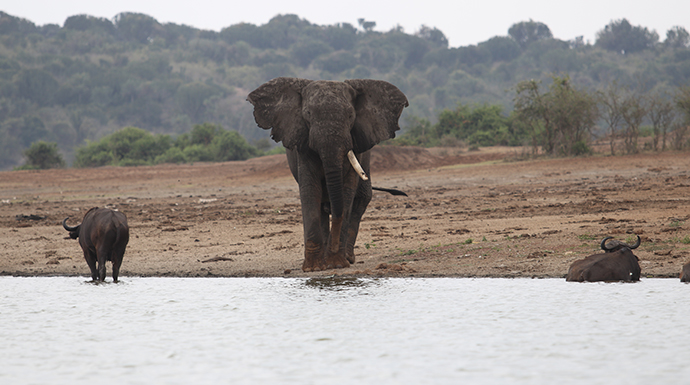 We saw this large, one tusked male elephant lumbering down to the water. © Dom Tulett
As a long day closed, we settled into our lodge at Kikorongo, just north of the line in the road which marks the equator, and listened to distant villagers play a night symphony of improvised instruments – beating sticks and rattling chains – composed to scare the elephants away from making moonlit attacks on their crops. Another of the UWA's guides explained this humane method of deterrent to us the following day – demonstrating how the locals understood that the animals were now worth more to them alive than dead – as we rolled through an early morning game drive across the dry, grassy plains in search of more of Uganda's treasures.
Twenty-four hours later we would be above those plains, in the basket of a hot-air balloon, gliding gracefully over herds of waterbuck, buffalo and Ugandan kob, while the sun distracted us as it emerged out of Lake George in the east. Safari drives followed, morning and evening – the best times of day to see wildlife – and though the big cats were satisfyingly hard to spot, there were lions to be found – tucked up in the heart of a thicket – and a leopard peered up out of its sandy grass cover just long enough to be noticed. Our driver roamed the tracks of the park until the sun softened, daylight faded and leafless trees stabbed silhouettes at the sky like a Halloween dream. We turned for home and a short distance later interrupted a hyena, looking guilty in the twilight, stooping red-mouthed over the fresh carcass of a Ugandan kob, offering a sobering ending to our wildlife encounters.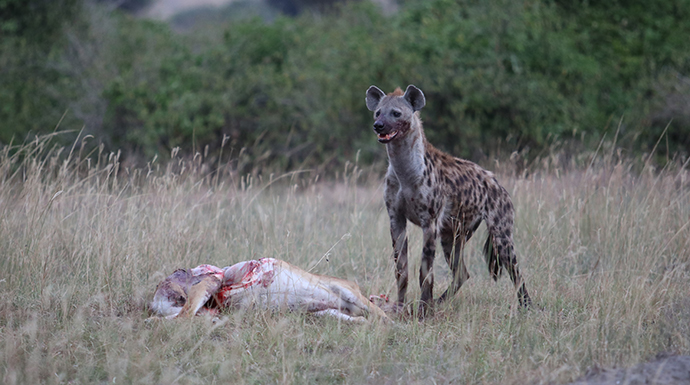 This guilty looking hyena offered a sobering end to our wildlife encounters © Dom Tulett
The following morning, as we sat at breakfast watching our final Lake George sunrise, we looked back on the incredible wealth of wildlife we had seen in Uganda and the conservation progress the country has made. There seemed to exist a sense of hope that the sins of the past would not be repeated. Other guests shared that hope and belief. Most had seen the gorillas. They were everyone's highlight. One guest, a former US politician, spoke slowly of his experience, though the sentiment of his words was blunted by a dulled, robotic delivery, 'The… gorillas… really… were… incredible.' He smiled with his teeth and eyebrows; little else of his face shifted.
'How long did you track before finding them?'
'Five… hours.'
It seemed as though our two-hour search was at the lower end.
'Are you in Uganda for long?' I asked.
'No, tomorrow I am going to South Africa.' His eyebrows and teeth suggested the same excitement at that prospect as the gorillas had brought him. 'To shoot two male buffalo.'
---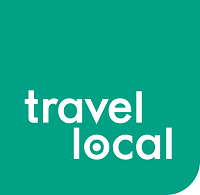 Dom's prize trip was provided by TravelLocal, an online platform which connects travellers with local experts around the world. TravelLocal offers a seven-night safari tour of Uganda, featuring gorilla trekking, Ishasha's tree climbing lions and more (and including all meals, excursions, driver and guide) from £2,540 pp. For more information, click here or call the office on 0117 325 7898.
---
Inspired? Get 10% off our guide to Uganda here: