Written by John Ruler
Boulogne-sur-Mer was one of the top three cross-Channel ports that received supplies and troops in World War I. It became an enormous barracks, with public buildings requisitioned to house the wounded evacuated from the Front. If you're exploring the seaside town, these are the largest cemeteries to visit.
Boulogne Eastern Cemetery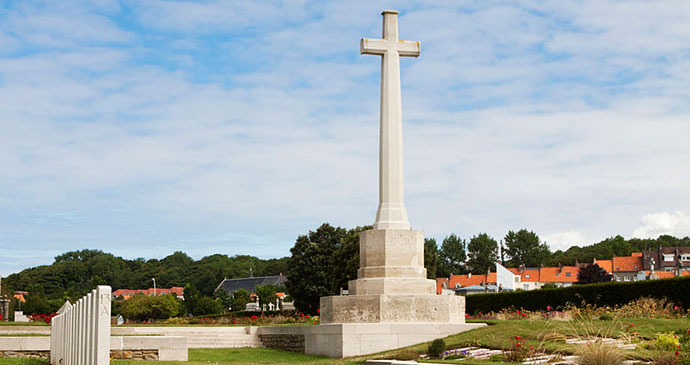 This cemetery is home to over 5,000 graves © Wernervc, Wikimedia Commons
The cemetery contains 5,821 Commonwealth graves (some contain more than one body) of which 5,577 date from World War I and 224 from World War II.
One grave is that of poet Julian Grenfell who, in 1914, shocked many by likening the war to 'a big picnic without the objectlessness of a picnic', claiming he had 'never been so well or so happy'. His most famous poem, 'Into Battle', was published on 26 May 1915, a few days after his death in a Boulogne hospital from a shrapnel wound to the head. He was 27 years old.
In spring 1918, with the cemetery at maximum capacity, a new one was opened in the village of Terlincthun near Wimille (north of Boulogne-sur-Mer). After the war, Terlincthun took in graves from isolated plots which could not be adequately maintained. This explains how 200 soldiers from Russia, Poland and the USA, as well as German prisoners of war, lie alongside 4,378 British, Indian and Canadian Commonwealth graves (of which 3,380 are identified).
A further 48 graves belong to members of the Royal Air Force who were killed in September 1918 above the town of Marquise – northeast of Boulogne-sur-Mer – during a German bombing raid. It is a stark reminder that the Great War opened up a new battleground – the sky – in which the Royal Flying Corps played a major role.
Wimereux Communal Cemetery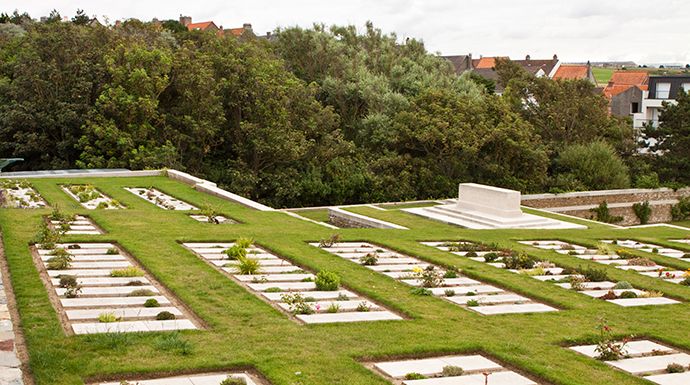 Colonel John McCrae, the author of In Flanders Fields, lies at rest at Wimereux © Wernervc, Wikimedia Commons
Situated 6km north of Boulogne, this cemetery is the site of 2,847 graves of soldiers and nurses who died in the ten British Army field hospitals in the area. Among them stands the headstone of Lieutenant-Colonel John McCrae, a Canadian doctor and poet who cared for soldiers wounded in the Second Battle of Ypres and who wrote the famous poem 'In Flanders Fields'.
Saint-Etienne-au-Mont Communal Cemetery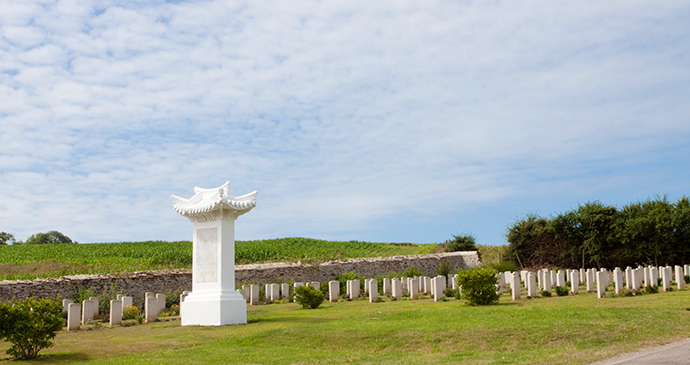 The white headstones here were erected to honour members of the Chinese Labour Corps © Wernervc. Wikimedia Commons
The rows of white headstones may look like those of a standard Commonwealth cemetery, but in fact they're erected in honour of 160 members of the Chinese Labour Corps (and ten members of the South African Labour Corps). The Labour Corps were made up of civilians who carried out manual tasks, such as felling timber, unloading boat cargo, maintaining railways, etc, freeing up British soldiers for fighting. It must have been incredibly isolating for the Chinese labourers, who didn't speak English, yet by the end of the war there were over 96,000 in British Army service. To get to the cemetery from Boulogne-sur-Mer, take Marineo bus No E or No 1.
---
For more on the cemeteries of northern France, take a look at our guidebook: