There's a lot more to Northumberland than just Newcastle. Wonderful city that it is, the region is overflowing with other incredible things to see and do, most of which fall well outside of its metropolitan spaces.
Whether you're a lover of nature, a budding historian or a wild swimming enthusiast, Northumberland will sate your appetite – and then some. Here are five headliners that should be top of every visitor's itinerary:
Gorgeous coastline
Between North Tyneside and Berwick-upon-Tweed lies one of the finest stretches of coastlines anywhere in England. For much of its 70-mile length, Northumberland's seaboard is a desolate sweep of sea, soft sands, dunes, offshore islands and rocky promontories, interrupted only by medieval castles and the odd old fishing village and town. Though popular with families, hikers, birdwatchers and watersports enthusiasts, the coast is wonderfully unspoilt and crowd free, so much so that fellow walkers and cyclists often greet each other on passing.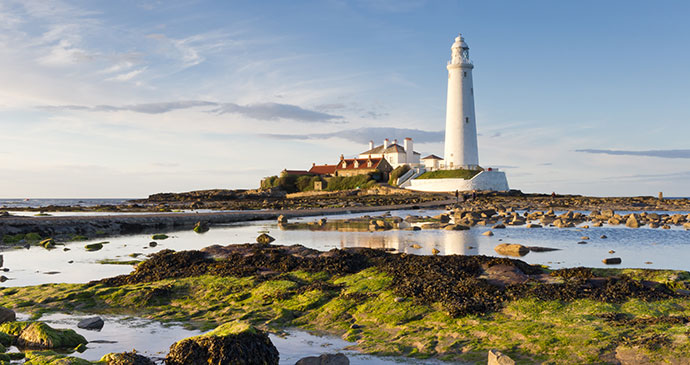 Nowhere is this more true than between Warkworth and Berwick-upon-Tweed, the Northumberland Coast Area of Outstanding Natural Beauty (AONB), also known as the Heritage Coast. Here you'll find most of the best bathing beaches, the Farne Islands National Nature Reserve and the Lindisfarne Priory.
Many visitors – and particularly families – tend to head for the beaches close to Embleton, Beadnell, Seahouses and Bamburgh, leaving the likes of Sugar Sands, Rumbling Kern, Football Hole, Ross Back Sands, Lindisfarne's beaches and Cheswick Sands to those solitude seekers in the know. Don't overlook the south Northumberland coast, however. Some of the longest and most appealing sands are at Cresswell and Druridge Bay, which also have much to lure the birder, particularly in autumn.
Historic towns
Thanks to its rich Roman history, Northumberland has been firmly on the map for centuries. As a consequence, many of its towns – some of which can be clearly traced back to the 12th century – are remarkably well-preserved in spite of their age and have plenty of artefacts worth exploring.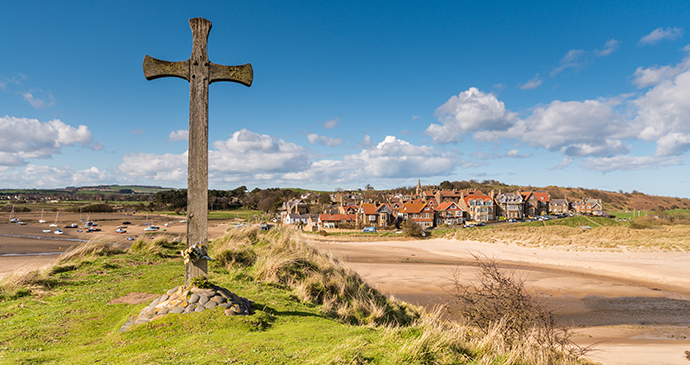 Among the most impressive of these are undoubtedly Bamburgh, Alnmouth, Alnwick and the oldest, Blanchland.
Northumberland National Park
Isolation, inky black skies, glacial valleys and buxom hills characterise much of Northumberland National Park – the most sparsely populated of any national park in the UK; a place you can feel truly alone and experience the closest thing to wilderness that you will find anywhere in England. The deeper you venture into the Cheviot Hills, your chances of walking all day alone, viewing the Milky Way with the naked eye or encountering rare upland wildlife notably increase.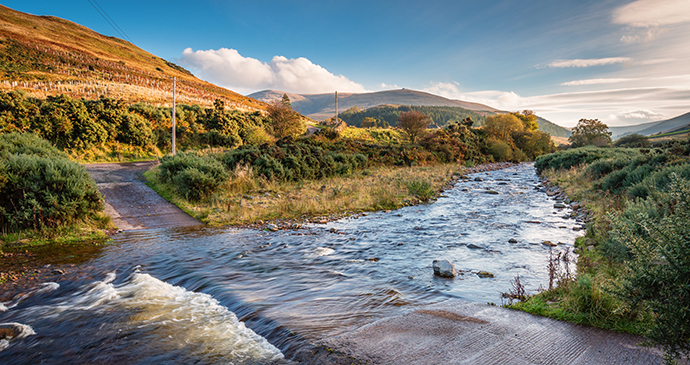 Kielder, England's largest forest, is a vast uninhabited expanse of conifer trees and moorland that merges with the Cheviot Hills on the western edge of Northumberland. Its remote location, hilly terrain and large reservoir make the area popular with mountain bikers, watersport enthusiasts, families and wildlife watchers.
Heading eastwards, waterfalls, heathercovered hillsides, prehistoric rock art and defensive farmhouses and towers dating from the 16th century feature more prominently in the Redesdale and Coquetdale landscapes, particularly around the Tarset Valley, Elsdon and the Simonside Hills, all of which are popular with cyclists and walkers.
Five hundred years of cross-border warfare and clan fighting made this stretch of upland countryside a very dangerous place to live. Those lawless years ended after James I came to the English throne in 1603, but parts of Redesdale (from Kielder to Otterburn and as far north as Carter Bar on the Scottish border) still have a wild edge. Dark forests, lonely fells, rough farmland and Cheviot moors dominate the landscape, enticing ramblers and cyclists who savour solitude.
Castles galore
What Northumberland has over any other region in the UK is a high concentration of castles. This is particularly obvious along the Heritage Coast, where there are four castles within 20 miles, including the mighty fortress at Bamburgh, which rises spectacularly from the dunes, dominating its namesake village and the silky sands below.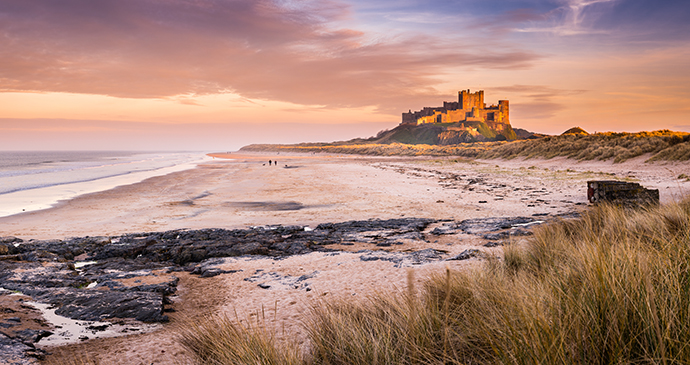 The region's fortresses don't live and die with this particular beauty, though – the rugged Lindisfarne and Alnwick (as seen in Harry Potter) castles are equally breathtaking.
Roman history
While there are Roman influences throughout the region, it is somewhat unsurprising that Hadrian's Wall is the nexus of the empire's imprint on the northeast. Climbing north out of the Tyne Valley, the hills begin their gallop towards Scotland but are momentarily stopped dead in their tracks by a frozen wave of igneous rock.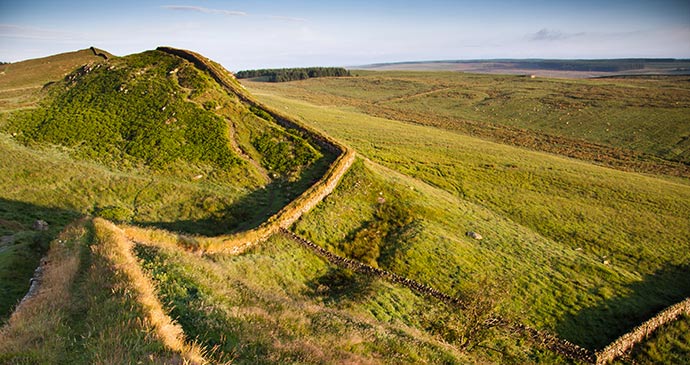 This dramatic precipice is made even more impassable by a stone barricade ribboned along its uppermost lip. When built 2,000 years ago Hadrian's Wall stood ten feet high; today half its height remains in places. Spanning 73 miles from coast to coast across the neck of England, it is the region's most celebrated attraction – and an awe-inspiring feature of the rugged Northumberland landscape. According to English Heritage it is 'the most important monument built by the Romans in Britain'.
The best-preserved stretch, between Chesters and Brampton, rides the tops of the highest hills and rocky ridges where undulating grasslands roll far into Cumbria and down through the Tyne Valley. This is superb walking country indeed.
---