Written by Bradt Travel Guides
From ancient engravings and ghost towns to silvery saltpans and untrammelled desert, Namibia is a land of bewitching variety.
Marvel at herds of zebra at Etosha's great saltpan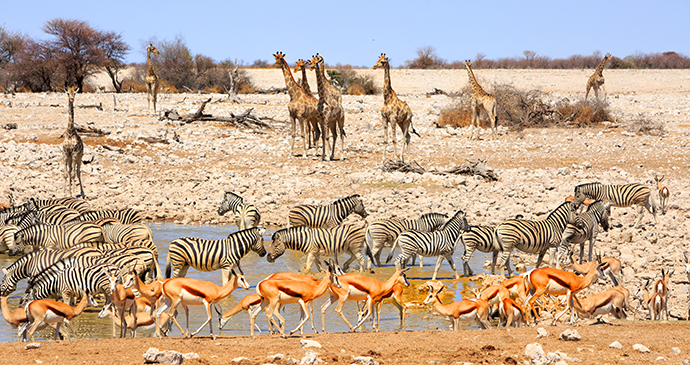 The mammals found in Etosha National Park are typical of the savannah plains of southern Africa, but include several species endemic to this western side of the continent, adjacent to the Namib Desert © Paula French, Shutterstock
One of Africa's best game reserves, Etosha National Park protects a vast shallow bowl of silvery sand more than three times the size of Greater London, along with its surrounding bush. It excels during the dry season when huge herds of animals can be seen amid some of the most startling safari scenery in Africa. Etosha was designed for visitors to drive themselves around. The roads are good; a normal 2WD car is fine for all of them. The landscapes are generally open, as the vegetation is sparse, so you don't need eyes like a hawk to spot most of the larger animals. Etosha's dry season is certainly the best time to see big game. As the small bush pools dry up and the green vegetation shrivels, the animals move closer to the springs on the pan's edge. Put a few drinks, a camera, extra memory cards and a pair of binoculars in your own car and go for a slow drive, stopping at the waterholes – it's amazing.
Venture along the treacherous Skeleton Coast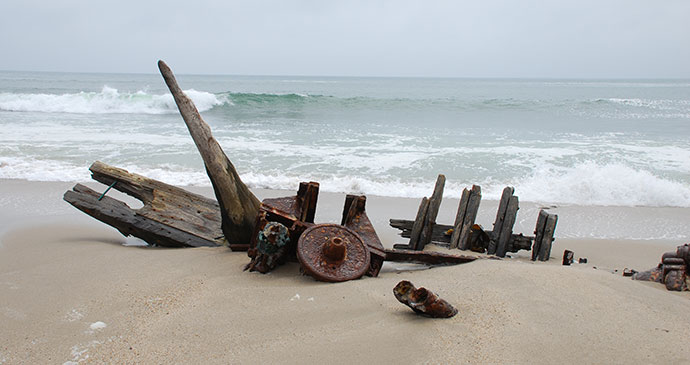 The Skeleton Coast garnered a formidable reputation among British and Americas during the 19th century © Tricia Hayne
Although it is difficult to visit the northern Skeleton Coast, accessing Namibia's coastline anywhere will give you a feel for just how wild and windy it can be. Expect barren and desolate landscapes and large colonies of Cape fur seals. The occasional remaining shipwreck serves as a reminder of the treacherous fogs and strong currents found offshore. For the first 250km or so there are almost no dunes. This is desert of gravel and rock. Then, around Torra Bay, the northern dune sea of the Namib starts, with an increasingly wide belt of coastal dunes stretching north to the Kunene River.
At first sight it all seems very barren, but watch the amazing wildlife documentaries made by the famous film-makers of the Skeleton Coast, Des and Jen Bartlett, to realise that some of the most remarkable wildlife on earth has evolved here. Better still, drive yourself up the coast road, through this fascinating stretch of the world's oldest desert. You won't see a fraction of the action that they have filmed, but with careful observation you will spot plenty to captivate you.
Learn about Namibia's diamond boom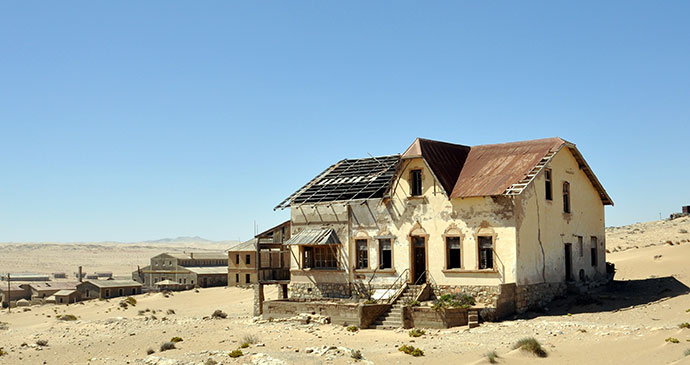 The abandoned buildings in this old mining town are slowly being taken over by encroaching sand dunes © Matej Hudovernik, Shutterstock
Once the principal town of the local diamond industry, Kolmanskop was abandoned in 1956 – with the final three families admitting defeat in 1959 – and now gives a fascinating insight into the area's great diamond boom. In its heyday, the town was home to over 300 adults and 44 children, and luxuries included a bowling alley, iced refrigerators and even a swimming pool. A few of the buildings, including the imposing concert hall, have been restored, but many are left exactly as they were deserted, and are gradually being buried by the surrounding dunes.
Ponder ancient engravings at Twyfelfontein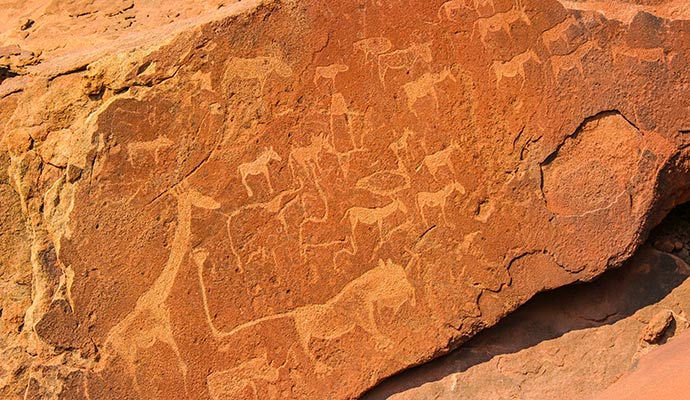 The rock art at Twyfelfontein is unusual as it contains both paintings and engravings © Jan-Dirk Hansen, Shutterstock
The slopes of Twyfelfontein, amid the flat-topped redgranite mountains typical of Damaraland, conceal one of the continent's greatest concentrations of rock art. At first sight, it seems like any other hillside strewn with rocks, but the boulders that litter these slopes are dotted with thousands of paintings and ancient engravings, classified by UNESCO as a World Heritage Site. Twyfelfontein was unusual among African rock art sites in having both engravings and paintings, though today only the engravings can be seen. Many are of animals – rhino, giraffe, lion and zebra are all identifiable – or consist of geometric motifs, which may have been maps to water sources. It is not yet known why the animal images were made: perhaps they were part of the people's spiritual ceremonies, perhaps the area was an ancient school nursery, or perhaps they were simply doodling or expressing the creative urge.
Visit a Himba village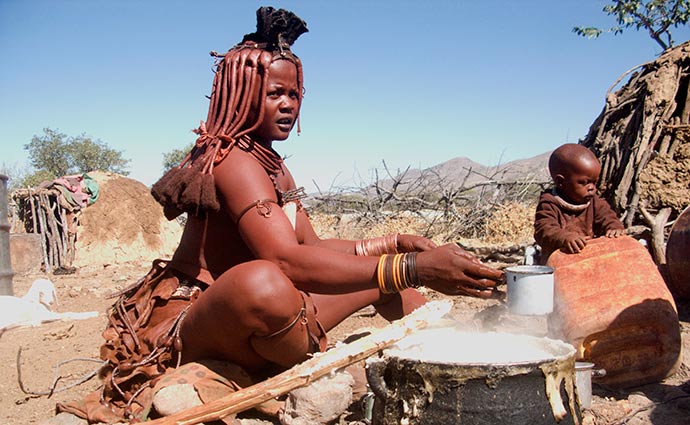 The Himba are a traditional, pastoral people whose homelands push up into Angola and who rely on their herds of drought-resistant cattle for a livelihood © Emma Thomson
Get to know people of a radically different cultural background in one of Namibia's more remote areas. Visit a Himba village in traditional areas in remote Kaokoland. The Himba are a semi-nomadic, desert-dwelling people, whose numbers make up less than 1% of the population. Of all Namibia's ethnic groups, the Himba – or at least, Himba women and children – are probably the most photographed. Himba women adorn their skin and hair – and often that of their children – with deep-red ochre powder mixed with fat, both for protection against insects and the sun, and for cleanliness; water for washing is a rarity. Their striking appearance is further enhanced by elaborate headdresses and jewellery, much of it symbolic, while their clothes are limited to a simple goatskin skirt, and – for warmth – a rough blanket. Traditional Himba crafts include work in skin and leather (headdresses, girdles and aprons), jewellery (copper-wire neckbands and bracelets), musical instruments, wooden neck rests, basketry and pottery.
While the village is used to visitors, it's worth remembering that it is their home; this is in no way a show village. So do greet the villagers, and spend time talking with them, and learning a little of how they live. Many now are helped by the income made from selling jewellery, or guiding visitors around their local area – they deserve your support.
---
Want to find out more? Check out our Namibia guide: