The Peloponnese is the birthplace of many a legend, so it is no wonder we wanted to celebrate it as our Destination of the Month for June. Who better to tell us about its treasures than our friends at Sunvil?
History, mythology, vast expanses of coastline, charming seaside hamlets and dramatic mountain peaks come together in the Peloponnese – the Greek peninsula that is a magical and enthralling holiday destination.
For us, though, there is another reason to visit – the warm hospitality and genuine welcome that you receive from the local people. It is a destination that greets you as a friend and richly rewards those who explore and engage. Over the past 43 years we have thoroughly explored this region to discover gems not often found by visitors and yet treasured by those who call the peninsula their home.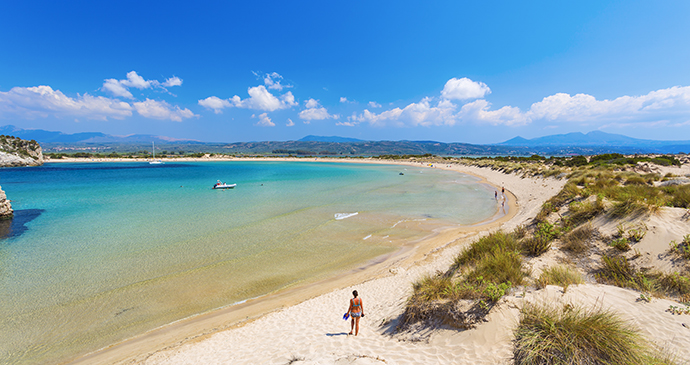 Families, couples, history aficionados, outdoor enthusiasts and those looking for a relaxed and authentic destination within a short flight from the UK should look no further. Let Sunvil's destination experts take you there.
Below are the five regions of the Peloponnese and Sunvil's handpicked highlights.
Messinia: The 'Garden of the Peloponnese'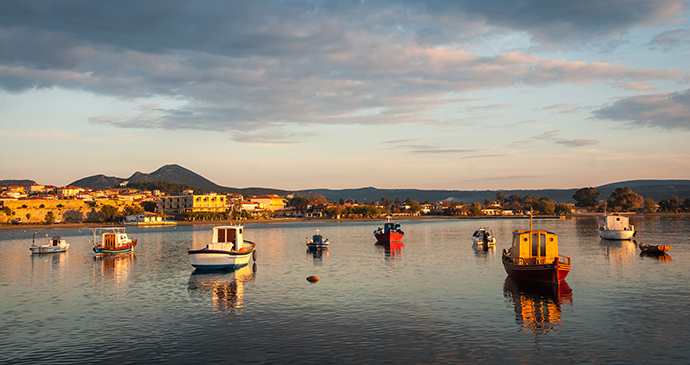 The southwestern corner of the Peloponnese, Messinia, is largely unexplored by UK visitors. Often called 'the garden of the Peloponnese' due to its fertile soil, it is a land of gentle rolling hills, seaside hamlets and uncrowded beaches – even in the height of summer. Choose Messinia for a chance to experience the real Greece, to relax and to reconnect with loved ones.
Highlights
• The vast fortifications of medieval Koroni, the impressive Venetian fortress of Methoni and the historic small town of Pylos
• The superb beaches and pretty seaside village of Finikounda
• Good walking opportunities in rolling countryside – visit in spring and early summer to enjoy an abundance of wildflowers
• Gialova Nature Reserve, noted for its bird life and species of chameleon
• Historic sites including Nestor's Palace, of Homeric legend, and the vast excavations of Ancient Messini
The Mani: a destination for literary lovers, walkers and beaches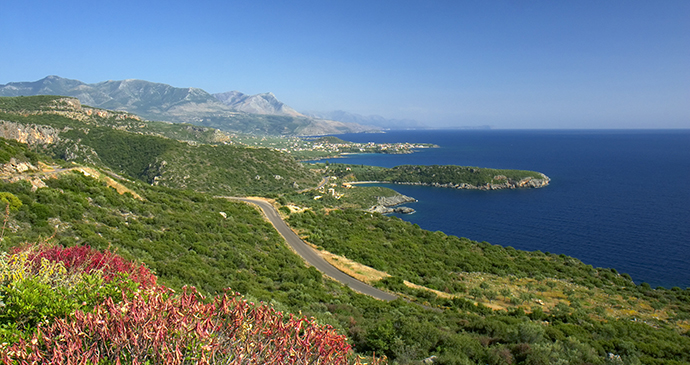 Acclaimed writer and war hero, Patrick Leigh Fermor fell in love with the Mani; from the friendly resilient people and rugged landscape to the organic food and wine and mountain villages, and so will you. At every turn the sheer beauty of the area offers dramatic vistas, with the Taygetus mountain range providing an imposing backdrop. This is an area with a myriad of attractions, including superlative beaches, underground cave systems, hiking trails and unique, fortified tower houses.
Highlights
• The village of Kardamili was home to Patrick Leigh Fermor for 50 years and has immense appeal for walkers, artists and nature lovers
• Viros Gorge, a deep river canyon that runs from the foot of Profitis Ilias Mountain to Kardamili. A hike through the gorge takes 4–5 hours and there are a couple of monasteries to visit en route
• The pretty resort village of Stoupa. With two sandy beaches, low-key evening entertainment and bike, pedalo and motorboat hire. It is perfect for couples of all ages and young families.
• The vast underground lakes and caves found at Pirgos Diros – a must-see for all visitors to the 'Deep Mani'
• Plenty of Byzantine churches, painted chapels and Frankish castles
Lakonia: home to the fortified rock of Monemvasia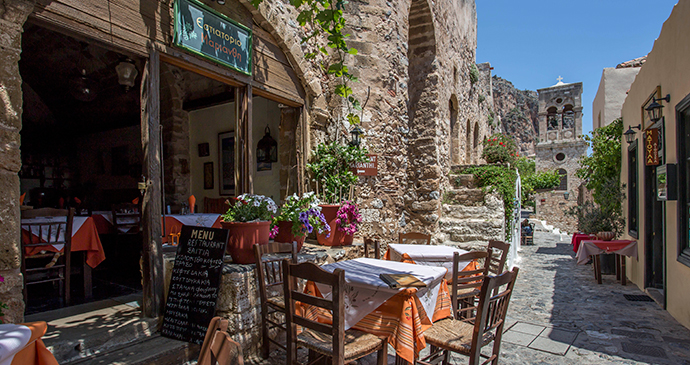 Monemvasia is a remarkably well-preserved medieval fortress town, often called the 'Gibraltar of the East' due to its location on a vast rock reached by a causeway. Evidence of the town's illustrious trading past can be seen and felt all around. The Crusaders, Franks, Venetians and Turks have all left their mark, and today the town is a popular honeymoon destination. Lakonia is an area best explored on a self-drive holiday, with tourism infrastructure (Monemvasia apart) in its infancy and a warm, interested welcome guaranteed for all guests.
Highlights
• Stay within the castle walls at Monemvasia
• Alternatively, the superb five-star Kinsterna Hotel offers affordable luxury just a few miles to the south
• Some of the best beaches in Greece can be found on the small island of Elafonissi, just a short ferry ride offshore
• Swim and snorkel above the oldest submerged town in the world, Pavlopetri, and discover 5,000 years of history beneath you
• Visit the historic town of Sparta and the UNESCO site of Mystra, once centre of the Greece's Byzantine world – now abandoned
Argolis: something for everyone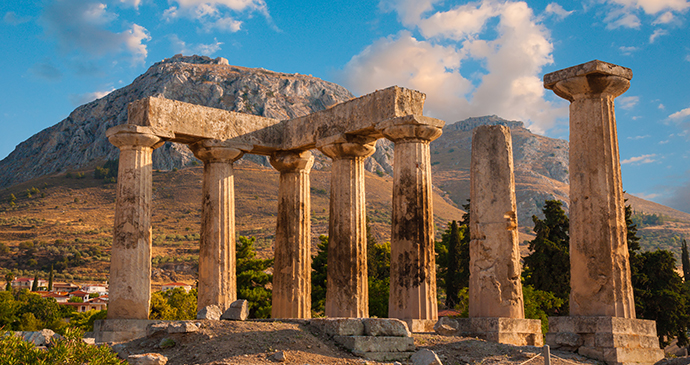 To the northeast of the Peloponnese is the district of Argolis, an area rich with cultural and archaeological sites. Standout highlights include Corinth, Epidavros amphitheatre and ancient Mycenae, as well as lesser-known sites such as Nemea, Tyrins and Argos. A stay here can be as active or as relaxed as you desire; you would be forgiven for not wishing to leave the pretty and expansive sandy beach found at Tolon.
Highlights
• History is all around – from a plethora of Mycenean and classical sites to places of myth and legend, such as the locations of many of the labours of Hercules
• Hire a motorboat or kayak in Tolon and explore the bay; take a picnic to enjoy on deserted Romvi island after a swim
• The historic town of Nafplio, recognised as one of the most beautiful in mainland Greece
• A cruise through the Corinth Canal
• Watch a performance at the ancient amphitheatre of Epidavros (festival takes place in July and August)
Kythira: an island that offers so much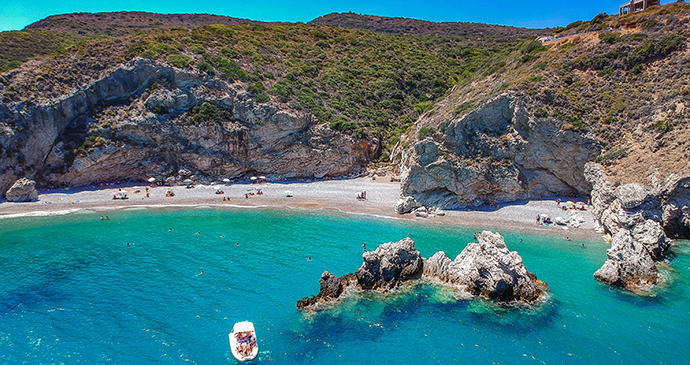 Just off the southeastern coast of the Peloponnese is the 17th-largest island in Greece, Kythira. Despite its size, it remains off the radar for most foreign tourists. It offers plenty of hidden villages and beaches, and enough history and interest to satisfy the most avid explorer. Combine a stay on the island with a city break in Athens or visit as part of a longer fly-drive holiday of the Peloponnese.
Highlights
• Over 30 beaches
• The island's capital, Chora, with its architecture is reminiscent of the Cyclades – flat-roofed, whitewashed houses, blue-domed churches and traditional fortifications
• The fjord-like rocky beach at Avlemonas – the word 'picturesque' doesn't come close to accurately describing the scene
• Head inland to discover the island's gentle rural landscape and traditional villages, where you'll find an abundance of tavernas serving dishes based on traditional family recipes passed down the generations and authentic hospitality
• Swim in the island's natural springs and waterfall pools
---

Sunvil is an award-winning, independent, specialist tour operator. Our holidays are designed by passionate travellers just like you; experiential holidays in authentic destinations that will allow you to discover the real country. Think culture, gastronomy, wine and unmissable sights and experiences that will forge unforgettable memories. This is a Sunvil holiday – your Sunvil holiday.
Savings of up to 50% are valid on holidays to the Peloponnese departing in June and July 2019.