Europe abounds in family-friendly wildlife-watching opportunities. There's no need to be constrained by kids when planning where and when to go. Quite the opposite, in fact. Choose well – and enthuse your kids into pursuing a lifetime of nature-savvy experiences.
For crustaceans – Lanzarote, Spain
Lanzarote's most remarkable creature is genuinely sightless. This tiny squat lobster – known formally by its scientific name Munidopsis polymorpha – is among the most bizarre animals you will encounter and will prove fascinating to children. Bleached of colour and cave dwelling, this crustacean lives only on Lanzarote. Accordingly, you might think that tracking it down would be tricky, perhaps requiring snorkelling into dark cavities. But you would be wrong. Thousands of Munidopsis can be easily seen at Los Jameos del Agua, a tourist attraction crafted by the island's architectural genius, Cesar Manrique.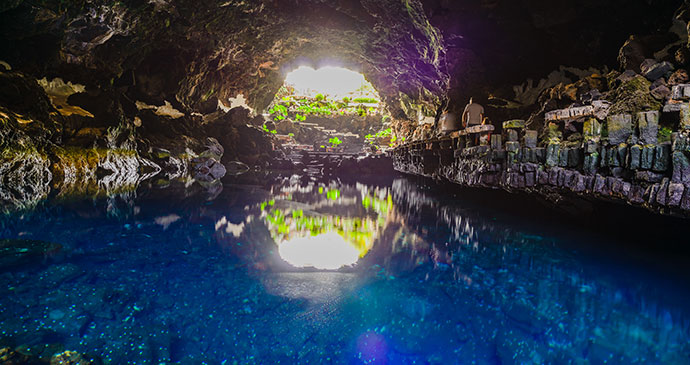 The glittering underwater 'stars' are tiny, unique squat lobsters with the scientific name Munidopsis polymorpha © alexilena, Shutterstock
Fusing geology with art, there is nowhere like Los Jameos. Descending via a stone staircase through a lava tube, you reach a cave called Jameo Chico. Here, within a mineral-cool, irresistibly clear pool, the blackness of igneous rocks is starred with innumerable glowing crustaceans – an underwater night sky. Atop every square metre of rock there can be up to 150 jameitos, as the mini-lobsters have become known. By day, most skulk in crevices, but scores may still be cherished at close range. Should they feel threatened, they shoot through the water with remarkable alacrity.
For reptiles – Nerja, Spain
It's the Easter holidays and the family needs a break in the sun. You're not flush with cash: the budget only stretches to the Costa del Sol. You're cringing at the prospect of a wildlife-free holiday amid tourist hell. Don't. If you venture even a short way off the main drag, your beach holiday can nurture you with a raft of exquisite life forms. Even if you can only scrabble together a few hours in the wilds (the equivalent of a weekend, at most), the town of Nerja and its environs can afford ample natural joy – with Mediterranean orchids, mammals, birds, reptiles, and invertebrates all awaiting your perusal.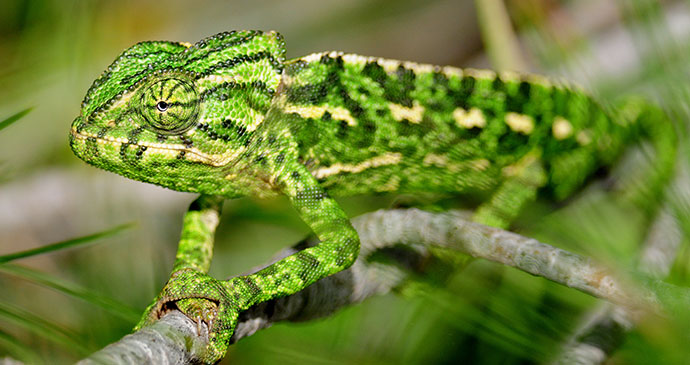 Spotting a Mediterranean chameleon – a champion of camouflage – is no mean feat © Stuart A. Reeves
Nerja's herpetological star, the Mediterranean chameleon, is well established along the coast of southern Spain. Pressure from criminals collecting to supply the pet trade guards me against divulging precise sites. But if you go for a family walk along the Rio Chillar, north of Nerja, or scrutinise trees in largely abandoned cultivations on hills northwest of the town – you never know your luck.
For waterborne wildlife-watching – County Cork and County Kerry, Ireland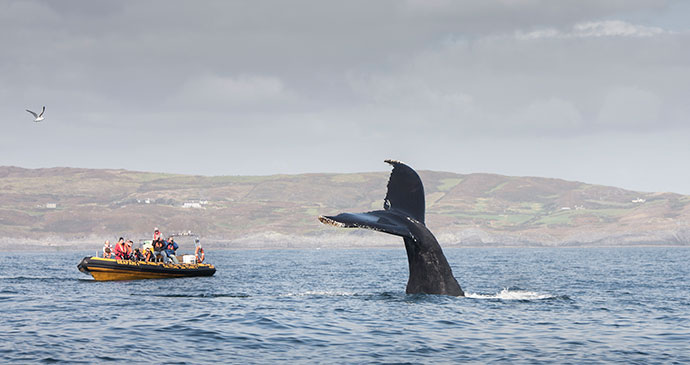 Participants on a Baltimore Sea Safari enjoy a close encounter with a humpback whale © Baltimore Sea Safari
Any time of year can produce exciting cetacean-watching off Ireland. Spring and early summer sees the arrival of minke whales (which stay, in gradually diminishing numbers, until December), with harbour porpoise and small groups of short-beaked common dolphin. Humpback whales (that most aeronautical of cetaceans) are the next to turn up, followed by fin whales, with both species – plus short-beaked common dolphins – building up to a late-autumn peak. As their prey (herring and sprat) moves closer inshore towards winter, so the whales follow. The closer the better, from the watcher's perspective.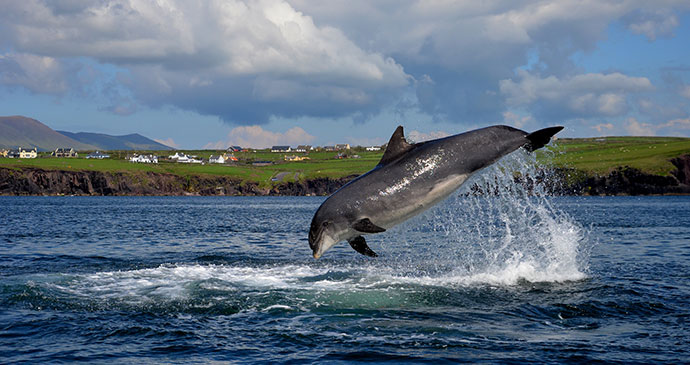 Dingle Harbour's long-staying attraction, 'Fungie' the common bottlenose dolphin © Cubanjunky, Dreamstime
The whole family will enjoy being able to get good views of common bottlenose dolphins. You could pay homage to 'Fungie', the habituated (but still entirely wild) dolphin that has frequented Dingle Harbour (County Kerry) for upwards of 30 years. So much a fixture is Fungie, that he even has his own booking office on the quayside. You can watch him from the Lighthouse or Sláidín beach, at the eastern mouth of Dingle Harbour. Alternatively, hour-long boat trips leave throughout the day.
For mammals – Somiedo, Spain
The greens of hillside broom bushes are coppering, but the scree slope and interspersed boulders remain intransigently greyscale. Rustling in the shrubbery intensifies into energetic rummaging. The assembled crowd – and you have quite some company this late-summer evening – holds its collective breath. All peer through whatever optics they have available, or otherwise squint a couple of hundred metres across the valley. Sixty extraordinarily long seconds later, the vegetation cedes to brute force, and a Cantabrian brown bear emerges. Game on.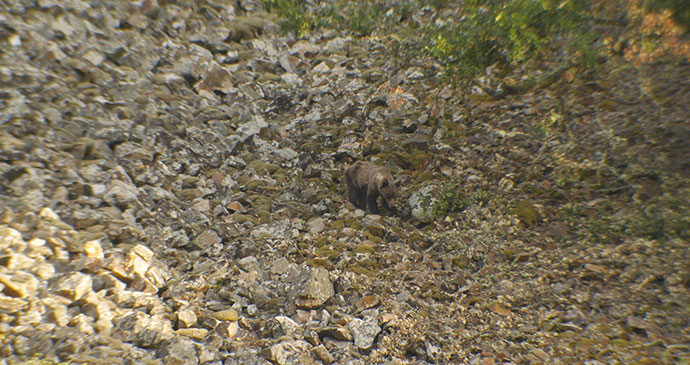 The moment when a Cantabrian brown bear heaves into view © David Fisher
Nowadays, you stand a very good chance of seeing brown bears in any of several European countries. Arguably the most 'natural' way to see them – no baited hides here, unlike most other places – is in northern Spain's Somiedo Natural Park. Here Europe's smallest brown bears are out and about, doing their stuff, at their own pace, in their own way. Durwyn Liley, a childhood friend and environmental consultant, loved showing his kids the bears on a family holiday: 'One evening, we had an adult in view for over an hour. We all watched it climbing trees, tearing down branches and clambering over rocks. Then a second animal arrived, and they charged around together.'
For birds – Madeira, Portugal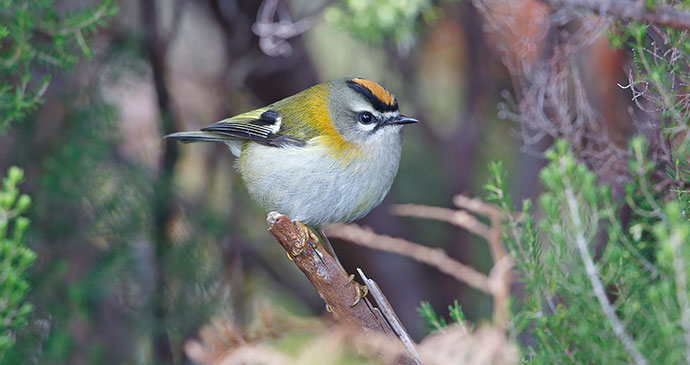 Superbly striped and flame-crowned, Madeiran firecrest is a local speciality © Jonathan Lethbridge, www.justbirdphotos.com
Madeira – the largest island in a small archipelago 630km west of Morocco – offers much in the way of wildlife-watching and, conveniently, its highlights can be easily woven into a family holiday. Celebrate the arrival of daylight by wandering along a levada (irrigation channel) amid the laurel forest that spans the north of the island. In this lush, botanically effervescent woodland, palms and cycads proliferate, succulents and agaves abound. Ribeiro Frio is probably the best area to explore, particularly around Balcoes mirador. Endemic subspecies of chaffinch and blackbird greet you fearlessly. Madeiran firecrest is common if hyperactive. Seen well, this podium-hogger dazzles with bronze, silver and gold. Observe the canopy for a while and you should spot Madeiran laurel-pigeon (aka trocaz pigeon), another bird that occurs nowhere else in the world.
For flowers – Crete, Greece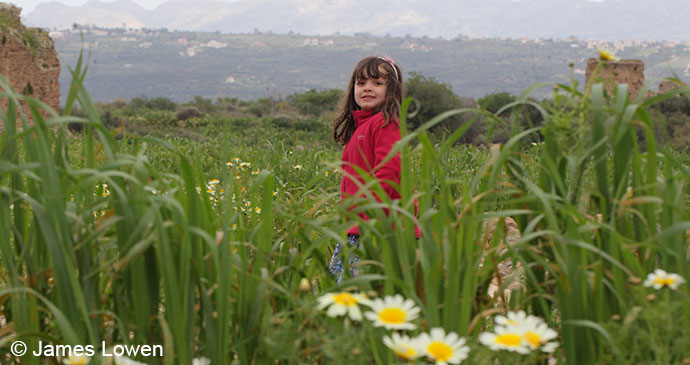 Spili Bumps is a nirvana for botanists and children alike © James Lowen
Crete's botanical kaleidoscope is best enjoyed at a leisurely pace, making it the perfect destination for a family-friendly getaway. Groups of naked man orchid are conspicuous: aptly named, they have long slender limbs and are, shall we say, most definitely male. Theoretically closely related but very different in appearance is Bory's orchid. Slender and magenta, this rarity occurs only in southern Greece. Milky orchid is confusingly variable, ranging from dairy-white to foxglove-pink. Anatolian orchids may cling on, although these flower early. Sparse-flowered orchid is a primrose among the genus Orchis, its flowers being wan yellow with a sunnier core. Spili's array of bee orchids (in the genus Ophrys, should that help you piece together the jigsaw) is astonishing. Heldreich's orchid is thought only to grow on Crete. Sombre bee orchids are undemonstrative, yellow bee orchids encircled with a golden halo. Then throw in toothed orchid, four-spotted orchid, various species of near-indistinguishable but undeniably sassy tongue orchids, and… and… and… You get the picture. Spili is outstanding for orchids, but there is even more to overwhelm you here. Rock tulip abounds, while snake's-head iris – with rippling velvet flowers, lined with brilliant yellow – should make you go weak at the knees.
For insects – Picos de Europa, Spain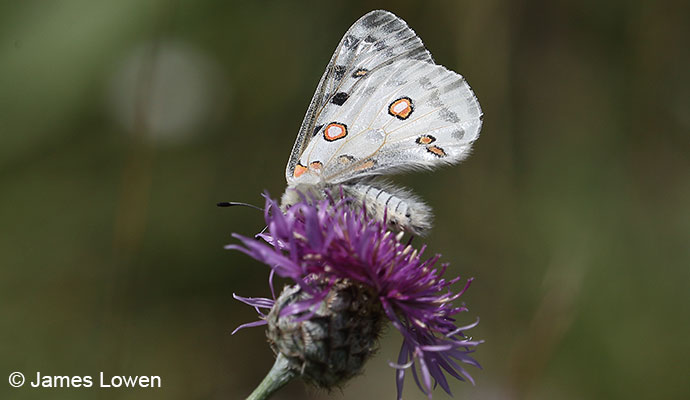 You could see 60 types of butterfly in a Picos weekend, of which Apollo is the most jaw-dropping © James Lowen
A childhood friend, Matt Hobbs, had long extolled the virtues of this montanenational park in northern Spain: 'the Picos is my favourite place on Earth'. Matt led wildlife tours to 'the Picos' in his twenties, and got married there in his thirties. I finally whisked my family there in my forties. And fell utterly, irreversibly in love. Make no mistake: the Picos de Europa is a gem.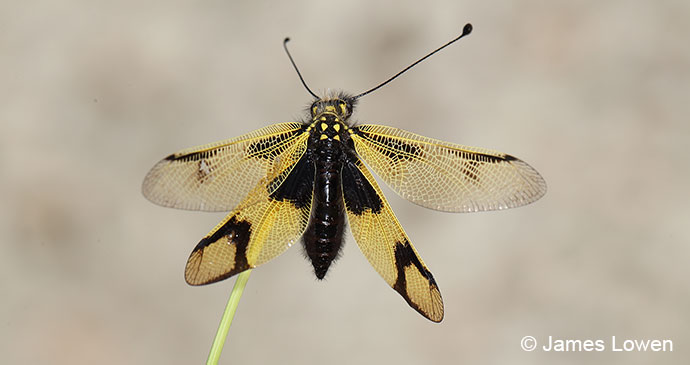 Split-eyed owl-flies are an unexpected highlight of a trip to the Picos de Europa © James Lowen
Stepping out of the teleférico that transports you to the plateau of Fuente De in the Picos de Europa, you enter a brave new world of heady mountain peaks, butterflies and birds that look like butterflies. A highlight is the Apollo. Europe's largest and most sumptuous butterfly, this deity's ivory, tissue-paper wings are smudged black and eyed crimson. Above a drier grassland, another winged insect demands your attention. It also baffles you. It behaves rather like a dragonfly, hawking with predatory intent a few metres above ground. It also looks rather like a dragonfly, with partly translucent wings divided into discrete cells. Yet this bizarre and impressively sized creature possesses stalked antennae and sulphur-yellow garb. This split-eyed owl-fly is yet another remarkable gift from a peerless region. Entranced by the Picos, my family and I plan to return again, and again, and…
---
Learn more about these family-friendly wildlife weekends in James Lowen's 52 European Wildlife Weekends: