Written by James Lowen
Can't decide whether you want a city break or a nature-oriented trip to Europe? Why not do both culture and vulture on the same short holiday? From lesser kestrels in Italy to goshawks in Berlin, European cities offer ample opportunity to wear binoculars by day and party frocks by night.
Berlin, Germany – for goshawk and northern raccoon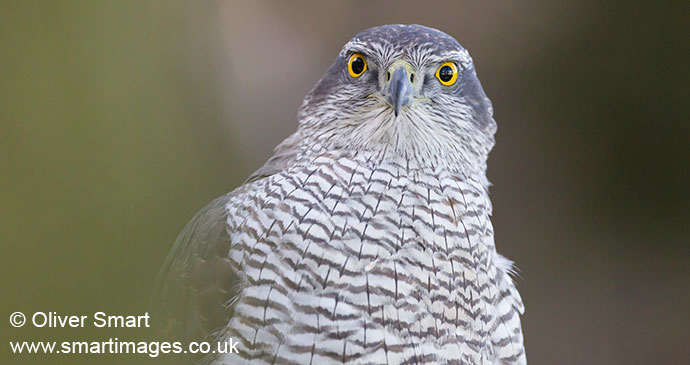 Head to Berlin's Tiergarten to admire goshawks © Oliver Smart, www.smartimages.co.uk
A thin spring morning filters through central Berlin's most famous park, the Tiergarten. An uncertain sun toils to dissipate the early chill. Many of the towering trees have fulsome crowns, splaying green. Great tits are calling, incessantly discordant. Hooded crows are cawing, intensely conversational. Then a muscular streak of white, a rapid complication of grey. A blithely unaware woodpigeon cascades downy feathers. It now exists solely as a goshawk's breakfast. Don't dismiss a goshawk as being merely a big sparrowhawk, and thus unworthy of attention. Goshawk is to sparrowhawk what leopard is to tabby. The biggest female sparrowhawk is barely half the weight of the titchiest male goshawk. Goshawks eat sparrowhawks. They are terrifyingly competent avian predators. The German capital harbours an astonishing 100-odd goshawk pairs – Europe's highest density. Tiergarten is as good a place as any to admire Berlin's goshawks. Three pairs breed here and they are unexpectedly easy to see.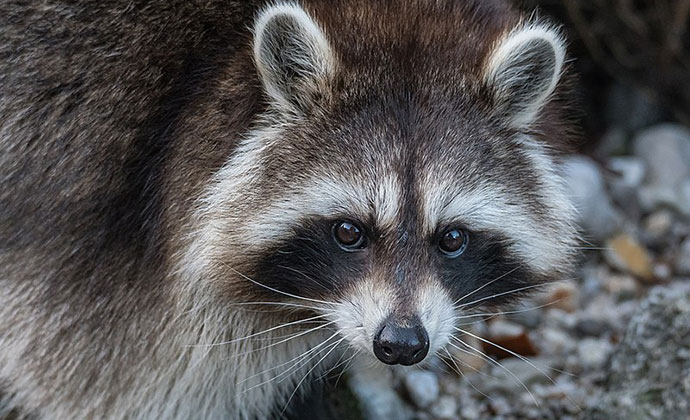 Some 600 groups of northern raccoon now roam Berlin © Isiwal, Wikimedia Commons
There are city-dwelling mammals as well as birds. Northern raccoon – a species native to North America that escaped from German fur farms in the 1930s – is now a regular sight in Berlin parks and suburbs, particularly when raiding dustbins after dark. Indeed,the adaptable omnivore's population has exploded. Some 600 groups of these Waschbären ('wash bears') now roam the city; one has even denned in a hotel on Alexanderplatz, among Berlin's most famous squares. Berliners have developed polarised attitudes to the bandit-masked interlopers. Some have taken the mammals to their hearts, caring for them. Others treat them as vermin.
Matera, Italy – for lanner falcon and lesser kestrel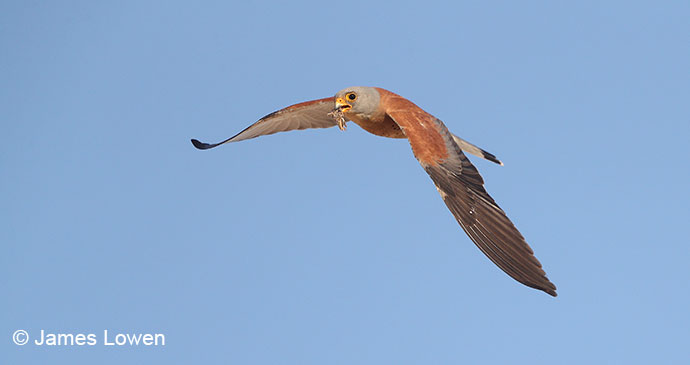 Lesser kestrels are part and parcel of a visit to the Italian hill town of Matera © James Lowen
With its higgledy-piggledy architecture and rich cultural heritage, Matera is an ideal location to weave wildlife into a city break (or, depending on your priorities, vice versa). Wiggle through alleys and snake down cobbled stairways to both explore the town and locate its kestrels – which are seemingly everywhere.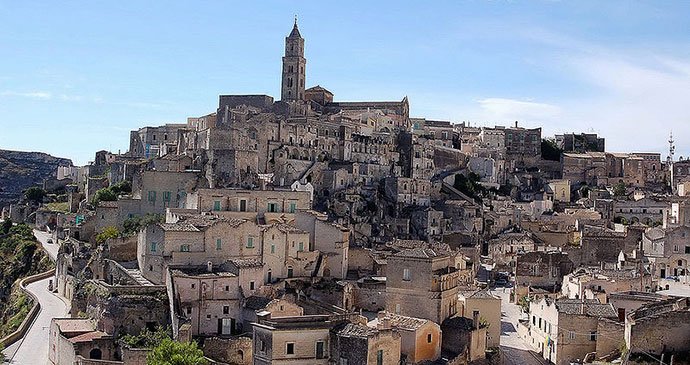 Pay close attention to Matera's window ledges and flower boxes – you may spot a falcon nesting there © Giuseppe Rinaldi, Wikimedia Commons
The falcons nest on window ledges and in flower boxes. They create homes on urban parapets and under roofs. They tuck their young amid statues and – in tacit acceptance of a brasher culture – in the lee of satellite dishes. Particularly before the breeding season ramps up, 3,000 birds may roost communally in a single large pine tree in the town centre, unfazed by traffic. No other European bird of prey nests in such close association with people, nor in such tightly woven colonies. The local community increasingly takes pride in its feathered residents. There are guided walks to see them, and residents hand-rear chicks that have toppled from ledges.
Vienna, Austria – for black-bellied hamster and European souslik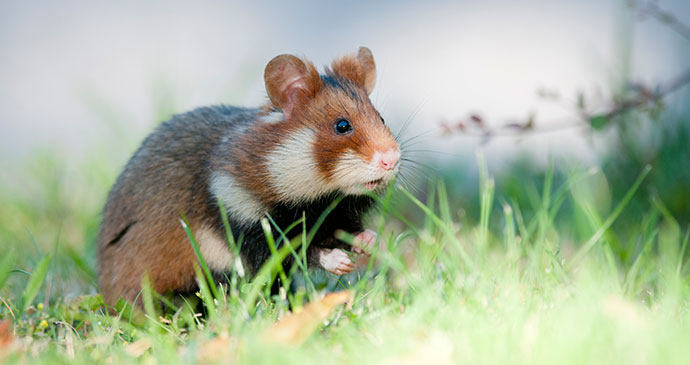 Watch the hamsters scampering around, collecting leaves in ever-fuller cheek pouches before retreating to their burrow-for-one © Leander Khil, www.leanderkhil.com
For generations of kids, hamsters have made the perfect first pet. Yet cute though domestic hamsters may be, they are not a patch on the real thing. Black-bellied (or, more pejoratively, common) hamsters – watched in the wild as they scamper around, cheeks bulging with leaves – are übercute. They are also impressively sized, stylishly attired and – best of all – easy to see on a city break to the Austrian capital of Vienna. Two fine places to watch them are the grave-free meadows at the central cemetery (Zentraler Friedhof, where Ludwig van Beethoven is buried) and the courtyards of Franz-Josef Hospital (particularly around the childrens' playground), where signs rightly celebrate the hamsters' presence. In order to avoid hungry red foxes, these normally nocturnal mammals have turned active by day in Vienna. This makes seeing them all the more straightforward – though late afternoon onwards remains the best time for a furry encounter.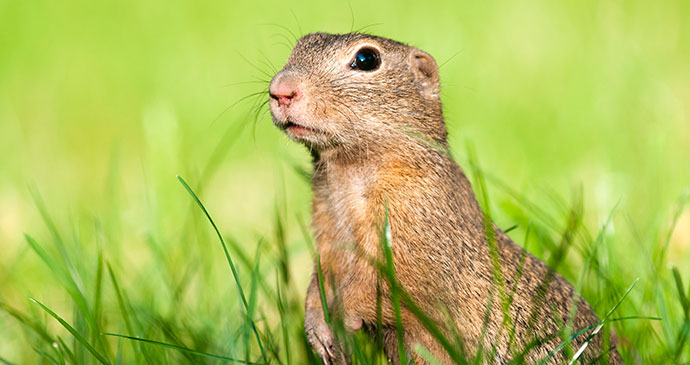 On the outskirts of Vienna, European sousliks can be phenomenally tame © Leander Khil, www.leanderkhil.com
If you have time left in your weekend, venture slightly north of Vienna to Badeteich Gerasdor, an oudoor swimming lake, to see European sousliks. Bright-eyed but not particularly bushy-tailed, they are mid-sized squirrels that shun trees for a life that is part-terrestrial, part-subterranean. Active by day, they typically pose vertically (like meerkats) to keep their neighbourhood under surveillance. The best way to watch these particular sousliks is frankly bizarre. Opposite the Badeteich entrance is a grassy field. In its centre, incongruously, sits a chair. Accept the implied invitation and, peanuts stashed in pocket, sit down. Within a few minutes, the (entirely wild) sousliks – habituated to the prospect of a free meal – will come to you… and scoff your nutty offering straight from the palm.
Rome, Italy – for starling murmuration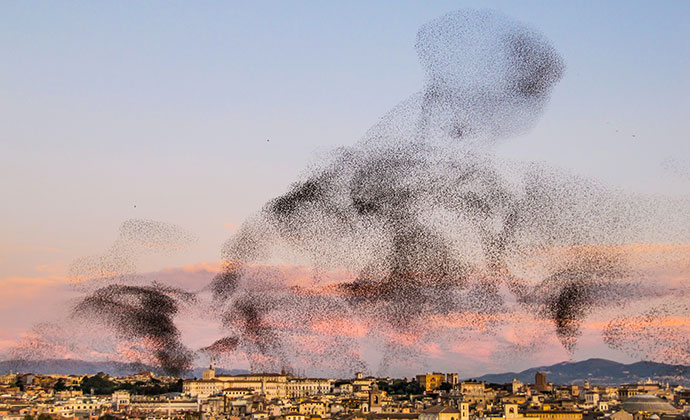 A shape-shifting murmuration of European starlings clouds the sky above Rome © Paul Jover
In the city without historical peer, natural beauty tussles with human heritage. Rome's authorities have taken umbrage at the side-effect of a wildlife phenomenon that – worldwide – has become trendy to admire. Europe's mightiest gathering of European starlings – one million is at the low end of estimates – murmurates above Rome on autumn and winter evenings. But it also poops – excessively, say the Colosseum's present-day guardians – on architecture, Vespas and expensive tailoring below. Romans want starlings out. This would be a shame. The ballet of starlings prior to roost has the power to enchant anyone who sees it, wildlife connoisseur or not. Even TripAdvisor resounds with exultations from tourists captivated by the performance in Rome. As sunset burns the sky above Fountain and Forum, clouds smoulder and starlings smoke. The storni move as a collective above Piazza and Pantheon, tens of thousands of individuals coalescing into a single, humungous and quite wondrous organism. They wisp and whirl, billow and balloon. They spiral and seethe and slump. They create parabolas, columns and corkscrews – or farfalle, penne and fusilli.
---
Inspired to go on a wildlife-filled city break? Discover more in James Lowen's 52 European Wildlife Weekends: