Ahh, Morocco. Just saying the word instantly transports you to another world of mosques and mountains, camels and kasbahs. But like the famous mosaic tilework you see all over the country, there are many colours and sides to Morocco.
Fez, in the north, is often revered as the country's cultural capital. There is a new town, but it's Fez El-Bali – Fez the old – that most people come to see, lured by its uniqueness, its history, its authenticity. Once an important hub on the sub-Saharan trade route, the city's enthralling mix of architecture shows the threads of history that once intertwined here, from oriental to Andalusian.
The madrasas
Looking down the hill at the old city, you instantly see its many mosques and their minarets. The site has long been an area of great learning, attracting philosophers, astronomers and theologians from around the world, and its many madrasas are still standing today.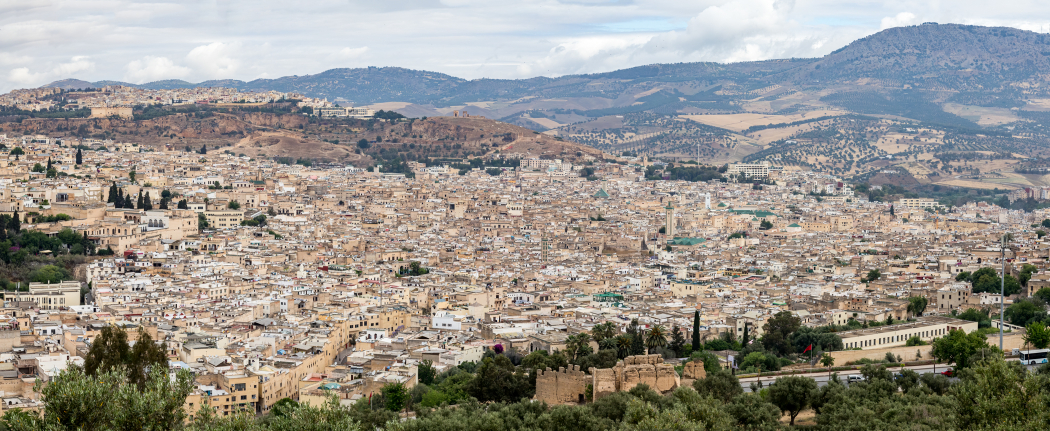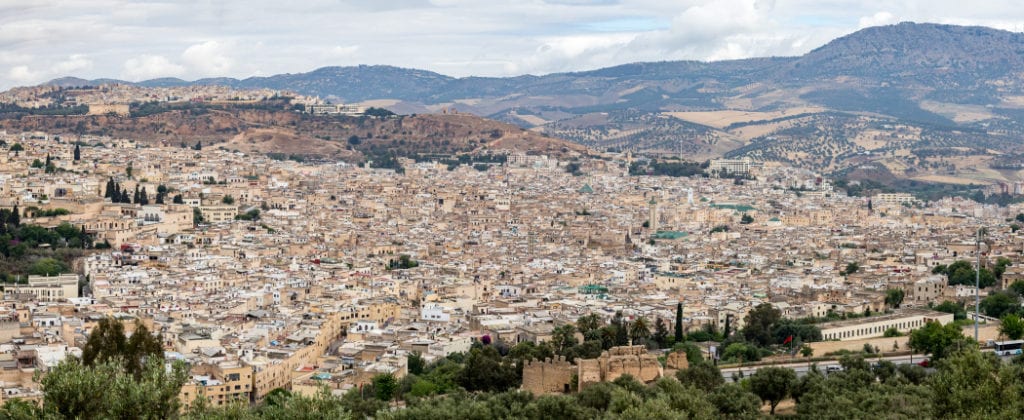 The most famous of these is one of the world's oldest universities, Al-Qarawiyyin (also spelt Al-Karaouine), which is also home to the oldest continually operating library, full of ancient scripts and Qurans. Originally founded as a mosque in the 9th century, the building has been expanded over time; its simple cool white arches give a sense of calm and peace from the fever outside, while its green-tiled roof gleams like emeralds laid out to dry in the sun.
Over the centuries Al-Qarawiyyin became one of the leading spiritual and educational centres in the Muslim world, and it is still a functioning university today.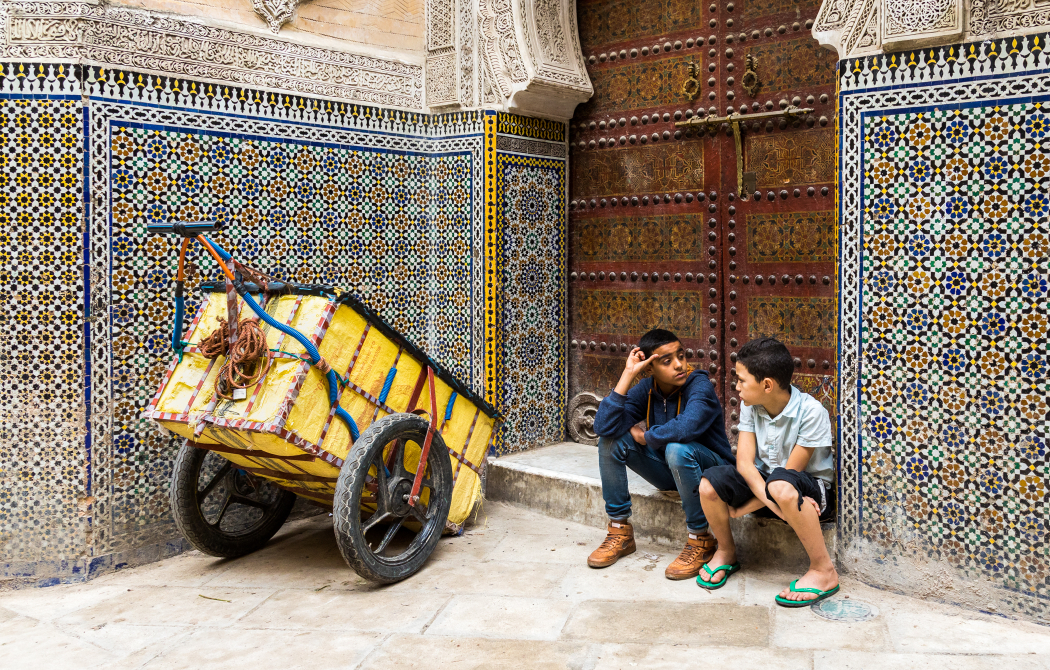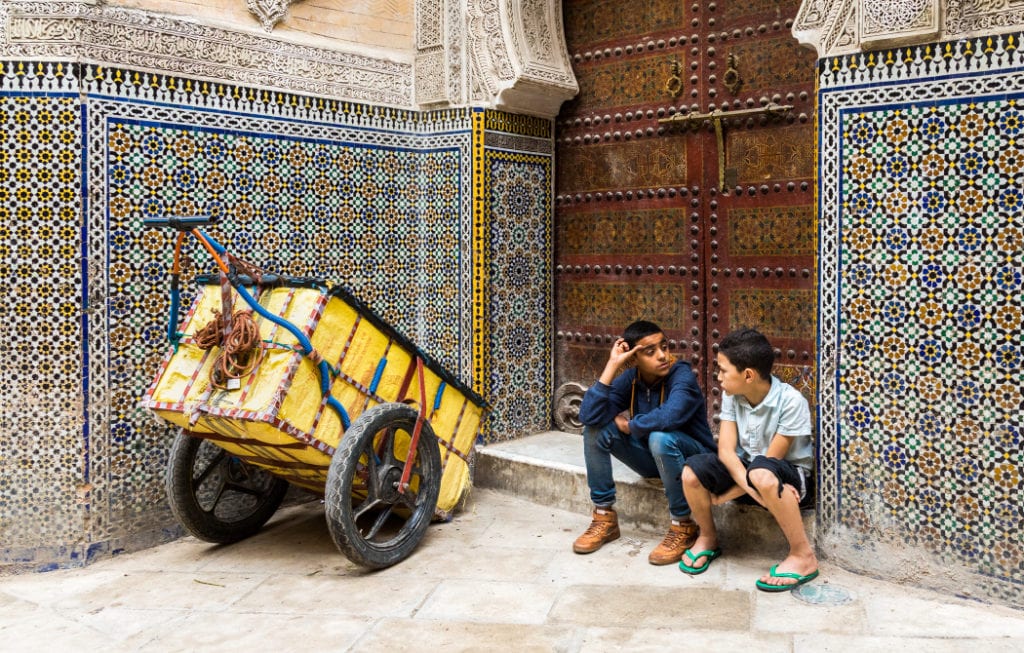 Two more stunning madrasas worth visiting in El-Bali are the Al-Attarine (named after the nearby perfume market; attar means perfume in Arabic) and the Bou Inania. Both were built in the 14th century and have typically Moroccan courtyards characterised by zellij (tilework) and stylised Arabic script on stucco walls. In Islam, the human form is never shown so geometric designs and flowers are used instead, with seemingly unending patterns covering the walls.
The ornately carved brown cedarwood arch tops bring a darkness to the brightness of the tiles; the natural wood contrasting with the manmade ceramic. Pillars like smooth palm trees hold up the gateway entrance at Al-Attarine, while birds can be heard as they dart about overhead in Bou Inania. In both madrasas, time seems to stand still as you wander about.
The Medina
The life and soul of the old city is the atmospheric Medina, where 8,000 streets and alleyways tangle to form a maze that either terrifies or entrances visitors. It is the largest car-free urban zone in the world; only pedestrians, scooters and donkeys are permitted to explore these corridors, although some 90,000 do, making for a bit of a squeeze at times.
Around every corner is a surprise or accident waiting to happen. Each turn and twist takes you deeper into an unfathomable labyrinth, where little lanes branch off like roots of a tree, getting smaller and narrower and often leading to dead ends and closed doors, where hidden worlds and personal stories are locked away.
During the day, cloth covers overhead give shade from the haze of a hot afternoon, but come nightfall the shutters close and the atmosphere changes; quiet empty streets where the only movement is a sneaky cat or a child playing.
The tanners of Fez
Fez is famous for its artisans and seeing the craftsmen and tilework in the Medina you may well be reminded of a Roman mosaic: each shop is a tile, practising its craft to form one giant picture. As you wander, you'll hear copper pots being beaten into shape, like an orchestra of crashing cymbals all out of sync, and potters working on their wheels.
But Fez's most famous export is its leather, and the city is renowned for its babouche (leather slippers). These are a huge part of Moroccan identity; babouche were originally worn by Bedouins but were then turned into a fashion piece by conquering Spanish forces.
Moulay Ismail ibn Sharif, Sultan of Morocco during the Alaoutie dynasty (1672–1727), did not like the idea of the slipper being a 'foreign frivolity' and banned the wearing of the black babouche, as they were of Spaniard design, except for the Jewish community. Muslim men instead wore bright yellow and still do today, along with white, and so it is these colours that dominate shopfronts, where you'll see rows and rows stacked like kernels of a corn on the cob. Women can wear any colour, often with embellishments, embroidery and tassels.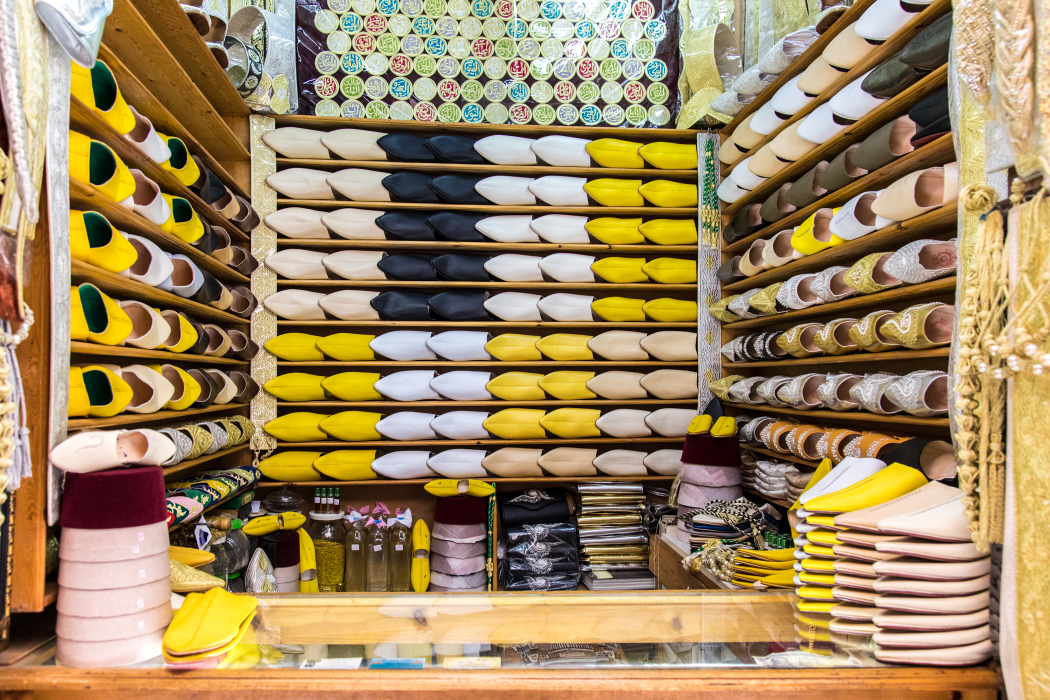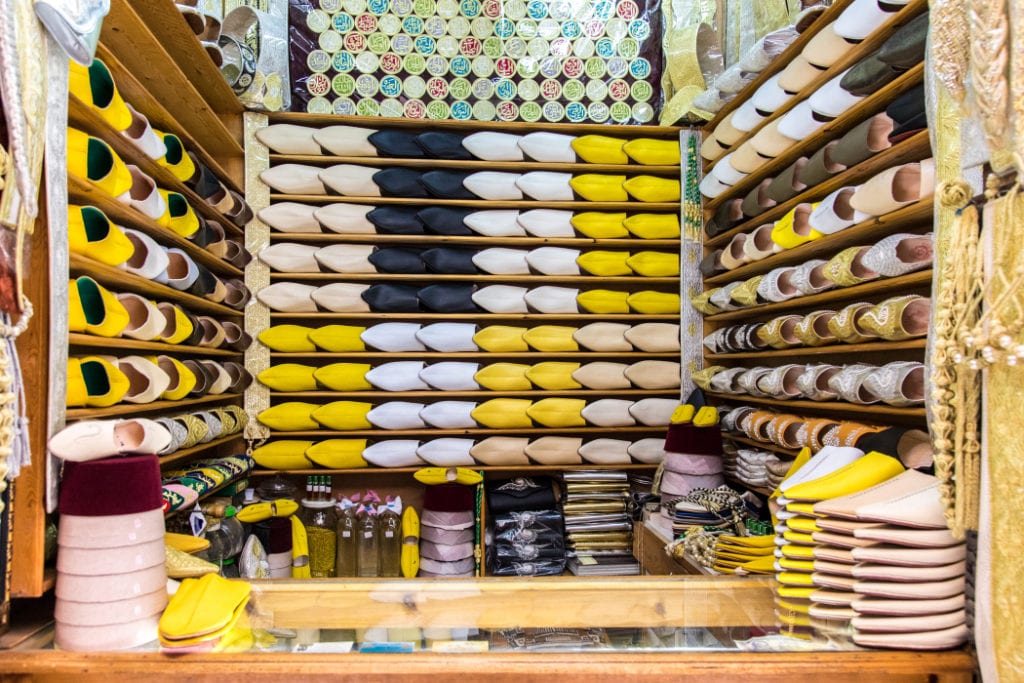 The best place to witness Fez's tanners at work is at the Chouara Tannery, one of the largest and oldest in the city. It has changed little, if at all, since it was built in the 11th century. After squeezing though small leather shops and downstairs through the musty darkness, you'll come to an open area where you can view the vats below. Looking down, it feels as if there is a huge watercolour palette for a giant painter to dip their brush into; a multi-coloured honeycomb tightly surrounded by buildings.
It takes at least three days to tan the leather, a process that makes it flexible and usable. The hides are soaked in the white vats that contain quick lime, salts and cow urine to remove the fats and excess hair from the skins. They are then put into water and pigeon poop (this contains ammonia) to soften them before they can be put into the coloured dyes.
The men use long poles to move the animal hides around the vats – or often they will just get into the vats with them, treading the skins with their bare feet. It is hard work, often in high temperatures. The whole process is fascinating to watch, and will certainly make you think about the slippers you just bought and all the effort that went into making them. But a word of warning: the odours are strong and can burn the back of your throat or even singe your nostril hairs!
The Fortifications of Fez
There are approximately 18 or so gates connecting various parts of the old city, ranging from dramatic arches with stucco facades to crumbling entrances. One of the most famous of these babs (door/gate in Arabic) is the Bab Bou Jeloud, with its cool blue tiles arching over the road.
Interestingly, this gate was actually built in 1913 by the French who wanted to create a grand entranceway to the city.
Mellah of Fez and Fez El-Jdid
When the Sephardic Jews were expelled from Spain in 1492, many fled to Morocco, bringing their culture with them. Today there are still Jewish quarters in a number of Moroccan cities, and while in Fez's Mellah district the Jewish population has declined, its wide streets still boast a number of important monuments and landmarks.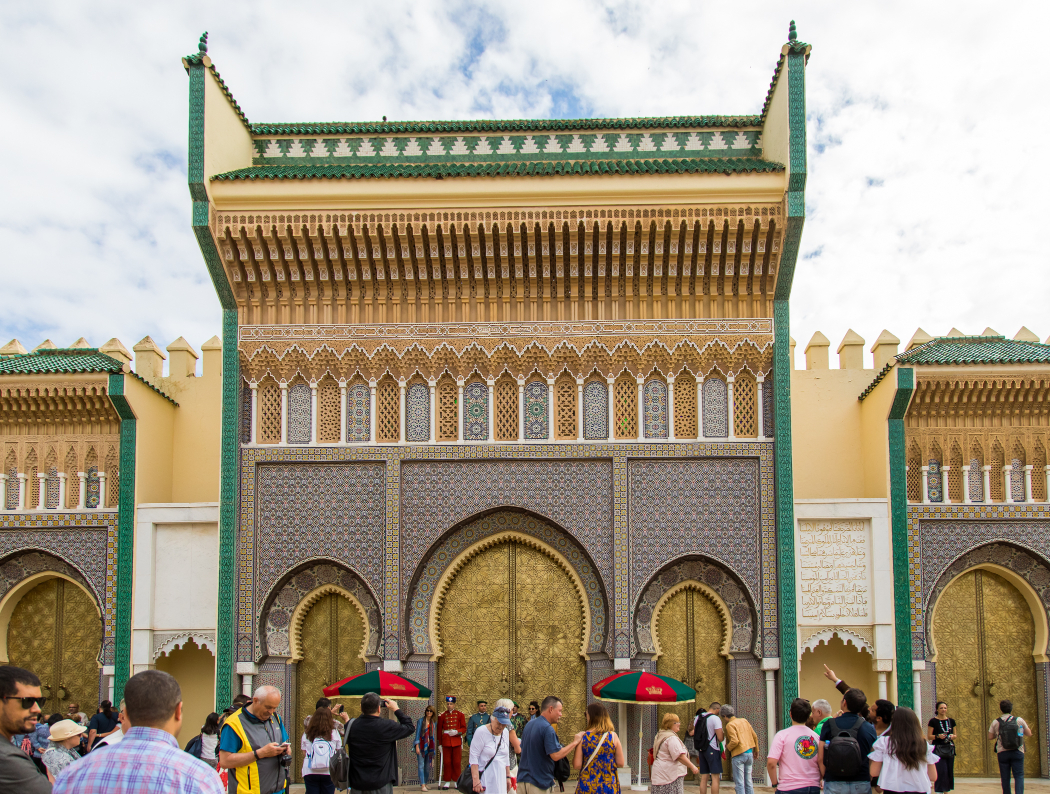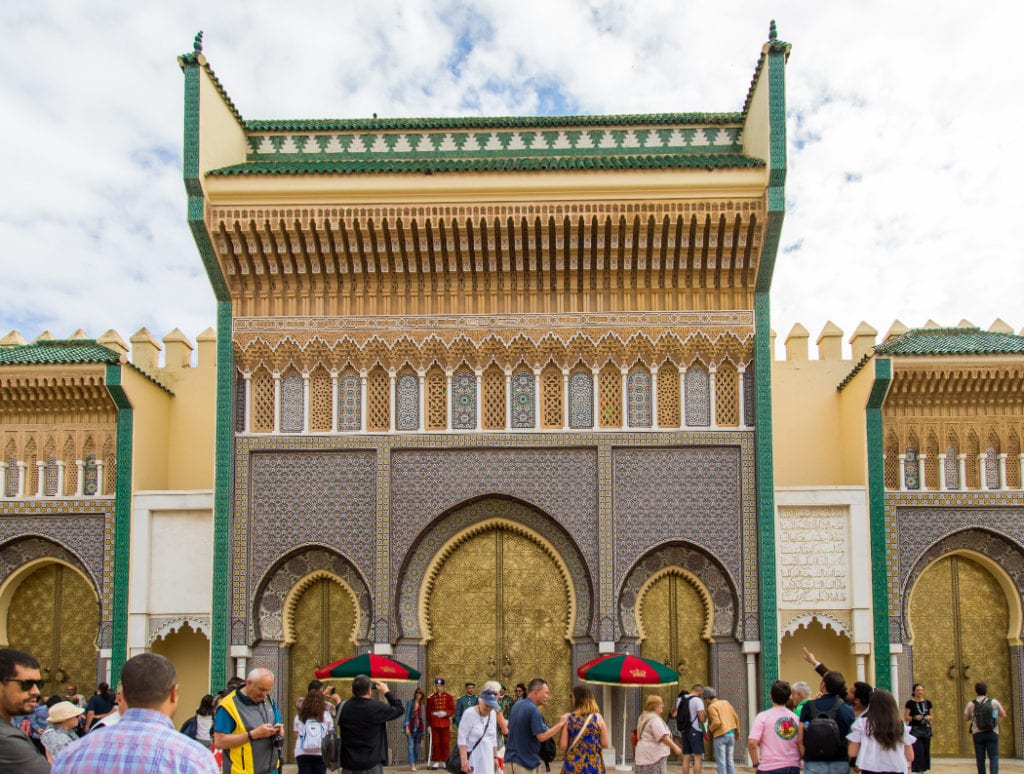 One such landmark is the Royal Palace (Dar El Makhzen), located in the new town. Its original foundations date to the 13th century, and although you can't enter you can still marvel at its remarkable 20th-century gates.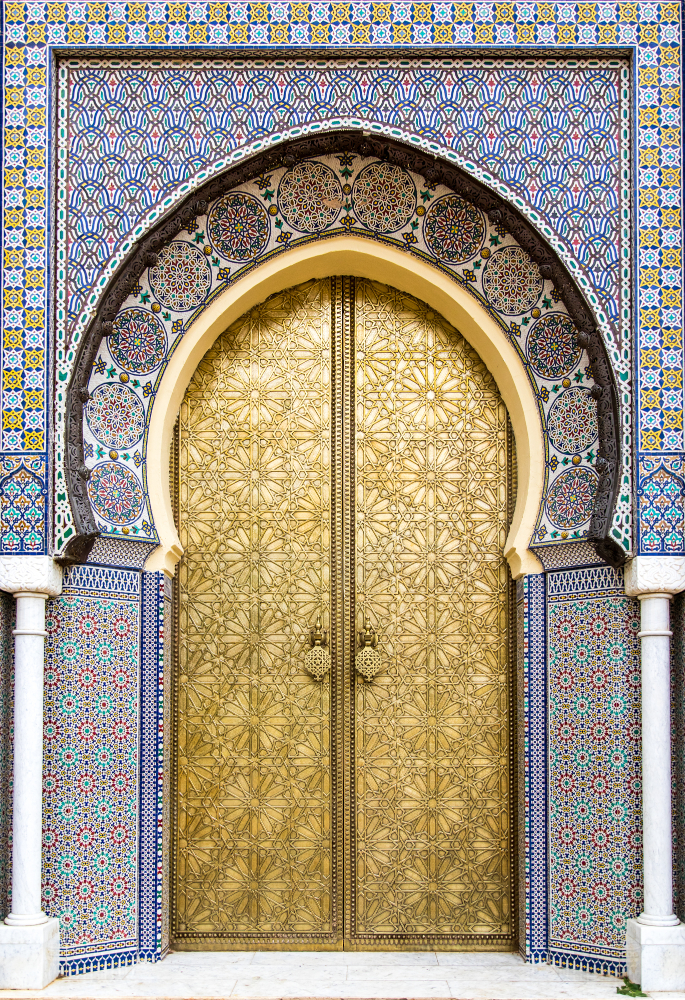 All seven gates are quintessentially Moroccan, each a perfect uniform arch with intricate detail. The exquisite red, blue and green zellij seems covered in huge etched-out stars that shimmer in the sunlight, while the beautiful creamy yellow walls bring a natural freshness to the noisy urban surroundings. Guards parade by to a seemingly unscheduled timetable.
Food and drink
Fez is a foodie frenzy; your senses will be well and truly pushed to the limits. Your nostrils will be attacked by sweet smells that you can't decipher at first but quickly become accustomed to: cinnamon, nutmeg and sandalwood mixed with odours of sun-warmed fruit, as well as pomegranate, prickly pears and oranges.
Then, of course, there are colours; sacks and bowls of overflowing red and green chillies, deep purple dates, vibrant orange apricots, luminous lemons and olives of all sizes and shades, each calling out to you to try.
But it will be the sizzling pans of street food that will really tempt you. Huge vats frying golden doughnuts or kebabs grilled with succulent aubergine. Snail soup in little cups and enormous chickpea bap sandwiches.
There's normally a broken old bench or a few plastic chairs you can rest on in the shade, or if you're lucky you might come across one of the small tile-covered cafés set deep into the walls, selling fresh mint tea and chebakia (fried dough in the shape of a rose, lathered in honey, rosewater and sesame seeds); the perfect refreshment after the endless noise and commotion of the city.
---
Born in Northern Ireland, Kirsten Hamilton-Sturdy spent most of her childhood years in other countries, including Nigeria, Libya and Bangladesh. She's since been to 70 countries and has spent 14 years teaching overseas, dragging her own children around with her. She enjoys writing about her travels, and has been runner up in our New Travel Writer of the Year Competition on four separate occasions.
You can follow Bharat Patel on Instagram or visit his website to stay tuned on his latest exhibitions and books.