Written by Holly Parsons
Every year we go on a company outing, and in late 2018 we put the authors of our guide to The Chilterns and the Thames Valley and travel narrative The Country of Larks to the test, asking them to use their expert knowledge to help us create a perfect day out in Henley-on-Thames, where we finished with a hearty dinner at The Maltsters Arms. Marketing Executive Holly Parsons tells us more…
---
After a busy day exploring the murderous streets of Henley, cruising along the Thames and taking a brisk walk around nearby Greys Court, we were all eagerly rubbing our gurgling stomachs by the time we arrived at The Maltsters Arms, a classic rustic country pub in Rotherfield Greys. The owners are local boys who believe pubs should be classic, cozy affairs – somewhere to enjoy good British food and a top notch pint – and when the characterful Maltsters Arms became available they knew they had to snap it up.
The Maltsters Arms aims to provide a 'modest, fresh and hearty menu that caters for all taste buds and all occasions', and were very accommodating to our group (which contained a vegan or two!). We chose our meals in advance, and were all pleasantly surprised by the breadth of options on offer. There was much discussion throughout the trip about our excitement to try what we're ordered, and we weren't disappointed when we settled down in front of a roaring fire to warm our slightly chilly toes and tuck into our dishes!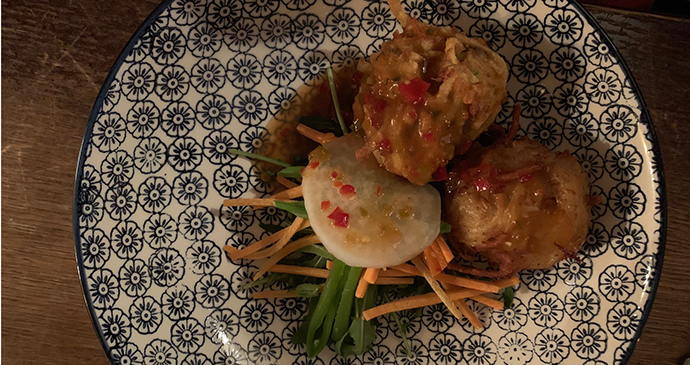 The crab & crispy noodle dumplings were a popular choice with the Bradt team © Holly Parsons
There was a distinctly fishy start to our meal, with many of the team choosing either the crab and crispy noodle dumpling, served with Asian slaw and sweet chilli sauce, or the crispy whitebait, which came with a creamy garlic mayonnaise for dipping. The dumplings were undoubtedly the favourite in my corner of the table, but I found the whitebait to be cooked to perfection, with a real bite to the herbed breadcrumbs used to cover it. For those who preferred to keep their meal on solid land, the French toast with gruyere and creamy garlic wild mushrooms was highly praised and garnered many a jealous look from those who hadn't selected it! The Maltsters Arms have a Slow Travel approach to food, use local suppliers and produce wherever possible, and are hoping to start growing their own fruit and veg in the pub's backgarden from this spring.
This juicy burger is a classic on The Maltsters Arms menu © Holly Parsons
For our main courses we chose from a varied selection containing some of the pub's most classic dishes (their website assures that there will always be 'a great pie, lovely fish & chips or a nice juicy burger' on the menu whenever you visit) along with some seasonable favourites. The beer-battered haddock with chips and crushed peas was indeed deemed a classic, and my burger was deliciously juicy, served with an emmental and bacon topping, and fluffy thick-cut chips. Vegetarians were treated to a warming lentil bolognese, served on exceptionally cooked linguine with just the right amount of bite. The winning dish, however, was undoubtedly the pan-fried cod with cannellini bean and spinach cassoulet, served in a beautiful china bowl.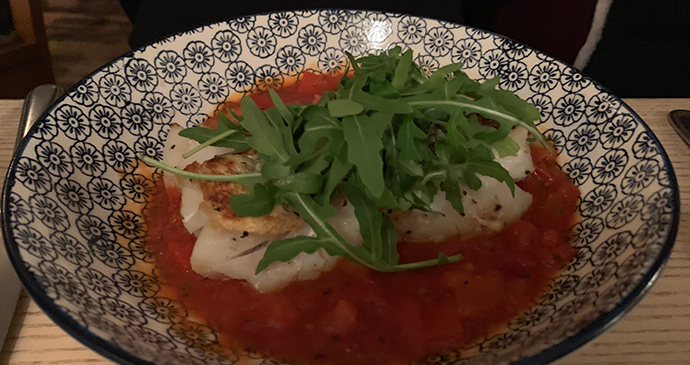 The cod was deemed the winner of the night © Holly Parsons
Our starters and mains had many of our party full to bursting, but I couldn't resist the pull of The Maltsters Arms' dessert menu, and the dark October night was perfect for a sizeable portion of sticky toffee pudding, served with a rich toffee sauce and a mound of ice cream. It made the perfect end to the meal, and those who'd passed on a final course looked like they regretted that decision.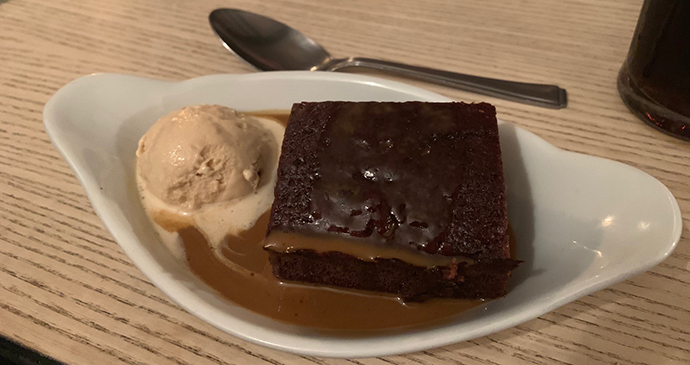 Those who opted for dessert were blown away by the generous portion of sticky toffee pudding © Holly Parsons
Fed and watered after our long day in the Chilterns, we were left to reflect on the best bits of our trip (I think mine might have been that sticky toffee pudding!) and the not-so-best bits (a flat tyre in a lay-by springs to mind) with a pint from the guest beer selection – Brakspear Special, brewed in Henley.
"A great pub screams out for muddy boots, roaring fires, hot pies, real ale, local game, beer gardens, board games and chatty staff – somewhere that everyone can eat great food and be happy." The Maltsters Arms and its hearty menu is a triumph from start to finish, and a perfectly charming way to round off a day discovering some of the best the Chilterns has to offer.
---
Interesting in reading more about our trip to Henley? Click here.
Want to discover more of the Chilterns' gastronomic delights? Get a copy of our brand new guide: