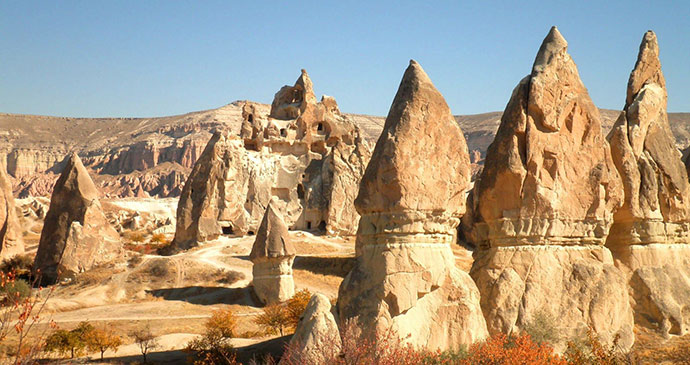 © NikoNomad, Shutterstock

Venture forth into an otherworldly landscape of tufa valleys, fairy chimneys and underground cities.
Cappadocia, this region of strange rock formations and painted cave churches was largely forgotten by the Western world until 1907, when a visiting French priest, Guillaume de Jerphanion, decided to devote the rest of his life to the study of its churches, publishing his vast research in the 1930s and 1940s. Since then the renown of the area has spread worldwide and Cappadocia has become one of the most visited and photographed areas of Turkey.
It is probable that even in pre-Christian times the rural population of Cappadocia made use of natural caves. They were easily extended, with the soft rock so readily carved out that early Christians would have found them ideal for hiding from pagan persecution. The area became an important frontier province during the 7th century when the Arab raids on the Byzantine Empire began. By now the soft tufa had been tunnelled and chambered to provide underground cities where a settled if cautious life could continue during difficult times. When the Byzantines re-established secure control between the 7th and 11th centuries, the troglodyte population surfaced, now carving their churches into rock faces and cliffs in the Göreme and Soğanlı areas, giving Cappadocia its fame today. Their churches and monasteries were many and small: the landscape was suitable for recluses in search of the spiritual life, and the region was distant from the contending doctrines of orthodox Constantinople and Monophysite Syria. St Basil, a 4th-century Father of the Church from Caesarea (Kayseri), opined that small and disciplined communities were most conducive to religious feeling. At any rate here they flourished, their churches remarkable for being cut into the rock, but interesting especially for their paintings, relatively well preserved, rich in colouring, and with an emotional intensity lacking in the formalism of Constantinople; this is one of the few places where paintings from the pre-Iconoclastic period have survived. Icons continued to be painted after the Seljuk conquest of the area in the 11th century, and the Ottoman conquest did not interfere with Christian practices in Cappadocia, where the countryside remained largely Greek, with some Armenians. But decline set in and Göreme, Ihlara and Soğanlı lost their early importance. The Greeks finally ended their long history here with the mass exchange of populations between Greece and Turkey in 1923.