Written by Bradt Travel Guides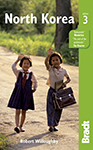 North Korea feels like a world apart, a secretive state often synonymous with radical politics and a distrust of foreigners. However, the country offers a rewarding and thought-provoking travel experience. Learn about the cult of the Kims in Pyongyang, trek to the volcanic mountain lake of Paektusan, or travel to the beautiful valleys and beaches of Chilbosan. It is one of the last unknowns in tourism, but if you are lucky enough to be going on a tour, here are ten things you should look out for.
Mansudae Grand Monument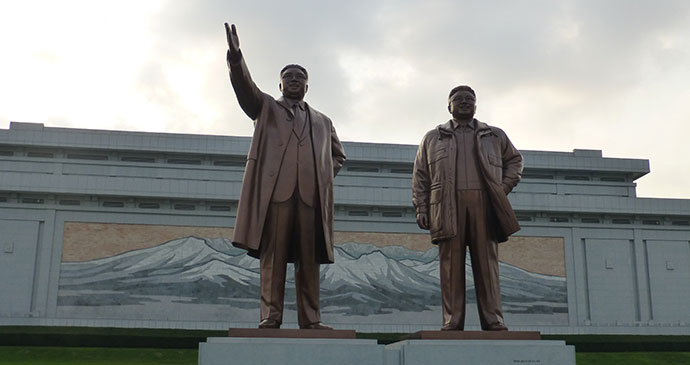 Mansudae Grand Monument © Hilary Bradt
Pyongyang's most famous site, the Grand Monument on Mansu Hill has two 20m-tall bronze statues of Kim Il Sung and Kim Jong Il standing in front of a 70m-wide mosaic of sacred Mount Paektu
Here are the towering 20m bronze figures of Kim Il Sung, arm out pointing the way forward, and Kim Jong Il, both standing in front of a 70m-wide mosaic of Korea's spiritual source, Mount Paektu. Local tourist literature says of the monument:
The Korean People erected the monument from their unanimous desire and aspiration to have the immortal and revolutionary exploits of the great leader Comrade Kim Il Sung remembered for all time and to carry forward and consummate the revolutionary cause of Juche which he initiated.
Flanking the Great and Dear Leaders are the DPRK and KWP flags rendered in polished stone and lined with 228 bronze figures (5m high) symbolising the anti- Japanese struggle, socialist revolution and construction. The monument was first built in 1972 to commemorate Kim Il Sung's 60th birthday he stood alone until 2012 when the statue was joined by one of Kim Jong Il.
Arirang Mass Games at the May Day Stadium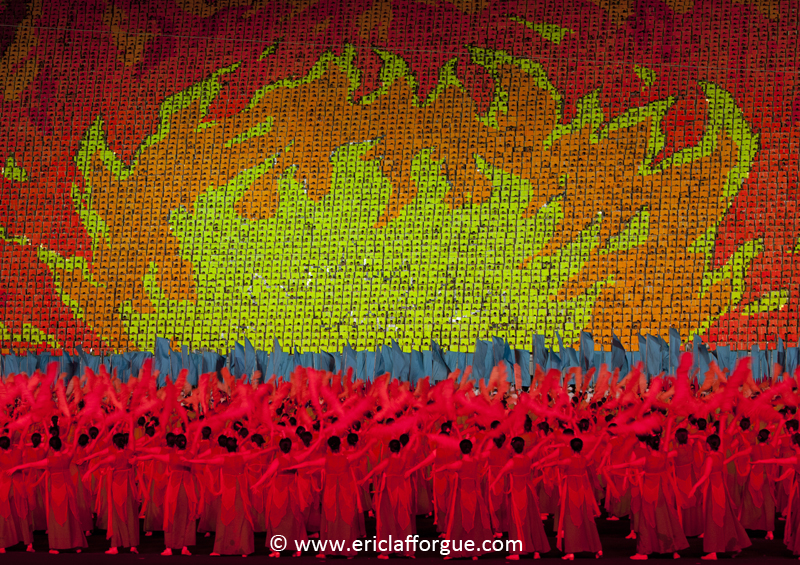 Mass Games © Eric Laffrogue
The best time to visit is when one of the Mass Games events is on. What a show, what a venue! Almost every year, Pyongyang hosts what has been rightly called the most incredible show on earth, when around 100,000 artists, dancers, gymnasts, acrobats, martial arts experts, soldiers and children perform in the Mass Games. Combining scenes of ethnic dances, giddying acrobatics and folk songs, it's a 'compact' story of the DPRK, celebrating everything from the success of egg farms to the struggle against US imperialism, performed by thousands of participants in a stunning feat of choreography, not only in the precision of the dances but in how they all manage to evaporate off the stage in total darkness.
The Kumsusan Memorial Palace of the Sun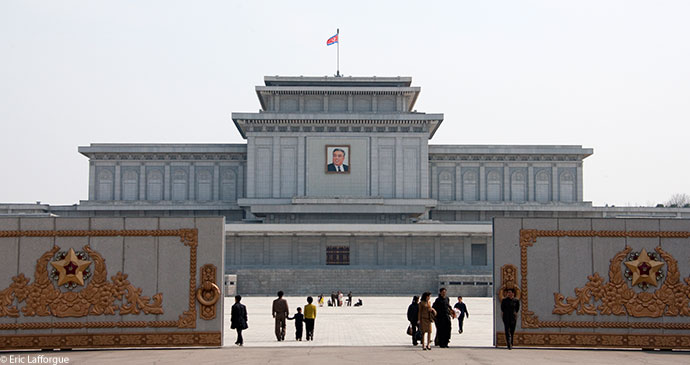 The Kumsusan Memorial Palace of the Sun © Eric Laffrogue
It is here that you can view the embalmed remains of Kim Il Sung and Kim Jong il, accompanied with a substantial number of respectful bows. Set in 100ha of trees, this was formerly where Kim Il Sung lived, worked and entertained and its interiors are lavish, so it is not a monolith built around a mausoleum but was a functioning residence refurbished to become a mausoleum. The cuboid mausoleum where Kim Il Sung lies in state is similar in design to that of Lenin, Mao and Ho Chi Minh, with a vast, dazzling plaza in front of it making it Pyongyang's other Kim Il Sung Square. You are expected to dress smartly with long trousers, shirt and tie, for men. No shorts for anyone. Visitors' shoes are scrubbed from beneath and the dust is blown off their clothes.
International Friendship Exhibition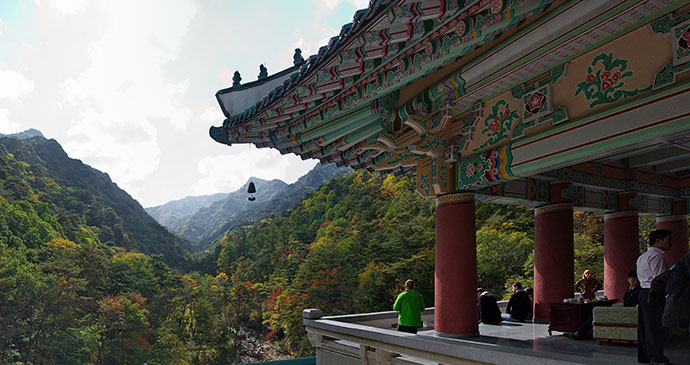 International Friendship Exhibition © Uwe Brodrec, Wikimedia Commons
The exhibition is dedicated to the world's gifts for the Great Leaders and kept in cavernous halls burrowed deep into the hillsides. You may (with gloved hands) be allowed to open the four-tonne, bronze-coloured doors of the Kim Il Sung exhibition, doors that open so easily it 'makes you feel mysterious', according to local lore. The 100 rooms contain 71,000 gifts of homage to the Great Leader, starting with a large room with his statue and a map showing the country and 'rank' of the gifts.
Time lights buzz on and off from room to room, as you marvel at Mao's and Stalin's railway carriages (Mao pays homage to Kim Il Sung!), a stuffed crocodile drinks' tray holder, fossil-topped tables, Kalashnikov-shaped vodka bottles, gold tanks. It's a pantheon of extraordinary gifts and knick-knacks from lost worlds of politics and style. This enormous collection is like a vast collage of gifts charting the chronology and reach of DPRK foreign relations, as gifts from some countries begin and finish as friendly regimes come and go.
Juche Tower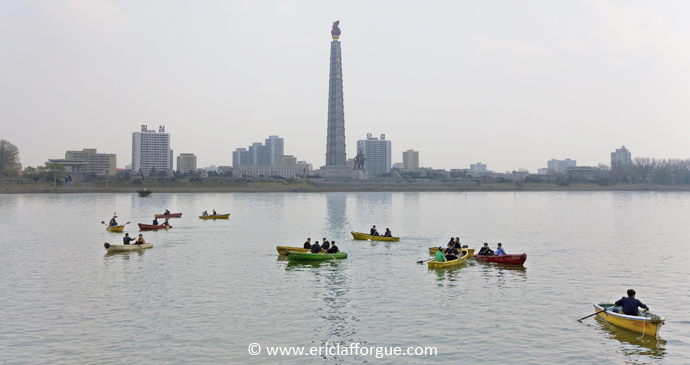 Juche Tower © Eric Lafforgue
Juche (pronounced ju-chay), also known as Kimilsungism, is the sociopolitical philosophy developed by Kim Il Sung and expounded by Kim Jong Il, and which is infused into, and underpins, many if not all facets of the DPRK's governing philosophy, society and culture. The Juche Tower is a celebration of this philosophy.
On the Taedong's east bank, from the top of this tower one gets the best panoramic view of the city and can see pretty much all there is to see, including the areas you'd otherwise have no chance to glimpse. Looking east there are many such houses on the fringes of the city, crammed between developments closer in, and the locals who visitors claim they don't see by day are either in those warrens or in the spacious courtyards of the larger blocks. Either way, everyone is expected to keep the place neat and trim. One can sometimes see the grass verges along pavements being tended by women with scissors, and children have been seen loading turf onto lorries for larger projects.
Beautiful beaches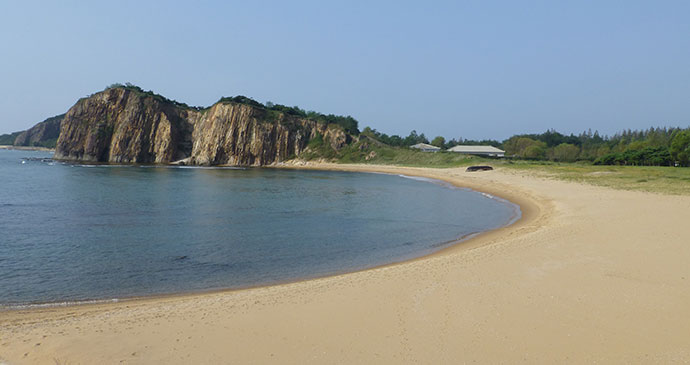 Majon Beach © Hilary Bradt
Something that is rarely thought of in relation to North Korea, is its Pacific coastline, which is lined with beaches. The 150km-long coast running down to Mount Chilbo chops from stretches of sandy beaches in lazy bays to dramatic cliffs and rock outlets along the beautiful stretches of coastline.
Majon Beach is a fabulously sandy with shallow waters which are swimmable by day. Beach parties are hosted in the evening, and at night you'll see the glow of fishing-boat lights on the horizon. Korean People's Army guards do patrol the beach but they're not out to get anyone. However, this author does recommend that guests don't get ridiculously drunk, take over someone else's hotel room, try and fight everyone, then run naked to the beach, resisting all efforts by AK-47-equipped guards, guides and tourists to restrain them…
Heading out to Rason, the area is blessed with beaches and capes that are clean and clear locations to relax along, with all forms of watersports, and the whole Rason area is fenced in by a series of hills. Rajin's beaches include the headland to Taecho Island, Chujin, Sinhae-ri and Pipa Islet.
Myohyangsan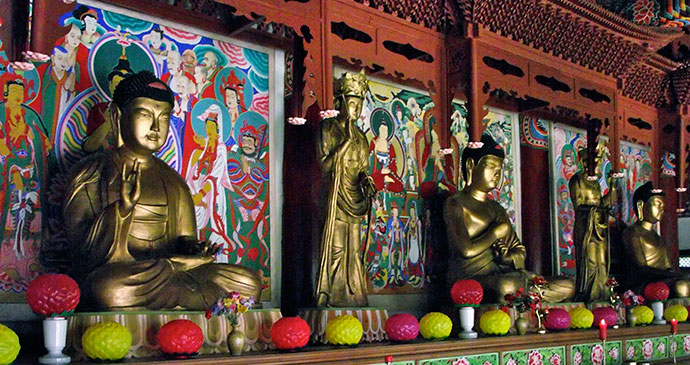 Temple at Mount Myohyang © Mark Fahey, Wikimedia Commons
The wider area where the International Friendship Exhibition is located is worth a visit as Mount Myohyang is a fabulous pocket of peaks and forested valleys in the centre of the country, with beautiful ridges and gulleys bedecked by waterfalls and steeped in Korea's Buddhist history. Its temperate climate makes it a worthwhile visit in all seasons, although in July the windless slopes make it a humidity trap. Myohyangsan (meaning 'mountain of a single fragrance', which is that of the juniper covering the area) is one of five of Korea's holy mountains, with a famed 1,000-year-old temple at its heart that drew pilgrims for centuries.
Mount Paektu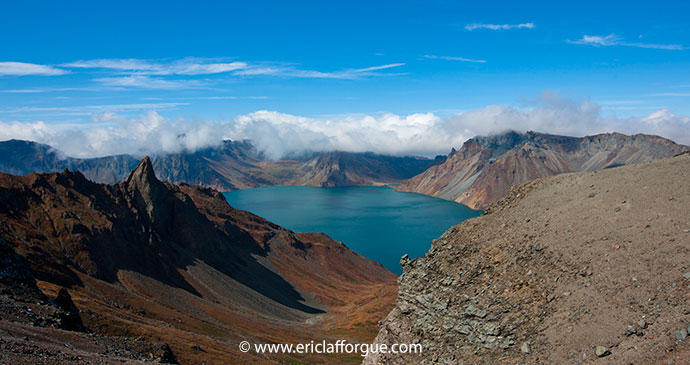 Mount Paektu © Eric Lafforgue
A spectacular geological phenomenon in its own right, this volcanic mountain lake is the spiritual birthplace of all Korea and is celebrated as such across the peninsula: high, cold, remote and deafeningly peaceful.
Lake Sijung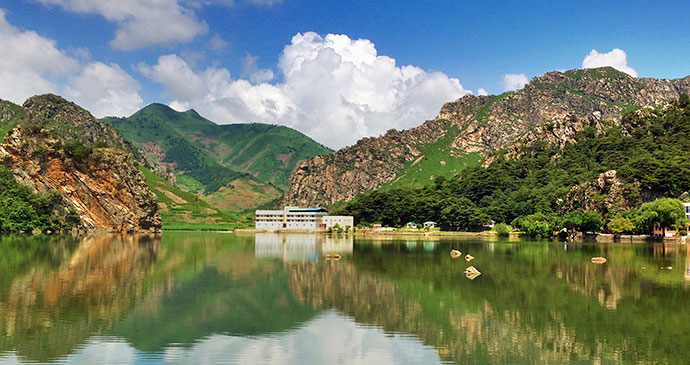 Lake Sijung © Clay Gilliland, Wikimedia Commons
On the road south of Wonsan to Kumgangsan, this tranquil place is where the better-off Koreans, Russians and other old friends go to relax in mudbaths, with petrol-cooked clam parties and fabulously clean beaches beyond the electric fence.
On the lake's shore is a small guesthouse specialising in mud treatment and massage. The mud at the bottom of the lake is formed by a rich, thick layer of rotting things that may well contain the carcasses of carp, sardine, mullet, lobster, clam, abalone, eel and snakefish that otherwise harass the rowing boats floating from the guesthouse. This mud is heated up and packed onto your body so that its nutrients may seep in and sooth your inner ills. It also pongs and can be too well heated, but a soak in the stuff helps cure numerous skin complaints, bronchitis and heart trouble.
Kaesong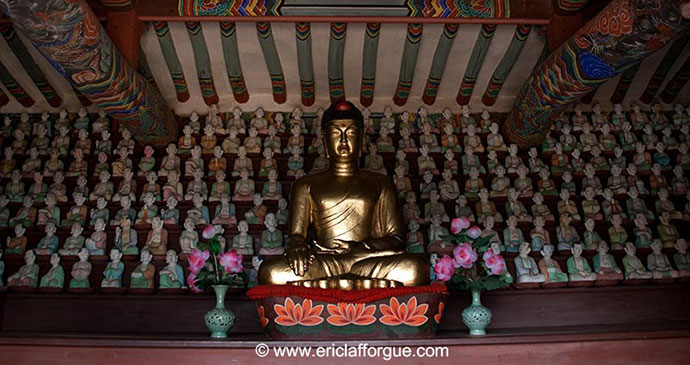 Temple at Kaesong © Eric Lafforgue
The ancient city of Kaesong is pretty and is worth a two-day trip with a couple of outlying ancient tomb sites thrown in, their serenity contrasting with the silent intensity of a trip into Panmunjom in the Demilitarized Zone.
Kaesong means 'castle gate opening' and the city had long been a significant fortress city before King Wang Kon made it the capital of Koryo in 932. In the next 400 years, Kaesong grew and prospered not only as the kingdom's political centre but one of great commerce and learning, with schools, temples, and centres to study meteorology and astronomy. Buddhism was made the state's official religion and Kaesong its heart, as the aristocracy poured money into monasteries, temples and schools. It was also a fortified city, with three series of surrounding walls pulsing outwards over the centuries of Koryo's rule, like the rings of a tree, while all they built was laid out under the rules of geomancy. Today, the city's main commodity is ginseng, with good trade in rice, barley and wheat until recently.
In 2013 UNESCO gave 12 of the Koryo-era sites in the city World Heritage status, remarking that 'the geomantic layout of the former capital city of Kaesong, its palaces, institutions and tomb complex, defensive walls and gates embody the political, cultural, philosophical and spiritual values of a crucial era in the region's history.'
---