Written by Elizabeth Gowing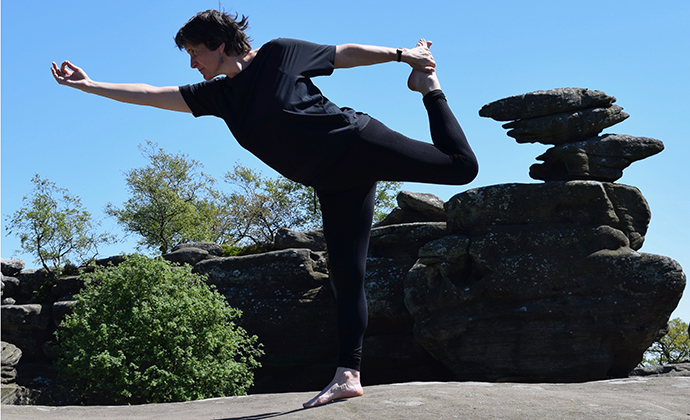 The day was clear enough to be able to see even beyond the rock formations © Paddy McEntaggart
The yoga class was being run as part of the site's 'Mindful May' promotion and downstairs in the shop I saw more mindfulness (commercial?) opportunities like their Colouring for Mindfulness; Art Therapy to Help You Unwind book with designs based on the rock formations.
The shop was quiet with just one member of staff, at the till, and we were interrupted only by her walkie-talkie exploding occasionally into an uncomfortably loud crackle and whine that made us both wince.
'Shall we turn that down?' she said eventually. 'It's not very mindful, is it.' It was a fair point, and the first sign that Mindful May might be more than a publicity gimmick. Perhaps this month really would leave the place – the world – with a bit less deafening chatter.
I didn't buy a colouring book, or even some mindless local Harrogate toffee. I scanned the shelves remembering what the Pradipika had to say about diet:
These are wholesome for the best yogis: wheat, rice, barley,
shashtika rice, … milk, ghee, sugar, butter, sugar candy, honey,
dry ginger, cucumbers, the five potherbs, mung dahl etc. and
pure water.
It seemed that Kendal mint cake might just about qualify, and anyway that's what I felt one should buy at a National Trust site. Once I had it I was equipped for a long hike but instead I just wandered slowly outside because Charlie had been right; this was a beautiful day and it was no hardship to sit and wait for the class in the early summer sunshine.
There were huge old boulders by the drinks kiosk, blotted with lichen that made them look like ancient scarred whales. I leant against one, drinking some Harrogate spa water and feeling dwarfed by nature. The day was clear enough to be able to see even beyond the rock formations, across the forty miles to the nearby power station, as if the yoga class had started already. I was being offered images of balance, clarity and might.
---
Want to read more of Elizabeth's yoga experiences around Britain? Take a look at her book, Unlikely Positions (in Unlikely Places):