Written by Bradt Travel Guides
One of the delights of visiting any region in Italy is discovering new dishes, and FVG, with its mountains, fertile plains, orchards (notably cherry) and coastline, delivers the goods in spades.
Prosciutto di San Daniele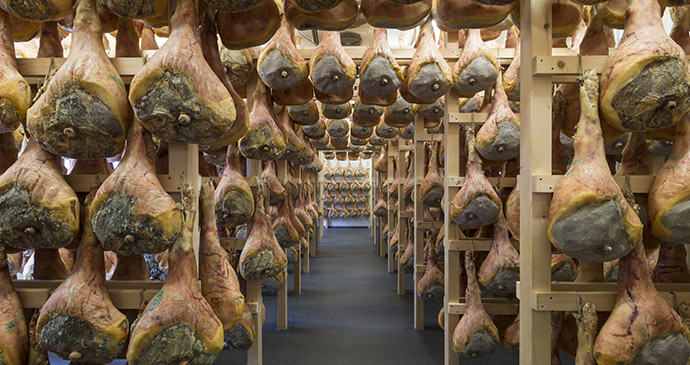 San Daniele prosciutto is aged for up to 18 months © Fabrice Gallina, PromoTurismoFVG
Unlike many cured hams, you can tell one from San Daniele just by looking at it: the trotter is intact and the ham has a distinct flat guitar shape that goes back to ancient times (a perfect San Daniele ham was found etched on the Roman tombstone of a pork butcher in Portogruaro). Preserved in sea salt and massaged with pepper, the hams are left to air dry on racks for several months in the breezes wafting down the Tagliamento valley and up from the Adriatic, then aged for 15–18 months. The result literally melts in your mouth.
Gubana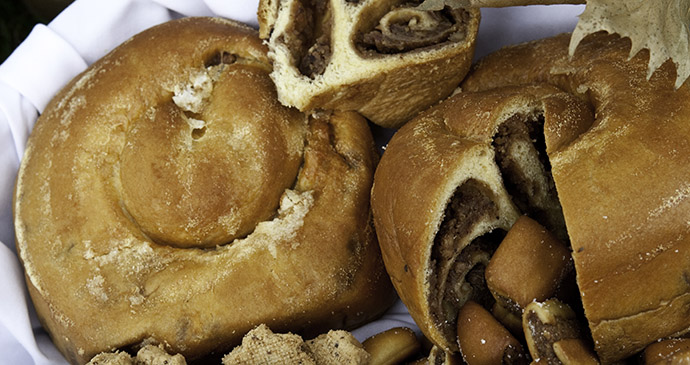 Gubana cake dates back to the 15th century © Alessandro Castiglioni, PromoTurismoFVG
The Natisone valleys claim bragging rights when it comes to gubana, the rich cake filled with a rich swirl of ground walnuts, raisins, pine nuts, lemon zest and vanilla, first mentioned in 1409, when Pope Gregorio XII was treated to one during his visit to Cividale.
Friulian wine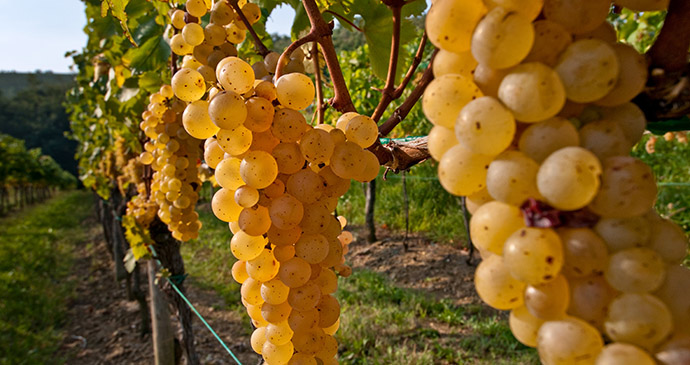 Friuli is world famous for its white wines © Mario Verin, PromoTurismoFVG
If you've first encountered 'Friuli' on a wine label, you won't be the only one; its white wines are among the world's finest. Friuli Venezia Giulia is divided into ten DOC and four DOCG areas, with vines covering 20,000ha in some 30 varietals, often in small quantities. Many small holdings are still worked and run by individual families; 77% of the wine they produce is white.
The Collio is home to winemaking families who aren't shy about innovating and borrowing ideas from Slovenia, Istria and Austria, but also Bordeaux and Burgundy. They have an extraordinary palette of white varietals that make up 85% of the Collio production: Malvasia, Chardonnay, Sauvignon, Merlot, Riesling, Traminer, Pinot Bianco and Pinot Grigio, indigenous Ribolla Gialla and Verduzzo, and Friuli's flagship Friulano (aka Tocai Friulano until Hungary won the naming war).
Cheese: DOP Montasio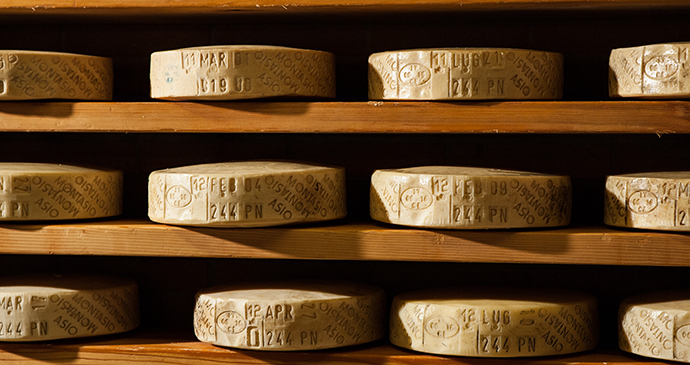 Mountain pastures in FVG have ancient cheese-making traditions © Massimo Crivellari, PromoTurismoFVG
In the early 13th century, the monks of Moggio Udinese helped the Jôf di Montasio dairy farmers refine their cheese-making – to supply just the right heat to the copper cauldrons to make a drier, more solid cheese. The same recipe is used today, although the name 'Montasio' didn't appear until 1773. It gets darker and stronger with time and sold with various degrees of ageing: from fresco (fresh; 60–120 days) to stravecchio (more than 18 months). You'll find it fresh on platters in osterias with the prosciutto, but mostly as frico, the test of any Friulian cook, either as croccante (fried as crispy thin wafers) or morbido, cooked with potatoes and onions, and often pancetta and herbs.
Cjarsons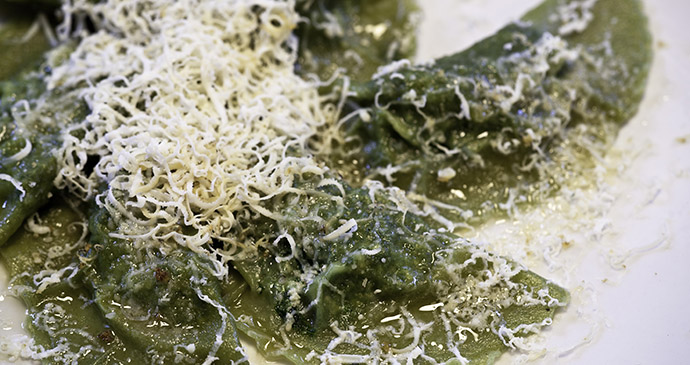 Cjarsons are a classic regional dish in Friuli © Alessandro Castiglioni, PromoTurismoFVG
Every cook in Carnia makes cjarsons, the region's classic stuffed pasta, which may be sweet or savoury, or a combination of the two. Both versions are flavoured with cloves, saffron, nutmeg or other spices brought back to the region by local pedlars who travelled in central Europe. Sweet cjarsons may contain apples, chocolate, dried fruit, crushed biscuits, nuts and herbs or jam; savoury ones are filled with onions, potatoes, spinach, cheese and raisins. Both versions come topped with melted butter, smoked ricotta, and optional sugar and cinnamon.
---
Keen to explore more of Friuli Venezia Giulia? Start planning your trip with 10% off our guide: