Wondering where to whisk away your beloved for Valentine's Day, an anniversary or perhaps to put a ring on it? These passionate places in India, Italy, Spain, Australia, Paris and Botswana have love woven into their DNA…
Casa di Giulietta, Verona, Italy
Why? Play the lovelorn lad (or his fair maid) at a medieval Italian mansion
Could this really be the house where the star-cross'd lovers courted, she on her balcony whispering 'wherefore art thou Romeo', he kurking beneath? Well, probably not: the connection between the Casa Capuleti – likely built in the 13th century and much changed since – and Shakespeare's ill-fated heroine was made only much later.
But though the experienced is rather cliched, touristy and commercialised – young visitors queue for photos on the stone balcony, and rub the (20th-century) bronze statue of Juliet for luck in love – it's still a kitschily charming spot in which to dream of love. And the rest of old Verona, with its ancient walls, imposing Roman arena, medieval castle and Renaissance palaces, is certainly a romantic place to roam.
Okavango Delta, Botswana
Why? Romance like the royals in the place where Harry proposed to Meghan
The watery wonderland in the north of Botswana doesn't really need extra publicity – an exclusive safari escape, the Okavango Delta is renowned among wildlife-watching connoisseurs for its fabulous game-viewing.
But staying in a luxury lodge, venturing out on safaris in a traditional mokoro (canoe) among the channels and reeds to spot lions, elephants and more, is sure to send the heart soaring. Fly to Maun and choose a lodge or camp to suit your budget or taste for romantic solitude.
Lovers of Teruel tomb, Aragon, Spain
Why? Discover the tragic tale of Diego and Isabel at their heart-rending mausoleum
It's a familiar tale: poor boy meets rich girl; girl's father forbids marriage; boy spends five years becoming wealthy enough to wed – only to arrive home too late, just after she is married to another. Heartbroken boy dies, as does newlywed girl.
Thus (roughly speaking) runs the sorry story of Diego de Marcilla and Isabel de Segura, which you can discover at the Mausoleo de los Amantes, along with their beautiful marble tomb sculpted by Juan de Avalos. Their almost-touching hands are particularly moving – a sight sure to inspire passion in all but the most cold-hearted.
Heart Reef, Queensland, Australia
Why? To swoop over a naturally formed symbol of love
Emerging from the balmy, turquoise waters of the Whitsunday Islands off the Queensland coast is this gorgeous little atoll, best admired from the air (swimming around the reef is prohibited to protect it).
Helicopter and plane pilots are accustomed to proposals on scenic flights – ask nicely and they may give you a bit of extra time for an aerial engagement. Back at sea level, white-sand beaches and fabulous diving and snorkelling make the Whitsundays a glorious destination for a romantic break.
Père Lachaise Cemetery, Paris, France
Why? To wander among those who sang, wrote, made music about – and died from – love
Arguably more than any other resting place, Paris's largest cemetery is a site of pilgrimage for the passionate. Wandering its atmospheric avenues you may spy the graves of composers Frédéric Chopin and Georges Bizet, writers Marcel Proust, Oscar Wilde, Molière and Colette, and singers Jim Morrison and Édith Piaf (of 'Ma Vie en Rose' fame).
But perhaps most touching is the monument to ill-fated medieval lovers Héloïse and Abélard, their union at last denied (at least, according to romantic myth), she forced to become a nun and he, er, castrated. Whatever the truth, the monument carrying their effigies has been a popular destination for lovers since it was erected here in 1817.
Taj Mahal, Agra, India
Why? Admire the elegant monument to love built by Mughal emperor Shah Jahan to commemorate his favourite wife
After the queen consort Mumtaz Mahal died in 1631, the bereaved emperor Shah Jahan commissioned an exquisite white marble mausoleum, inlaid with beautiful calligraphy and floral patterns, and flanked by slender minarets.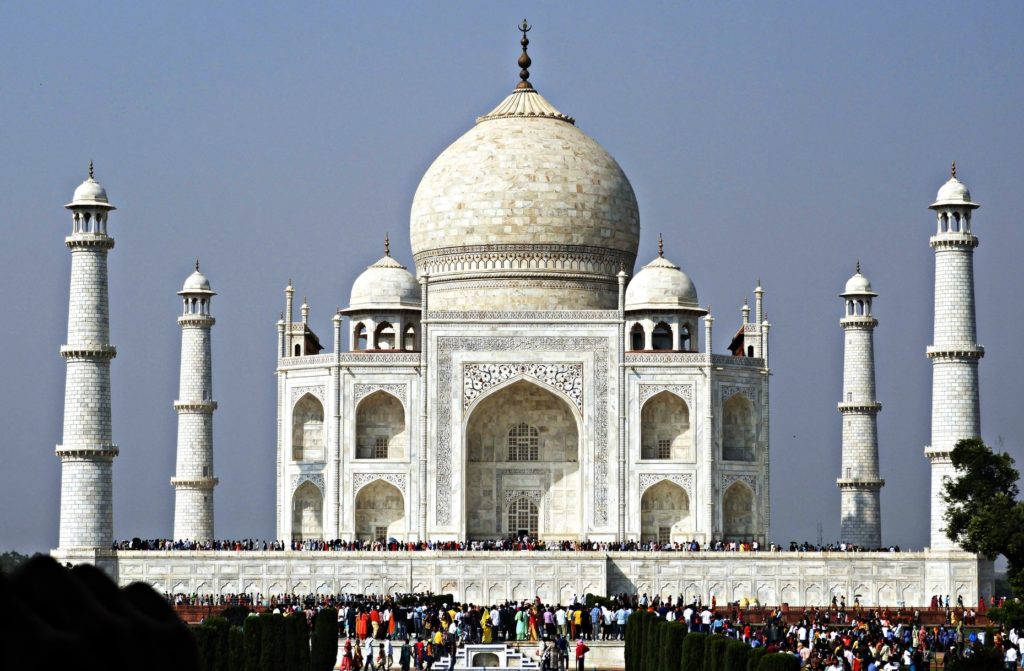 Over 20 years in the making, requiring the skills of some 20,000 craftsmen, the Taj Mahal is, despite the millions of tourists who throng the ornate charbagh (Mughal garden) alongside the Yamuna River each year, a breathtaking place that embodies the emperor's love.