Written by Bradt Travel Guides
As a biodiversity hotspot, Madagascar is positively scorching; few places on earth possess such a range of unique wildlife. Habitats from spiny forests to mangroves and coral reefs to rainforests are home to an extraordinary array of weird and wonderful animals and plants. Dig a little deeper and you'll discover the island is also a fascinating cultural melting pot where Asia meets Africa. And for adrenaline junkies, there are world-class sites for adventure sports. Once a somewhat challenging destination, Madagascar now has something for everyone, whether you're after a luxury island hideaway or a rural homestay.
Still need convincing? Here's why we think you need to visit.
Lemurs!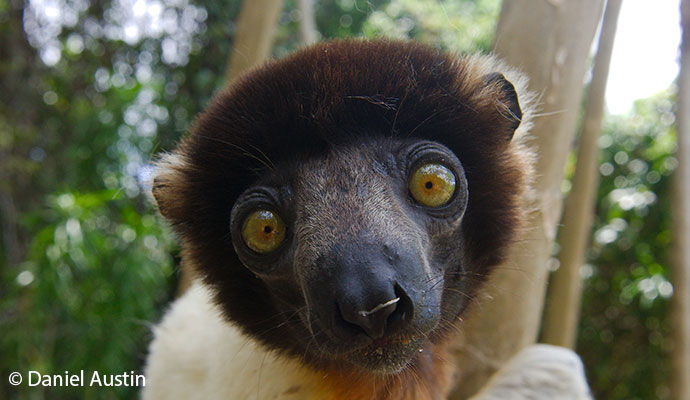 The crowned sifaka © Daniel Austin
These furry creatures are what draw most visitors to Madagascar. With over 111 species and sub-species living on the island, you're almost guaranteed to see one during your stay, but we've come up with the best places to see them to give you a helping hand.
…and then there's the rest of the wildlife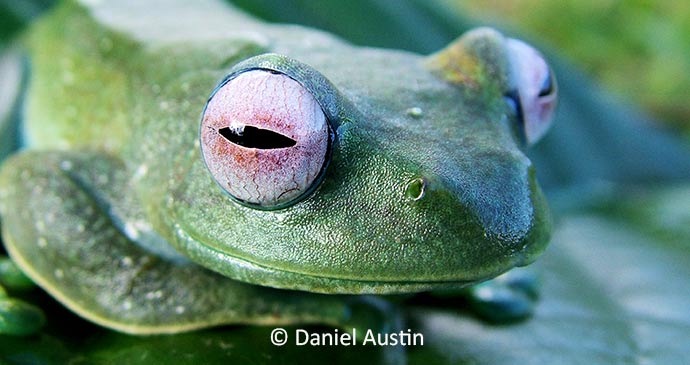 The boophis frog, one of the island's many species of reptile © Daniel Austin
Often referred to as the 'Eighth Continent', Madagascar is home to a remarkable wealth of interesting animals – from colour-changing chameleons, eye-popping frogs over 150,000 types of invertebrate to fantastic birds, jumping rats and the cat-like fossa. Yes, most people come to see the lemurs, but there are plenty of other magnificent wildlife sights to behold.
Mind-boggling flora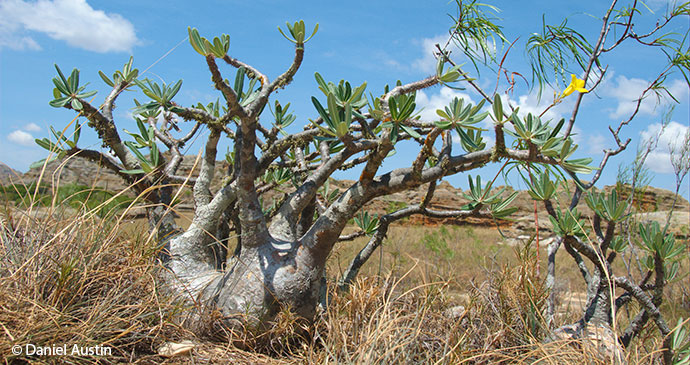 The razor-sharp limestone karst pinnacles of the tsingy make for an otherworldly landscape © Daniel Austin
Madagascar and its surrounding islands plays host to some 13,000 species of flora, of which a mind-blowing 89% are endemic. Although some other regions of the world (such as the Tropical Andes, Indonesia and Brazil) have more plant species, they have substantially lower rates of endemism, typically below 50%. Madagascar is the world's number one floral hotspot for an area its size. Particular species to look out for are the pachypodium tree and carnivorous pitcher plants.
An avenue of baobabs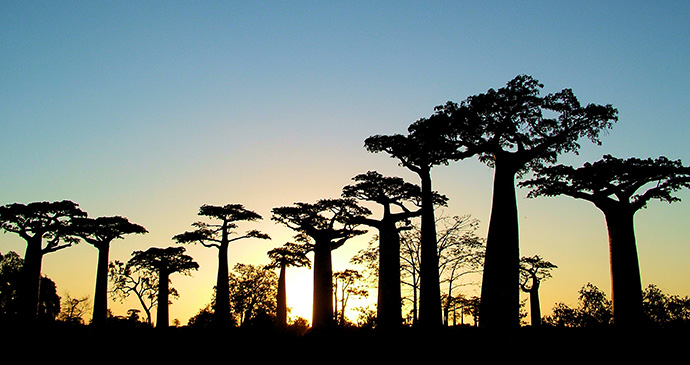 The Avenue des Baobabs is one of the iconic views of Madagascar © purcell, Shutterstock
Perhaps Madagascar's most photographed spot, this cluster of towering Grandidier's baobabs (Adansonia grandidieri) is not to be missed on a trip to the island.
The diversity of landscapes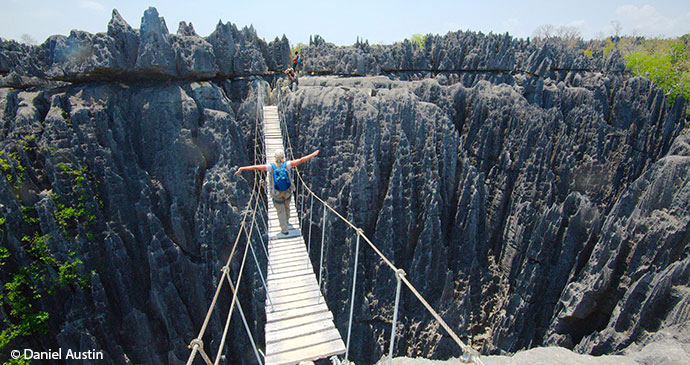 The razor-sharp limestone karst pinnacles of the tsingy make for an otherworldly landscape © Daniel Austin
Acres of savannah grassland, swathes of dense rainforest, dramatic craggy peaks and vast sediments of otherworldly tsingy – you'll see all of these and more on the island.
The chance to give something back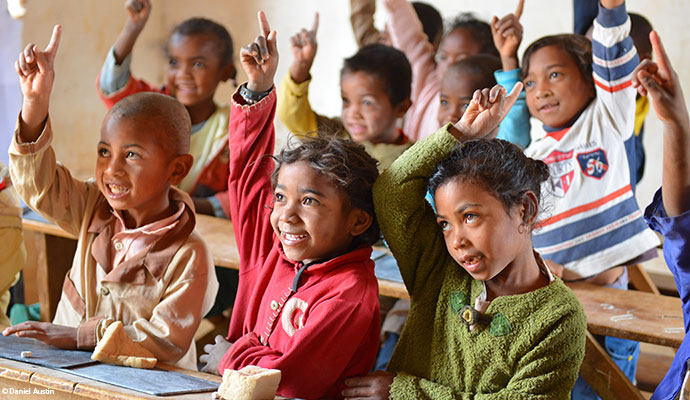 The chance to get involved in the local community is often the highlight of a trip © Daniel Austin
Every visitor returns home with fond memories of the welcoming people of Madagascar; interactions with the locals – especially the kids – can turn out to be the highlight of a trip. There are countless organisations doing good in Madagascar, mainly through community and conservation projects. Any of them would welcome even a modest financial donation and some can make use of certain donated items, such as clothes, books or medical supplies. You can also give your time and energy to several charities as a volunteer.
Glorious beaches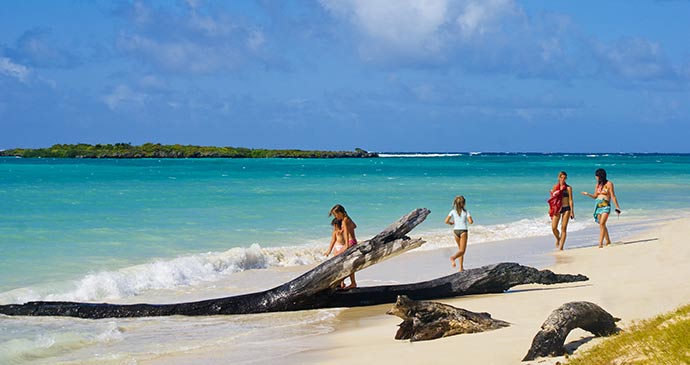 The islands of Baie d'Emeraude have some of the best beaches on and around Madagascar © Madagascar Tourism
Swathes of golden, uncrowded sand are easy to come across in Madagascar and the surrounding islands. The best beaches are the blue lagoons along the west coast, but some people are disappointed because of the shallow water (it is often impossible to swim at low tide). There are beautiful beaches on the east coast but strong currents and sharks are a risk in many parts. The very best beaches are in remote areas such as Anjajavy, the islands around Nosy Be, Ile Sainte Marie and south of Toliara.
Unique customs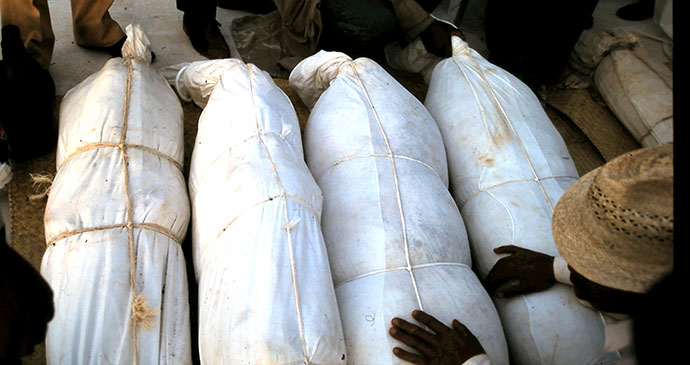 The famadihana is a burial ceremony in which the bones of the dead are 'turned' © Hilary Bradt
The Afro-Asian origin of the Malagasy has produced a people with complicated and fascinating beliefs and customs. Despite the various tribes or clans, the country shares not only a common language but a belief in the power of dead ancestors – razana. Try to coincide a trip with a visit to a famadihana – a Malagusy burial ceremony.
A wealth of water activities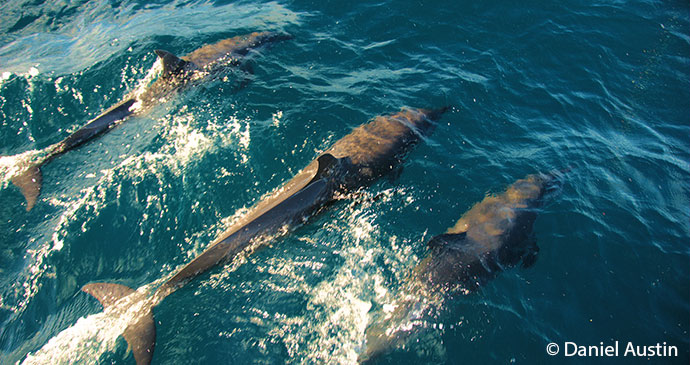 Nosy Be is one of the best places for dolphin watching © Daniel Austin
As an island, Madagascar has no shortage of ocean. There's something for everyone: from diving and snorkelling to windsurfing and kite-surfing; the diverse sea life includes dolphins, whales, turtles and myriad colourful reef fish.
---
Tempted? Get 10% off our guide to Madagascar: