Sale!
Bradt New Travel Writer of the Year 2024 – competition entry
£15.00
Buy this to receive details for how to enter the Bradt Guides New Travel Writer of the Year competition  – best of luck!
One entry to the Bradt Guides New Travel Writer of the Year competition 2024. Instructions for how to enter the competition will be emailed to you on purchase.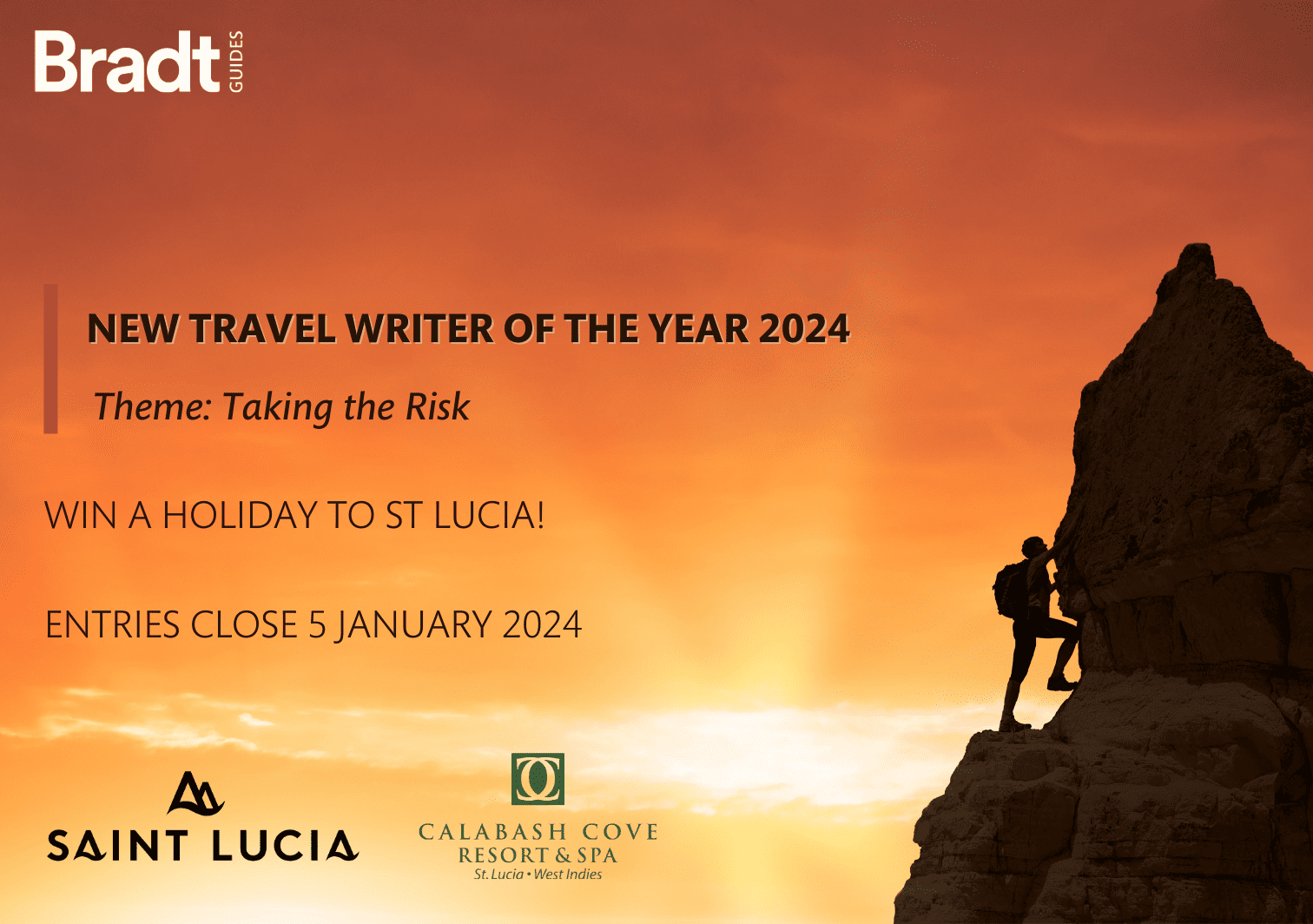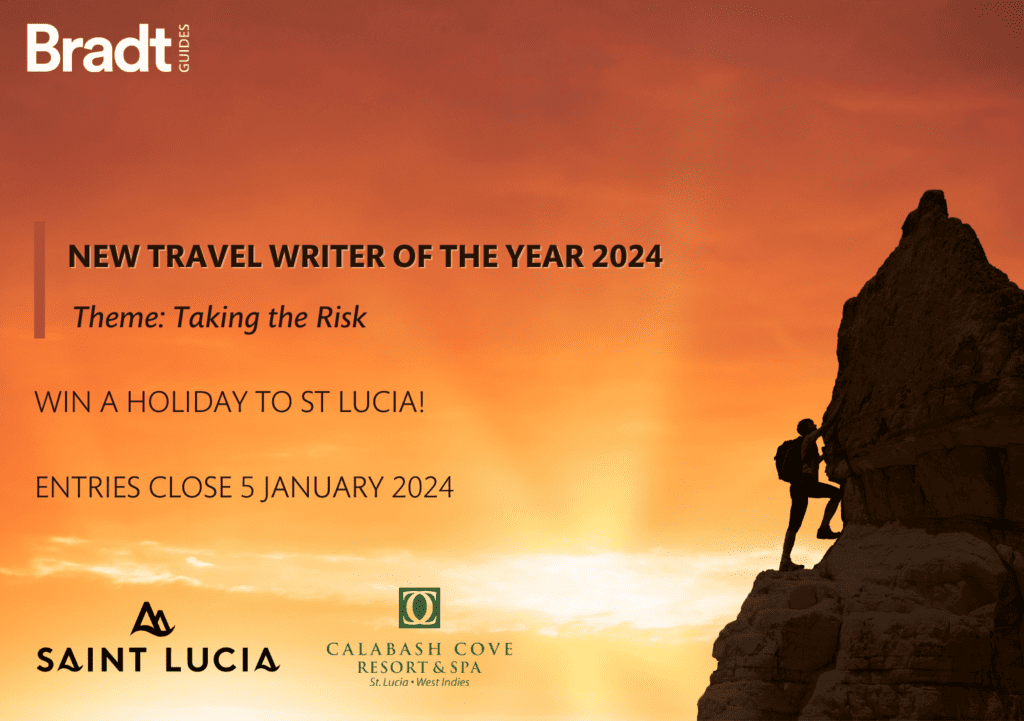 The competition
Enter the world's best competition for unpublished travel writers!
For over twenty years, Bradt Guides' New Travel Writer of the Year competition has been seeking out and championing new writing talent. Previous winners and finalists in the competition have gone on to see their work published in newspapers, travel magazines and books.
Once again part of the Edward Stanford Travel Writing Awards, the leading book trade awards for travel writers, this is an unrivalled opportunity for unpublished travel writers.
The theme
The theme for this year's competition is Taking the risk. Entrants are invited to submit an original piece of writing of between 600 and 800 words which either includes this phrase or clearly touches on the theme.
The piece must be a true story, based on the writer's personal experience and written as a first-hand account, in the first person and in English.
The prizes
Three finalists will be invited to attend the Edward Stanford Travel Writing Awards in London in early 2024.
The overall winner will be crowned our New Travel Writer of the Year.
The prize is five nights' all-inclusive at Calabash Cove Resort & Spa on the island of St Lucia, in a Sunset Oceanview Junior Suite, covering all meals and beverages including room service. Return flights from London Gatwick and airport transfers in St Lucia are also included. The winner also receives a paid commission to write about their trip for Traveller magazine.
The mango-shaped island of St Lucia is only 27 miles long and 14 miles wide but packs a lot into its small size, with something for everyone. It's truly nature's paradise, home to the famous Piton mountains and a lush rainforest fringed by golden sandy beaches. Spend your days hiking, rafting and ziplining or simply enjoying tranquillity and peace by the Caribbean sea. Calabash Cove is a peaceful, adults-only boutique resort, in the north of the island with stunning views of the Caribbean sea.
Prizes courtesy of St Lucia Tourism Authority and Calabash Cove Resort & Spa.
The two runners-up will receive three Bradt guides of their choice. All the shortlisted pieces will be published on the Bradt website.
The judges
Judges for this year's competition include:
Hilary Bradt, founder of Bradt Guides
Adrian Phillips, MD of Bradt Guides
Hugh Brune, Commercial Director of Bradt Guides
Amy Sohanpaul, editor of Traveller Magazine
Jonathan Lorie, travel-writing trainer and author of The Travel Writer's Way.
Before you enter
To give yourself the best possible chance of success, have a look at our article about what the judges are looking for. You can also read all of last year's longlisted entries. Still not sure whether to throw your hat into the ring? Read Jonathan Lorie's article on travel writing competitions.
Am I eligible?
The competition is open to unpublished writers only. We define this as someone who has not previously been paid for a travel-related piece of writing published either in print or online. There are always grey areas with this, so for further clarification please see the competition rules here, and if you're still not sure get in touch.
The small print
Entry fee: £15.
Deadline for entries: 5 January 2024
Full details of how to submit your entry will be sent upon payment of the entry fee.
For full terms and conditions, see this page.