Bratislava is filled with interesting and imaginative statues, which present great photo opportunities and an insight into the Slovak sense of humour. The eastern European tradition of public sculpture is particularly obvious along the Danube embankment, but the humorous statues elsewhere in the Old Town are what really mark Bratislava out.
Napoleonic army soldier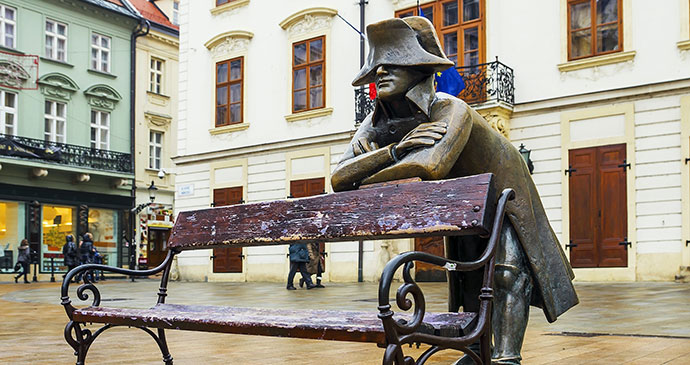 Leaning on a bench on Hlavné námestie, posing for photos behind those who sit down for a rest; watch out for photobombing!
Four Peeing Boys
The Roland (Maximilián) Fountain in the centre of Hlavné námestie features four little boys having a wee – two are holding hands. In 1794 shocked Bratislava residents had it removed and replaced by more innocent boys holding fish!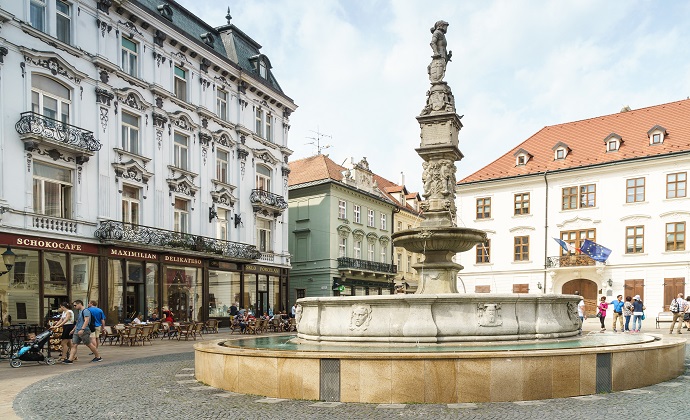 The peeing boys were hidden away in a courtyard of the Ruttkay-Vrútocký Palace off Uršulínska 6 until the spring of 2019, when the fountain was restored to its original site. 
Čumil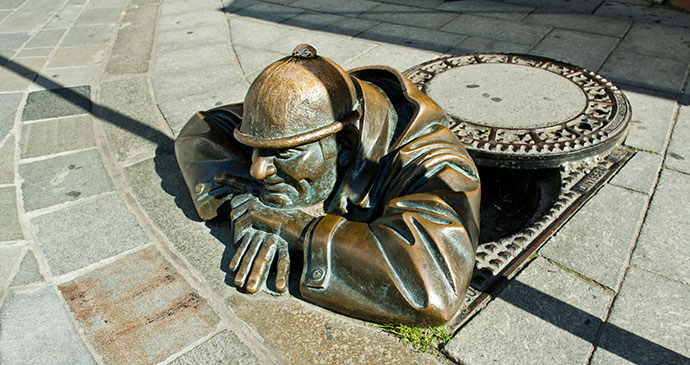 On the corner of Panská and Rybárska brána is a man peering out of a manhole cover 'looking up skirts', created by Viktor Hulík. It's been here since 1997 and is the favourite photo op in town.
Schöne Náci
The statue (by Juraj Meliš) depicts a real person who was famous locally as a dandy. Ignác Lamár (1897–1967) was nicknamed Schöne Náci, meaning 'Handsome Ignatius'; he appears quite friendly and jolly on the statue, but his fiancée was deported to a Nazi concentration camp in World War II, where she died.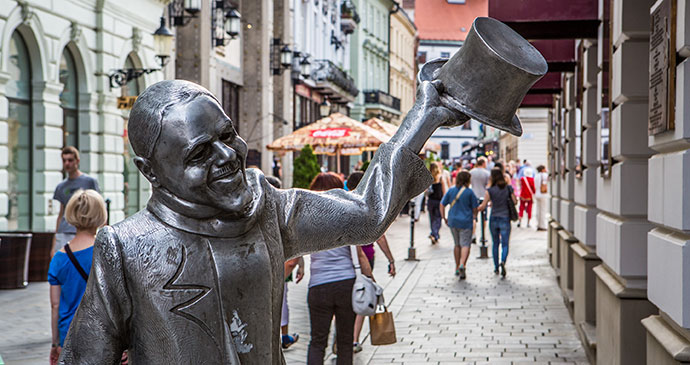 He never recovered psychologically from the trauma and spent his days wandering along the Korzo in a top hat and tails, smiling at everyone. 
Friendship Flower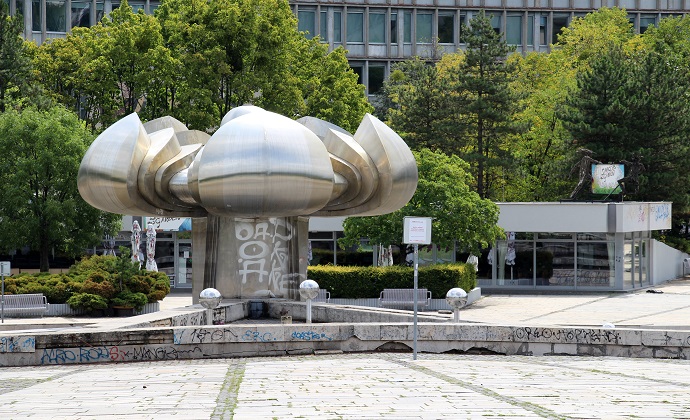 At the centre of Freedom Square, laid out in 1980, is a fountain with this metal sculpture of a linden flower (lipovy kvet) at its centre, a symbol of friendship between the Slav peoples.
Skateboarder Girls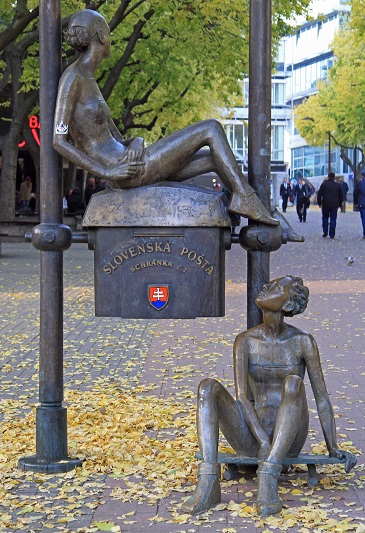 This statue sees one girl sitting on a fence, one below on a skateboard looking up. The post box is real and working – you can send your postcards from here.
The Mocker
A grotesque gargoyle from a late Gothic façade. Horrible dwarf squatting and flashing at the street.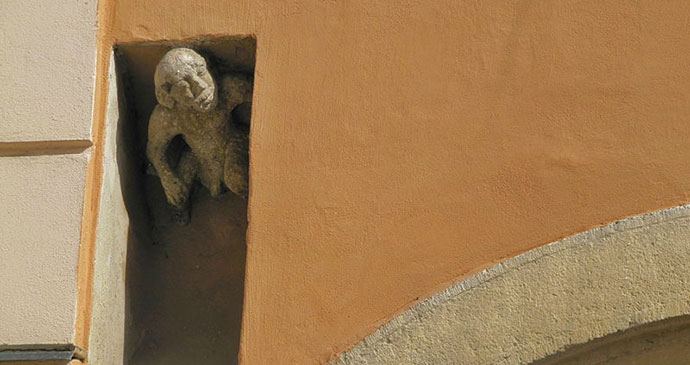 Various theories about his significance – some say he is looking towards Vydrica, the former red-light district, and that's why he is aroused; others insist he represents a very nosy resident of the building who likes to spy on passers-by from a tiny bay window.
Duck Fountain
Three naked little boys teasing ducks, built in 1914 by the sculptor Robert Kúhmayer (who also created the 'Crutch-Breaker' statue at Piešťany Spa).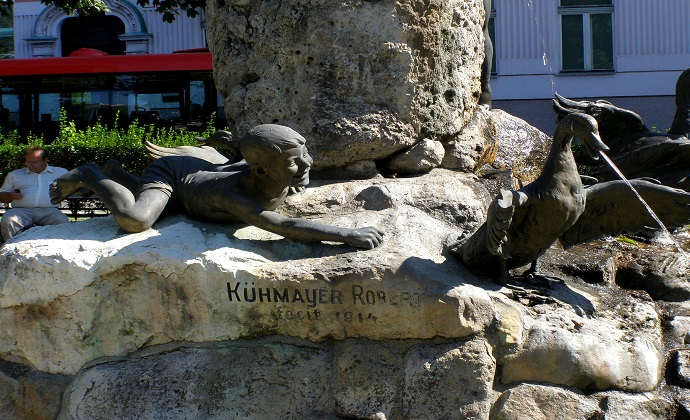 According to legend, the three boys were playing with ducks when the water sprite Zeleniak appeared and ordered them never to peek under the water at his kingdom. They disobeyed and were turned to stone. 
Hans Christian Andersen
The Danish fairytale teller visited Bratislava in 1841 and the statue depicts a tall, skinny poet looking a bit bashful, with a huge snail gazing up at him in awe of his imagination.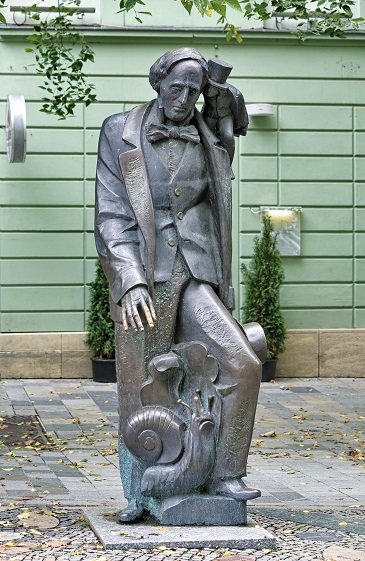 The emperor with no clothes and other characters from his stories are depicted on the rear. Created by Tibor Bártfay, whose father designed the soldier on the top of the Slavín Monument. 
---
More information
Keen to discover more of Bratislava's bizarre treasures? Check out our guide: