Written by Rosie Whitehouse
The art of making silk and damask velvet arrived in Liguria in the Middle Ages and was brought back from the Near East by Genoese merchants, who imported valuable, soft and delicate fabrics known in Arabic as kahifet. Ormesion, hormus velvet, is a local speciality and originated in the city of Hormuz on the Persian Gulf.
At first, the cloth was produced in Genoa, but the city's trade guilds had extremely strict rules which prompted the weavers to move along the coast to Zoagli, where the guilds had less control. Here it was also easier to supplement their megre income by farming and fishing. Thus by the Renaissance, Zoagli had became the hub of an industry that centred around the production of velour de Genes, which was a over-arching name for a range of damasks, velvets and silks. Cloth made here dressed popes, kings and queens and the finest curtains in Hampton Court Palace near London were woven in Zoagli.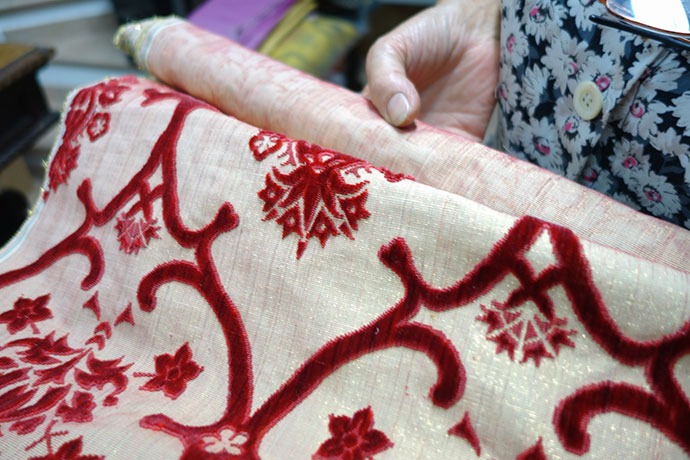 The art of making silk arrived in Liguria in the Middle Ages © Rosie Whitehouse
Our first stop on a rainy Monday afternoon is the shop run by the Cordiani family, who have been in business since 1849. The family have an archive of over 70 designs dating back to the 1500s. Disappointingly, their shop, however, is just like any other fabric shop in Liguria, except it has a view across the bay of the Portofino promontory. Machine-made damask and velvet hang in colour co-ordinated strips as they do in most upholstery shops and a shop assistant in a tight dress and high heels tries to convince me a variety of fabrics are just what I need.
In the 19th century around 1,200 looms, nearly all of them in private houses, were making the most expensive cloth in the world in and around Zoagli. In 1922 a cooperative was set up to coordinate the cottage industry but it later went bankrupt. In 1932 the Gaggioli family, one of the small producers, took over the work of the cooperative. They were soon employing a large number of weavers to produce the lush fabrics Zoagli was famous for.
Tessitura Gaggioli is five minutes down the road from the Cordiani's business. We park the car and ring on the bell of the ochre-coloured villa. An elderly but sprightly lady welcomes us in. Lorenza Gaggioli is 77 and she quickly gets down to telling the family history. The Gaggiolis were doing well until the village was bombed in December 1943. The family's factory was completely destroyed and their business almost wiped out. Lorenza's father-in-law Guiseppe moved the workshop into the family home in a desperate attempt to save the company.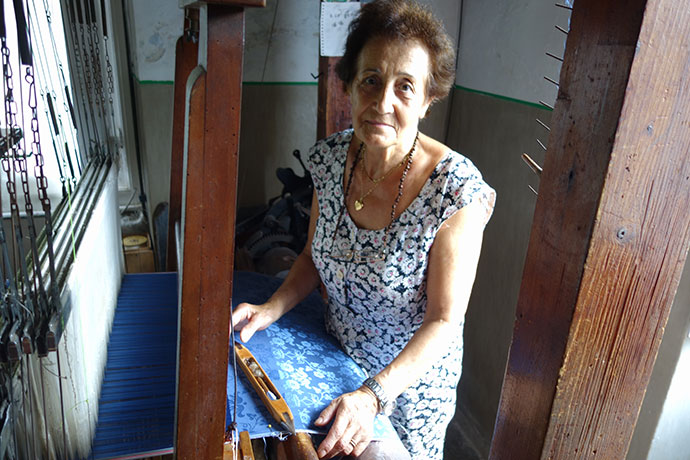 Lorenza's experience making silk dates back to when she was 22 © Rosie Whitehouse
Stepping through the door into the black-and-white tiled corridor with its faded sofa and old grandfather clock, it is immediately apparent that this is not an ordinary small business. Lorenza married her husband Sergio when she was 22 and has been weaving some of the most exquisite cloth here ever since, although the business is now run by her children Giuseppe and Paola. The family make fabric by special order only and are just finishing a batch for a museum in Germany.
In the two rooms on the ground floor are a collection of looms, some of which date from the 1700s. Lorenza and her children still use them to produce cloth in the way it always has been done in Zoagli. Bobbins of brightly coloured silk, some with threads as thin as one hair of your head, sit ready to go. On one loom is a golden taffeta, and the other a deep green velvet. Paolo is working during the summer at the local swimming pool to supplement the family income.
Lorenza is weaving a blue floral damask cloth by hand. This cloth is relatively fast to make she tells us. She can produce 1.5m per day. It sells for €200 per metre. In her upstairs office she shows us a white damask with red velvet flowers. 'This work is very intricate,' she explains, 'I can only produce about 30cm a day.' She adds sadly, 'There aren't ladies who have the patience to do this anymore.' She proudly shows pictures of young men who have ridden in the Sienna palio dressed in traditional blue and yellow cloth made by her hands. 'We are real artisans.'
The 2008 economic crisis hit the company badly. 'Times are brutal. I don't know about the future,' she says as she wipes her brow. 'We worked so hard in the 60s, 70s and 80s but we have been driven to the ground in the last few years. When I am no longer here my son and daughter will be able to manage but my grandchildren are teenagers and have no intention of going into this business.'
The workshop is so old fashioned that it doesn't seem silly to hope for a fairytale ending. One night a bunch of crafty elves will spin yards of golden cloth and an oligarch will stop buy on his way to Portofino and buy it.
---
For more on Ligurian industry, take a look at our award-winning Liguria guide, the only standalone guide to the region.