Written by Rosie Whitehouse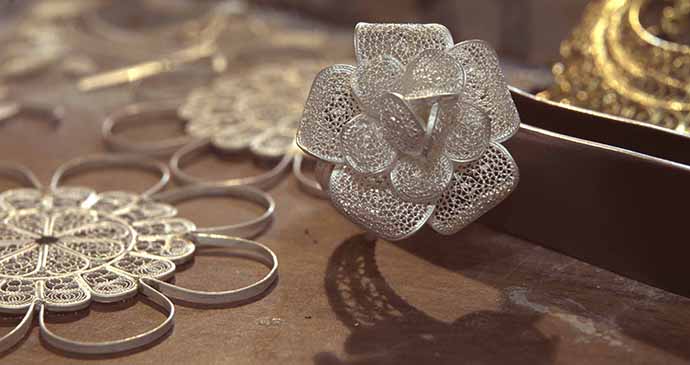 Campo Ligure is the last remaining centre for filigree, the ancient Italian art of twisting threads of gold and silver © Photo Archive Regional Agency in Liguria
Campo Ligure is famous for its filigree, the art of twisting threads of gold and silver, and is the only remaining important centre for this ancient art in Italy. It has almost died out in Sardinia, which was once famous for it. It is protected by the Made in Liguria label, so to make sure you buy a genuine article look out for the label. There are a couple of shops where you can buy filigree or handmade jewellery in town, and if that doesn't fulfil your handicraft fix, there's also a butcher-turned-sculptor to check out.
Filigrana Bongera
The Filigrana Bongera business in Campo Ligure is run by Franca, or Franquita as she is known locally. Her grandfather started making filigree here in 1914. She was born in Argentina but the family returned to Campo Ligure when she was almost two years old. The orchid, rose and butterfly broaches are typical of Campo Ligure. The filigree business here is under enormous strain and only two or three of the artisans are under the age of 40. As the workshops have shrunk, family members have moved away from specialisation and as a result there has been less innovation. Franquita says that she cannot make as much as she used to as, 'I have to run the shop and make more and more of the jewellery myself.' The jewellery is made in a production line around a large wooden table at the back of her shop. 'When the whole family worked here', she says, 'we could make hundreds of parts in a day.' Don't miss the tattered book of the family designs and the hare leg used to brush up the silver pieces. In the shop cupboard there is an interesting collection of old filigree pieces that she brought as scrap silver. Jewellery courses have been held in the town but filigree is under threat as young students now prefer to base themselves in Genoa. You can buy also filigree from the shops along Via Saracco in Campo Ligure. Most of these shops are family businesses and, like Franquita's family business, they have been making jewellery for generations.
Blind Spot Jewellery
Another artisan living in Campo Ligure is János Gábor Varga is a dynamic 39-year-old Hungarian who can turn his hand to almost anything. There's a Heath Robinson atmosphere in his jewellery workshop on the first floor of an old building in the heart of Campo Ligure. He lives here with two cats and has built them a rooftop hideaway where they can watch what is going on in the street below. They access the old black plastic crate that is attached to the ceiling by a tint wooden flight of stairs. They have a bell that they can ring to let him know if they are hungry.
János built his own jewellery bench and uses an old anvil dating from 1913. He is in the process of building a potter's wheel from an old washing machine. He recently made a crucible and thought, "I wonder if I can make a coffee cup or even a mug!"
He studied agriculture at university in Hungary where he did researched into natural healing and travelled widely in Transylvannia and the Carpathians in Ukraine researching ancient animal husbandry before moving to the UK. 'I was working in the dairy industry and made a short trip to Genoa as I had heard that similar natural healing methods for livestock were practised here in Liguria,' he explains. 'I came to meet a professor at the university who was an expert in this field and I fell in love with the place and decided to move here on the spot.' That was ten years ago. 'I love traditional places and it was tradition that drew me to Liguria as it reminded me so much of Transylvania. Here they have preserved the best of the old-fashioned mentality.'
In Campo Ligure, János is now building an international reputation as a jeweller and his work has been profiled in some of the best magazines, including Vogue. 'I made jewellery as a hobby in England as I didn't speak English very well and it was a way of expressing myself. When I arrived all I had was my jewellery kit, my laptop and a few possessions in two wooden chests.' They are still sitting in the hallway of his flat. 'I keep them as a memento.'
János doesn't make filigree but it is the reason he came to start a new life here. 'I wanted to live in a community of artisans. The other reason that I came here is that this is the Valle di Latte and anywhere there is milk I can survive. While I established myself I worked as a farm hand. My jewellery is inspired by the struggle of living on the land.'
He likes to create things that were, as he says, born from something else. 'I start with a block of iron and spend days cutting and shaping it.' He picks up two rings he has made and taps them together. 'See, they make a beautiful noise!' His eyes twinkle. In the same vein he makes rings and broaches using old coins that now have no worth.
Looking at something in a different way is key to his work. He has called his company Blindspot, he says, 'not just because it can mean a place on the map that no one has explored but also because it is a special angle from which something sometimes cannot be seen.'
'One piece can take me a couple of days but I do not take commissions that take more than a week as I just cannot charge people for the time it would take.' He picks up a beautifully carved hairpin made from bone. 'I was inspired to make these when I worked in the butchers shop downstairs to make enough money to get started. I made this from the animal bones.'
He is busy preparing for an exhibition in Budapest and has taken migration as the theme. He shows us a spoon that is also a knife. 'Together they symbolises the nomad life,' he explains, 'when you do not have your own comforts and have to make do.'
As we walk around the village János says ciao to practically everyone we pass. As he chatters away with fellow jewellers and Tugnin the sculptor, it is hard to believe that ten years ago he didn't speak a word of Italian. Is he tempted to move somewhere new?
'No, I have no intention of leaving this village. All is fine here,' he replies definitely. 'I love walking along the top of the mountains where you can see Piedmont in one direction and the sea in the other. Just above Campo Ligure I made a fountain with a local blacksmith from Masone and a marble cutter from the village. I wanted to make something that would stay in the village and not leave as my jewellery does when I sell it. The local community raised €200 as people like to collect the water even if officially they are not supposed to. It reflects everything that is good about the valley, we did this ourselves without the help of the local council.'
'You must visit Campo Ligure in the spring when after the winter rains there is an explosion of colour. The national park is so green and the chestnut trees are in full blossom.'
The butcher turned sculptor
On the slopes of the hill below the castle in Campo Ligure is an extraordinary collection of sculptures. The Giardino di Tugnin has a number of vast pieces carved out of single olive trees, some of them hundreds of years old, that depict scenes from Dante's Inferno and local mythology. They are all the work of 79 year-old Gianfranco Timossi, whose knickname is Tugnin. Some of the carvings took him more than six years to complete. The trees come from Greece because the local variety are simply not big enough for his huge creations.
The garden is looked after by Tugnin's friends who hang out in the bar opposite. Here we find Tugnin enjoying a glass of white wine. He is a tall and elegant man. What is extraordinary is that Tugnin has had no training and worked as a butcher before he spent time working in Greece. 'It was years spent cutting up the meat that helped me to understand the muscles and the physical form,' he says. 'It is in the genes and my family have been sculptors for four generations and butchers for three.' Sadly Tugnin's children have not taken up the carving knife and chisel.
He doesn't sell his work but has donated a crucifix to the local church which also has paintings done by his brother. 'This is my passion,' he explains quietly. He stands rather shyly by the beautiful stone fountain by the river that he also created as we take a picture. To my surprise he tells us that wood is far more difficult to carve than stone and it is far less stable. You can feel the love he has for his work as his suntanned face lights up as he talks about his latest creation. It is a stone memorial to carabineri policemen who have been killed in Afghanistan. It has been commissioned by the carabinieri in Cogoleto on the coast west of Genoa. By the time this book is published it will be on show in Cogoleto.
---
For more on Ligurian craft, take a look at our award-winning Liguria guide, the only standalone guide to the region.