Written by Mike Bagshaw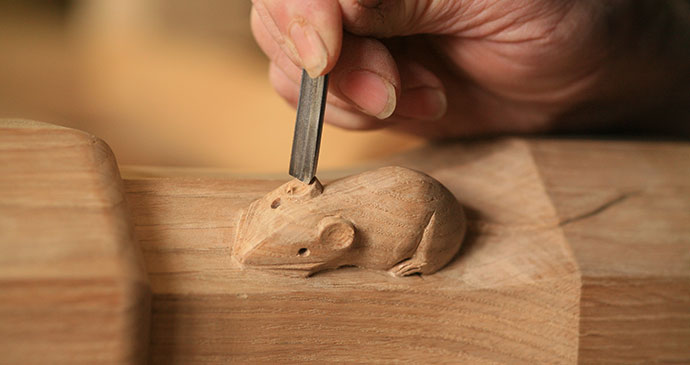 Robert Thompson's signature carved mouse earned his furniture international fame © Robert Thompson's Craftsmen Ltd
There's no doubt that Robert Thompson was an extremely talented woodcarver, whose skills alone may well have earned his fortune, but from the moment he came up with the inspired idea of carving a mouse on to every item he produced, his international fame was well and truly assured.
He was born in 1876 and, as a young man, took over his father's joinery business in Kilburn. His early work was mouse-less but his reputation grew, and Thompson carvings began to appear in many local churches and Ampleforth Abbey. The idea for the emblem apparently came when his carving companion, while working on a church screen, commented that their jobs left them as 'poor as church mice'. Robert had a lightbulb moment and carved his first mouse there and then.
By the time of his death in 1955 'Mousey' Thompson's work was to be found all over the country, including York Minster and Westminster Abbey. Such is his fame that a letter sent from Australia with just a picture of a mouse and the word 'woodcarver' on the envelope, was delivered safely to his workshop. The Mouseman Visitor Centre is still an operating workshop employing 30 craftsmen, but also a shop and café. Some of the furniture isn't cheap, but they produce smaller items such as napkin rings that make excellent souvenirs.
Robert's other legacy has been an upsurge of interest in quality, hand-carved furniture in the area. Ten workshops are included in the Thirsk Furniture Trail, each of which has its own motif carved on to every item, of course. You will have fun finding the hidden unicorn, fox, wren or beaver, but I suspect none will ever have the impact of that original humble church mouse.
---
Read more in our new guide to the North York Moors and Yorkshire Wolds: