Written by Laurence Mitchell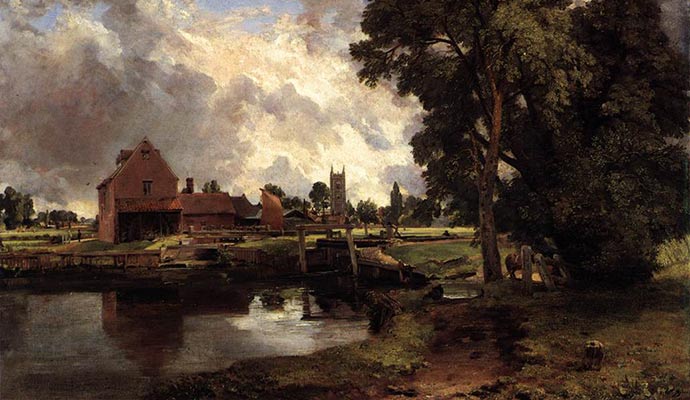 Dedham Lock and Mill by John Constable © JarektUploadBot, Wikimedia Commons
This seven-mile walk sneaks into Essex. Actually that's an understatement: most of it is in Essex, but it sums up the gentle charms of the Stour Valley so well that it's well worth the stray over the county border. Also, despite its requiring quite a bit of field-crossing, the southern part of the route follows the Essex Way, which is mostly waymarked.
The route starts at Manningtree station, and heads out through the car park on the south side, where a rising path leads up to Lawton church. Here you join up with the Essex Way, which traces an intricate and nicely varied route past Lawford Hall, a Georgian-looking pile concealing an Elizabethan core, and over the Shir Burn and railway to reach Dedham. In this gorgeously handsome village street, you can take a look at the fine wool trade church of St Mary's and perhaps also visit Castle House, the former home of painter Sir Alfred Munnings and now an art museum open to the public on three or four afternoons a week in summer; it has the largest collection of Munnings' paintings anywhere.
Dedham has plenty of places to stop for a drink or a bite to eat, although they tend mostly to be rather upmarket: Essex Rose Tea Room (01206 323101) on the high street is a good choice, or for something smarter and more formal, Dedham Boathouse or the Sun Inn, which although a distinctly elegant (and much-liked) dining venue is also a place where you can just pop in for a pint of Adnam's or one of the other regional brews on offer.
Leaving Dedham, head north on the B1209, past Dedham Mill and over Dedham Bridge; follow the Stour Valley Path along the famous water meadows of Dedham Vale immortalised by Constable; kingfishers make the occasional appearance, and snipe and redshank frequent the marshes. Recross the river just before Flatford Mill and follow the St Edmund Way back to Manningtree station.
---
Fancy learning more about Suffolk's charming villages? Our brand new guide will give you all the details you need: