Written by John Pitt
America's train stations were built on a grand scale designed to bring prestige to their owners, and remain important historical and architectural buildings to this day. They play a crucial role in the collective memory, embellishing towns and cities throughout the country. One of the incidental pleasures of travelling by train is seeing impressive railway stations such as these.
Union Station, Washington, DC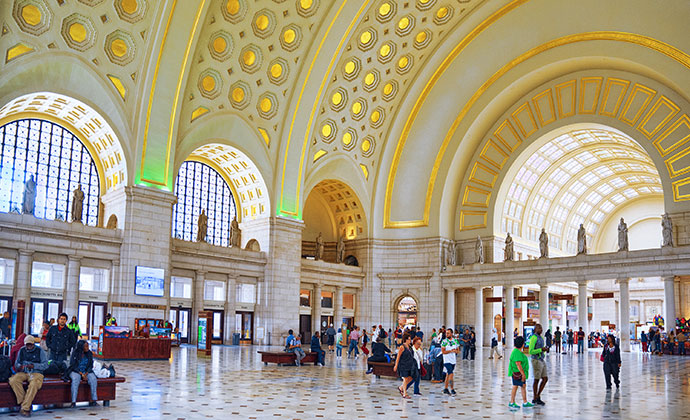 Washington, DC's impressive public buildings, museums, restaurants and galleries are within walking distance of Amtrak's splendid Union Station © V_E, Shutterstock
Built with white granite from Vermont, Union Station is as grand as Washington, DC's other public buildings and is one of Amtrak's showpieces. The most-visited destination in the city, with over 32 million visitors a year, it is also downtown's most impressive shopping centre. Ancient Rome's Baths of Diocletian inspired Daniel Burnham's waiting room design, the 96ft (29m) ceiling decorated with 70lb (32kg) of gold leaf. The main concourse, with its marble floor and glazed terracotta columns, is long enough (750ft/225m) to hold the Washington Monument horizontally. Over 37 million passengers, tourists and shoppers pass through Washington Union Station every year.
Grand Central Station, New York City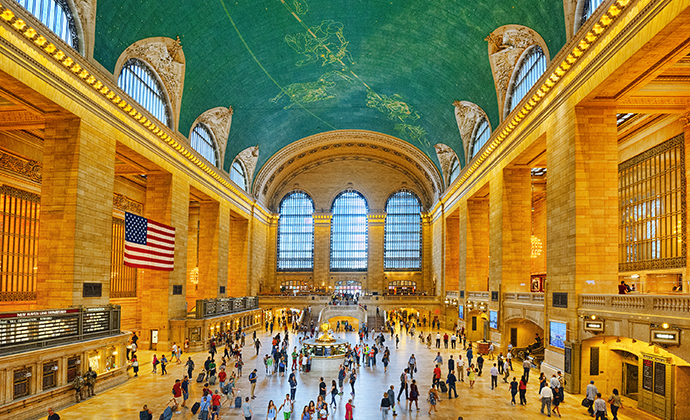 This is perhaps the most atmospheric station in the US © V_E, Shutterstock
The magnificent, atmospheric Grand Central Terminal is where John Barrymore won Carole Lombard after their cross-country train journey in the 1934 film Twentieth Century. Completed in 1913 by Cornelius Vanderbilt, the largest train station in the world replaced a smaller 1898 station, which had proved to be unable to cope with increased traffic. A 'city within a city', Grand Central originally had tennis courts, an art gallery, a bakery, a betting parlour and a hospital. Restored in magnificent style and rededicated in 1998, the station has five brass chandeliers (each with 100 lights), Tennessee marble floors, frescoes, grand balustraded staircases and triumphant arched windows where people walk in a wall of glass. Look for the Vanderbilt family's oak leaves emblem incorporated into the vaulted ceiling of the main concourse. The Oyster Bar, located in the bowels of the station, continues to serve shellfish stew, pan roasts and oysters across splendid marble counters and a new steakhouse occupies the north balcony. A murmur from the 'whispering gallery' outside the Oyster Bar's entrance can be heard clearly in the far corners of the cavernous hall.
Union Station, Los Angeles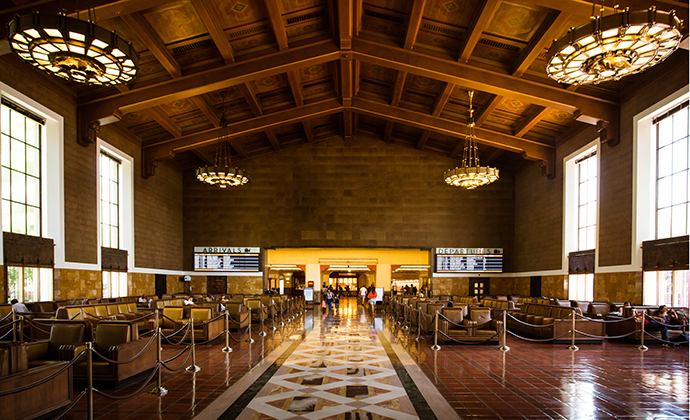 Art Deco Union Station could be the world's prettiest © FiledIMAGE, Shutterstock
Los Angeles Union Station is one of the world's prettiest railway stations, built in Spanish Mission and Art Deco styles with a lofty wooden ceiling, leather sofas and gardens shaded by palm trees and fragrant magnolia. Terracotta-tiled floors in the waiting room are accented with inlaid marble and the walls are clad with beautiful travertine tiles. Now on the National Register of Historic Places, the station serves 60,000 travellers, commuters and visitors every day. The station was built on part of the original Chinatown and has starred in many movies, including Blade Runner, Bugsy, Pearl Harbor and Silver Streak. It handled more than 60 trains a day during the 1940s and Hollywood royalty such as Gable, Garland and Monroe would often pass throug after arriving on the Super Chief or City of Los Angeles.
Union Station, Chicago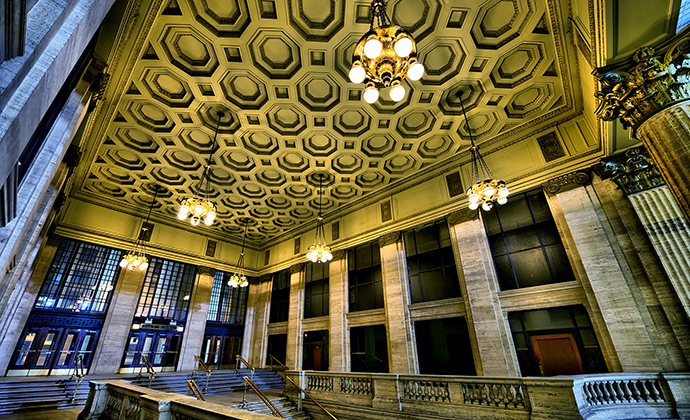 The station's Great Hall really lives up to its name © Paul Saini, Shutterstock
Chicago has long been a port for ships arriving on Lake Michigan via the St Lawrence Seaway and once had six major railway stations with hundreds of passenger trains every day to all parts of the country. It has been called the railroad hub of the world, with Union Station at the centre of America's rail network. Completed in 1925, the station was built by a partnership of four railroads: the Pennsylvania; Chicago, Burlington and Quincy; Michigan Central; and the Chicago, Milwaukee and St Paul. The Chicago and Alton Railroad also used the station as a tenant. The cathedral-like Great Hall features huge marble columns, statues, sweeping staircases, balconies, original wooden benches and a soaring arched ceiling. Sculptures by Henry Hering on its east wall show figures representing day (holding a rooster) and night (holding an owl). Amtrak has begun a $22 million project to restore the barrel-vaulted Great Hall skylight, installing an outer skylight above to protect the historic one. This magnificent waiting room has appeared in many films, including Brian de Palma's The Untouchables.
King Street Station, Seattle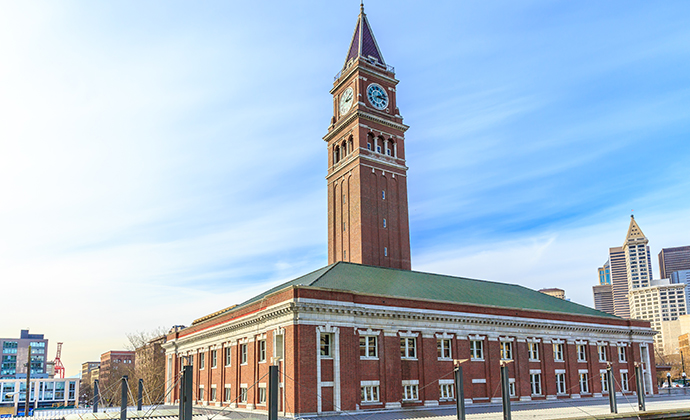 This attractive station is modelled after the campanile in Venice © Png Studio Photography, Shutterstock
Handsome King Street Station, with its distinctive 240ft (73m) clock tower modelled after Venice's campanile, was built by the Great Northern Railway in 1905 and is listed on the National Register of Historic Places. Designed by the architect firm Reed & Stem, which was involved with the building of Grand Central Terminal in New York, the building was part of a larger project that moved the main rail line away from the waterfront and into a 5,245ft long (1,599m) tunnel under downtown. In 2008, this impressive landmark building was purchased for $10 from the Burlington Northern Santa Fe Railway by the City of Seattle as part of a $56 million project to develop the area and restore the building's historic character and grandeur.
---
Learn more of the USA's historic stations in our comprehensive guide: