Written by Bradt Travel Guides
More so than any other African country we know, birds dominate every niche of the Gambian landscape: spectacularly colourful parrots, rollers, bee-eaters and turacos; comical hornbills and decorous crowned cranes; dozens of eagles and other striking raptors; plus a mind-boggling assemblage of marine and other aquatic species. Astonishingly, close on 600 species have been recorded in The Gambia, a country barely half the size of Wales – and fortunately, for first-time visitors to Africa, there's no shortage of knowledgeable local guides to help track down and identify these many avian gems. That being said, the following sites are some of the best places to head to if you want to add a spot of birdwatching to your Gambian itinerary.
Kotu Stream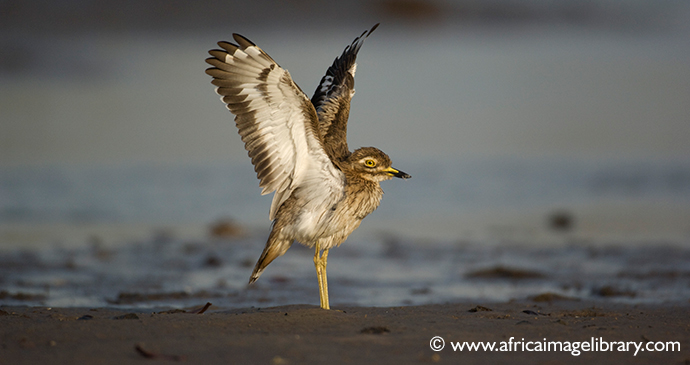 A Senegal thick-knee at Kotu © Ariadne Van Zandbergen, Africa Image Library
Kotu is renowned in ornithological circles for offering a great introduction to birdwatching in The Gambia, and a good deal of this is due to the presence of Kotu Stream, which is most easily accessed where it passes beneath the road at Kotu Bridge before it empties into the sea. International birdwatchers have been visiting this site for decades now, and even though the surrounding areas have become more urbanised, it still retains a good number of birds. Indeed, accompanied by a knowledgeable guide (and several are available at the Bird Guides Association kiosk north of the bridge), it should be possible for an Africa novice to clock up around 40–50 species in a 2–4-hour walk, while those more experienced in African conditions might be looking at closer to 70. Especially at low tide, the mangrove-lined mud flats host plenty of waders and herons, including greater painted-snipe, pied avocet, whimbrel, spur-winged plover and Senegal thick-knee, while half-a-dozen kingfisher species range from the very common pied to the more elusive giant kingfisher. The site is also good for osprey and for several species associated more with woodland and thicket, including the eagerly sought oriole warbler, African silverbill and various bee-eaters.
Kotu Ponds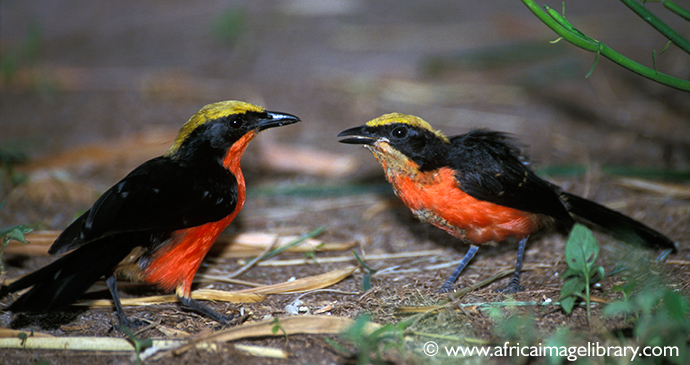 Yellow-crowned gonolek can be spotted at the Kotu Ponds © Ariadne Van Zandbergen, Africa Image Library 
The Kotu Ponds, comprise a trio of flooded sewage pits reached via a short dirt road opposite Badala Park Hotel. The pits are separated from the road by about 50m of open woodland that often hosts interesting species such as blue-bellied roller, yellow-crowned gonolek and various babblers. An amazing range of waterbirds can sometimes be seen in the ponds, and the best thing is that they allow you to get fairly close. Among the hundreds of waders that might congregate around the pool margins, look out for black-winged stilt, common greenshank, wood sandpiper and spur-winged plover. There is also often a large flock of white-faced whistling duck, plus grey-headed gull, white-winged black tern and various kingfishers. Rarities here have included red-necked phalarope and one of the few recent sightings of tufted duck in The Gambia.
Kartong Bird Observatory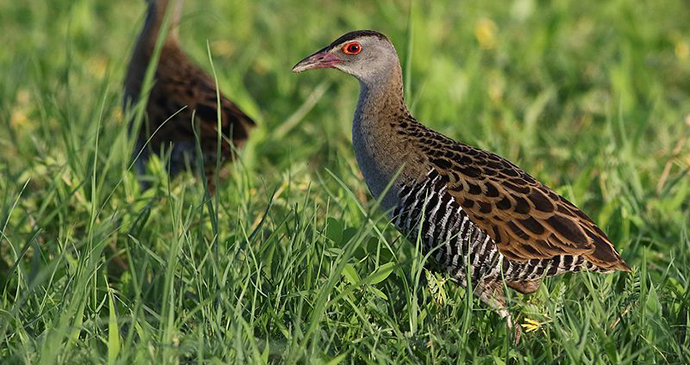 African crake are among the observatory's more alluring regulars © Derek Keats, Wikimedia Commons
The focal point of birding activity on the south coast and only permanent ringing station anywhere in the country, Kartong Bird Observatory was established in 2010 by a team of British birding enthusiasts including resident ringer Colin Cross, who lives on site. It lies on the western edge of town, a couple of minutes' walk from the market, overlooking a large reed-fringed freshwater pool inhabited by an incredible variety of birds. Over 4,000 birds are ringed annually as part of an ongoing international research programme in to bird migration. With more than 375 bird species recorded in the immediate vicinity, Kartong Bird Observatory is one of the most rewarding sites for aquatic birds anywhere in The Gambia. Among the more alluring regulars are African crake, dwarf bittern, greater painted snipe, Allen's gallinule and pygmy goose, with morning being the best time for bird photography and observing rarities. It is also worth being here in the evening, when around 1,000 herons of eight different species come to roost in the reedbeds, and there is a chance of four-banded sandgrouse, and both long-tailed and standard-winged nightjar.
Tanbi Wetland Reserve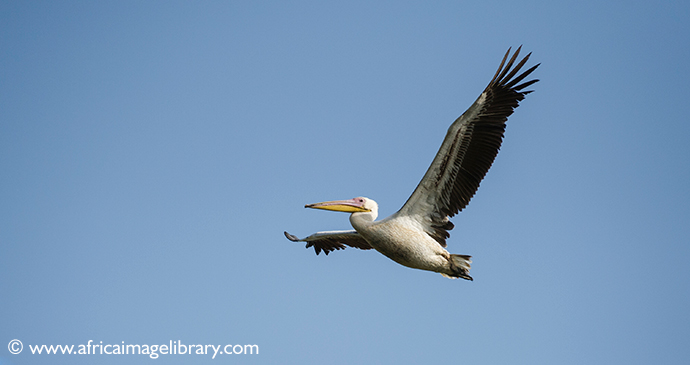 The reserve is a birding hotspot, offering excellent views of pelicans and many other species © Ariadne Van Zandbergen, Africa Image Library
Established in 2001, this 45km² reserve protects the extensive maze of mangroves, open channels, mud banks and other saline wetland habitats that separate Banjul Island from the mainland, running south almost all the way to the small town of Lamin on the Serekunda–Brikama Road. Long known as a birding hotspot, the main road runs adjacent to a large expanse of tidal mud that is exposed at low tide, often giving excellent views of herons, egrets, African spoonbill, pelicans and various waders including pied avocet. It is one of the best sites in The Gambia for rarities, which have in the past included great 'ticks' like saddle-billed stork, European spoonbill and lesser yellowlegs.
Bao Bolong Wetland Reserve
Bao Bolong is the largest of The Gambia's six protected areas, covering 220km². The twice-daily boat excursions into Bao Bolong offered by Tendaba Camp are highly recommended to anybody who fancies a quiet, peaceful trip into the mangroves. The boats follow the labyrinthine Kisi and Tunku bolongs, which are lined with tall mangroves, home to hermit crabs and mudskipper fish, and offer a good opportunity to see interesting mangrove, wetland and other bird species.
It is probably the best place in the country to look for African finfoot, a medium-sized waterbird that likes to skulk among the mangrove roots. Also likely to be seen are white-backed night heron, goliath heron (the world's largest heron), hamerkop, martial eagle, blue-breasted kingfisher and mouse-coloured sunbird. Somewhat less frequent are rarities such as white-crested tiger heron, Allen's gallinule, Pel's fishing owl, African swallow-tailed kite, brown-necked parrot, little green woodpecker and African blue flycatcher. Dolphins might stray this far upstream in the dry season, when the water is most saline, while hippos occasionally make an appearance during the rains.
Brufut Woods Bird Sanctuary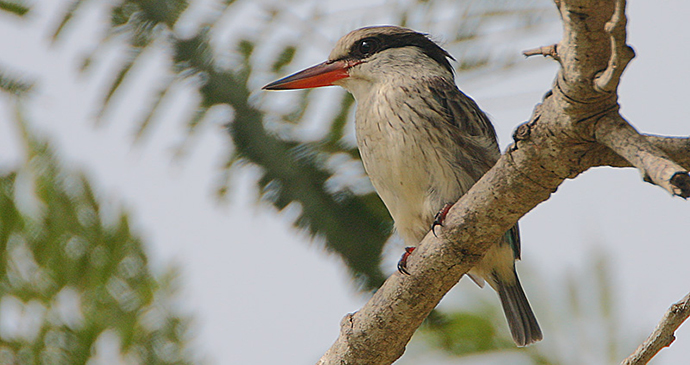 Striped kingfishers are regularly observed at the sanctuary © Steve Garvie, Wikimedia Commons
Protecting around 1km² of well-preserved coastal woodland immediately south of Brufut, this dry scrubby forest, serviced by a good network of footpaths, is regarded as perhaps the best site for woodland birding this side of Abuko, though species seen here tend to be associated with more open canopies. Among the more interesting birds regularly observed are African pied hornbill, striped kingfisher, green turaco, Vieillot's barbet, swallow tailed bee-eater, mottled spinetail, red-shouldered cuckoo-shrike, yellow-bellied hyliota, red-bellied paradise flycatcher and western violet-backed sunbird. It is also often a rewarding site for raptors such as lizard buzzard, dark chanting goshawk, Gabar goshawk, African harrier-hawk, long crested eagle, palmnut vulture and lanner falcon.
---
Inspired to visit The Gambia's best birdwarching sites? Check out our guide for more information: