Written by Bradt Travel Guides
It is impossible to overstate the importance of eating when talking about the Basque culture. There is a saying that, for a Basque, the first priority is food and the second priority is 'What's for dinner?' When one Basque suggests to another 'Let's go walking on the mountain on Sunday,' the likely reply is not 'Which mountain?' but 'What food shall we take?' or 'Which restaurant are we eating at afterwards?'
From traditional tapas and larger-than-life veggies to fantastic wines and superb ciders, this is a region bursting with gastonomic delights. Each city, town and village has its own special delicacy, and here are some of our favourites.
San Sebastián – for pintxos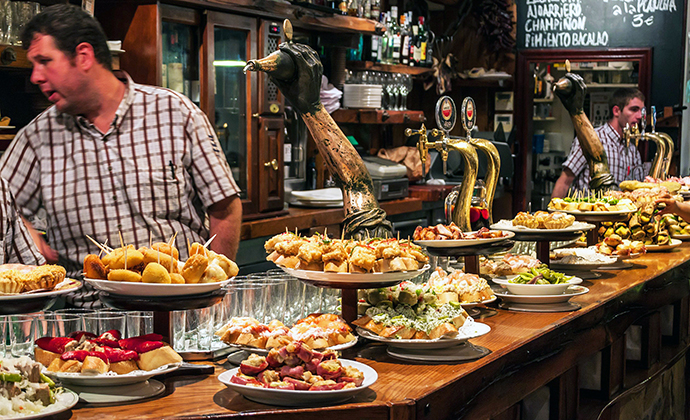 San Sebastián is renowned for its fantastic pintxos © Matyas Rehak, Shutterstock
For the visitor to the Spanish Basque Country, the novelty of bar-hopping and grazing on pintxos may be too hard to resist, and San Sebastián is the place to do it. A pintxo crawl is a fantastic way of filling up while seeing the Old Town area and drinking in the atmosphere, though your appreciation of the surrounding Neoclassical architecture may diminish as the accompanying copas of wine or your other chosen tipple take effect. A staple pintxo in town, offered by many bars, is the gilda, essentially a simple skewer of anchovy and pepper, bookended by a couple of juicy olives, drenched in olive oil and served on bread. It's not the most artistic or inventive offering in a star-studded culinary cast, but it's delicious and much treasured by the natives. In truth, hunting delicious snacks in San Sebastián is like shooting fish in a bucket, at least in the Old Town area: there's a bar on every corner, and plenty more in-between.
Rioja Alavesa – for wine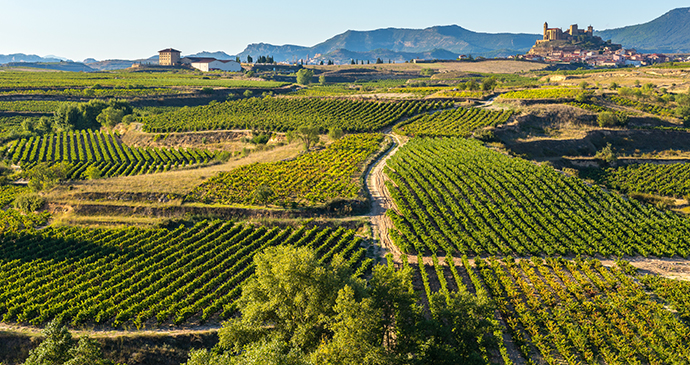 This region is carpeted in vineyards © Alberto Loyo, Shutterstock
Rioja Alavesa prides itself on its reds, some of whose producers are firmly established names both at home and abroad. The region is covered in vines – indeed, there are more hectares of vineyard than there are inhabitants and you can taste, drink, buy – even bathe in – their liquid products. The Romans can take the credit for bringing viniculture to the area, but it's only since the 1970s that the production of wine here has become truly commercially focused. Now, wine tourism is very firmly established too and, as well as visitors from other parts of Spain, Americans, Australians, British, Germans and many others flock here to indulge, tasting the wines in bodegas that range from medieval caves to architect-designed eccentricities.
Espelette – for peppers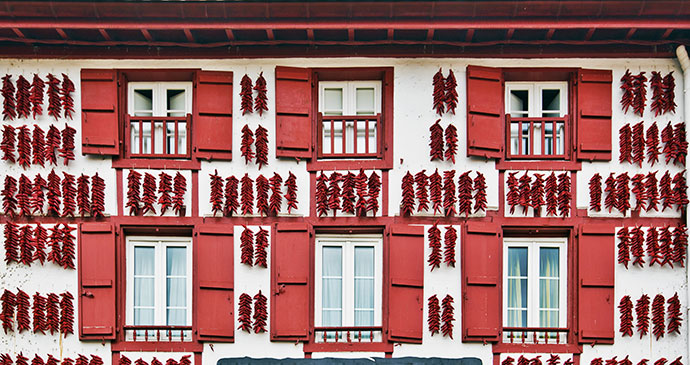 Espelette's houses are adorned with bright-red peppers © Sasha64f, Shutterstock
If red peppers ever take over the world then it will look something like this. True, the town has a nicely restored castle, a church and a host of attractive residences all kept prim and proper, ready to please the flood of visitors who come to enjoy its attractions at weekends and in high summer, but for once it is not the red of the window shutters that catches the eye. Espelette doesn't want you to admire its buildings, it wants you to buy its peppers. Everywhere in town the spicy red thing dominates. You can buy them on their own, made into mustard, flavouring the artisanal beer; you can eat them in situ in the town's restaurants, where they play a leading role in the staple dishes; you can be photographed in front of the rows and rows of them hanging out to dry, or in front of a giant replica of one.
Astigarraga – for cider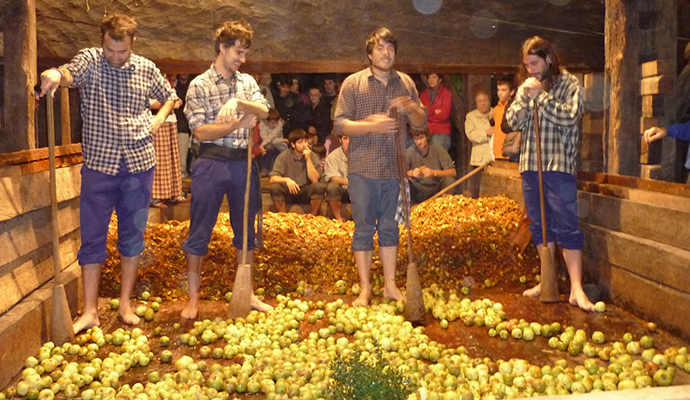 Apples are pressed by hand at traditional cider houses © Asier Sarasua, Wikimedia Commons
If you're a fan of cider or simply want to begin to understand the importance of the drink to local culture, a visit to the capital of Basque cider just south of San Sebastian should satisfy both your thirst and your curiosity. This small town has 19 sagardotegiak – cider-houses – as well as a cider museum, and you can arrange a 'package' involving a museum visit and a meal at one of the cider-houses either through the tourist office in San Sebastian or directly via the museum. The town celebrates its favourite tipple each year with a full-blown festival on St Anne's feast day, 26 July, while the last Sunday in September is reserved for the harvest festival.
Bayonne – for chocolate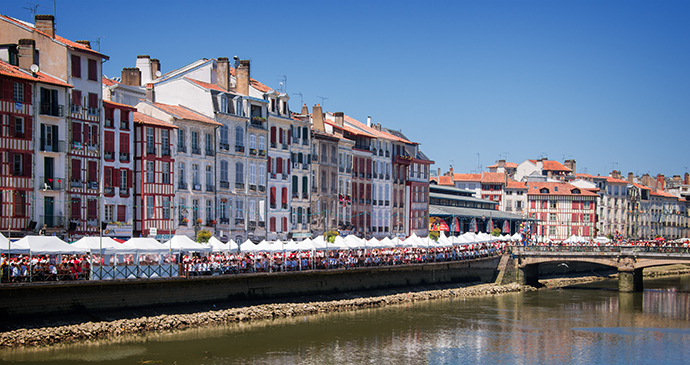 Beautiful Bayonne is the place to go for chocolate lovers © Delpixel, Shutterstock
Bayonne battles hard to avoid playing second fiddle to its hedonistic seaside neighbour, Biarritz, and, for those prepared to dwell here for a day or two, it succeeds. But the town has three major claims to fame: the bayonet, after which it is named, ham, and chocolate. Indeed, Bayonne has plenty of opportunities for satisfying the sweetest-toothed visitor: hounded out of the Iberian Peninsula by the Spanish Inquisition, it was the Jews who brought their chocolate-making secrets to the town, and the tradition remains. A trip down the Rue de Port-Neuf and its half-dozen outlets will be enough to satisfy most addicts.
---
Feeling hungry? Start planning your trip to the Basque Country and Navarre with our comprehensive guide: