Written by Kirsty Fergusson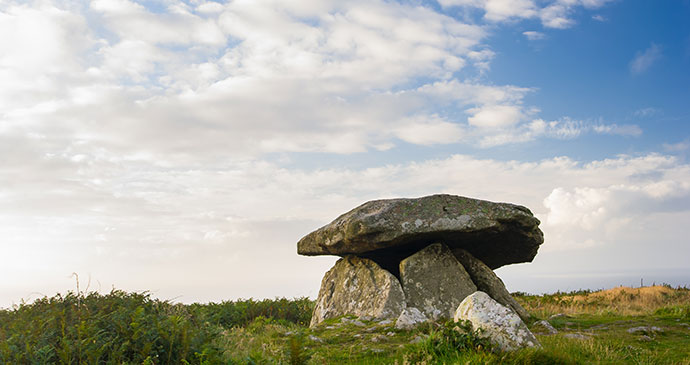 Chun Quoit is one of the many ancient stones found on the moors of Penwith © ian woolcock, Shutterstock
There is a greater concentration of prehistoric sites in Penwith than in any other part of England; the moors are littered with standing stones, circles and quoits (a capstone supported by three or more uprights), 3,000-year-old village settlements and mysterious fogous – subterranean passages of uncertain usage – hide their secrets beneath the turf, gorse and bracken.
Some are easily seen from the road, such as Lanyon Quoit beside the road from Madron to Morvah or the Merry Maidens, a stone circle in a field adjoining the B3315 Lamorna–Land's End road. Iron Age cliffforts at Treen (Treryn Dinas) on the south coast (confusingly there's another Treryn Dinas at Treen near Pendeen on the north coast) and Land's End (Maen Castle) can all be seen from the coast path. Others need to be tracked down on foot, with a map. The perfectly preserved Boscawen-Un stone circle is, local farmers tell me, occasionally still used for pagan celebrations and rites. This is no surprise – the local post office in St Buryan has a card in the window advertising the benign services of the village's resident witch. However, Boscawen-Un is so well hidden that it's more than likely (in daylight hours) you'll have the spot to yourself. There's limited space for parking beside the A30, a mile west of Drift, where a small sign indicates Boscawenoon Farm and the footpath to the circle.
Many, but not all Penwith's ancient sites come under the care and protection of CASPN (Cornwall Ancient Sites Protection Network) formed in 2000 after a number of sites were vandalised. The network involves organisations as diverse as English Heritage, the Cornwall Wildlife Trust and the Pagan Federation.
---
Want to learn more about Cornwall's ancient sites? Check out our comprehensive guide: