Written by Jonathan Scott
In an extract from our new anthology, Beastly Journeys, Jonathan Scott recalls his time spent living alongside a pack of African wild dogs in the Serengeti.
---
In the 1980s, my lifelong obsession with the highly social (pack-hunting) African wild dog took me into the Serengeti National Park in Tanzania where I lived alone in my safari vehicle for weeks at a time, immersing myself in the life of the pack. It was a never-to-be-forgotten experience, culminating in the book, Painted Wolves: Wild Dogs of the Serengeti-Mara (1991). During that period, I learned as much about myself as I did these extraordinary social hunters, who sadly number just a few thousand animals throughout Africa due to loss of habitat and conflict with livestock owners. The following is an extract from my autobiography, The Big Cat Man.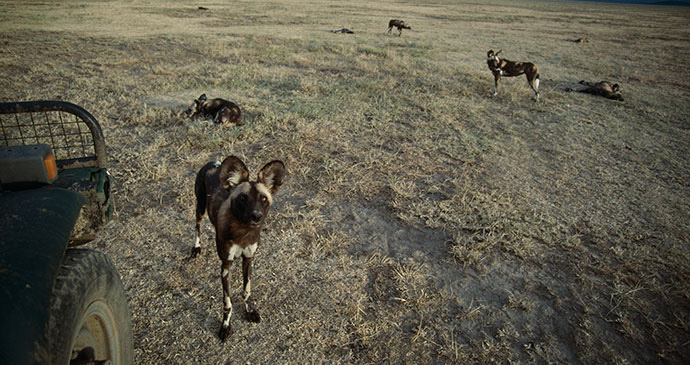 A lifelong obsession led Jonathan to get up close to African wild dogs in the Serengeti in the 1980s © Jonathan Scott
The highlight of my time during those years in Serengeti was when the Ndoha pack denned at Handajega, deep in the Western Corridor, in May 1987. No tourists visited Handajega in those days. I had never known solitude like this before, never felt so totally isolated from everything that previously had made me feel human – the sense of quiet in my brain was palpable. Surrounded by a landscape of palm-fringed watercourses and dense thickets opening into wide open spaces, I was able to immerse myself in the life of the pack. It was just me and the dogs – dogs that I did not know well and that would take time to settle to my presence. I needed to start with a clean slate, to identify individuals, become one of the pack while I waited for the magical moment when the puppies first emerged from the den.
When I arrived, the alpha female immediately started to move her month-old pups to a new den close to the original burrow, carrying them one by one in her mouth. There were twelve in all. I retreated, watching through binoculars to sense the pack's mood, and soon enough some of the adults came trotting over to my vehicle to investigate. Within a day or so they began peeing against the tyres, sniffing the underbelly of the car and ferreting out any loose wires, latching on to anything that they could bite or chew. The whole vehicle would rock as the dogs braced their back legs and leaned into the task, clamping their powerful jaws firmly on to the canvas covering my winch and high-lift jack, yanking and tugging until they shredded it or got bored. Meanwhile I would be brewing up the first cup of tea of the day on my gas cooker.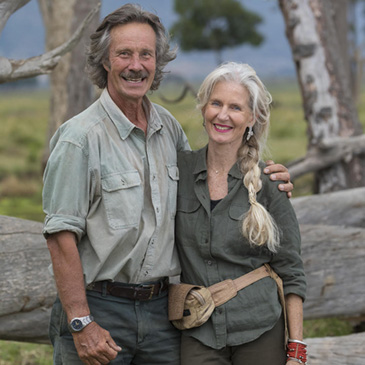 (Photo: Jonathan and Angela Scott © Jonathan Scott)
The wild dogs' greeting ceremony was always one of my favourite moments of the morning and evening, the time when the ragtag assortment of individuals was transformed into a single entity – the pack. Each of these dogs was an individual, its destiny dictated to a large degree by its own nature: some equal, some subordinate, some top of the hierarchy as alpha male or female, some destined always to follow and never to breed. But what I found so fascinating was that each of them was also a vital part of something larger than themselves. Wild dogs on their own struggle to survive, but as part of a pack they take on a collective power, intelligence and energy that is wonderful to behold.
---
Jonathan Scott has lived in Kenya for the past forty years and is married to wildlife photographer Angela Scott. They are the only couple to have won the overall award in the prestigious Wildlife Photographer of the Year competition as individuals. Based permanently at Governors' Camp in the Maasai Mara National Reserve, they have between them produced over thirty books, including Bradt's A Leopard's Tale and The Big Cat Man. Their latest TV series is the five-part Big Cat Legacy. For more see: www.jonathanangelascott.com
Want to read the rest of Jonathan's story? Get 10% off Beastly Journeys here: