Written by Ben le Vay
To mark the new edition of Eccentric Oxford, author Ben le Vay takes a look at the deeply odd things to see in the city. He says: 'Oxford is a world-class glorious gem of a city, but it holds a lot of less obvious oddities too. My tip is always to look up as well as at street level, and you will find loads of fascinating curiosities.'
The Headington Shark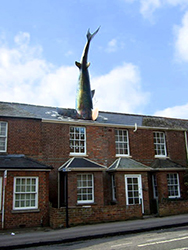 This is sensationally eccentric, and it was therefore on the cover of the first edition of my first book for Bradt, Eccentric Britain. How and why it came to be installed by ocean-going eccentric Bill Heine is detailed in Eccentric Oxford, and the ensuing bitter battles, planning permission and eventual civic honours – Bill said to the city council at the last ceremony 'I couldn't have hoped for better enemies' – is in my book, but this thing still startles me when I turn the corner of the street in the Oxford suburb of Headington. It's as if a shark has just fallen from an aircraft into the roof of a suburban terrace. As an Australian tourist quipped: 'My God, that fish must have been going at some speed when it left the water!' Go and have a look and decide if you agree with the planner who thought it would fit in better at a swimming pool or theme park. But its only point is that it shockingly doesn't fit in – the biggest snook ever cocked at planners, and Heine got away with it!
Gargoyles and grotesques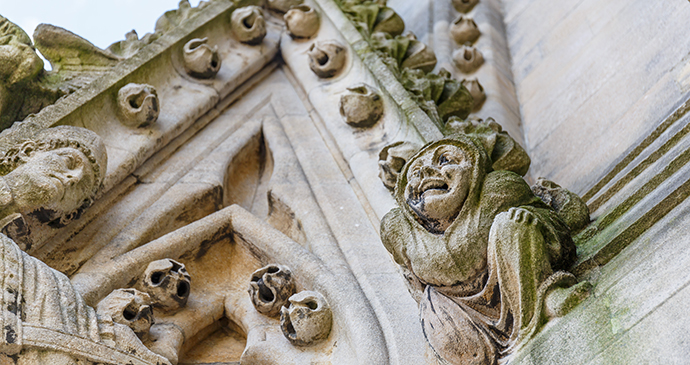 Look up while wandering around Oxford and you'll spot gargoyles at every turn © Alexey Fedorenko, Shutterstock
If you like these cartoons of the sky, after a visit to the unmissable Turf Tavern, take a fascinating short diversion to the left out of Hell Passage (that is, away from the Bridge of Sighs). The house on the left before the corner with the odd structure on the roof was home, by the way, to astronomer Edmond Halley (1656–1742) – as in comet – the structure being where his observatory was. In line with the buildings is an old tower, part of New College, which has a gargoyle (or rather a grotesque if he doesn't gargle water) covering his face to avoid seeing what goes on in the Turf Tavern below (second on the left) and others featuring, appropriately, the Seven Deadly Sins. Follow this strange, canyon-like lane under an arch and around yet another sharp corner (watch out for bikes) and notice the line of grotesques on the long side of New College on our left. Each face features hidden (well not very hidden sometimes) male and female genitalia. If you like this sort of satirical cartoon in stone, go round the next corner and there is another tower (formerly a church). This blows away the idea that all these carvings are medieval (they would have long-since eroded and are replaced every century or so) by featuring the college bursar (the grotesque holding two moneybags) and another don with a squash racket. Some of them are wearing glasses; not very medieval.
The Eagle and Child pub
This pub is tiny and, like the Lamb and Flag opposite, has a surreal image on its sign. This concept is said to have originated in the arms of the Earls of Derby, or is read by pagans or homosexuals to have some special significance for them. Equally, fans of the fantasy books connected with this pub have found all kinds of deep meanings in it. It is a case, as another Oxford fantasy book (Alice in Wonderland) put it, of a word meaning just what you want it to mean. However, to Oxford students it will always be the Bird and Baby or, more likely, the Bird and Bastard, or as I have heard it 'A quick pint in the Bastard?'.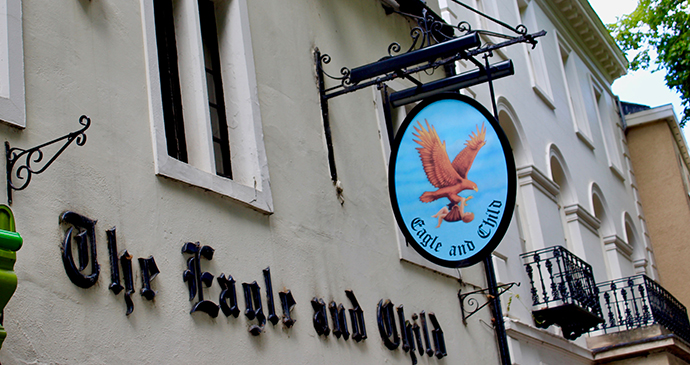 The concepts behind The Lion, The Witch and the Wardrobe and Lord of the Rings were both penned at this tiny pub © subherwal, Flickr
This little pub has generated global interest out of all proportion to its size because of the giants of genius, the mega-masters of creative fantasy that once gathered here. This little building was the unlikely crucible in which the concepts behind The Lion, the Witch and the Wardrobe and Lord of the Rings were perfected. Here, in an informal group of writers and academics known as the Inklings, these books' great authors met for convivial boozing and conversation on which it would have been fascinating to eavesdrop. The proof? In the back bar above the fireplace is a note to the landlord signed in their cups by these characters. It starts in inky scrawl, in mock-legal style: 'The undersigned, having just partaken of your ham, have drunk your health.' I expect it was more the beer than the ham doing the talking, but Clive Staples Lewis sticks, as usual, to his initials and signs: 'C.S. Lewis, Fellow of Magdalen sometime scholar of University College, late 13 Light Infantry.' Further down is: 'John Ronald Reuel Tolkien MA Merton Professor of English language and literature, late professor of Anglo-Saxon (Pembroke College) and exhibitioner of Exeter College, and of the Lancashire Fusiliers (1914–18).' More about what went on here in Eccentric Oxford. The pies are top notch.
Christ Church Meadow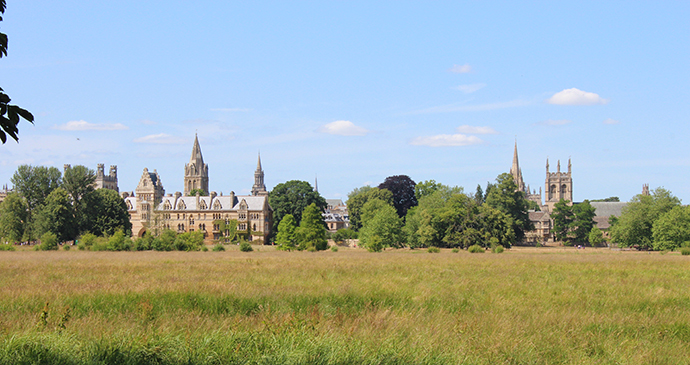 Christ Church is said to be the inspiration for three of the greatest fantasy novels of all time © James Mason-Hudson, Wikimedia Commons
This beautiful English gem, which was nearly lost to a ghastly ring-road scheme in the 1960s, is of course included in my book's Oxford walks and gives you glimpses of the enchanting spots that inspired the croquet scene in Alice or the lovers' bench in His Dark Materials. I have a confession to make here. That notice at the entrance which urges the Meadow Keepers ('What do you do for a living? Oh, I keep meadows') to 'prevent nuisance and indecent, rude or disorderly conduct of every description', and prohibits kite flying, bowling of hoops, throwing balls, shooting arrows or firing guns and pistols… well, I foolishly thought I would get publicity for the first edition of this book to turn up equipped with all of these (toy cap guns, of course). I'd be thrown out or in jail. So festooned with all the that clobber, I entered the meadow, having alerted the media. No-one took a blind bit of notice, so used are they to eccentrics in Oxford. Eventually the Oxford Mail reluctantly turned up, after nagging phone calls, then I gave the clobber to a charity shop and went home! Moral of the story: cheap stunts don't always work out!
Fascinating relics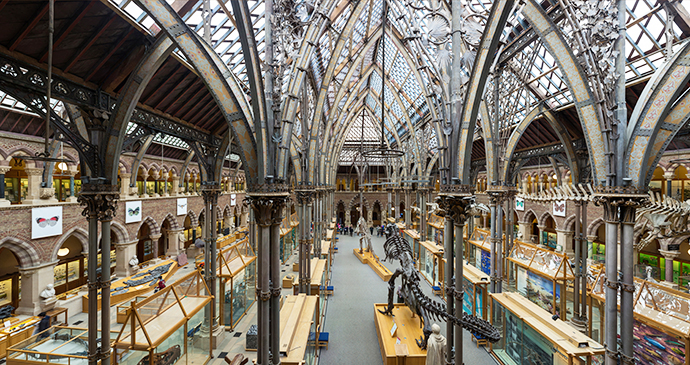 Discover a world of treasures at the slightly spooky Pitt Rivers Museum © Diliff, Wikimedia Commons
Oxford's glorious museums have gems you might now know about. For example, in the Ashmolean, the actual lamp with which Guy Fawkes hoped to ignite the gunpowder under Parliament. If that lamp had not been seized and blown out, would we all be Roman Catholic, or would the Civil War have been earlier and worse? You'll find mummified fingers in the Pitt Rivers (a deeply eccentric collection in a wonderful building), while in the Museum of the History of Science (which is small and free to enter, always a good thing!) you'll spot a device for measuring FAR THINGS (read the book to find out what that is) and Einstein's blackboard with his chalk equations, a bit baffling to anyone with an IQ of less than around 200.
---
Discover more of Oxford's quirky sights in Ben's brilliant book: