Written by Ishbel Holmes
Discover the trials and tribulations of a woman and her unexpected companion as they cycle from Turkey to Syria.
It was winter when I first met Lucy. I was cycling a quiet road along the Sea of Marmara, 200 kilometres west of Istanbul, when I saw a dog padding behind me.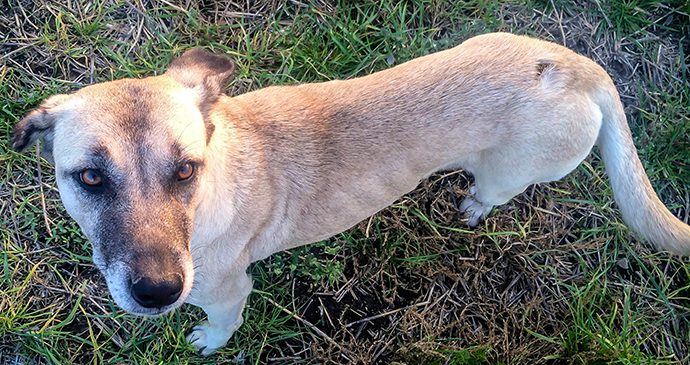 © Ishbel Holmes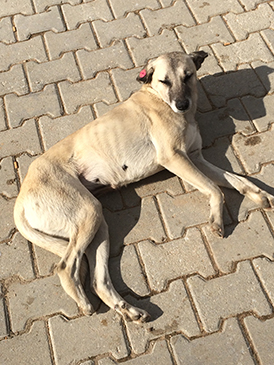 She was so thin her bones stuck out, and she had a badly damaged paw; and yet she ran as fast as she could to keep up with me, limping because of her injury.
(Photo: © Ishbel Holmes)
Having been invited to take Lucy to a sanctuary 550 kilometres away, I had to find a way to put her on the bicycle, so I secured a wooden crate to the front for her to ride in.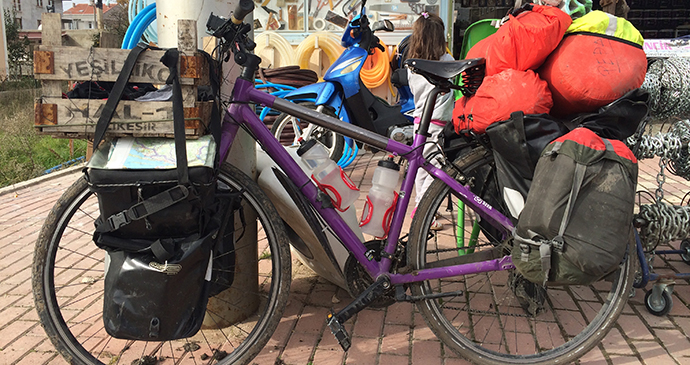 (Photo: © Ishbel Holmes)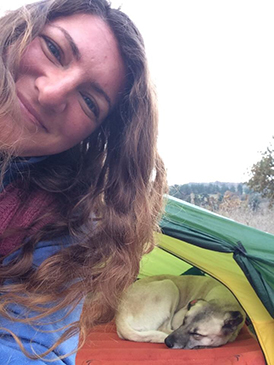 At first Lucy refused to sleep in the tent, keeping guard outside; then one morning as I brewed coffee, I turned to find her inside, fast asleep.
(Photo: © Ishbel Holmes)
I had stopped at a petrol station in Yenice to charge my phone when I met a group of hunters, who went to tremendous efforts to help me.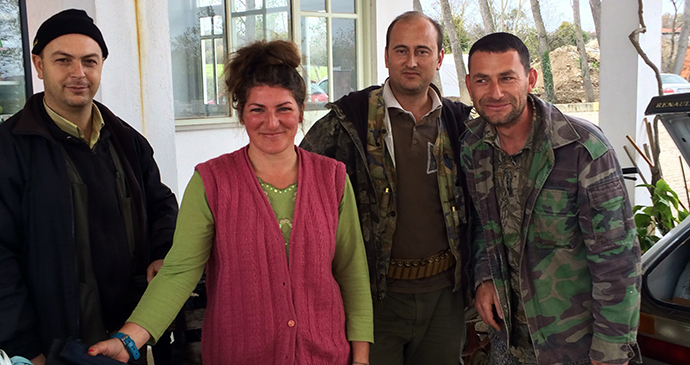 © Ishbel Holmes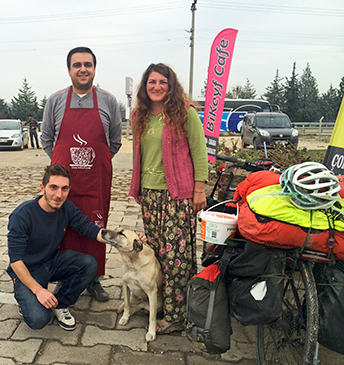 At a friendly restaurant on the way to İzmir, I had the chef cook chicken and rice for Lucy.
(Photo: © Ishbel Holmes)
We stayed in Fethiye, the town where I'd first been inspired to try cycle touring. This photo was taken at Calis Beach, which became Lucy's favourite place to play.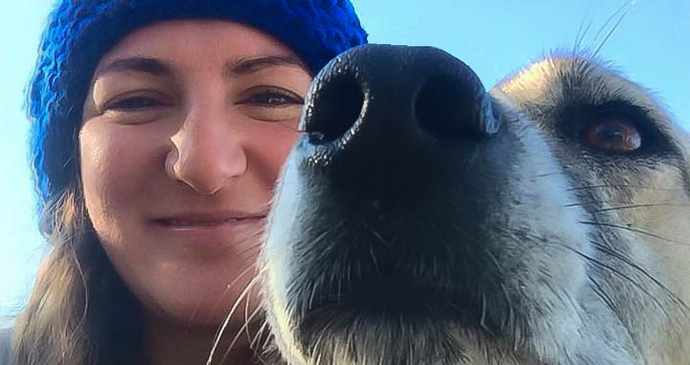 (Photo: © Ishbel Holmes)
After receiving the bicycle trailer for Lucy, on 14 February I set off cycling along the south coast of Turkey. I was told by a vet to keep Lucy warm to alleviate any pain caused by the shotgun pellets inside her body.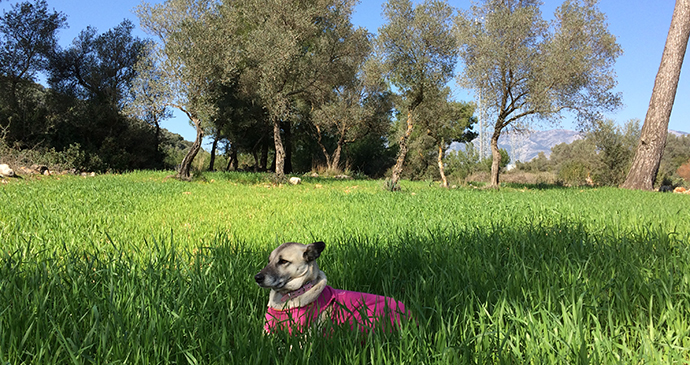 © Ishbel Holmes
Along the Turquoise Coast from Fethiye, the views were rugged and spectacular – navigating that landscape with a trailer was as tricky as any riding I'd done yet.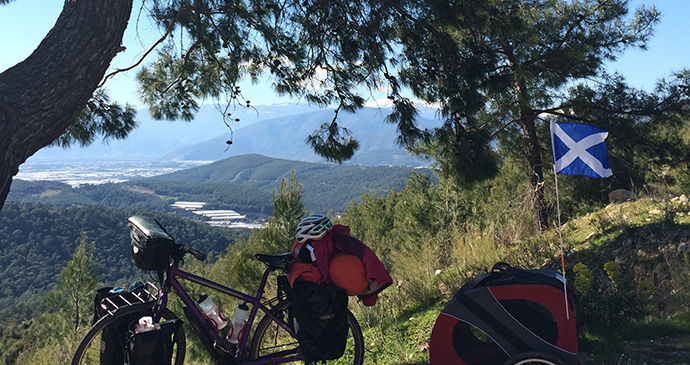 © Ishbel Holmes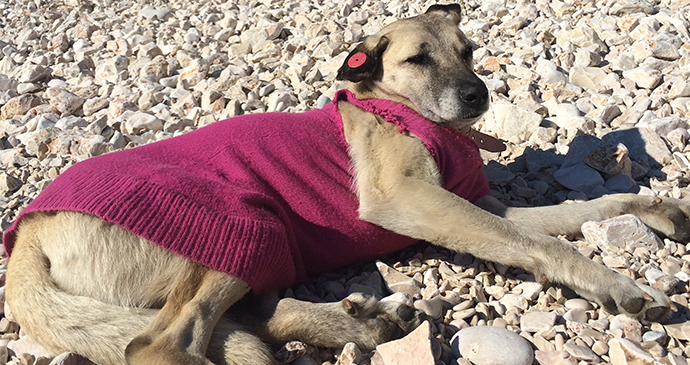 © Ishbel Holmes
On the way to Antalya, the road reached the coast and became narrow and winding, up and down, digging into the vertical side of a rocky mountain with a sheer drop to the sea.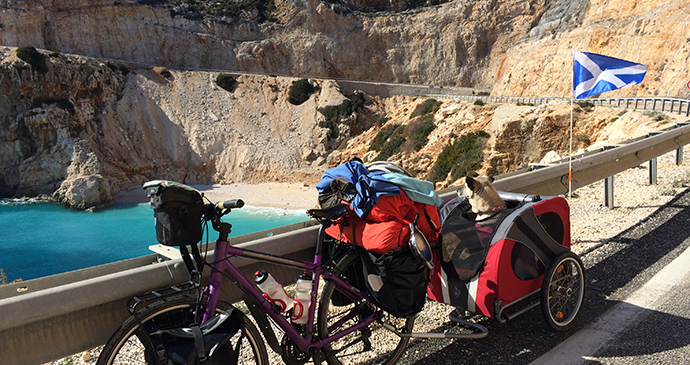 © Ishbel Holmes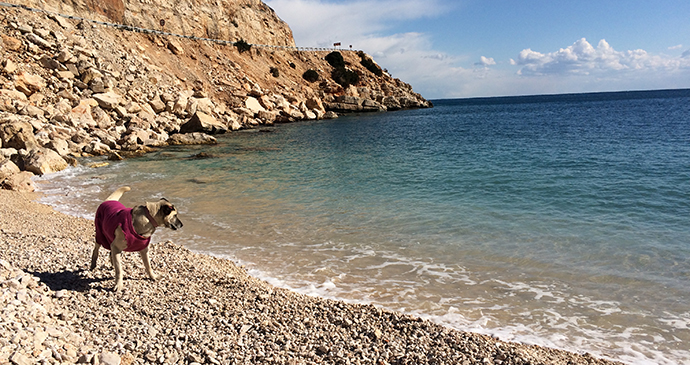 © Ishbel Holmes
In the mountains around Kaş. I was cycling a 90-kilo load – bike, trailer, luggage and Lucy – up and over hills on rough roads.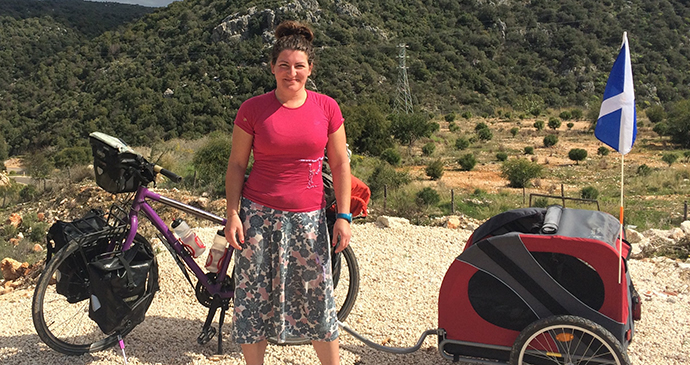 © Ishbel Holmes
A shepherd boy, Toygar, invited me to camp near his farmhouse. Lucy played with the farm dogs while I helped him herd the goats.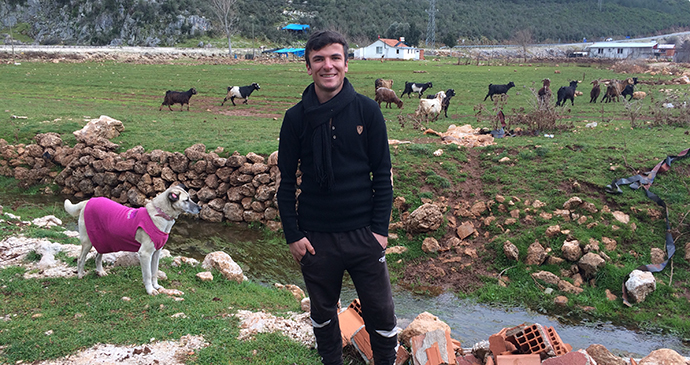 © Ishbel Holmes
After a night of bitter cold and gale-force winds, Toygar's mother, Ümmü, prepared a breakfast of potatoes, onions, eggs, peppers and olives – perfect nourishment for the journey ahead.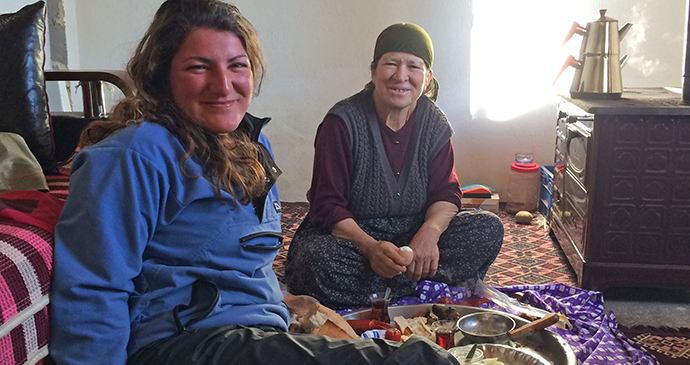 © Ishbel Holmes
We coasted downhill and I stopped at a beachside café. The waiter came running over and showed me a photo of Lucy that he'd seen on Facebook.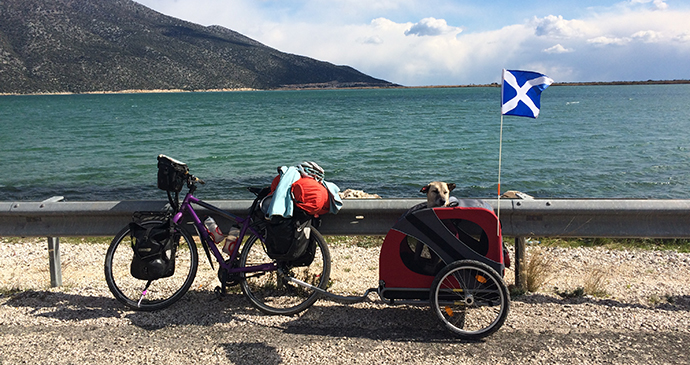 © Ishbel Holmes
With the threat of a rainstorm, I cycled 145 kilometres in one day to Alanya, where I managed to find a hotel that accepted dogs. We waited three days for the storm to pass, and in the occasional dry spell Lucy played on the beach.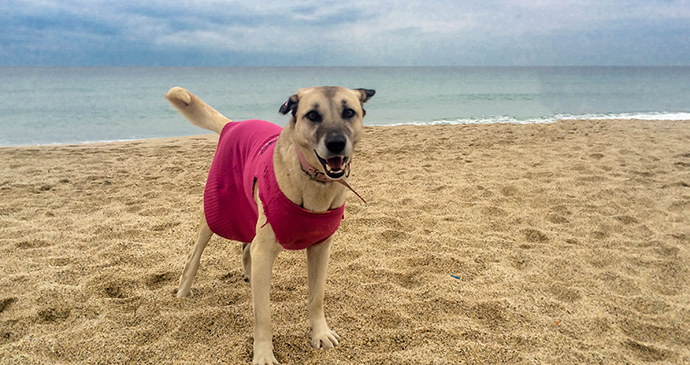 © Ishbel Holmes
Left: Lucy playing in the tent while I packed up.
Right: Children ran after Lucy, wanting to pet her. They were fearful at first, having been brought up to be scared of dogs, but a massive smile spread across the eldest boy's face when he stroked her head.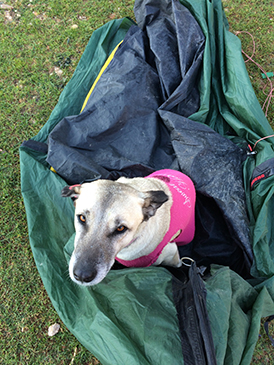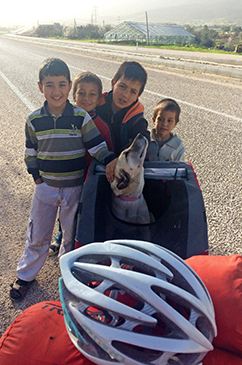 (Photos: © Ishbel Holmes)
The schoolchildren here, near Adana, loved Lucy. A lecturer at Adana University invited me to speak to his classes, as he liked to show them different ways of living life.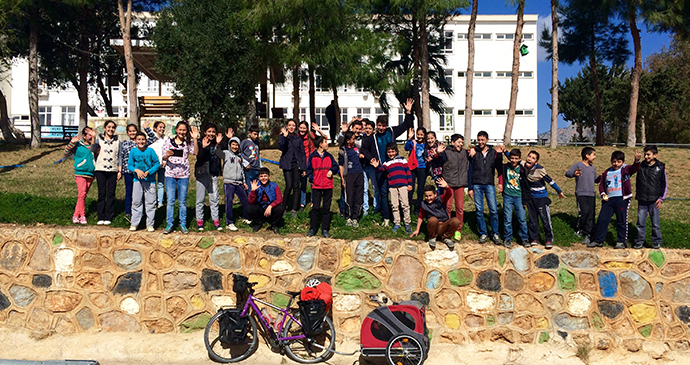 © Ishbel Holmes
In Hatay, near the Syrian border, I was able to travel around by bus, in the boot with Lucy and she would sleep in the sun while I wrote my blogs in cafés. This photo of us together was taken in the veterinary department of the university.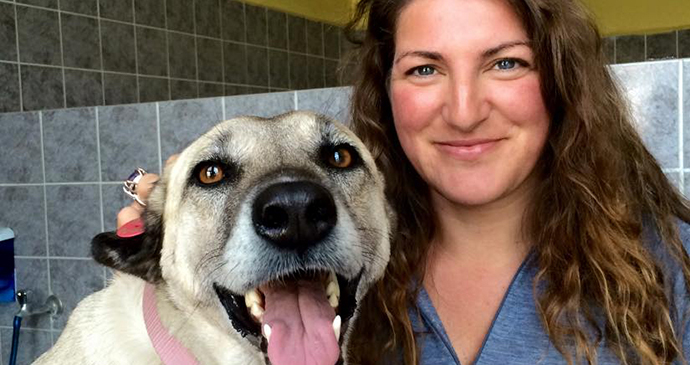 © Ishbel Holmes
I could not have asked for a better travel companion!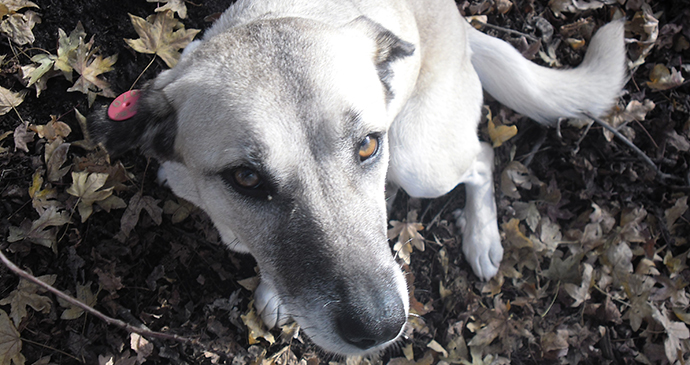 © Ishbel Holmes
---
To read Lucy and Ishbel's story in full, click here: