Written by Laurence Phillips
The Braderie de Lille is back. Europe's biggest and longest-running city-wide street sale will go ahead on the first weekend of September 2017, after it was cancelled last year for the first time since Nazi occupation due to security concerns aroused by the shocking terrorist attacks in Nice. Now, despite the tragic recent events in Barcelona, Lille is determined that 900 years of tradition will never again be trumped by fear, and so the city has spent the last year working on security for locals and visitors alike. After months of head-scratching, soul-searching and flashes of inspiration, mayor Martine Aubrey and prefect Michel Lalande have been working with police and intelligence services to come up with a solution. With a street race and a free concert by a multi-million-selling 1980s pop legend, the Braderie is set to return in style for 2017.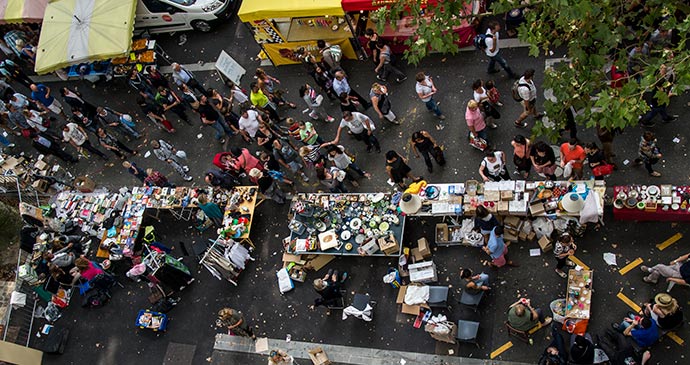 The Braderie de Lille is returning in 2017 © Laetitia Lecointe
Braderie 2015 attracted 2½ million visitors, ten times the city's population, to mooch over 100km of pavements and browse the stalls of Europe's biggest antique and junk fair, so security for this year's event has been a top priority for city officials. Barriers around pedestrian quarters have already been established across the city to stop vehicles mounting pavements. Due to artfully crafted railings at kerbsides around the stations and permanent and temporary barriers in the shopping streets that run from place de la République and rue Béthune to Euralille, traffic has been kept at bay since the beginning of the year.
Around Braderie weekend there will be no parking allowed anywhere within the Braderie district (virtually the whole of Vieux Lille and the city centre, from the stations to the squares to République) and all public car parks will be shut from 1 September. Only vehicles that have been pre-registered with the police will be able to drive into the city.
Additionally, 160 local police will be supported by the Police National and Gendarmerie on the streets and military snipers on the rooftops as well as a vast network of intelligence and undercover officers. The authorities are being understandably coy with journalists as to specific arrangements, but the fact that Louis XIV's famous Citadelle de Lille is home to a major military garrison means that it is more than just a stunning piece of Vauban designed architecture for the Instagram pages of travellers visiting the annual festival of fairground rides on the esplanade of the Champ de Mars.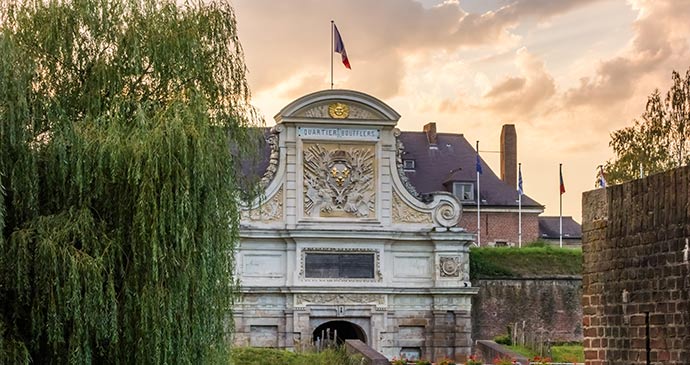 The Citadelle is home to a major military garrison © Ralf Siemieniec, Shutterstock
Braderie weekend will be almost business as usual in the heart of Lille, although there will be tighter restrictions on the event's perimeter than in recent years. Previously, bric-a-brac spilled out over 100km of pavements in to residential areas far beyond the centre. This year, though, 1,800 tonnes of concrete barriers and around 30 police checkpoints will ensure that the street sale takes place within a controlled zone of the original boundaries of Vieux Lille and the city centre.
Over the past decades, one particular area in to which the Braderie spilled was the Wazemmes district – rue Gambetta and rues Douai and Arras. Now, locals from Wazemmes and Moulins have been invited to set up their stalls within Parc Jean Lebas. Meanwhile, professional antique dealers can now pay for pitches at the serious antique market running from boulevard Louis XIV to boulevard de la Liberté.
To make up for losing the overflow, new specialist Braderies are being set up around the city. The Palais des Beaux-Arts will host a comic book market and the Gare Saint Sauveur is being handed over to local children, where stallholders under the age of 14 will be selling their old books and toys. A village des commercants (professional traders' village) will be set up by the tourist office on place Rihour, and there will be sports stalls on place du Théàtre.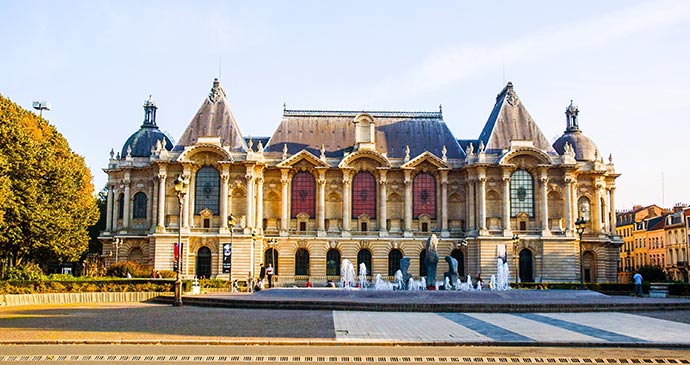 The Palais des Beaux-Arts will host a comic book market © Meiqianbao, Shutterstock
With only 34 hours of non-stop shopping, trading, partying and eating, compared to the usual 48 hours of yore, Braderie 2017 will be shorter than previous years, but the residents of Lille are still confident that their city's reputation for having the world's biggest appetite for seafood will remain unchallenged. Locals still expect les Lilloises to consume 500 tonnes of mussels in one weekend, and have invited Guinness World Record adjudicators to verify the attempt.
The event may not start until 08.00 on the Saturday (continuing until 18.00 on the Sunday), but there is an even bigger warm up this year. The weekend kicks off on the Friday night, with a free concert by legendary Glaswegian band Texas who are playing at the Théàtre Sebastapol in the heart of the city in an unscheduled additional date on their current world tour.
On Saturday morning, the semi (half) marathon, which used to run the full perimeter of the Braderie, is moving out of the city centre. Taking in Roubaix, Tourcoing and all towns and communes in between, runners will follow the Grand Boulevard in a Y formation, ending up in Lille itself.
Getting there and around
Eurostar is still the best way to get to Lille. Once in the city, the métro comes in to its own once the streets are closed to traffic.
Métro and trams will run non stop from early Saturday morning until Sunday night. Special Braderie transport passes will be available from €5, but be warned: no buses will be allowed into the centre of Lille. Park-and-ride options are available for those wishing to leave their car out of town and travel in by public transport. These car parks are at the end of each métro line and at Armentières, Don Sainghin, Seclin and La Bassée stations.
Another option is to park your car elsewhere in northern France. Special TER rail fares from €2 to €10 will get you to Lille over Braderie weekend from stations as far away as Boulogne, Dunkerque, Le Touquet, St Omer, Arras and Amiens – in fact any station in the new super-region of Hauts de France (which unites the former Nord-Pas-de-Calais and Picardy).
The V'Lille bike stations around the centre will be in lockdown during the Braderie.
---
More details on the Braderie and all places mentioned in this feature can be found alongside maps and public transport information in the Bradt Guide to Lille: