Written by Jini Reddy
As part of International Women's Day on 8th March, we chat to woman in travel Jini Reddy – author of part inspirational narrative, part practical guide Wild Times – about her extraordinary experiences connecting with nature in Britain.
---
What made you want to write Wild Times?
I was following my curiosity! I'd been a travel writer for a while and had had some quite immersive experiences and encounters which slowly, slowly led me away from feeling like an observer or admirer of the landscapes I was travelling through, to feeling like a part of a sentient landscape. I'm of the view that we are nature too. So I was already drawn to exploring nature and place in sensitive, more creative ways. I wanted to see how someone like me – who isn't a wildlife expert, naturalist or challenge-driven outdoor enthusiast – might do that in Britain.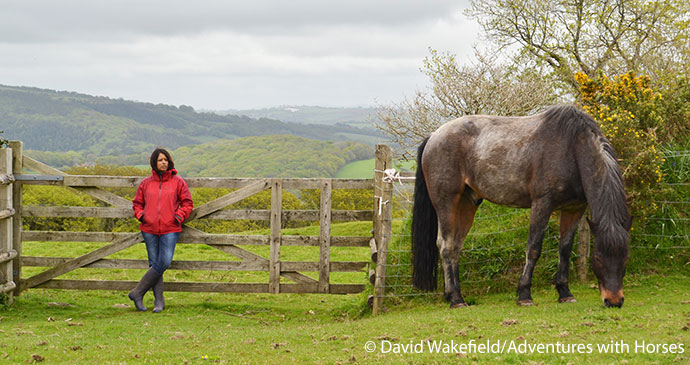 Jini and horse © David Wakefield/Adventures with Horses
How did your own connection with nature deepen during the time you spent writing Wild Times?
It's been a cumulative thing. Mostly, I feel a deeper ease and sense of communion when I find myself alone in nature – like I'm being looked after. I'm just so much more aware of the nature in my midst. Plus the experiences themselves were all insightful. Take the art of horse whispering – I love trying what I learned there with other creatures. (With varying degrees of success!) I now really see and feel the wisdom in spending a little bit of time walking barefoot on the earth. My fondness for bumblebees has amplified as has my love for Britain's very vivid and varied natural landscapes. The experiences were just really enchanting – and those themes, nature and enchantment really came together for me. In fact, I now find it hard to divorce the two. I don't want to either!
Did any of the experiences really surprise you?
Yes! I think the 'No-Dig' Garden Day probably. I wasn't expecting such a creative, 'warm-feeling' experience. It owed everything to the warmth and hospitality of both Charles Dowding and Steph Hafferty who hosted it. As I mention in the book, I did feel a little like James, from James and the Giant Peach, when I wandered round Charles' magical garden. He gives so much love to everything that he grows and you feel it.
Also, I'd feared the experience building an earth oven, with local harvested clay, might be horribly technical and difficult – I'm hopeless at making things! – but it was anything but. It turned into a joyous, communal experience. And all the elements were at play: fire, water, earth, air. We can forget that the elements are nature too.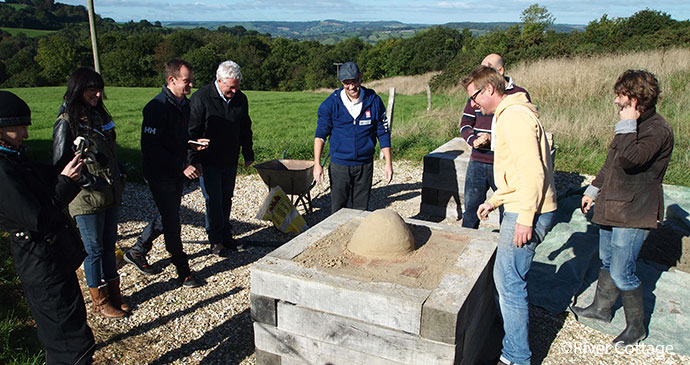 Building an earth oven © River Cottage
Have you had any more wild times since you finished writing the book?
I've been really busy trying to spread the word about the book but I spent a weekend recently in a bothy on Exmoor – just walking and sleeping. Bliss. Plus, I live five minutes' walk from a woodland and unofficial nature reserve. I get a bit of wild there every morning!
What advice would you give someone on a tight budget who wants to connect with nature?
I'd say go for a walk in a park, a Common, or on a walking trail; sit with a book with your back against a tree (or hug a tree!); Give your full attention to a full-moon; take off your shoes and walk barefoot for a short while, on a nice patch of grass; try growing vegetables if you have a garden, if not join a community gardening project (few suggestions in Wild Times!); close your eyes and listen to birdsong. Drink from a natural springs. If all else fails celebrate the sky above you, the sun, the rain, the earth beneath your feet. Connecting with nature is really about giving our attention to the nature in our midst.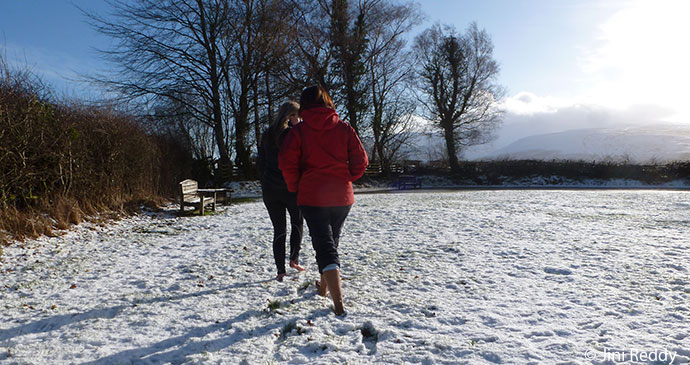 Jini and Lynne walking barefoot © Jini Reddy
Do you have any future plans based on what you experienced researching this book?
I want to explore the themes of nature and enchantment more deeply, wrapping that around some kind of bite-sized wanderings, here in Britain! I want to get out and experience more of Britain's hidden, magical wild places. I'm also interested in exploring the passions of Britain's more unorthodox eco-heroines.
---
Inspired? Find out more on how to have extraordinary experiences connecting with nature in Britain in Jini Reddy's Wild Times: