Written by Kelly Randell
Having explored the coffeehouse-laden streets of West Sweden's Gothenburg and filled ourselves to the brim with fika-accompanied confections, our Bradt editorial team lamented the lack of similar sweets in Chalfont St Peter. Never one to pass up a good baking challenge, I searched the highways and byways of the interweb for suitable recipes, powdered my Los Angeles kitchen with flour, and finally found the perfect Swedish kanelbullar (cinnamon roll). Perhaps we can finally institute fika into the bastion of traditional afternoon tea?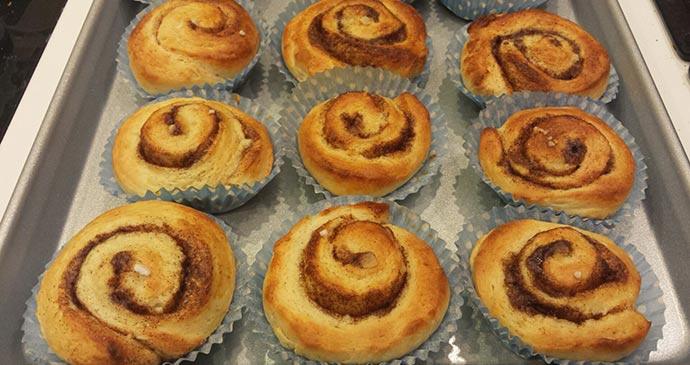 © Kelly Randell
Kanelbullar (Swedish cinnamon rolls)
Adapted (just barely) from the recipe by Kari Diehl on About.com.
While there are many good options online, Kari Diehl's recipe reminded me of the cardamom dough my Danish grandmother used to make. In addition to its use as an excellent base for kanelbullar, this dough can be used for many other delicious bread recipes, so get creative! I halved the recipe from the original website, but if you're making these for a party, definitely double it (see note below on doubling tips).
Makes 20 rolls.
Ingredients
Basic dough
300ml whole milk
170g melted unsalted butter
115g sugar
½ tsp salt
1 tsp ground cardamom
1 pkg. dry active yeast (approx. 2 ¼ tsp)
440—500g plain flour
Filling
40g melted unsalted butter
75g sugar
1 tbsp ground cinnamon
Glaze and topping
1 egg
2 tbsp water
pärlsocker (pearl sugar – can be found in specialty shops)
Paper muffin cases (at least 20)
Baking sheets
Preparation
Total prep time: 2hr 30mins
Inactive time: 1hr 45mins
Cooking time: 9mins
Heat milk in a saucepan at medium heat until lightly boiling (small bubbles across top and bubbling slightly). Take off heat and stir in melted butter, sugar, salt and cardamom. Once blended, let cool until just finger-warm (cool enough to touch). Pour mixture into a large mixing bowl and stir in yeast. Leave for 10 minutes.
Add flour to mixture a couple large spoonfuls at a time, mixing with a hand mixer until you've added about half of the flour or until the dough becomes firm and pulls away from the side. Add additional flour, mixing with a wooden spoon until the dough is no longer sticky and can be kneaded by hand. Place a clean towel over the bowl to cover and leave to rise in a warm place until doubled in size, approximately one hour.
Punch down dough, then remove from bowl and knead on a well-floured surface until shiny and smooth. Mix cinnamon and sugar for filling in a small bowl and set aside. Melt butter for filling in another bowl and also set aside. Flatten and roll dough into a rectangle approximately 12" (30cm) by 18" (45cm). Brush dough with melted butter. Sprinkle with cinnamon-sugar mixture, ensuring rectangle is evenly coated.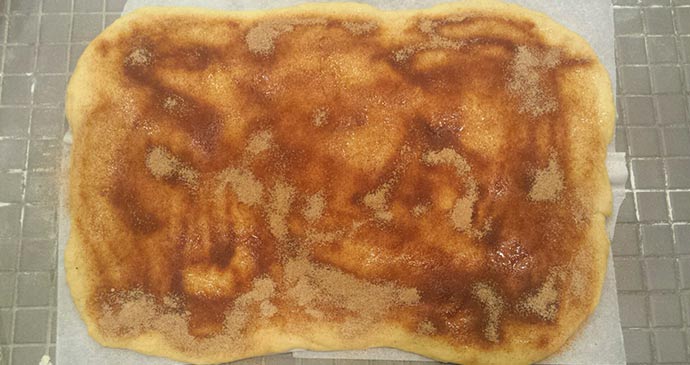 © Kelly Randell
Roll the long side of the rectangle into an 18" (45cm) cylinder, like a jellyroll. Using a very sharp or serrated knife, carefully cut the dough in half, and then cut each half into ten equal pieces (approx. 1" each in width). Place rolls in muffin cases and arrange on baking sheets (ten per sheet). Cover with clean towels and let rise until doubled, approximately 45 minutes. Preheat oven to 220C (200C for a fan oven).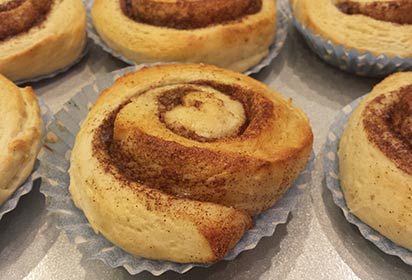 © Kelly Randell
For glaze, whisk egg and water until blended. Brush each roll with egg mixture and sprinkle pärlsocker on top (alas, I couldn't find any!). Bake rolls for 8 minutes or until golden brown.
Kanelbullar are best enjoyed straight from the oven. For any remaining rolls, let cool on a wire rack and place in an airtight container. They'll last for about a week, but if your house is anything like mine, I suspect two days is sufficient for them all to disappear.
NOTE: If you're doubling the recipe, divide the dough into two halves after kneading it and follow the instructions above. If, like me, you're a perfectionist and obsessed with evenly distributing the filling, it's easier to ensure an even distribution if you divide the cinnamon-sugar mixture in two!
Variations
Now, the recipe above is the classic, tried-and-tested, found-in-every-Swedish-coffee-shop version, but we at Bradt are big fans of going off the beaten track, so for all of you who would like to shake things up, check out a few suggested variations below.
Toasted almond, vanilla sea salt or marzipan
Before rolling the pastry, put 100g of sliced almonds into a pan on medium-high heat and toast until browned on both sides, tossing almonds periodically so they don't burn. Sprinkle onto cinnamon-sugar paste and roll as above. Want to hop on the sweet-savoury bandwagon? Try sprinkling on a pinch of some vanilla Welsh sea salt from Anglesey just before baking. Or, if you'd prefer a sweeter almond-flavoured version, sprinkle 100g crumbled marzipan on the dough before rolling.
Iced
If you need more sweetness (seriously?!), you can also drizzle the rolls with a mixture of icing sugar, butter, vanilla and whole milk (or replace milk with Baileys Irish crème liqueur if you'd really like to go nuts). Beat 30g butter (room temperature) with 220g icing sugar and 1 tsp vanilla until blended. Add 2 teaspoons milk (or crème liqueur) and stir, then add additional milk (up to 2 teaspoons) a few drops at a time until the right consistency is reached (a thick glaze). Spread or pour over cooled rolls.
Pumpkin
We're moving away from Scandinavia and towards the land of all things pumpkin-spice-crazed (points for guessing our friends across the pond), but this recipe is perfect for Fall. If you can find canned pumpkin (eg: at Whole Foods or local corner shop with American goods), this recipe is quite straightforward. It's more complicated if you decide to bake the pumpkin from scratch (gasp!), but so rewarding and ideal for a rainy Sunday (see an option here). Deb from the award-winning Smitten Kitchen food blog in NYC has a to-die-for pumpkin cinnamon roll recipe on her site. I take no responsibility for the pumpkin love affair that will inevitably follow.
---
Want to try the real thing? Start planning a trip to West Sweden using our guide: