Written by Paul Clammer
Art lovers are in for a treat on a visit to Haiti. From the country's museums and the boutiques of upmarket Petionville, to the capital's streets busy with brightly decorated public transport and open-air galleries full of colourful canvases, or the artisanal workshops of Jacmel and Croix des Bouquets, art is everywhere to be found… and sometimes in the most unexpected of places.
Here are seven 'arty' things to look out for on your next trip.
Carnival masks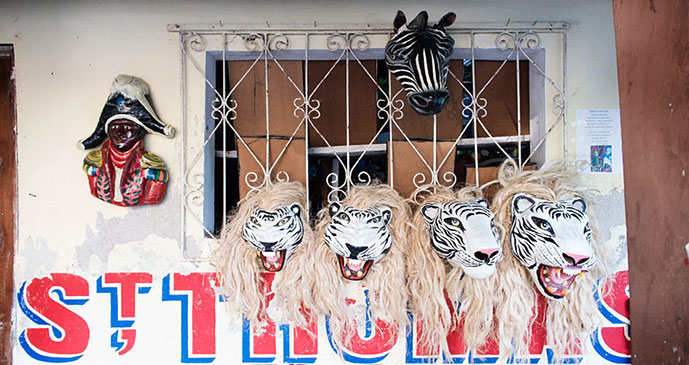 © Experience Haiti
Pretty much wherever you go in Jacmel, you'll be offered art and handicrafts to buy. The most striking creations by some degree are the huge papier-mâché Carnival masks, animal and monster heads in the brightest of colours. Experience Jacmel can arrange hands-on tours of workshops, where you can learn how to make and paint your own masks. Most of the artisan shops are around rues de Commerce, St Anne and Henry Christophe – the so-called Quartier des Artisans.
Jacmel: City of Mosaics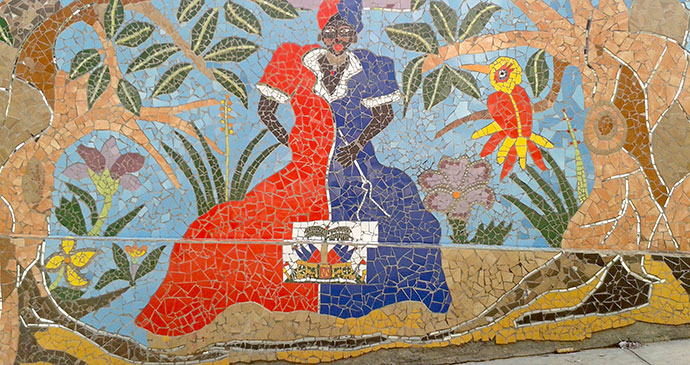 © Paul Clammer
Since 2010, the face of Jacmel has been slowly transformed by an ever-increasing number of colourful mosaics. They're the work of the Art Creation Foundation for Children (ACFFC), a local NGO that provides educational opportunities and art classes for marginalised youth in the town. ACFFC is responsible for the mosaics on the seafront boardwalk, but look out for the many others – a tree of life near Rue de Commerce, coffee bushes by a historic coffee warehouse, Catherine Flon stitching the Haitian flag, and the colourful steps leading up to the Manoir Alexandre.
Art of the taptap 
A bus in Haiti doesn't have to be just a bus – it can also be a canvas for great art. Brightly painted taptaps are as Haitian as rum and Vodou. Most forms of public transportation undergo some form of personalisation by their driver, but it's the taptaps of downtown Port-au-Prince where artistic sensibilities are given their most free rein. Anything and everything can be painted on the body of a bus – from nature scenes to jet planes, hip hop and football stars to bikini girls and the Virgin Mary, or striking geometric patterns. Once you've seen them you won't want to drive in a plain minibus ever again!
Vodou flags
Vodou has been the well-spring of Haitian arts, but none is presented with such bling as Vodou flags (drapo), creations that have broken free of the Vodou temple to become works of art in and of themselves. Paraded during Vodou ceremonies, the flags are usually decorated with the sacred vèvè symbols of the lwa, often complemented with images of their saintly Catholic counterparts. At one time painted or simply embroidered, these days the flags dazzle with thousands of beads and sequins. You can buy drapo in most art galleries in Port-au-Prince, with prices reflecting the amount of detailed work involved.
Fer Decoupé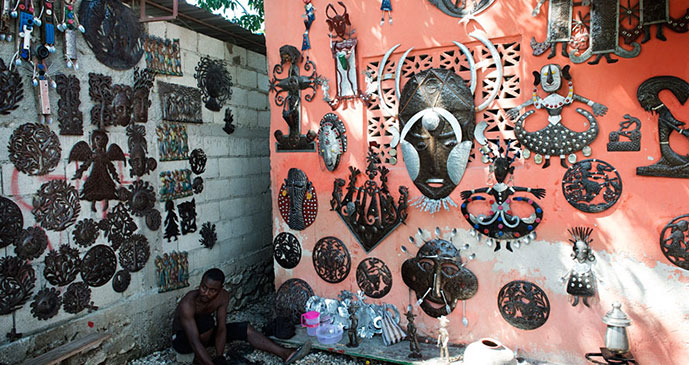 © Experience Haiti
Sculpture is another important artistic tradition in Haiti, most notably the intricate flat metal sculptures of Croix des Bouquets, known as fer decoupé. The artisans there keep their workshops in the district of Noailles, where the air positively rings with the sound of hammers on metal. Visitors are welcome, and there's no hustle to buy – but resisting temptation is another thing entirely!
Graffiti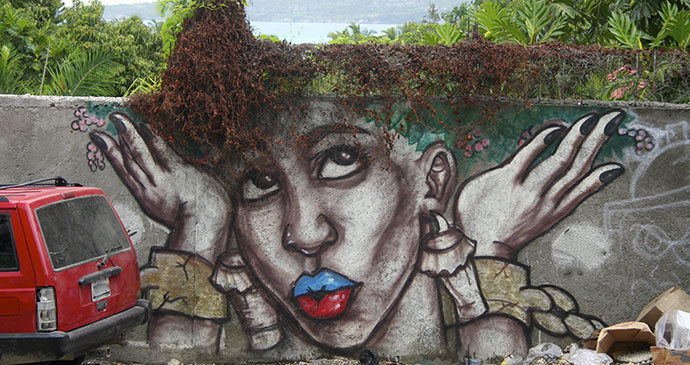 © Louise Rivard
Alongside a multitude of fading electoral posters, on every other wall a litany of graffiti slogans supports or condemns various political figures. One graffiti artist – Jerry Rosembert, better known simply as Jerry – has managed to transcend the sloganeering. Somewhat inevitably dubbed 'the Haitian Banksy', he has been tagging walls in Port-au-Prince since 2002, becoming more widely known in 2009 with a series of cartoon portraits memorialising the singer Michael Jackson. Aiming at an often illiterate audience, Jerry's art also makes sharper political points and seeks to inspire other artists to add their own creations to the walls of the city. Keep your eyes out and your camera ready – once you've seen one, you'll probably want to photograph them all!
Grand Rue Artists 
The artists of Grand Rue, also known by their collective name Atis-Rezistans, produce art of the most incredible visual potency. Living and working in a part of Port-au-Prince surrounded by auto workshops, hemmed in by the backwash of uncontrolled urbanisation, they have turned their surroundings into art, scavenging car parts, old wood, TV sets – anything – to reinterpret Haitian culture for the 21st century and recreate their own identities and community. Vibrant Vodou spirits of life, death and sex all figure prominently, often topped off with real human skulls (or dolls' heads). To find the artists, look for the hard-to-miss 8-m tall sculpture of the Vodou lwa Papa Legba, made from an old truck chassis, on Grand Rue.