Written by Juliet Rix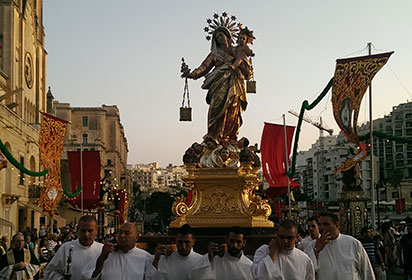 Festa of Our Lady of Mount Carmel, St Julian's © Bradt Travel Guides
The festa is a hugely important part of Maltese culture – both religious and secular – and the high point of the local community year. Every parish has its festa and money is raised and preparations made for it throughout the year. Festa is theoretically celebrated on the feast day of the saint to whom the parish church is dedicated, but most are in fact held on summer weekends. From late May to mid-September there is hardly a weekend without at least one festa and many weekends with several.
Several days before the big day, the church is decorated with red damask, and the festa statue – a more-than-life-size painted figure of the saint – is brought out of its shrine (usually behind glass) to stand in the main body of the church. Other statues are set up on pedestals outside the church and the exterior of the building is decorated with strings of lights. Bunting, flags and more lights are hung along nearby streets – you can tell as soon as you enter a town or village if it is festa time.
Festa eve – usually a Saturday – is firework time. Most parishes have their own tiny firework factory (with between one and five firework makers) and there is vehement competition for who can put on the best show. Lija used to have the reputation for the best festa fireworks, but Mqabba is challenging for the crown. Fireworks are usually accompanied by music, food stalls and a general festival atmosphere.
On Sunday, the festa itself, the day starts with High Mass, usually with an invited preacher and sacred music played by local musicians. Some parishes traditionally play the music of a particular Maltese or Italian composer (or composers). Works may be new or old, on occasion played from handwritten manuscripts dating back as far as the 18th century.
This is followed by the festa procession around the local streets. Often accompanied by the setting off of bangers, the procession is led by representatives of local confraternities (like guilds but attached to the Church). Next comes the statue of the saint carried shoulder-high by six or eight men, accompanied by priests bearing church relics, altar boys (still mostly boys in Malta) and members of the public who also line the streets.
As well as, or as part of, the religious processions, there are band marches. Each parish has at least one wind band. These evolved from simple fife and drums in the 18th century under the influence of British military music – and this is the high point of their year. The band marches are usually accompanied by considerable secular celebration and often quite a lot of alcohol; they can occasionally become raucous.
The day after the festa, usually a Monday, many people take the day off work and go to the beach for a picnic.
---
Learn more about Maltese festivals in our comprehensive guide: