Written by Laura Pidgley
When you step out of arrivals at Vágar Airport, the first thing that hits you is the noise – or should I say, lack of it. No impatient taxi horns, no suitcase wheels bumping along the pavement, not even the rumble of planes taking off overhead – just pure, unadultered silence. And that's typical of the Faroe Islands, the wild and windswept Danish archipelago in the North Atlantic. Known to most only for the shipping forecast, it's a world away from your typical European weekend break.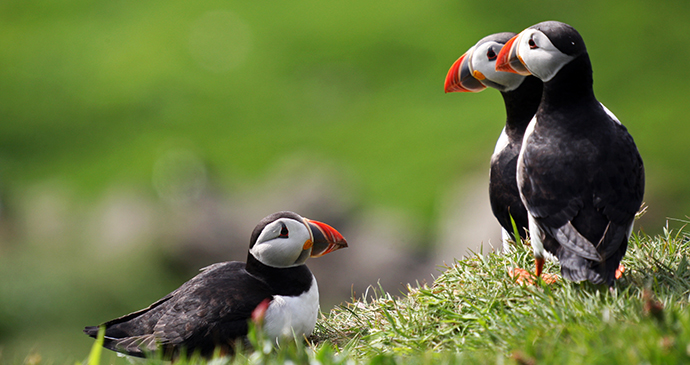 The Danish archipelago is renowned for its puffin population © ggojv, Shutterstock
But that wild, unpredictable temperament only adds to its allure. Like many visitors, I was drawn to the Faroe Islands by its spectacular natural offerings: greener-than-green landscapes punctuated by tumbling waterfalls and cairn-marked pathways, where graceful terns and cheeky puffins soar above cliff-hugging sheep. For lovers of the great outdoors, the Faroes offer a slice of paradise, and in-the-know ornithologists and hikers have been braving the unforgiving conditions here for many years.
More recently though, a new type of visitor has begun to grace the islands: the foodie. Previously overshadowed by its better-known Nordic neighbours, the Faroe Islands have quietly established themselves on the gastronomic map over the last few years by plating up traditional food with a 21st-century twist. In times gone by, locals had to make do with what was around them to survive – gannet, puffin and (more controversially) pilot whale all feature as traditional Faroese fare. Today though, it's fish and lamb that are the more common dishes of the day, accompanied by hardy, home-grown root vegetables. As someone who doesn't eat red meat, I was expecting to find eating a struggle – but how wrong I was.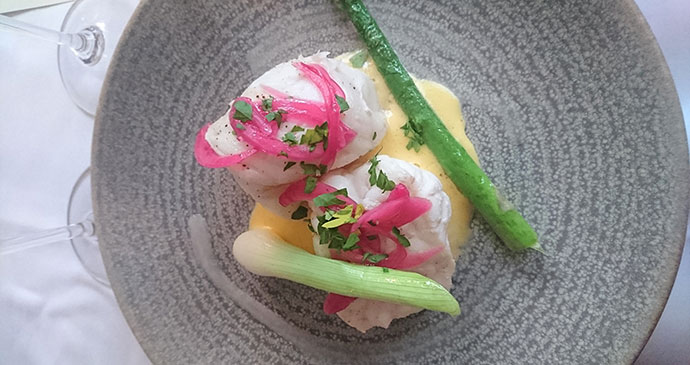 Melt-in-the-mouth monkfish served at Áarstova in Tórshavn © Laura Pidgley
In Tórshavn – the bijou, but surprisingly hipster, capital – more and more top-class restaurants are springing up among the turf roofs. At Áarstova, one of its most popular dining spots, the set menu is a real showstopper, but in an understated and unpretentious way. The usual Faroese dishes are sprinkled with a touch of finesse through the simplest twists: salty lamb tartar on a tower of apple crisps is followed by smooth langoustine bisque, aromatic lamb shank with buttery mash and – the pièce de résistance – melt-in-the-mouth monkfish with a bubblegum-pink radish slaw. It's warming, good-for-the-soul sort of food – unspoilt and enchanting, just like the surrounding landscapes.
A few miles down the road in the hamlet of Kirkjubøur, KOKS takes dining to a whole new level. Using ancient methods and ingredients, head chef Poul Andrias Ziska and his team champion all things Faroese with their pioneering multi-course menu, and were recently awarded a Michelin star for their efforts. Locally sourced porbeagle, cod and the ubiquitous lamb join forces with the likes of kelp, rhubarb and pine picked from the restaurant's back garden to create individual works of art. A particular favourite with the chefs is skerpikjøt, the islands' speciality of fermented lamb. Legs of mutton are hung for several weeks in a hjallur (meat-drying outhouse) and left to 'cure' in the air – only when a thin blue crust of mould appears is the meat ready for consumption. Served on a bed of lichen, the mutton has a unique taste to say the least, one that overwhelms not only your tongue but your whole head. Whereas the dishes Áarstova would be welcomed by most palates, the food here is for those who aren't afraid of flavour.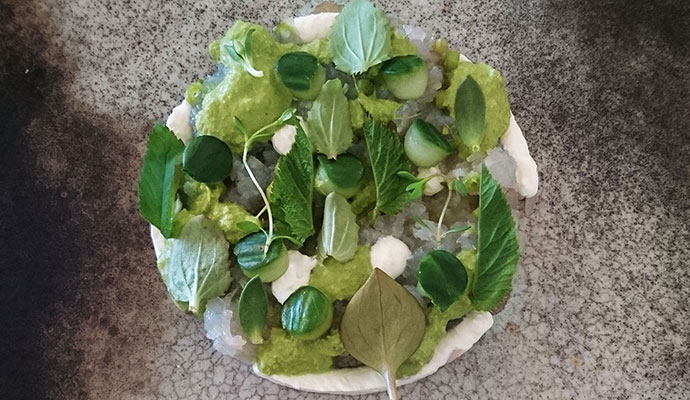 At KOKS, the dishes really do taste as good as they look © Laura Pidgley
It's not just the fine-dining scene that's growing on the islands – the heimablídni initiative, which offers tourists the chance to eat with a local family in their own front room, has already garnered much popularity since its inception in 2016. Particularly recommended is the Hvannasund home of painter Livar Nysted, and not just because his wife makes a mean cod bake. Adorning the walls alongside his eclectic musings depicting island life are a handful of Guinness World Records. In 2010, Livar broke the world record time for crossing the North Atlantic by boat, and in 2013 he became the first man in history to row across two oceans in a single year. He'll tell you all about his sea jaunts (some hilarious, some downright terrifying) while you enjoy coffee and cake in his nautical basement, complete with a table made from an upturned rowing boat.
It just goes to show that the Faroese are as hardy as the lands they inhabit. And their food, earthy, natural and wild, is a true reflection of the archipelago's spirit.
---
Practicalities
Getting there and away
Atlantic Airways offer flights to Vágar twice a week from Edinburgh (Thu & Sun; 1hr 25mins) for around £225pp. They also fly from Copenhagen, Reykjavik, Bergen, Aalborg and Billund.
Where to stay
The four-star Hotel Hafnia is highly recommended for stays in Tórshavn, with clean, spacious rooms and an unbeatable central location. Further afield, Hotel Klaksvik makes a perfect central base for those wanting to explore the delights of the more remote northern islands.
Top tip
If you're in Vestmanna to see the dramatic bird cliffs, make sure you drop in to the SagaMuseum, which tells the history of the islands and their Viking settlers through some eerily lifelike (and blood-soaked) wax figures. Think Madame Tussauds meets Game of Thrones. It's delightfully gruesome.
Get 10% off James Proctor's informative guide to the islands when you buy through our shop: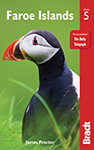 ---
Inspired to book a trip to this Danish island chain? Talk to our friends at Regent Holidays: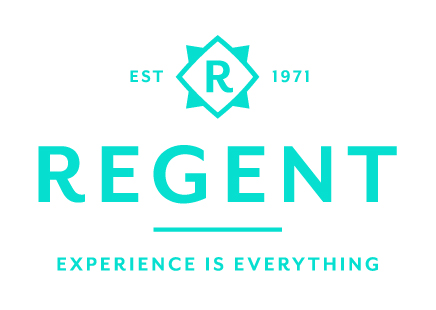 With an unquenchable interest in the alternative, Regent was one of the first UK travel companies to operate tours to Russia, North Korea and Greenland – and we're still venturing off the beaten track today. Whether you want to explore the beautiful Faroe Islands, travel on the Trans-Siberian Railway or go in search of the elusive northern lights in the Arctic circle, speak to one of our travel specialists today.