Written by Hilary Bradt
S P B Mais wrote: 'We are now beginning to discover in a quickly changing England that almost our only link with the past lies in our churches . . . [They] bring back memories of our ancient stock. I make no more apology for turning aside into every church than I do for exploring every stream and river.'
We have turned aside into many churches and described them with enthusiasm for the same reason that so moved Mr Mais. From their monuments and tombstones to the present day's flower rota and villagelife kneelers, they represent an unbroken link with the past. Churches are also repositories for important art (just how important is illustrated by the theft in 2013 of Torbryan's treasures). Devon's intricately carved wooden screens with their panels of painted saints are exceptional; there are more complete ones here than in any other county, so we can be forgiven for describing them with such affection. Likewise, carved bench ends and stained-glass windows which show us the mindset of a medieval craftsman whose life was dominated by the twin fears of God and the law, as well as his deep understanding of the rural life he was familiar with. And when asked to portray an animal he had never seen, he did his best.
All Saints, Combeinteignhead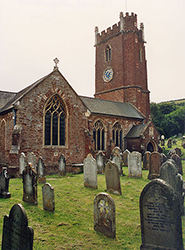 The 13th-century church of All Saints is an absolute treasure, which you'd never guess when approaching its shocking pink door and seeing the even more inappropriate pink wall-tiles inside which make it look like a municipal swimming pool. The wooden pews in the rest of the church are plain and relatively modern but these date from Elizabethan times, and are fascinating in their subjects as well as the bold carving and beautiful dark oak. There are saints galore, including St Catherine with a big crown and her wheel, a very serious St Peter with exuberant flowing locks and a giant key, St George in full armour spearing a tiny, dog-like dragon, and one of those really obscure saints that turn up in Devon churches from time to time: St Genesius, dressed in a fool's costume of cap and bells.
(Photo: The 13th-century church of All Saints is an absolute treasure © John Salmon, Wikimedia Commons)
St Blaise, Haccombe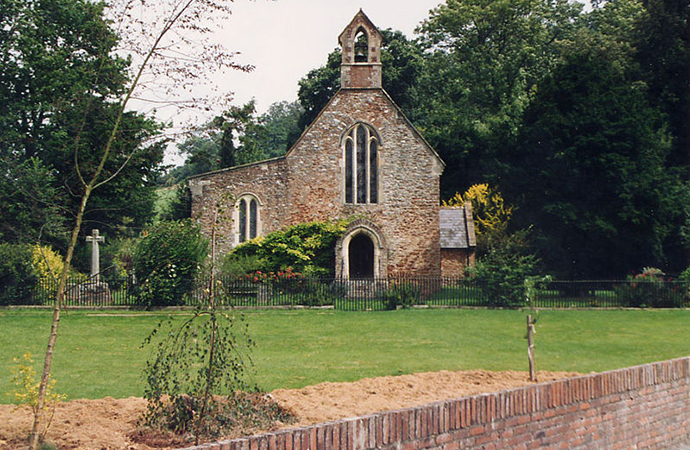 Explore the hidden treasures at St Blaise's church © John Salmon, Wikimedia Commons
The church's tiny interior is a treasure-trove of memorials and other ecclesiastical goodies. The horseshoes on the church door – only one and a half of them now, although there used to be four – are said to be relics of an ancient wager made between a George Carew, Earl of Totnes, and Sir Arthur Champernowne of Dartington, as to who could ride furthest out into the sea at Torbay. There's a 'wool-comb' with fearsome nails; St Blaise was martyred by being flayed with a carding comb used to process wool, and then beheaded. He is also the patron saint of Dubrovnik, where a reliquary supposedly contains some of the saint's body parts – and a fish bone.
Church of St Andrew, Bere Ferrers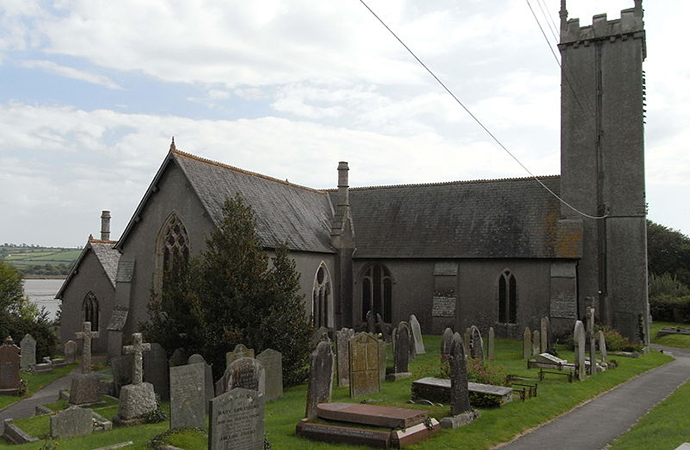 The Church of St Andrew is home to some of the oldest stained-glass windows in the country © Lobsterthermidor, Wikimedia Commons
The Church of St Andrew was built – or rather rebuilt, since the tower is earlier – by Sir William de Ferrers, who died in 1280. His monument is one of its treasures. The stone canopy is decorated with strange carved heads, perhaps male and female. Another notable feature of the church is the stained glass in the east window, claimed – rightly or wrongly – to be the oldest in the county apart from some in Exeter Cathedral. Elsewhere St Andrew's has Tudor carved bench ends, the design echoing the shape of the windows, and a Tudor fireplace to keep the gentry warm in the winter. The screen has gone, as have the saints in the panels, scraped off at the time of the Reformation.
St Michael's, Doddiscombsleigh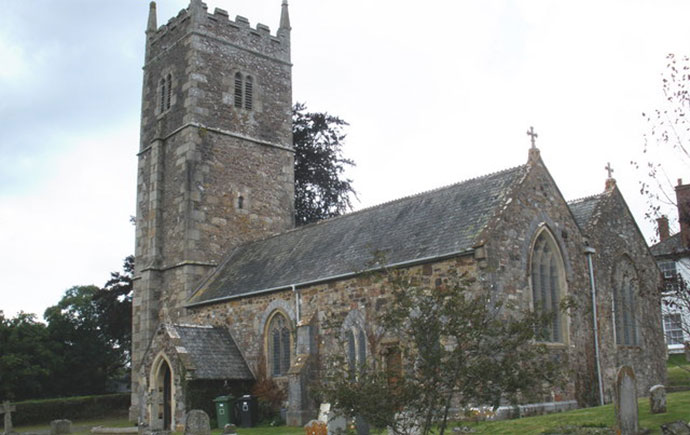 The original church at St Michael's probably predates the Norman Conquest © Roger Comfoot, Wikimedia Commons
This little hidden village attracts both church crawlers and pub crawlers. St Michael's Church has been providing spiritual refreshment for even longer: it has the finest medieval stained-glass windows in the county, and the original church probably predates the Norman Conquest. It's built from an aesthetically pleasing mixture of local stone of various colours, including granite from nearby Dartmoor. Inside it's curiously square, with two aisles, and the famous windows can be observed at eye level since they and the wagon roof are exceptionally low. This makes it easy for the visitor to appreciate their craftsmanship and imagination, and brings a feeling of intimacy.
St John the Baptist, Higher Ashton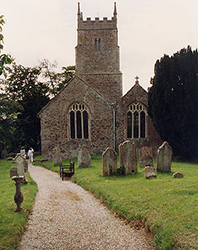 Higher Ashton is a pretty village of thatched, whitewashed houses set on a steep hill. The church of St John the Baptist is renowned for its medieval rood screen, intricately carved to set off the 32 panels with their painted saints. The church leaflet is helpful in explaining who's who. You'll easily identify well-known saints such as St Sebastian with his arrows (although he is headless), and a baby-faced St George in full armour killing a tiny dragon. This seems a particularly unfair contest since the dragon is depicted with a dog's body and looks as though it's just been woken from a nap.
(Photo: Marvel at the renowned medieval rood screen at St John the Baptist church © John Salmon, Wikimedia Commons)
St Raphael's Chapel, Dartmoor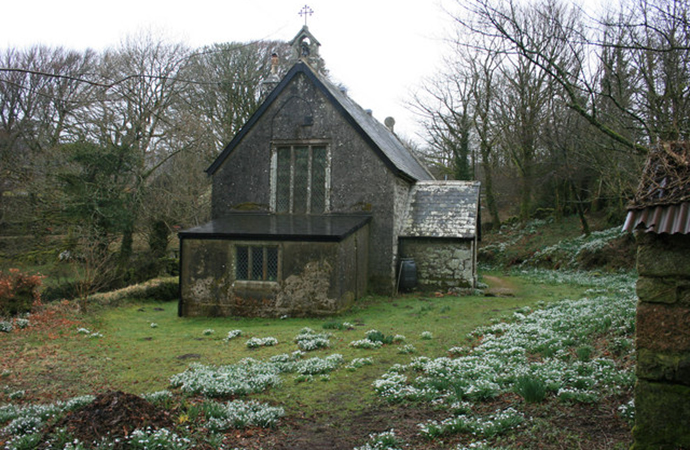 St Raphael's Chapel is simple but delightful © Adrian Platt, Wikimedia Commons
What a wonderful piece of serendipity to come upon this charming place. The simple chapel was built in 1868, initially to provide local farmers with a place of worship, saving them the journey to Lydford, but later a school was opened for their children, thus ensuring that the new building was put to full use. What makes a visit so worthwhile is that the chapel serves as a little museum. The pews adapted to desks are there, with a quill pen stuck in each inkwell, and slates. The master's desk sits high in a commanding position, and to ensure discipline there is a dunce's cap and a swishy cane. It's altogether delightful. The church is claimed to be the only Anglican one in the whole of England that is dedicated to St Raphael, and is still used for monthly services.
---
Learn more about South Devon's churches with our new guide to the region: