Written by Bradt Travel Guides
Emilia-Romagna is Italy's 'Food Valley', the queen of culinary delights, home of the nation's favourite ham, cured meats, cheese and balsamic vinegar, not to mention a cornucopia of fruit and vegetables, seafood, wild mushrooms and truffles. Every province, every village even, has its own specialities, which often appear on menus in Emilio-Romagnolo dialect to complete the bewilderment of the innocent diner.
Here is a round-up of some of the region's unmissable culinary highlights.
The king of cheese
'Poets have been mysteriously silent on the subject of cheese', observed Chesterton, but Parmigiano is an exception. It appeared in Boccaccio's Decameron; although the description is about Basques, you can tell he really meant Emilia-Romagna:
In a region called Cornucopia, where the vines are tied up with sausages. And in those parts there was a mountain made entirely of grated Parmesan cheese on whose slope there were people who spent their whole time making macaroni and ravioli.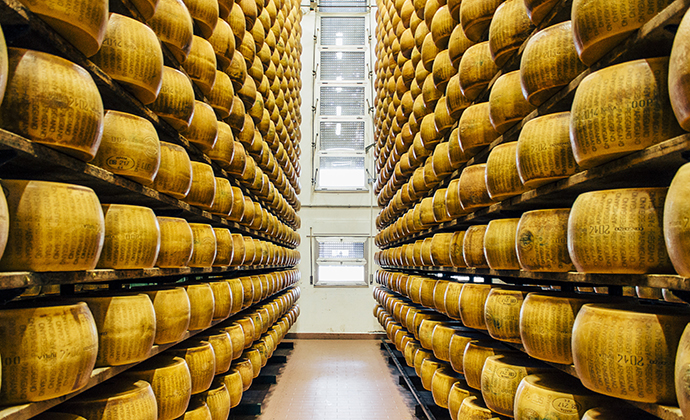 Parmigiano Reggiano cheese is aged for at least one year, typically two © Emilia-Romagna Tourist Board
Officially known as Parmigiano Reggiano, the cheese is produced in a delimited area around Parma, Modena and Reggio Emilia. A true one makes the pre-grated packets stuff taste like sawdust. Each great wheel is made of 100 litres of rich milk solids, from cows grazed on the lushest meadows in Italy, and heated to 40°C while being stirred. The solid lump that forms is sieved through cloth, placed in a cylindrical container and mixed with brine. A month later a brown crust forms, and the cheese is stamped with its place of origin and date. After another seven months or so it is tapped with a hammer; a hollow sound means troublesome bacteria have formed within, and surgery is performed to preserve the cheese.
A year is the minimum ageing period, but the longer it sits in the cheese vaults, the sweeter and fuller the taste. A two-year-old cheese is called vecchio (aficionados claim vecchio is the most 'expressive'); at three years it's stravecchio, and at four years stravecchione (which makes an excellent dessert cheese, drizzled with balsamic vinegar). Winter Parmesan has a deeper, more complex flavour. You even choose where the cows graze: pianura (valley), colline (hills) or, the most prized of all, vacche rosse di montagna (red cows of the mountains) .
The wheels are so precious that even today the Credito Emiliano banks them as collateral, and is said to have over €100 million worth in its vaults. Samuel Pepys loved his so much that he returned to his house during the Great Fire of London in 1666 to bury it before it melted (back then the average wheel of cheese was 80kg, so difficult to transport). His house in Seething Lane survived, but he never wrote if the cheese remained intact or turned into a subterranean fondue.
It's the pits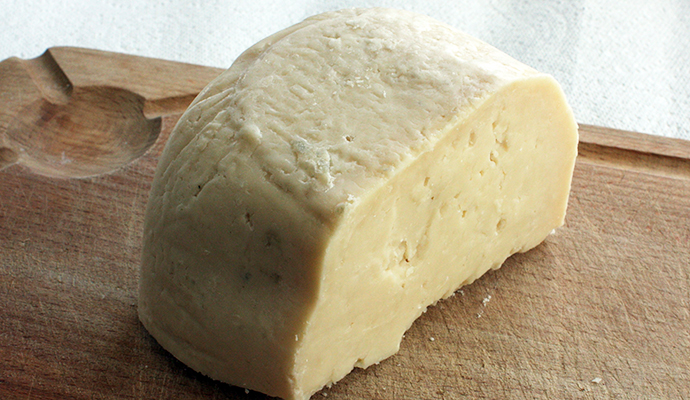 Formaggio di fossa (literally 'pit cheese') is aged for a month before being stored in hay-lined pits from the Middle Ages © Antoine Fleury-Gobert
Talamello is a leading producer of formaggio di fossa, or 'pit cheese'. Made of ewe's and/or cow's milk, the cheese is aged normally for 30 days before being placed in canvas bags and lowered into hay-lined pits dating from the Middle Ages (the custom originated from the need to hide the cheese from countless marauding armies; at some point there was a eureka moment, when someone realised the cheese actually improved while in the hole). Today the 3–10m pits are prepared in August with fires to sterilise them and eliminate excess humidity, then lined with fresh hay to maintain a constant temperature of 21°C. On 26 November, St Catherine's day, the cheeses are traditionally removed. The local version is called Ambra di Talamello (a name bestowed by Tonino Guerra). The best fossa has a pungent aroma, reminiscent of the forest floor and truffles; it's often used in dishes, but is also good plain or with honey.
Mortadella: it's no baloney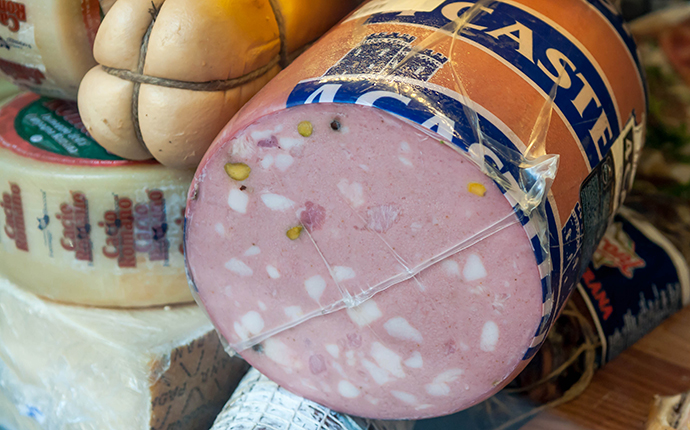 The word 'Mortadella' comes from the mortar used to grind the pork in to a smooth paste © CC-BY Marco Verch
Mortadella, 'the most noble of all pork parts', was so prized in the 14th and 15th centuries that it was used for currency in the contracts of the Cathedral Chapter of Bologna. The word comes from the mortar used to grind the pork into a smooth paste, before kneading it with peppercorns and stuffing it into a casing: the recipe was registered with the Corporazione dei Salaroli (the sausage-makers' guild) in 1367. The biggest ones, as thick as tree trunks, can weigh 200kg. The Americans, who loved it, are responsible for the confusion over the name: after 1899 they started calling any kind of sausage 'mortadella' or 'Bologna sausage', or just plain 'baloney'. A lot of sausage made elsewhere that's labelled 'mortadella' might as well be baloney. A good mortadella must be sliced as thinly as possible; in the days before machines, there were contests to see who could slice it thinnest and fastest.
Tortellini: the navel of Venus
An old saying in Bologna goes:
If the first father of the human race was lost for an apple, what would he not have done for a plate of tortellini?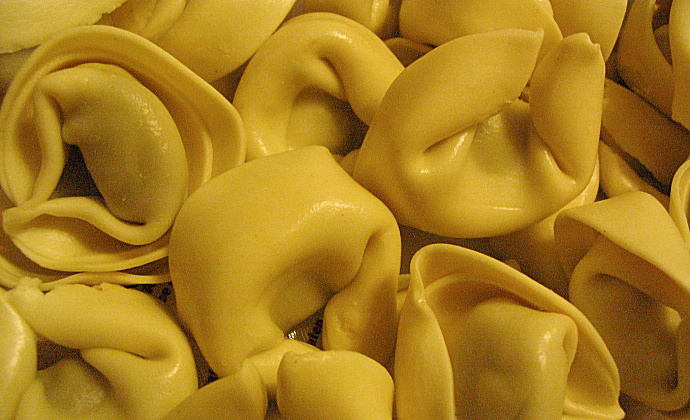 The history of tortellini goes back several centuries © CC-BY Catfisheye
The Bolognese are not an excitable race, but they go as gaga as Neapolitans on the subject of tortellini. For many, even the university pales before the plump rings of pasta as Bologna's culminating cultural achievement. Men have fought for the honour of tortellini; in the 1920s, when a visiting Venetian dared to insult them, a postman beat him up so badly that one ended up in the hospital and the other in jail (sentenced to six months without tortellini).
They may even be as old as the university; the first reference to 'turtlein', as they are known in Bolognese dialect, goes back to the 12th century when they were given to priests at Christmastide, and to this day no Christmas table in Emilia is complete without a bowl of tortellini in capon broth. A recipe discovered in a 14th-century manuscript prescribes a stuffing similar to the one used today, though with the addition of medicinal herbs.
It has also been revealed that a certain Adelaide, wife of a Bolognese notary, produced in the year 1821 the first canonical tortellini filled with minced ham, veal, mortadella, Parmesan cheese and nutmeg. In 1963, the Accademia del Tortellino was founded to pursue perfection in Adelaide's recipe. Although tortellini machines have simplified the lives of countless Bolognese chefs, connoisseurs disdain them; a handmade tortellino contains 20–30% more filling, which is why they cost more.
In Bologna, tortellini have passed beyond the realm of culinary science into myth. Their shape in particular makes the Bolognese go all dewy-eyed, for they are supposedly modelled on a woman's navel, a navel so beautiful that it could belong only to Venus herself. In the 17th century, a Tuscan poet named Ceri wrote a satirical poem telling how the goddess of love stopped at an inn, disguised as a mortal; the cook there had a glimpse of her naked, and was moved to model his pasta on the shape of her navel. In 1925, a play in Bolognese dialect called The Man Who Invented Tortellini follows the same theme, only the navel in this case belonged to the wife of the cook's employer. The cook had been found in the wife's bedroom, and he invented tortellini as a love letter.
The official recipe for tortellini, along with Bologna's other most cherished treasures (such as the measure for the canonical width of tagliatelle) is kept closely guarded by the city's Chamber of Commerce in the Palazzo della Mercanzia.
Lambrusco: Emilians at their most effervescent
The name Lambrusco will sender shivers down the spine of anyone who remembers the 1970s and 80s, when the sweet fizzy soda-pop stuff was Italy's top wine export. But here in its native land, Lambrusco is a different creature altogether: a young, light-bodied (11%) wine that foams like purple champagne out of the bottle, slightly bubbly (frizzante), acidic, dry and full of berry notes, a perfect match for platters of fatty salumi and rich pasta dishes.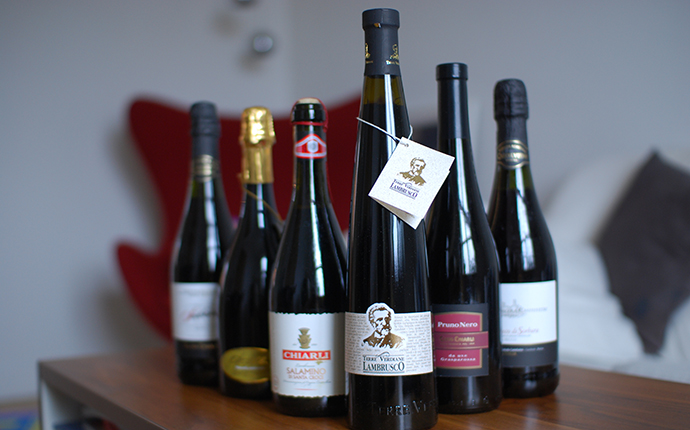 Lambrusco is native to the region © CC-BY-SA Thomas Angermann
Native to Emilia and cultivated by the Etruscans, the Lambrusco grape in its 60 variations is one of Italy's rare indigenous varietals. Cato the Elder was the first to mention it (he was impressed by its yield), but the Romans never much cared for it – unlike the Celts and Lombards who settled the western half of this region, and found that bubbles helped them digest their rich meat and dairy diet.
The three finest Lambruschi, all from Modena province, are hard to find outside Emilia. Look for deep dark purple Lambrusco Grasparossa di Castelvetro, the most tannic of the bunch; Lambrusco Salamino di Santa Croce, lighter in colour and named after the grape bunches that resemble hanging salamis; and Lambrusco di Sorbara grown around Sorbara, the rarest and most fragrant. Give them a try: you may even end up doing as the hipsters do, sloshing a bit of Lambrusco in the dregs of your tortellini in brodo.
Vinegar: the elixir of Modena
In 1944, when the frantically clanging bells of the Ghirlandina warned Modena that American bombers were approaching, thousands took to bicycles and pedaled desperately out of the city. Many of them had taken time to scoop up money, jewels and other easy-to-carry valuables; and on dozens of luggage carriers small kegs were securely strapped. They contained vinegar. Waverly Root The city's famous balsamic vinegar, now exported all over the world, is first documented in 1046, when Countess Matilda's dad gave a keg of it to the emperor; in those days it was prized as much for its supposed medicinal qualities – hence its name – as for dressing vegetables.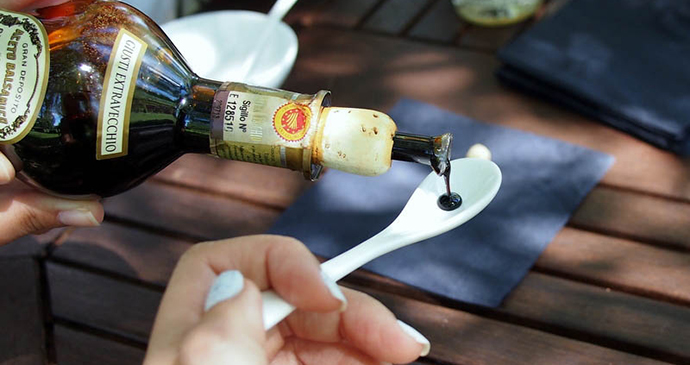 The vinegars made in Modena are manufactured in accordance with strict rules © CC-BY CCFoodTravel.com
Now manufactured commercially, the vinegar is made according to strict rules from the cooked and fermented must of Trebbiana grapes, to which a squirt of aged 'mother vinegar' has been added. Then it is aged in a red oak barrel. Over the next ten years, the vinegar will be diligently poured from one barrel to another slightly smaller one (because of evaporation) in a specially prescribed sequence – each made of a certain wood, including mulberry and juniper, which gives the vinegar its perfume – until it achieves its distinctive glowing coffee colour, delicate aroma and a taste between sweet and tart. The most prized vinegars are more than 50 years old. Traditionally each family had its own set of six barrels, and would start a new one at the birth of a boy, so that by the time he married he would have his own stock.
Note that authentic, traditionally made balsamic vinegar always comes in an oval bottle, designed by Giorgetto Giugiaro (who also designed cars for Ferrari).
Olive oil and artichokes
Brisighella has been on foodie maps for decades, thanks to its unusual thick green olive oil, the first in Italy to be designated DOP (Denominazione di Origine Protetta). It all has to do with what the French call terroir: it's one of the coldest places in Italy where olives grow, but it means the olives ripen more slowly and aren't plagued by the olive fruit-fly pest. The Apennines here are lower than the mountains to the west, allowing warm Tuscan breezes to dissipate the fogs and frost, while the unique chalky soil, poor in clay, maintains the summer heat. The resulting oil is very low in acidity, but richer in fat, giving it an extra-long shelf life. Three varieties grow here in the 12km zone: Nostrana of Brisighella (the bulk); Ghiaccola (the fattiest, sold as Nobil Drupa) with a grassy, peppery taste; and even rarer Orfana (bottled as Orfanella), which is mild and lighter.
In springtime, don't miss Brisighella's other one-off: carciofo moretto, long, pointy, reddish-purple artichokes that grow nowhere else in the world. They are tender enough to eat raw, or boiled for a few minutes and served with olive oil and salt, or in salads, or in a hundred other local recipes.
---
Inspired to visit Emilia-Romagna? Check out our guide for more information: